Episode 112: Case Samuel and Jake Samuel
Aug 19, 2020, Updated Jun 11, 2021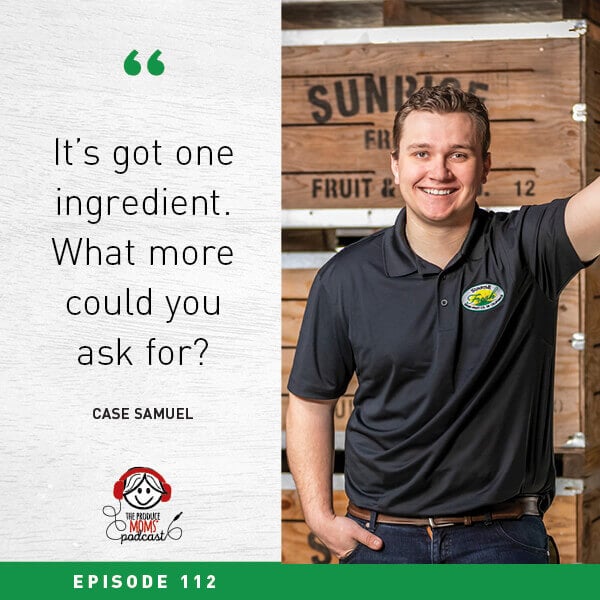 Sunrise Fresh is the #1 seller on Amazon in the dried fruit category and has been for the past four years. This fourth generation, family owned company is dedicated to producing the freshest dried fruit with no added ingredients.
Have you ever wondered why most dried fruit or products containing dried fruit are so high in sugar (or other ingredients)? It's just fruit that's dried, isn't it? Quite the contrary for most dried fruit producers, who add tons of sugar back into their product to make up for the loss in weight after drying and attempting to make a cheaper product.
Not only does Sunrise Fresh not add anything else to their dried fruit, their fruit is grown specifically for their product, rather than Montmorency tarts. To increase profit, reduce waste, and provide the freshest fruit possible, they include culls to their product line, which are perfectly good fruit that are thrown out.
"Culls are perfectly edible fruit, they just don't look too pretty." – Case Samuel (5:29-5:32)
Culls are products that don't meet retail specs and don't go into a fresh box. Although they're just as good as any other fruit, they won't sell because of bruising, a slight crack, or a stem that's missing.
They also don't use Montmorency tarts, which most of their competitors use. These are cherries grown specifically for production and manufacturing purposes and often need sugar added into them.
Sure, their product isn't always the "sugary sweet" we're trained to expect year round, but that's what makes Sunrise Fresh's dried cherries exceptional over many others on the market.
Mother Nature doesn't make anything the same and we have seasons for a reason. You'll receive the gift of tasting the variety of flavor profiles cherries can have as they won't taste the same year round.
Most of the cherries Sunrise Fresh focuses on growing are from Washington and California to extend their season and provide for customers year round. This gives the growers a better return on their fruit by using cherries that normally get dumped.
To expedite the drying process, Sunrise Fresh places their cherries on a drying tray in a 40-foot long tunnel for "forced air tunnel drying", which allows for the harvesting, cooling, packing and shipping process to occur in a matter of 24-48 hours. Unlike microwave or flash drying where produce loses quality and nutrients, this process slowly dries the fruit down so they maintain all of their natural goodness.
Speed is important for Sunrise Fresh considering they're the #1 dried fruit seller on Amazon for the past four years. Because of COVID-19, their sales increased by 2000% in three months and they're now selling in Walmart. To put into perspective how much they've grown, just three years ago they were selling 10-15 units a day and now sell 200-300 a day thanks to Amazon's marketplace.
Case and Jake share some phenomenal advice for other small, family-owned CPG businesses that helped them skyrocket their growth and increase the availability of their fresh, real, quality products. You can now find dried apples, peaches, blueberries and pears to the sunrise Fresh repertoire! All including just one ingredient: fruit.
How to get involved
Join The Produce Moms Group on Facebook and continue the discussion every week!
Reach out to us – we'd love to hear more about where you are in life and business! Find out more here.
If you liked this episode, be sure to subscribe and leave a quick review on iTunes. It would mean the world to hear your feedback and we'd love for you to help us spread the word!
Previous episodes you may enjoy