Episode 107: Beth Bechdol
Jul 15, 2020, Updated Jun 11, 2021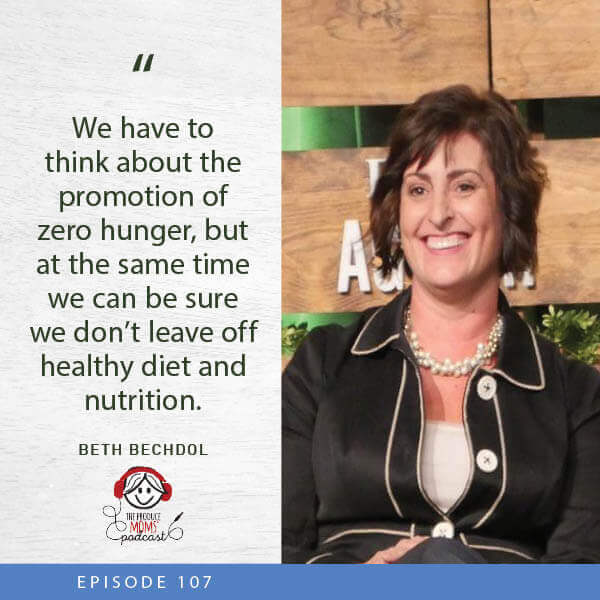 Almost 2 billion people around the world experience moderate or severe food insecurity.
Although this trend has been decreasing for the past 20 years, we've recently seen a plateau and even reverse trend in some countries. Yes, COVID-19 has played a part, but that's not the only thing we can blame our food insecurity and hunger issues on. Beth Bechdol is the Deputy Director General of the Food and Agriculture Organization which focuses efforts internationally on defeating hunger, improving nutrition, and increasing food security.
Growing up on a farm in Indiana, Beth brings a unique skill set to the table with the FAO. Having worked in Washington D.C. and focusing on International studies at Georgetown, she also spent much of her early career in Indiana building new concepts centered in AgTech and AgBio science to improve economic development.
Blending these two experiences together in her new leadership role has been exciting to spearhead the agenda in an entrepreneurial, creative, innovative manner.
The FAO works with five of the U.N.'s 17 sustainable development goals which are: zero hunger, working on gender equality, clean water and sanitization, responsible consumption and production of food and agriculture and life below water.
"Between hunger, food accessibility and food availability, our situation globally is not a good one." – Beth Bechdol (12:32-12:40)
What's the reason for this? There's an increasing number of political conflicts, national security and global security issues that makes access to food a challenge for the most vulnerable people. Plus, we have challenging economic times in certain countries exacerbating food insecurity, and climate changes that are changing agricultural productivity.
If our immediate challenges due to COVID-19 continue, we're going to see an even more rapid increase in unemployment. The loss of livelihood when jobs are lost immediately increases hunger and poverty.
Some countries, like small island countries in the Caribbean, countries in Latin America, and Asian countries who were very dependent on food imports are struggling also because 80-90% of their economy is rooted in tourism.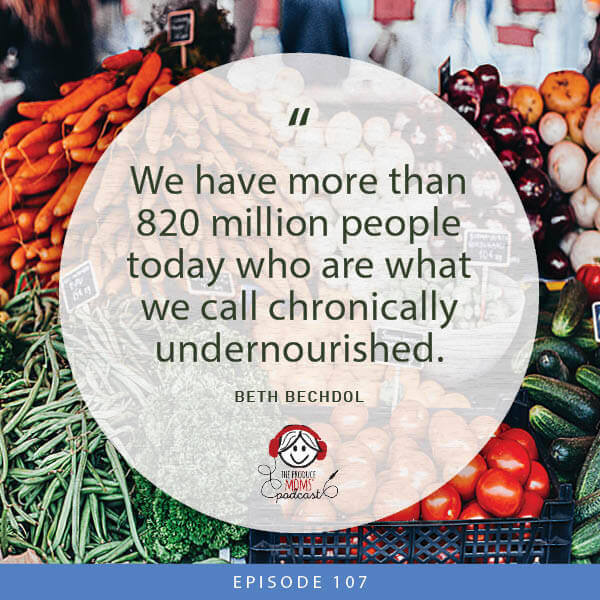 On top of those already at risk for being put in a chronic hunger state or a food insecure system, there are 120 million more people now put in that position because of the disruption of our current supply chains.
We may be in a humanitarian mindset and crisis mode across the board, but what Beth's concern is with the FAO is that their initiatives don't breed instant gratification results. Our attention span is very short these days, and they need individuals to stay focused on making impact long term.
"It's one of the most important times that we maintain a focus on globalism, we maintain a commitment to multilateralism and to working together." – Beth Bechdol (34:56-35:06)
Inequality is also driving this crisis. America is seeing a current rise in activism against inequality, however it's increasing in many parts of the world. There are lower incomes, a decrease in purchasing power, families having to reduce their food budget, lack of food availability and inequality with women.
The number of conflicts around the world don't help, as they are creating price increases which, theoretically would give our farmers an opportunity to increase production, productivity and their income. Instead, rising prices are a ripple effect stemming from governments closing down markets, so farmers can't market their goods and products.
If farmers had the economic opportunities, social protection, productivity resources and access to markets necessary for them to thrive, we would help decrease the food insecurity in many regions and communities.
"Some of the smallest scale farmers and food producers who actually produce almost 80% of the food consumed worldwide are the ones more likely to suffer from food hunger in their own countries." – Beth Bechdol (29:37-29:55)
Who else is primarily affected from chronic hunger? Right now we're seeing it concentrated in sub Saharan African countries, western Asia and southeast Asia. This is triggering a divide in hemispheres as the North increasingly becomes the developed world and the South is still developing. Getting these countries access to the food and food equality resources they need is imperative to the survival and growth of us globally.
Defeating Hunger with Accountability
The FAO is asking individuals to hold organizations like them accountable to make sure they're doing their best with the resources they have. Creating long-term solutions to defeat global hunger and food insecurity issues isn't an overnight process. We need focused attention, partnerships, innovation, entrepreneurs, creativity and partners of all kinds to dedicate themselves to this agenda.
Beth reminds us of the importance entrepreneurs play in creating the change we need because clearly the methods we've been using and the new crises we're faced with require different solutions. We need to think about our issues on a global scale and commit to working together, even if you don't think food insecurity is something that affects you, it will soon enough.
How To Get Involved
Join The Produce Moms Group on Facebook and continue the discussion every week!
Reach out to us – we'd love to hear more about where you are in life and business! Find out more here.
If you liked this episode, be sure to subscribe and leave a quick review on iTunes. It would mean the world to hear your feedback and we'd love for you to help us spread the word!
Previous episodes you may enjoy