Episode 102: Bruce Knobeloch and Mike O'Brien
Jun 10, 2020, Updated Jun 11, 2021
Founded in 1971, Monterey Mushrooms is the national leader in mushrooms. Their 4000 employees supply retailers and restaurants around the country with over 200 million pounds of fresh mushrooms each year. One of the best things about Monterey Mushrooms is that they are always locally grown!
Bruce Knobeloch, Vice President of Marketing and Product Development, and Mike O'Brien, Vice President of Sales and Marketing are passionate about mushrooms. They are both long standing key players in the produce industry supply chain, and have a deep appreciation for all of the workers who are doing their best to serve you during this uncertain time.
You, the consumer, are the top priority for Monterey Mushrooms during this time. As members of the produce chain, Bruce and Mike have great insight into how the recent pandemic has affected the industry, and how suppliers are continuing to move forward.
Mushrooms are trending up!
While the food service industry has taken a hit to the gut, and produce as a whole has suffered, retail sales have spiked as consumers are preparing more meals at home. We've said this before, but one of the silver linings of this chaotic time is the return of family to the dinner table. More families are staying home, buying fresh, and planning and preparing healthier meals.
Produce sales have increased by 11%, and retail mushrooms sales are up 24%!
If you've had any concerns about purchasing fresh, Mike shared that produce is safe! It's always important to wash your produce before you use it, but these are the only precautions you should take to make sure you are putting safe, clean produce on your family's plates.
Vitamin D mushrooms.
Did you know that mushrooms grown in the sun produce vitamin D? However, most mushrooms today are grown indoors. Monterey Mushrooms partnered with the USDA to come up for a solution to this problem. They have created a unique environment to replicate sunlight and grow mushrooms that contain notable amounts of vitamin D.
A two-thirds cup of sliced Monterey vitamin D mushrooms, or 5 medium button mushrooms, provide 10mcg vitamin D. That's 50% of the recommended daily amount!
Making sure you have adequate amounts of vitamin D in your diet can lower risk of osteoporosis, enhance immune function, and help with concentration and memory.
Mushrooms and the rise of plant-based diets.
Plant-based diets have been gaining popularity for some time, and mushrooms have had a 'center of the plate' view! Their natural umami flavor and meaty texture make them a great candidate for a meat alternative. The portobello has been touted as the original meat alternative!
Need some ideas on how to serve portabella mushrooms to your family?
"Mushrooms have had such a 'center of the plate' view of the plant-based diet." – Bruce Knobeloch (12:30)
If your family isn't ready to sub mushrooms for meat, that's ok! There are so many easy ways to 'sneak' some mushrooms onto your family's plate. They make an incredible nutrition boost to any meal you're serving.
Mince your mushrooms and add them to your burger meat.
Blend mushrooms into your sauce the next time your family has pasta night.
Blending mushrooms into your meats is a great way to eat more plants. We want our children to eat all of the fruits and vegetables, but there are certain items that can be a challenge. And don't forget the budget component! Adding mushrooms to your meat is a fantastic way to make your meal go a little further. Leftovers, anyone?
Storing mushrooms at home.
When it comes to mushrooms, the process is simple. The most important thing to remember is to keep them cool – the sooner you can get them into the fridge, the better.
If you're planning to use them right away, that's all you need to do. However, if you are planning to store them for several days, take the mushrooms out of the packaging, put them into a brown paper bag, and return them to the fridge.
Make sure to thoroughly rinse immediately before use.
It's that simple!
As we navigate this current unexpected season, we are committed to keeping you informed, while helping you and your family stay safe and healthy. The next time you grab your groceries, look for Monterey Mushrooms! They'll be a delicious addition to your dinner table.
How to get involved
Join The Produce Moms Group on Facebook and continue the discussion every week!
Reach out to us – we'd love to hear more about where you are in life and business! Find out more here.
For more information on Monterey Mushrooms, including some delicious recipes, visit their website.
If you liked this episode, be sure to subscribe and leave a quick review on iTunes. It would mean the world to hear your feedback and we'd love for you to help us spread the word!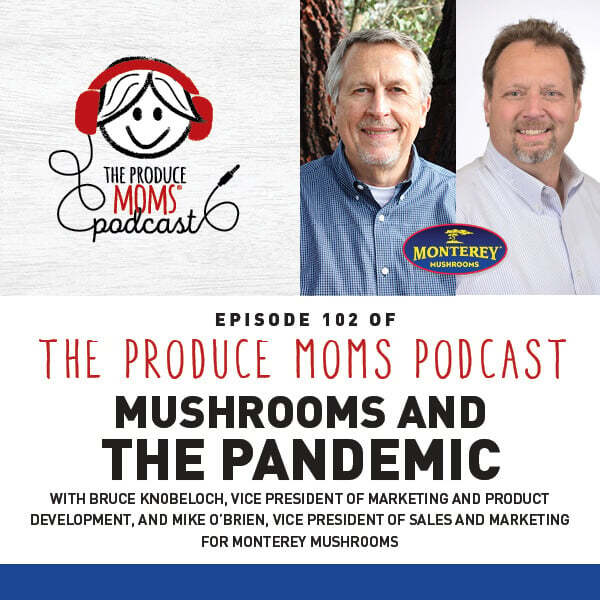 Previous episodes you may enjoy