Easy Sheet Pan Dinners For Busy Weeknights
Feb 22, 2022, Updated Aug 29, 2022
Want to get dinner on the table quickly and with minimal clean-up afterward? These easy sheet pan dinners are your answer. Choose one to make for dinner tonight and save the others for busy weeknights ahead.
Knowing a few easy sheet pan recipes is a lifesaver! Busy parents know they are key to consistently getting a warm, nutritious dinner on the table.
What's even better is that kids tend to love these sheet pan dinners just as much as their parents. Even veggie-adverse kids will enjoy roasted vegetables found in each recipe.
The only difficult part of these recipes is deciding which one you'll make first.
Sheet Pan Smoky Lime Chicken Fajitas
Sheet pan chicken fajitas are incredibly flavorful and they couldn't be any easier to make. Combine all the ingredients in a bowl and then bake on a sheet pan for about 25 minutes. Serve with warm tortillas and fresh pico de gallo.
Sausage and Potato Sheet Pan
Hearty, flavorful, and simply delicious! This sheet pan dinner features kielbasa sausage, baby carrots, onions, and red baby potatoes coated in Italian seasoning and parmesan cheese.
Lemon Pepper Chicken and Summer Squash Sheet Pan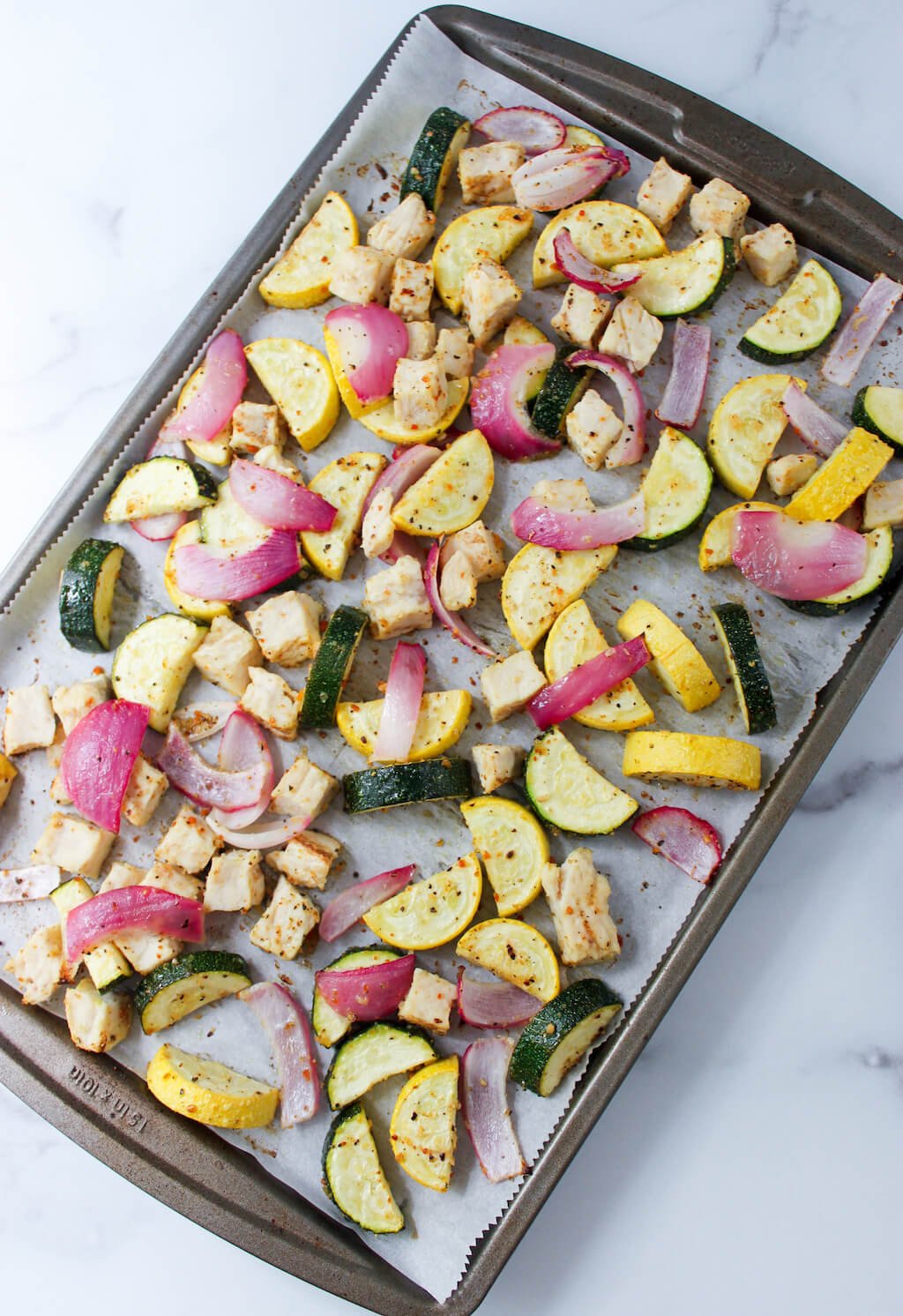 6 ingredients and 30 minutes are all it takes to get this light and colorful meal on the dinner table. If you love summer squash, this is the sheet pan meal for you!
Baked Salmon and Sesame Glazed Broccolini Sheet Pan
Brush salmon and Broccolini® with a bright and tangy homemade soy-sesame glaze and served with sticky, brown rice. This delicious, nutritious dinner takes 25 minutes from start to finish.
Sheet Pan Baked Feta With Greek Veggies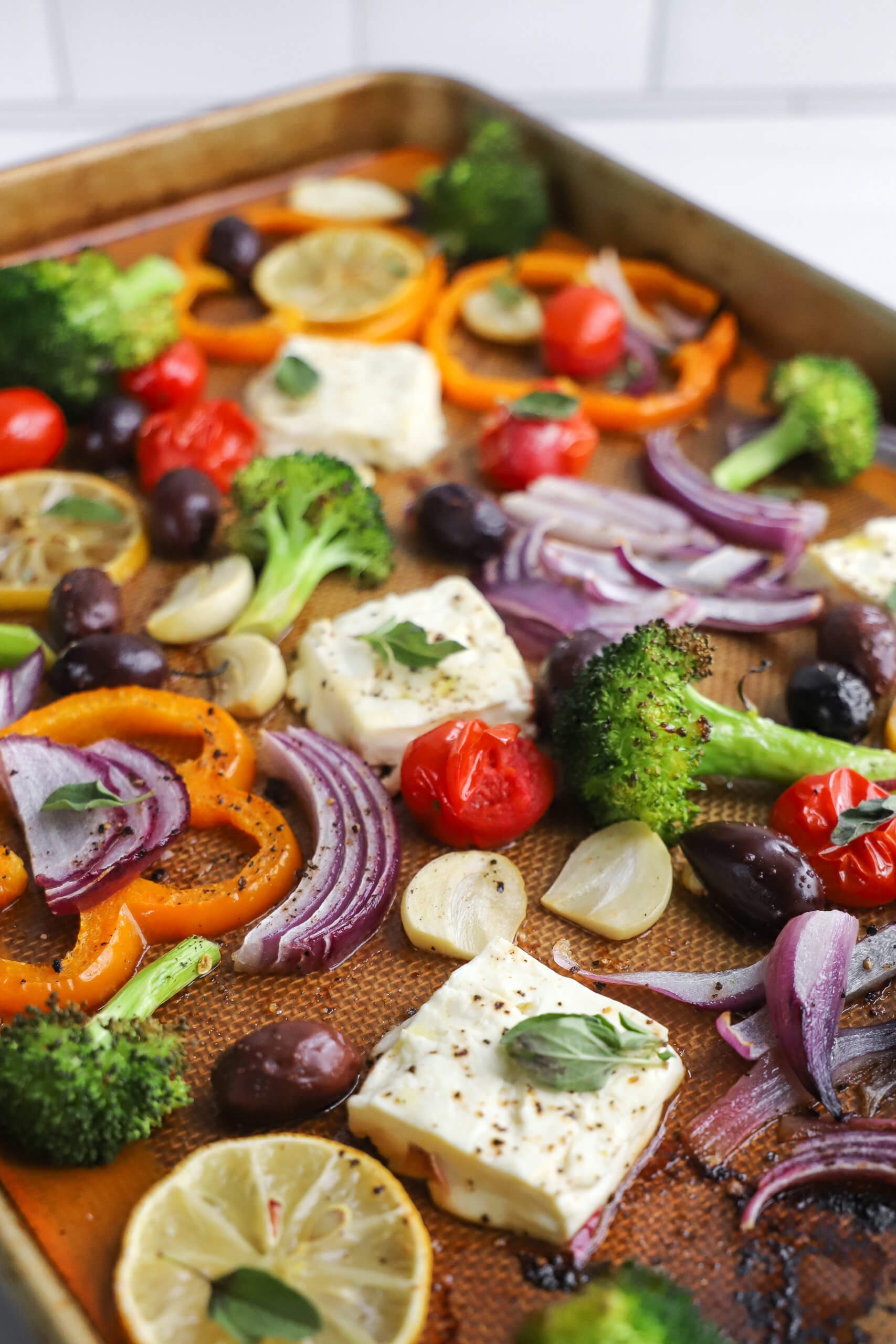 This easy, vegetarian sheet pan meal combines creamy, baked feta with roasted broccoli, grape tomatoes, red onions, lemon, olives, garlic, and oregano for a Greek-inspired delicacy.
Sheet Pan Salmon with MandaRosa Citrus
Make a restaurant-quality dinner at home with tender salmon filets, fingerling potatoes, and crispy broccoli drizzled with MandaRosa juice and olive oil.
Pork, Sweet Potato & Apple Sheet Pan
Juicy pork chops served on a bed of sweet potatoes, Honeycrisp apples, and buttery walnuts topped with a homemade dijon mustard sauce.
Simple Shrimp and Veggies Sheet Pan
There's nothing shrimpy about the bold flavors in this sheet pan dinner! Shrimp, broccoli, and red potatoes are seasoned with Old Bay and topped with radish sticks for an extra crunch.
Pineapple Teriyaki Chicken Sheet Pan
Glaze fresh pineapple, bell pepper, broccoli, and chicken with a homemade teriyaki sauce (or store-bought if you are really short on time) and have a tasty dinner on the table in under an hour.
Sweet Potato and Salmon Sheet Pan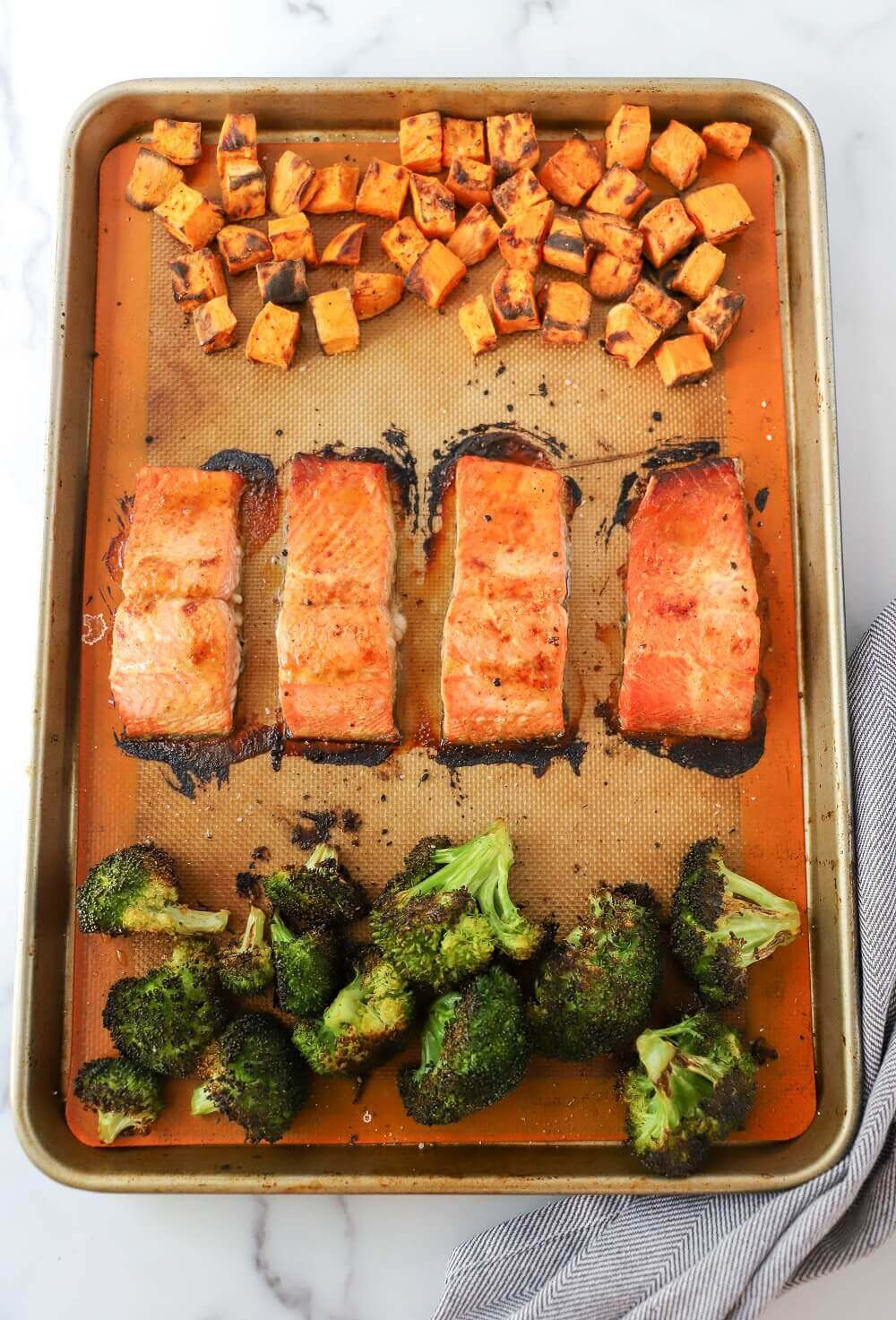 Roasted broccoli and sweet potatoes are the perfect matches for tender, flakey salmon with a honey glaze.
So tell us, which will you try first? Do you have a simple sheet pan dinner that you can't get enough of? Share your favorites in the comments below.