Easy and Quick Waffle Fries Made From the Freezer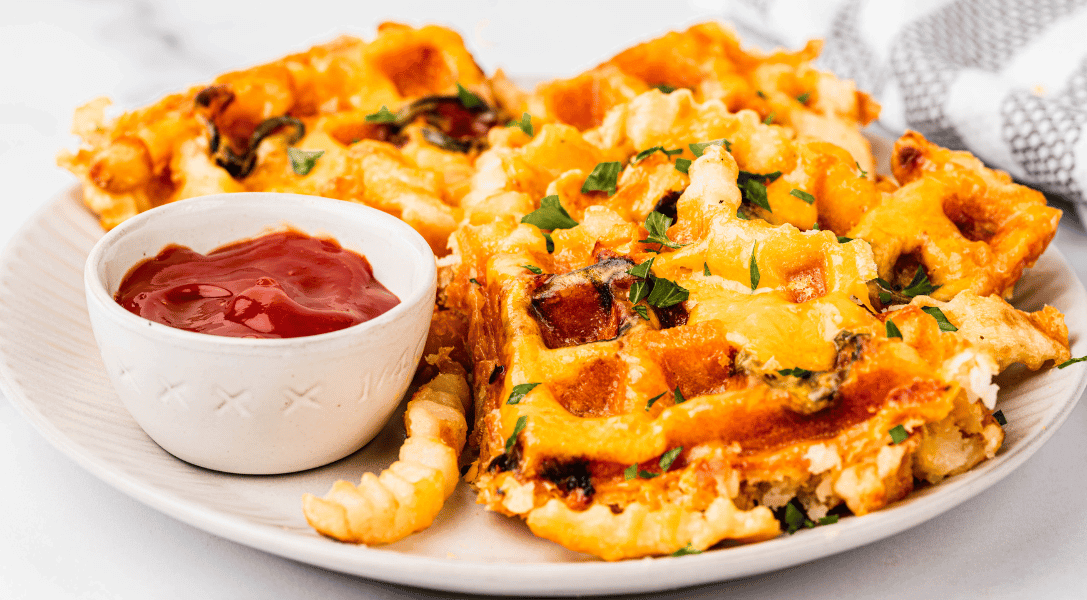 Waffle fries are crispy on the outside with gooey cheese melted inside and slices of pickled jalapeños for a mild hint of spice. Pile these ingredients onto your waffle maker and cook for 10 minutes for a new take on classic flavors. Waffle fries are a great way to use up the last few fries in your freezer – no thawing required.
Have some leftover fries at the bottom of the bag in your freezer?
Instead of the kids fighting over who gets to have the rest, make a waffle fry (or four) with add-ons to make your fries feed more people.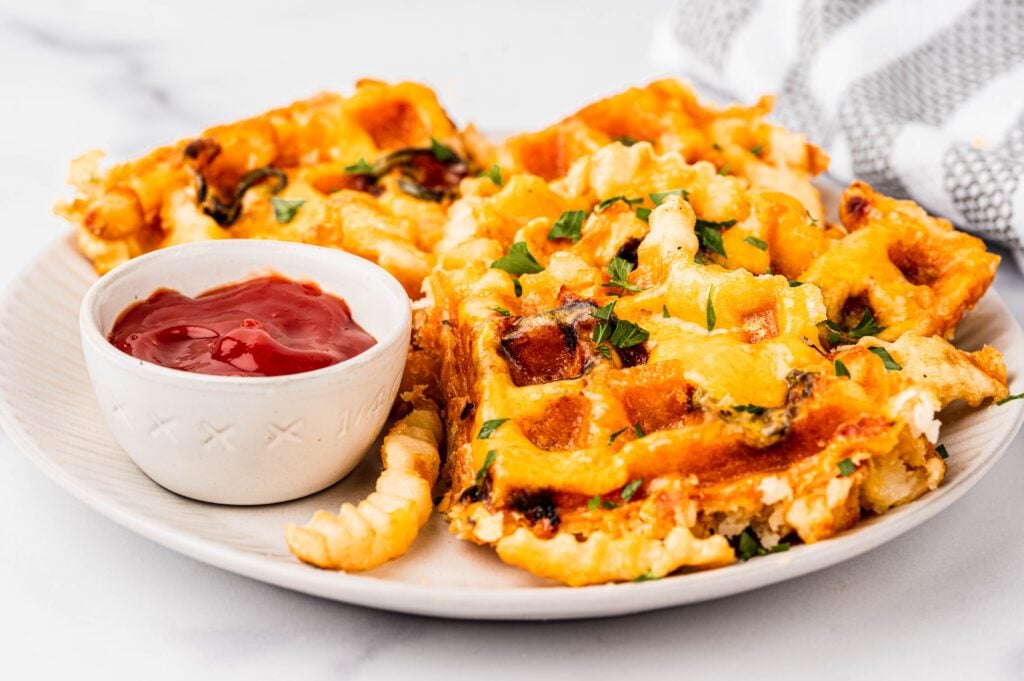 This post is sponsored by Wada Farms.
Add the fries, cheddar cheese, and jalapeños to your waffle maker, let it cook, and then serve. You don't even need to thaw the fries first. Just throw it all in there.
Feel free to play around with the toppings to make this an easy weeknight meal – loaded with flavor.
Seriously, you won't believe how easy it is.
What Are a Waffle Fries?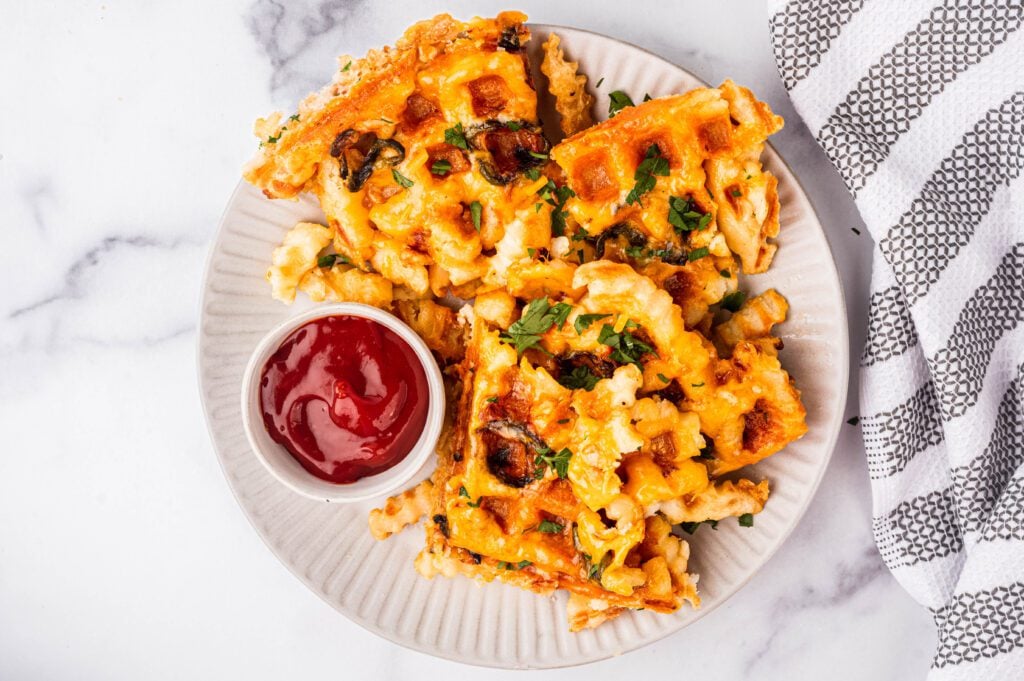 When you initially think of waffle fries, Chick-Fil-A's famous criss cross fries may come to mind. But we're taking the name literally and making a waffle out of your leftover frozen french fries. It may look a little odd when you first start because you won't be able to close your waffle maker with all the creamy and acidic toppings on your pile of fries.
But when you make your first potato waffle fry and see how gooey the cheese is with the crispy potatoes and spicy jalapeños, you'll be in love too.
Why Do Waffle Fries Taste Better?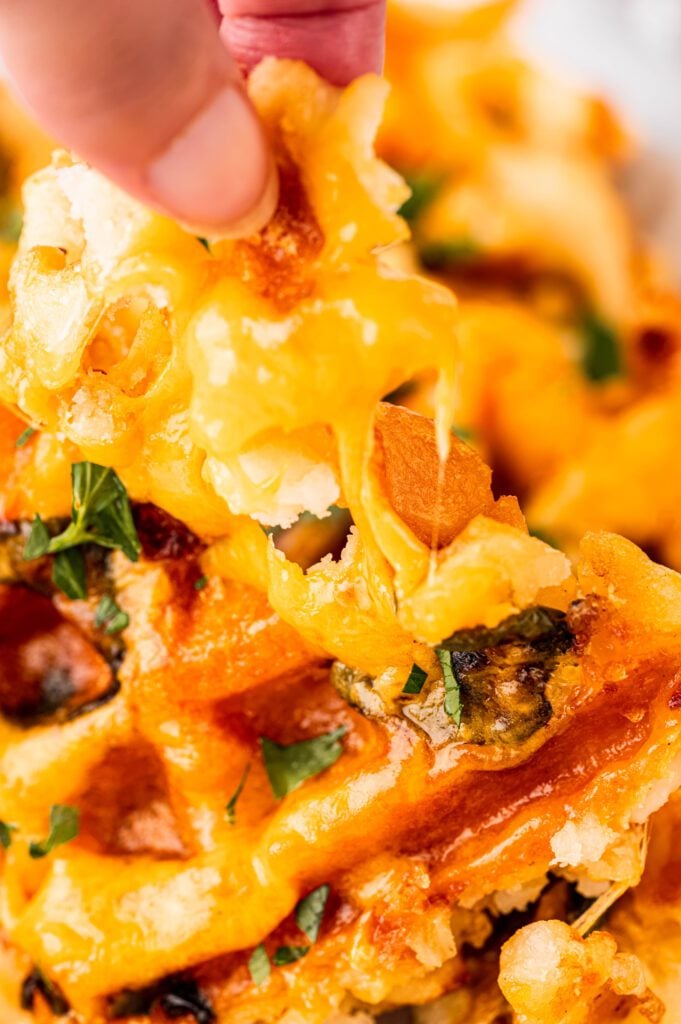 Two words… Flavor. Crunch.
Waffle fries have a huge surface area, so you can add all kinds of toppings. Add cheese and jalapeños into your waffle fry for a meld of flavors that cook together. Dress up your waffle fry with pulled pork or your favorite taco toppings, or eat it as is. It's a sturdy base for just about anything you can think of.
Eventually, the fries soften enough for you to close the lid all the way, and that's when you start to hear the sizzle. That sound means your waffle fries are cooking to a crisp outside, almost like a potato pancake. By the time the 10 minutes are up, you've got crispy waffle fries that are loaded with flavor.
Instead of eating one fry at a time and dipping it in ketchup, you get a tone of flavor in every bite with all your favorite toppings. All that's left is to dig in.
Ingredients
You only need three main ingredients for this spectacularly easy recipe. And the only prep work required is a rough chop of parsley for garnish.
Frozen French Fries
Everyone loves french fries, especially when they're crispy on the outside but soft and fluffy on the inside. Sometimes you have a few stragglers left over in the bag, but it's not quite enough for everyone to have a side with their meal. Waffle fries are a great way to use up those last few fries – with some yummy toppings to boot.
Cheddar Cheese
As the cheese melts, it acts as the glue that turns your frozen french fries into one item – a waffle fry. The concept of cheese fries came about when cheese in a can grew in popularity in the fifties. Since then, cheese with fries has been a staple in American households for a quick and filling side. Mild cheddar adds a subtle buttery flavor, medium is a little stronger, and sharp cheddar is tangy and pairs well with bolder flavors. Use your favorite one – or more if you're feeling adventurous.
Jalapeños
Use pre-sliced, pickled jalapeños from a jar to add acidity to your starchy and creamy waffle fries. These are already sliced, so you have almost no prep work. We love using pickled jalapeños because the pickling process can reduce the heat of the pepper. The longer they sit in the fridge, the milder and sweeter they become, so your kids can enjoy a waffle fry with jalapeños too.
When your waffle fries are done cooking, sprinkle some chopped parsley on top to lighten the presentation and flavor.
How to Make a Waffle Fries
Step 1
Pile the fries onto your waffle maker. Yes, load it up!
Step 2
Sprinkle shredded cheese on top of the fries.
Step 3
Evenly add jalapeños on top.
Step 4
Cook for 8-10 minutes. Timing may vary depending on your waffle maker.
Step 5
Remove from the waffle iron, sprinkle with parsley, and serve.
What Is the Best Way to Grease a Waffle Iron?
Most waffle iron manuals recommend oiling the grid before you pour a batter into it. Because waffle fries aren't a batter and have water crystals that melt, you may be ok without adding anything. If you want to err on the side of caution, use a silicone pastry brush to get the oil between the grooves so nothing sticks – not even the cheese.
We don't recommend greasing the waffle iron with butter because it can actually make things stick and burns when the temperature is higher than 350℉. Most waffle irons reach 450℉, and we'll be making these on higher heat.
Can These Be Air Fried?
Technically, yes. However, the waffle maker is what helps bind the fries, cheese, and jalapeños together and mold the fries into a classic waffle shape. If you use an air fryer, it becomes more like cheese fries – which are still tasty but not quite the same as a waffle fries. It's easier to get your waffle fries out of the waffle maker and transfer it to a plate – then add any extra ingredients and toppings.
Why We Love Wada Farms
Wada Farms has been growing potatoes for 80 years. Although they know what they're doing when it comes to all things potatoes, they continue to look for ways to improve the quality of their produce and maintain sustainability practices. They even volunteer to help out their local community.
Wada Farms is a one-stop shop for growing, packing, shipping, and marketing support. And food safety is one of their top priorities. That means they know where your potatoes have been – from the ground all the way to your table. Their produce is date and source coded so each potato can be traced back to the field in which it was grown.
Now that's commitment.
More Potato Recipes
Waffle Fry
A crispy, gooey, and spicy waffle fry is the best way to use up leftover french fries. Made straight from the freezer with almost no prep, you have a new twist on a classic flavor combo.
Print
Pin
Rate
Ingredients
Frozen french fries

crinkle cut

1/2

cup

shredded cheddar cheese

2

oz.

jalapeños

fresh parsley

for garnish
Instructions
Turn on your waffle maker and set the heat to about three-quarters of the way toward high.

Pour out your frozen fries so that the bottom of your waffle maker is covered, and make a small pile.

Sprinkle the cheese and jalapeños in the spaces between the fries and on top. Top with any french fries that may have fallen off. It should look like a tall mountain of fries and toppings (that means you're doing it right).

Close the waffle maker and press hard to get the lid down as much as possible. As the fries thaw and cook you can gradually close the waffle maker all the way down.

Once the lid can close completely, let the waffle fry cook for about 8-10 minutes.

Use a spatula to remove the potato waffle fry from the waffle iron to a plate.

Sprinkle some parsley for garnish and serve with your favorite dipping sauce!
Nutrition
Calories:
62
kcal
|
Carbohydrates:
1
g
|
Protein:
3
g
|
Fat:
5
g
|
Saturated Fat:
3
g
|
Polyunsaturated Fat:
0.2
g
|
Monounsaturated Fat:
1
g
|
Cholesterol:
14
mg
|
Sodium:
93
mg
|
Potassium:
46
mg
|
Fiber:
0.4
g
|
Sugar:
1
g
|
Vitamin A:
294
IU
|
Vitamin C:
17
mg
|
Calcium:
102
mg
|
Iron:
0.1
mg