Episode 29: How Drones, Artificial Intelligence and Farmers Work Together with Mary Snapp, Corporate Vice President and Lead of Microsoft Philanthropies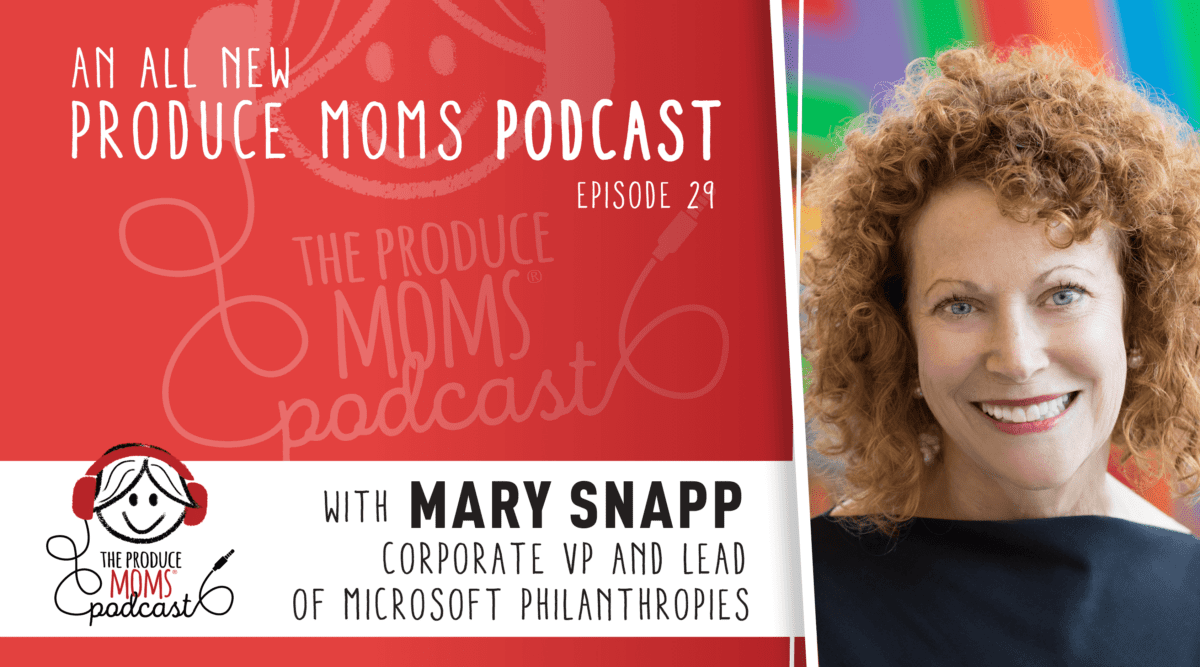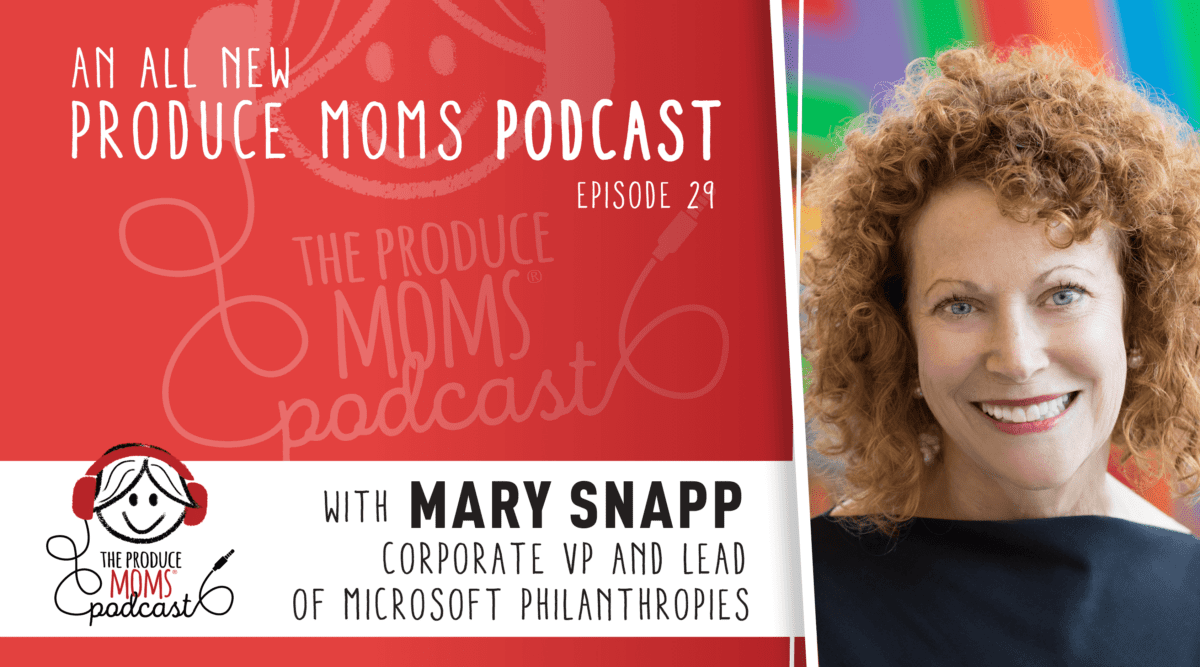 The Produce Moms Podcast 
Episode 29: How Drones, Artificial Intelligence and Farmers Work Together with Mary Snapp, Corporate Vice President and Lead of Microsoft Philanthropies
"Artificial intelligence helps us figure out answers using data that we wouldn't have been able to know before, maybe even sometimes to predict famine or food insecurity in different parts of the world."
What do drones and artificial intelligence have to do with farming? This week on The Produce Moms, we continue our adventure inside the Blue Room at FFA Convention. Lori and Mary Snapp, Corporate Vice President and Lead of Microsoft Philanthropies discuss how the advancement of technology is benefiting agriculture in a phenomenal way. Microsoft Philanthropies is focused on advancing a future for everyone, making our farms more sustainable, productive and regenerative.
"There are 250 different agricultural careers. All of them are going to be impacted by technology."
Agricultural careers are one of the top fields affected by the advancement of technology. Listen in to hear how agriculture and technology have grown together, and the impact that women have gained as these areas have evolved! The Philanthropies division of Microsoft reaches far beyond FFA. You'll hear about their impact in local schools, how they are influencing the technology of tomorrow, and how their generosity provides food, technology and healthcare for the impoverished today.
"We're doing some work to try to bring high-speed broadband in rural areas.19.4 million Americans in rural America do not have broadband. You can't farm without broadband these days with any sort of scale."
Recipes from Mary Snapp
Rhubarb Surprise
Ingredients
2/3 cup granulated sugar
2-3 teaspoons of cornstarch
1/4 teaspoon ground cinnamon
2-3 cups sliced fresh rhubarb or frozen unsweetened sliced rhubarb, thawed
2-3 cups of fresh blueberries or peaches
2 tablespoons of julienned fresh basil leaves
Topping Ingredients
1/2 cup whole wheat flour
1/2 cup quick-cooking rolled oats
1/3 cup packed brown sugar
1/4 teaspoon salt
5 tablespoons butter or margarine, melted
Fresh basil for garnish (optional)
Preparation/Directions
Preheat oven to 375 degrees.  In a medium mixing bowl, stir together granulated sugar, cornstarch (For fresh rhubarb, use 2 teaspoons cornstarch, for frozen rhubarb use 3 teaspoons) and cinnamon.  Stir in rhubarb, blueberries (or peaches) and julienned basil.  Transfer fruit mixture to a  2-quart baking dish (10-inch pie plate or an 8-inch square pan); spread evenly.  Set aside.  For topping, in a medium bowl stir together flour, oats, brown sugar and salt.  Sitr in melted butter or margarine.  Sprinkle topping evenly onto the fruit mixture.  Bake in the oven for 30 to 35 minutes, or until the fruit is tender and topping is golden brown.  If desired, garnish each serving with a sprig of basil.  Serve warm.
Grandma Glotzbach's Oatmeal Cake
Ingredients
1 1/4 cup of boiling water
1 cup quick-cooking oatmeal
1 cup brown sugar
1/2 cup shortening
1 cup white sugar
1 teaspoon vanilla
2 eggs
1 1/2 cup of flour
1 teaspoon baking soda
1/2 teaspoon salt
1/2 teaspoon nutmeg
1/2 teaspoon cinnamon
Topping Ingredients
6 tablespoons melted butter
1/4 cup cream or half and half
1/2 cup brown sugar
1 cup coconut
1/2 cup chopped walnuts or Rice Krispies
Preparation/Directions
Preheat oven to 350 degrees.  Mix boiling water and oatmeal, and let stand for 30 minutes.  Cream together brown sugar, shortening, white sugar and vanilla.  Add two eggs and beat well.  Add oatmeal mixture.  Stir in flour, baking soda, salt, nutmeg and cinnamon.  Turn out in greased sheet pan and bake for 45 minutes.  Mix topping ingredients and spread evenly on the warm cake.
Some Topics we talk about in this episode:
Introduction // Mary Snapp – 1:15

Artificial Intelligence and the Blue Room – 3:30

Mary's Passion for Innovation – 5:48

The Importance of Agriculture to Microsoft – 8:56

Blue365 and Microsoft's Humanitarian Efforts – 10:33

Tasty Recipes – 15:11

Wrap-up – 18:42
Get the Kroger OptUp App on the App Store and Google or visit www.optupapp.com for more info
How to get involved
The Produce Moms Podcast is live on iTunes, Google Play, Stitcher and Spotify.  If you like what you are hearing on the podcast, reviews, subscriptions & ratings will help us keep this going!  It would mean the world to hear your feedback, and we'd love for you to help us spread the word!

[bctt tweet="Episode 29 of #TheProduceMoms #Podcast features Corporate Vice President and Lead of @Microsoft Philanthropies @maryesnapp. Listen and learn how the advancement of #technology is impacting agriculture now and in the future! " username="theproducemom"]
Other Episodes You May Like
Episode 28: The Future of Agriculture
Episode 26: Creating the Perfect Veggie Noodle