Crushing It: How A Texas Agricultural Worker Has Helped Transform Her Industry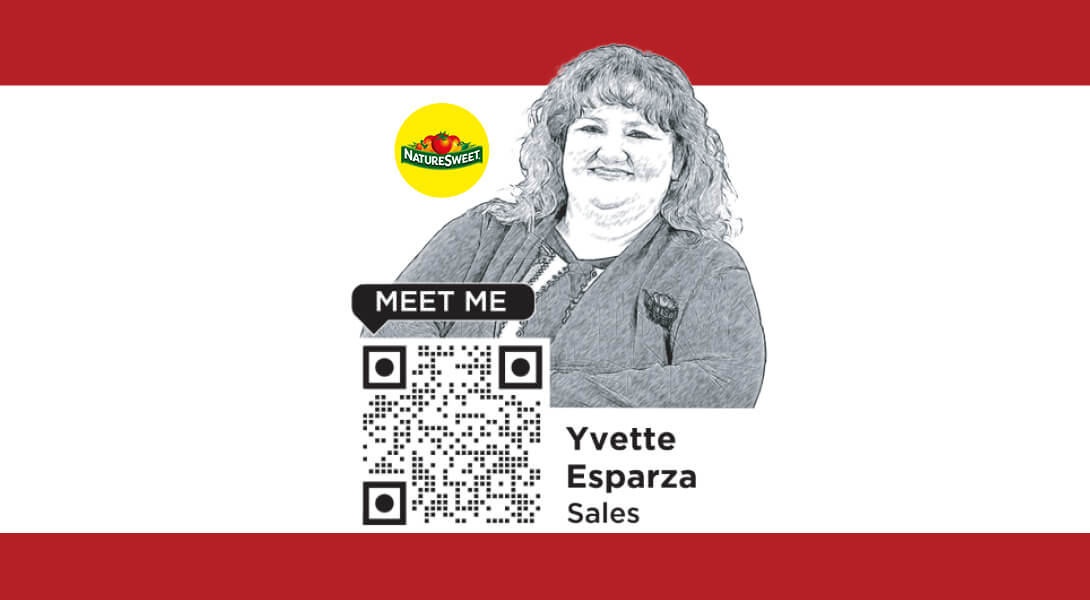 When Yvette Esparza began working at Desert Glory in 2002, she was one of about 25 employees. Her workday was split in half with mornings dedicated to selling excess product, and afternoons spent growing the company's footprint in supermarkets across the country.
"Back then we had one item with four SKUs, and now we have hundreds of varieties and SKUs," says Esparza. "Back then we had a little 12×12 table in stores and now we have HUGE displays."
Fast forward 20 years later, Desert Glory is now NatureSweet®, the company's cherry tomatoes are no longer sold in little red mesh bags, and Yvette, now a Commodity Sales Manager for NatureSweet, has more than 5,000 colleagues.
"I was single when I started here," says Esparza. "Now I'm married, and I have a daughter who is 15 years old. My colleagues have watched her grow up! All she knows is mommy's world is nothing but tomatoes," she laughs. "She says one day she wants to be a part of a company that changes people's lives, too."
Transforming Agriculture
One of NatureSweet's taglines is "Transforming the Lives of Agricultural Workers in North America." In 2021, about 150 Associates in Mexico earned their high school diplomas through NatureSweet's continuing education program. It's one of the many life-altering initiatives the company offers and has helped employees learn to read and write. Another program, "Sweet Life" is a 16-week course that gives Associates access to psychologists, and one-on-one therapy. The goal is to help educate employees on human development, with topics such as parenting, and emotional intelligence taking center stage.
"I've seen Associates in Mexico lose their homes and our company has rebuilt them," adds Esparza. "It's heartwarming to know that our work is helping to grow these communities in Mexico. We truly reap what we sow."
Company Culture
NatureSweet also focuses on efforts that involve improving communication, trust, conflict resolution, and problem-solving within the company. In 2016 the company earned the most rigorous certification in the industry from the Equitable Food Initiative (EFI). This means the grower met more than 300 standards for labor and practices, food safety, and pest management. In 2021, NatureSweet launched Fair Trade-certified products in stores across the U.S., which means the product is fully traceable from seed to shelf. 
Related: Behind the Tomatoes: NatureSweet Is Doing What Is Right
Community
"It's not just about our product," says Esparza, "it's about community. We have Associates who are no longer migrating back and forth to earn a living. Now they're able to stay in one place and build a home and grow a community."
In 2014, Yvette was honored for her dedication and loyalty to NatureSweet by becoming a "Groundbreaking Associate." A conference room is named after her at one of the NatureSweet plants in San Isidro, Mexico, and she's also featured on company products where a QR code allows consumers to learn more about her. After devoting more than two decades of her life to the company, she still manages to be fulfilled.
"When you give back, the rewards come naturally," says Esparza. "We're here for a purpose and it's greater than us. This has truly been a blessing."
Learn more about NatureSweet and their employees here.
Some of our Favorite NatureSweet Recipes