Give The Gift Of Cosmic Crisp® + Printable Gift Tags
Every holiday season there is a hot new toy, electronic, or restaurant reservation that can feel impossible to get yet also so satisfying when you can actually secure you or your loved ones the holiday must-have!
This year, add the Cosmic Crisp® apple to that list of hot new items that you MUST find starting in December. This apple is so highly-anticipated, that it's been featured in Time Magazine, Martha Stewart Living, the BBC, the TODAY Show, and more… and it hasn't even hit retail shelves. Good news though, the Cosmic Crisp® launch is almost here. As a matter of fact, the first retail shipment is scheduled for December 1, 2019.
If you see this apple at a grocery store near you, you MUST purchase it during the holiday season!  The supplies, while expected to be abundant within the next five years, will be limited this year. It will be a jackpot moment if you are able to get your hands on one this holiday season!  With that being said: Cosmic Crisp® apples will make the PERFECT holiday gift for anyone on your list!  
Why is this apple a big deal?
The Cosmic Crisp® is a classically bred apple originating from Washington State University and proudly grown in orchards throughout Washington state!

This is the most exciting apple launch in history, with many in agriculture referencing Cosmic Crisp® as "The Apple of Big Dreams™!"

Most importantly: it's DELICIOUS!  The perfect 5-star rating in crunch, texture, sweet, tart, and versatility – this apple is a star.
Why give Cosmic Crisp® apples as a holiday gift?
This December will be the first opportunity for consumers to try this apple, and demand is expected to surpass the supply!  Give the gift that many have heard about yet only those of us lucky enough to find them will have the opportunity to taste.

Affordability.  Often we are pressed with finding a gift that is budget-friendly AND highly desirable.  Cosmic Crisp® apples are a simple yet exciting gift to wrap up and give.

Healthy AND delicious.  Too often the gift of food during the holiday season is unhealthy.  This apple is fresh, tasty, and hearty – even if your recipient cannot eat it right away, Cosmic Crisp® will store in household refrigeration and stay fresh for several weeks!
Enjoy these gift tags.  Print them out & have your kids color them.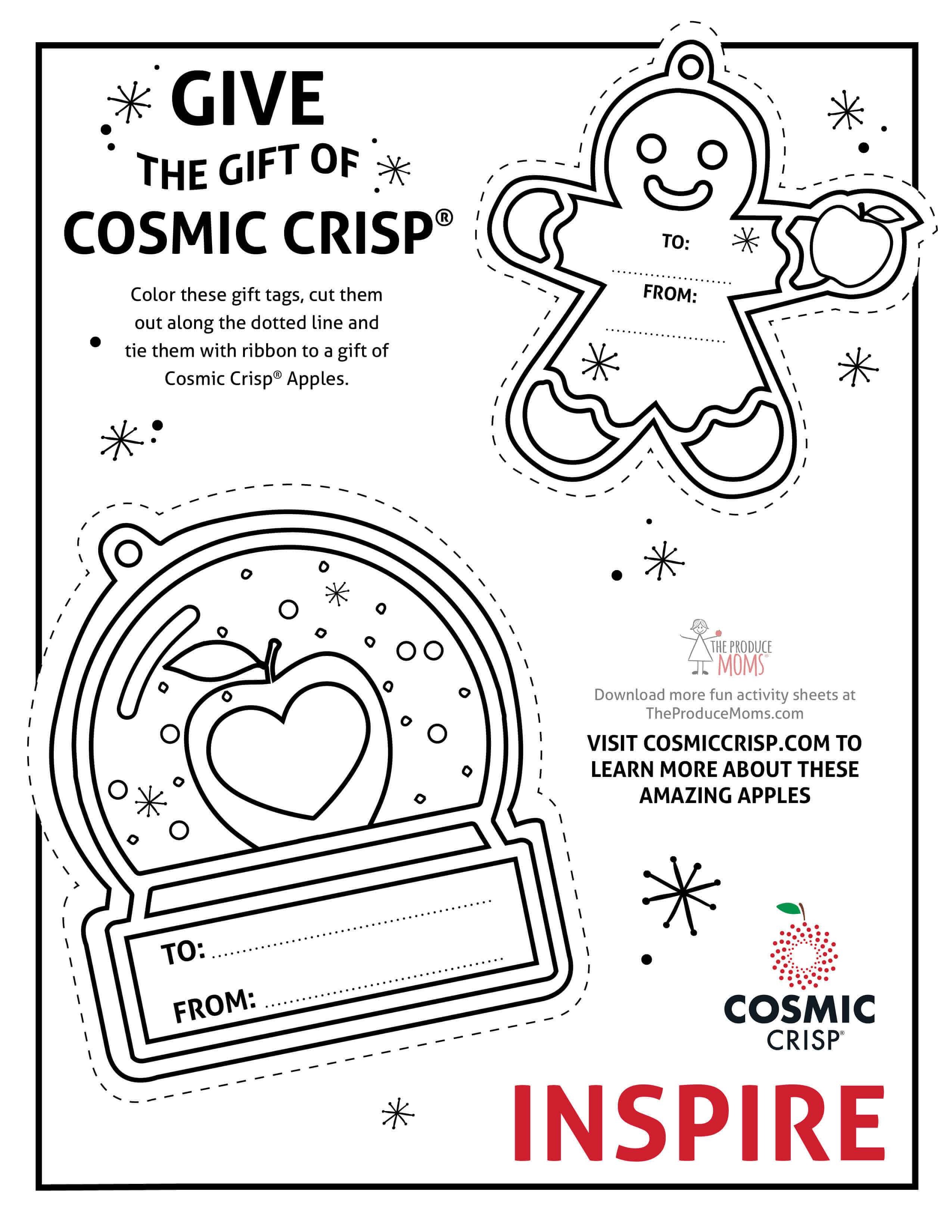 Cosmic Crisp® makes the perfect gift for family, friends, teachers, mail carriers, hairstylists, and even your furry friends.