Colorful Veggie Dishes To Kick Off The New Year {Indy Style}
Jan 10, 2019, Updated May 27, 2021
Delight your appetite with these colorful veggie dishes!
Have you resolved to eat healthier in the New Year? Jumpstart your healthy eating habits by making dishes that have great visual appeal. After all, the appetite begins with the eyes! Today on Indy Style, we showcased vegetables that come in fun colors and used them to make some delicious goodies.
Salad Savoy Signature Salad Variations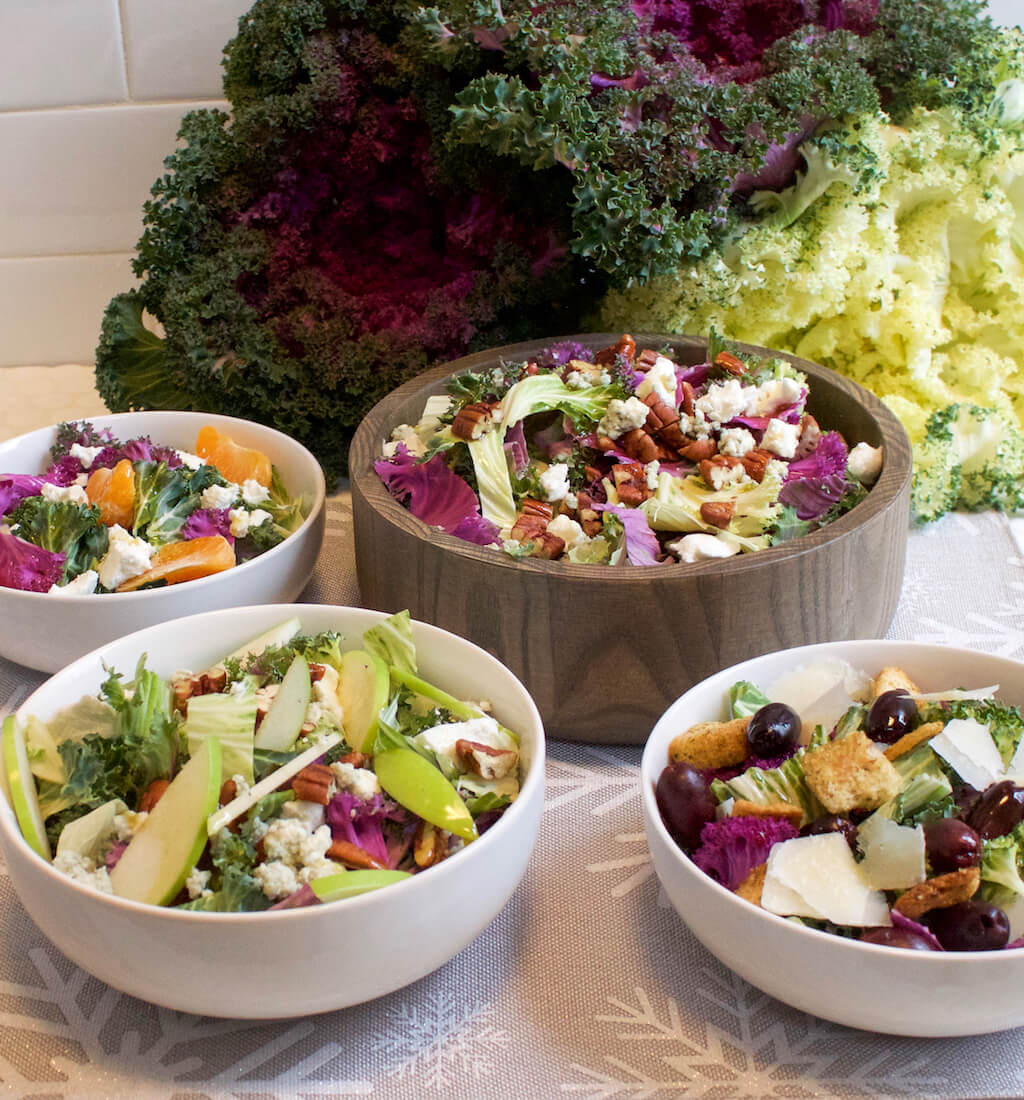 Every household needs a signature salad… something you can whip up without much effort for those days you need a veggie boost. What we love about this Salad Savoy Signature Salad is that you can keep the base the same, but change the toppings each day depending on your mood. It's perfect for meal prep! Make the base salad at the beginning of the week and keep things interesting throughout the week by changing the toppings.
These colorful salads are sure to get you amped up for eating healthier in the New Year! View all 4 of our favorite variations of the Salad Savoy's Signature Salad here.
Tie-Dye Cauliflower Pizza Crust
Here's a colorful idea to kickstart the kids' excitement about eating more veggies in 2019! Use Salad Savoy's Carnival Multicolor Cauliflower to create a tie-dye pizza crust. The secret to crafting the perfect cauliflower pizza crust is to use your juicer to create cauliflower rice. The juicer gets the water content out, which is vital for avoiding a soggy crust! Discard the cauliflower juice and use the pulp to make your crust.
You can also use a blender, food processor, or grater to create cauliflower rice. With these methods, however, you will need to steam the rice and then squeeze all of the water content out by hand before shaping it into a crust.
Don't forget to top your pizza with fruits and veggies! Remember, kids are more likely to eat things they have a hand in, so let them help pick the toppings and place them on the pizza.
Ingredients
Pulp from 1 head of green cauliflower
Pulp from 1 head of purple cauliflower
2 Egg
Garlic salt, to taste
Parmesan cheese
Italian cheese
Directions
Combine green cauliflower pulp, 1 egg, garlic salt, parmesan cheese, and Italian cheese and mix well.
Combine purple cauliflower pulp, 1 egg, garlic salt, parmesan cheese, and Italian cheese and mix well.
Take a handful of the green cauliflower mixture and layer it on top of a handful of the purple cauliflower mixture. Continue to layer and then press the layers flat onto a baking sheet.
Parbake the crust for 10 minutes on 400 degrees.
Remove from the oven and top with your toppings of choice and bake for 8-10 minutes.
Simple Celery Juice
Celery Juice a having its moment right now, and for good reason. Celery is alkalizing — in fact, celery is one of the most alkaline foods in the world! Beyond that, celery is a good source of potassium, fiber, folic acid, Vitamins A, C, B6, E, and K iron, calcium, and more! And it's low in calories and fat.
When juicing, order matters. Save the celery for last to increase the yield of your juice. Here's one of our favorite Celery Juice recipes. Juice the ingredients in the order they appear for the highest yield.
Ingredients
Lacinato kale
Lemon
Granny Smith apple
Jalapeño
Celery sticks (we recommend Dandy Celery Sticks because they come washed and ready to use. Plus, Dandy Celery Sticks are naturally sweeter!)
Directions
Place items in a juicer (in the order they appear above) and drink.
Thanks for watching! We hope these colorful and delicious produce dishes help kickstart your healthy eating habits. Participate in the Produce Challenge® for much more help and support meeting your goal.
The Support You Need To Eat More Fruits & Veggies All Year Long… 
Chances are, you aren't eating enough fruits or vegetables. 90% of Americans don't. That's why we created the Produce Challenge®. When you participate in The Produce Challenge, you'll receive 90 days of recipes + weekly shopping lists, guides for selecting & storing produce, 52 weeks of Crock-Pot meals, Instapot hacks, 6 months of baby food recipes and so much more! Plus, you'll have access to 24/7 online support and our private Facebook community. Learn more here and take advantage of our special New Year's pricing!