Celebrating Tailgating & Busy Fall Sports Season {Indy Style}
Sep 13, 2018, Updated May 28, 2021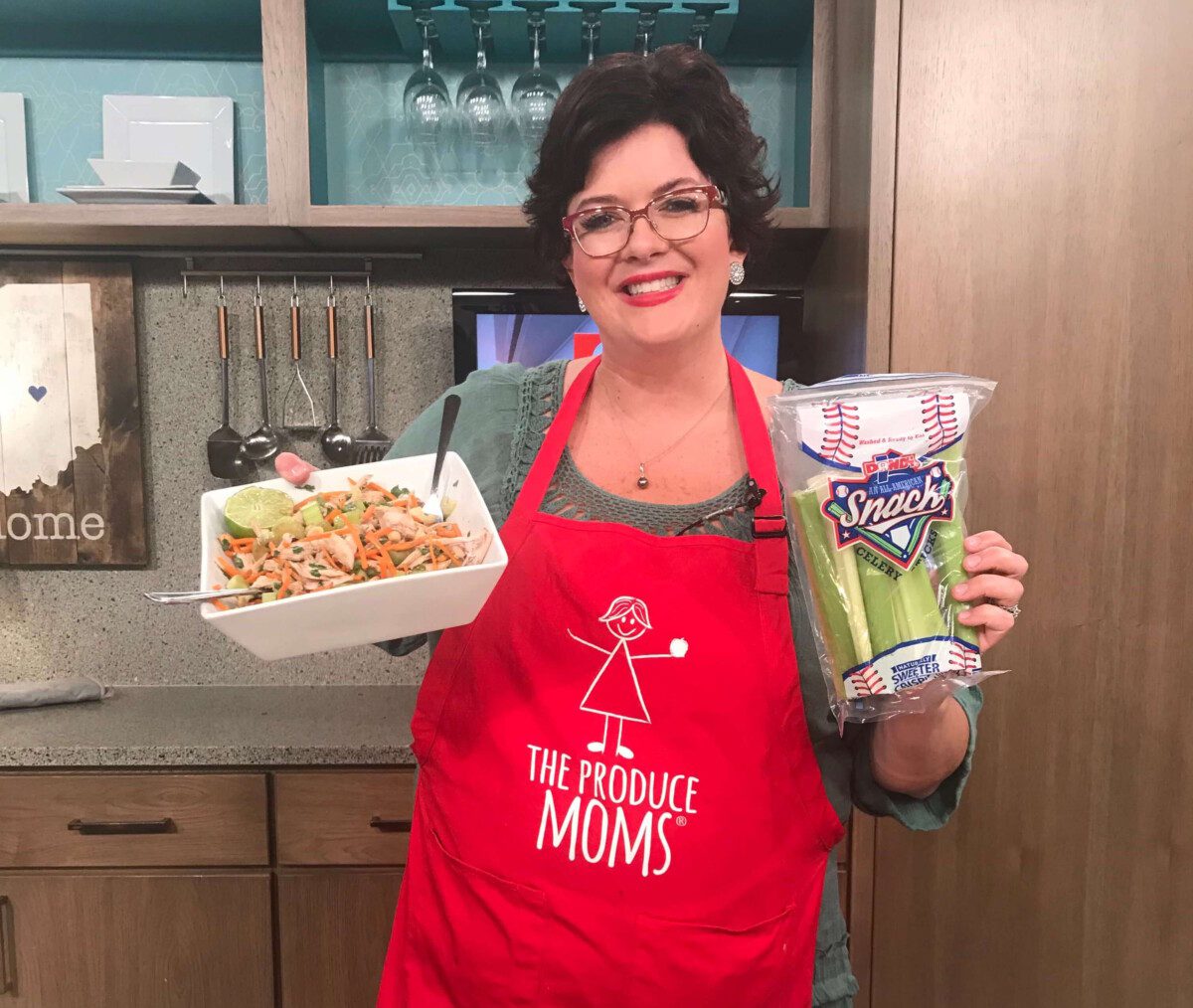 Today on Indy Style Lori Taylor shared crowd-favorite recipes for tailgating and quick and easy recipes that are perfect for the busy fall sports season. Each of these recipes is guaranteed to score big points with your friends and family!
Grab & Go Snack Jars
Save a few bucks by making your own convenient grab-and-go snacks. Make these jars in advance so you always have nutritious, delicious snacks on hand. Throw them in your bag as you head out to the ball field.

Ingredients
Option #1: 
Celery Sticks
Whipped Cream Cheese
Rainbow Gold Fish Crackers
Option #2:
Celery Sticks
Crunchy Peanut Butter
Pretzels
Directions
Place your dip into the bottom of a mason jar (either whipped cream cheese or peanut butter) and add celery sticks and either crackers or pretzels.
Cover with lid and store in the refrigerator.
Make-Ahead Cheese Ball
It's always a good idea to have a couple of easy snacks on hand for impromptu fall gatherings. Because celery is so hardy, it keeps its crunch. Even when this appetizer is made ahead of time and stored in the fridge for a day or two, the celery remains crunchy.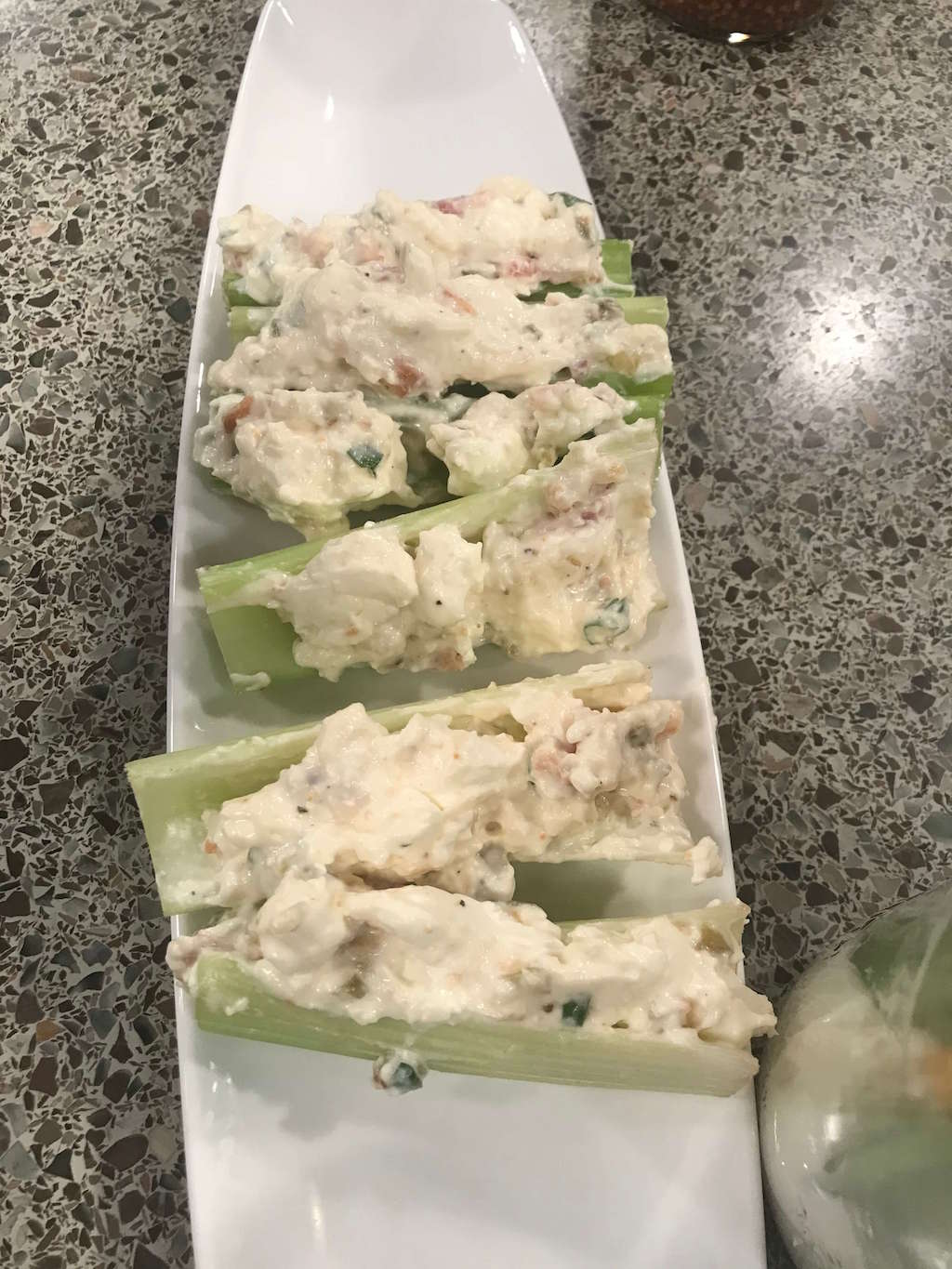 Ingredients
Cream Cheese
Bacon Crumbles
Diced Onion or Scallions
Diced Celery
Celery Sticks
Directions
In a bowl, mix together cream cheese, bacon, onions or scallions, and diced celery.
Fill celery sticks with cream cheese mixture. Store in an air-tight container in the refrigerator until ready to serve.
Pickled Celery
Fall = Football & Tailgating! The best tailgating parties always include a delicious cocktail. Try creating a Bloody Mary bar at your next tailgate. Pickled Celery is a great way to elevate Bloody Marys and it's incredibly easy to make!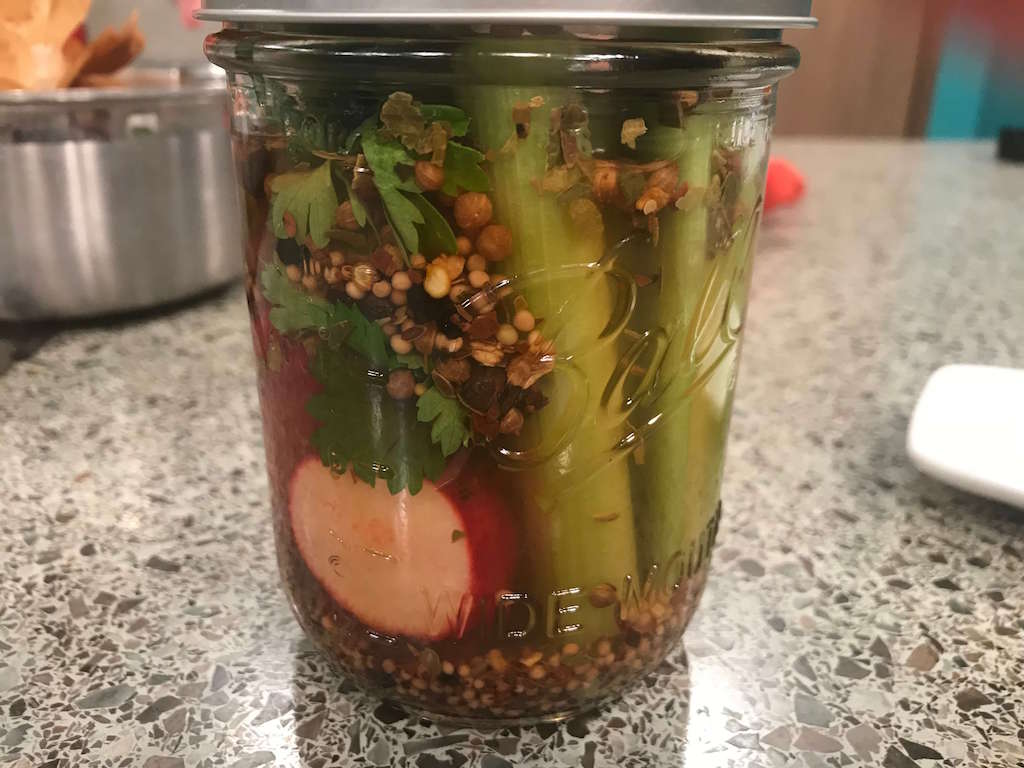 Ingredients
Water
Vinegar
Salt
Sugar
Pickling Spices
Radishes
Celery Sticks
Parsley
Scallion Tops
Directions
Create a brine by simmering water, vinegar, salt, sugar, and pickling spices. Simmer until the salt and sugar have dissolved and the pickling spices have rehydrated.
Place celery, radishes, parsley, and scallion tops in a mason jar.
Pour the bring into the mason jar, making sure to entirely cover the celery.
Tighten the lid onto the mason jar and store in the refrigerator. Pickled celery will be ready after 24 hours.
*recipe adapted from Sheknows
Roasted Radish Hummus with Celery Sticks
Roasting radishes brings out their natural nutty flavor. In this recipe, we replace the garbanzo beans found in traditional hummus with roasted radishes. This dish will be the MVP of your next tailgate.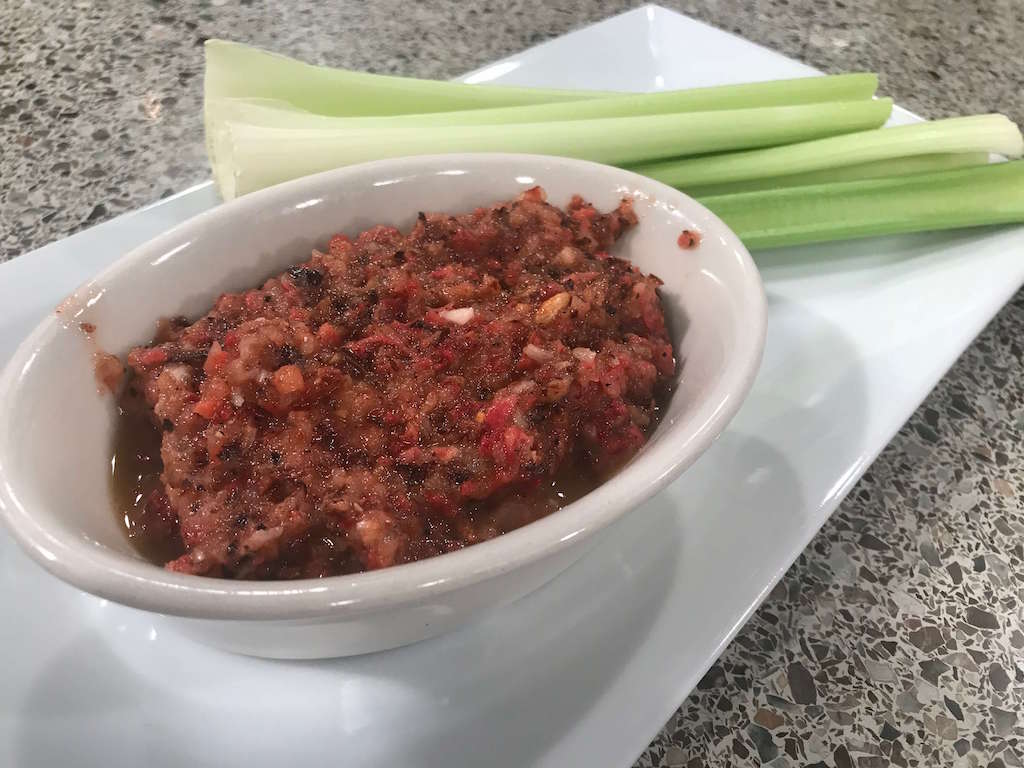 Ingredients
12 ounces Dandy® Fresh-Cut Radishes, cut into quarters
2 tablespoons olive oil, divided
2 tablespoons freshly squeezed lemon juice
2 tablespoons tahini
1 clove garlic, chopped
½ teaspoon cumin
½ teaspoon salt
¼ teaspoon black pepper
Dandy® Celery Sticks for dipping
Directions
Preheat oven to 400 F. Toss radishes with 1 tablespoon olive oil and arrange in a single layer in a baking dish.
Roast 25 to 30 minutes, or until tender and lightly browned. Remove and let cool.
In a food processor or high-powered blender, combine roasted radishes, remaining olive oil, lemon juice, tahini, garlic, cumin, salt and pepper. Puree until smooth.
Transfer to a small serving dish or ramekin and serve with celery sticks.
*recipe courtesy of Dandy®
Thai Celery Bowls
This dish takes just 10 minutes to throw together. It's a tasty dinner solution for busy fall weeknights. Read our full post on this recipe here.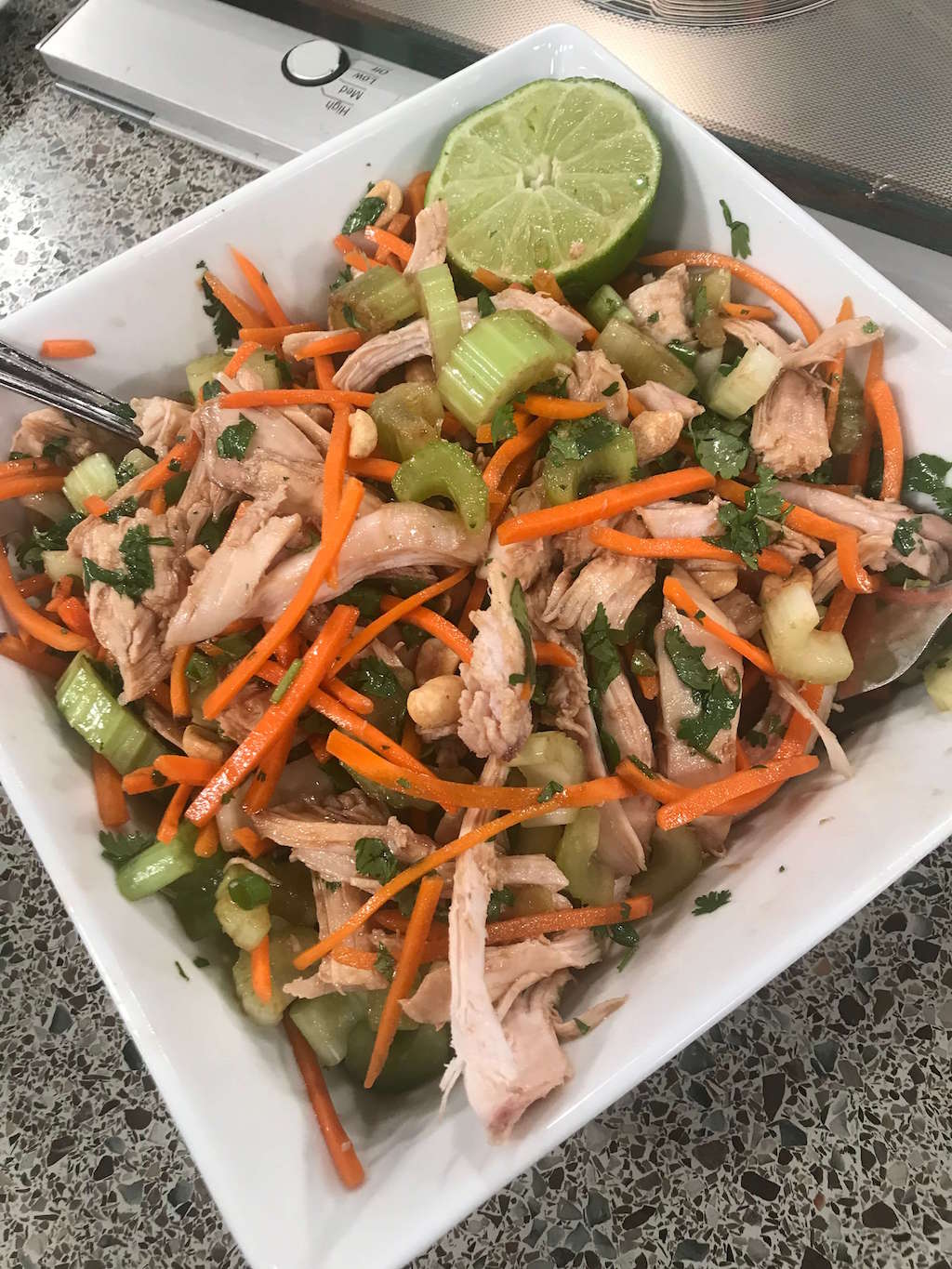 Ingredients
1/2 cup carrots, shredded
6 Dandy® Celery Sticks, chopped
1/3 cup cilantro, loosely packed leaves
1 tsp jalapeño or fresh chili, chopped
1/4 cup peanuts, roasted
1 scallion, chopped
2-3 cups pulled rotisserie chicken
2 tsp fish sauce (or soy sauce)
2 tbsp lime juice, fresh
1 tsp salt and pepper
1/2 tsp sugar
2 tbsp canola oil
Directions
Mix the carrots, celery, cilantro, jalapeño (or fresh chili), peanuts, scallion, and chicken in a medium-size bowl. NOTE: These items can be prepped the night before and stored in the refrigerator.
In a small mason jar, add together the fish sauce, fresh lime juice, salt and pepper, sugar, and canola oil. NOTE: Dressing can also be made ahead and stored in the refrigerator.
When ready to serve, shake the contents of the mason jar and pour over the Thai Celery dish. Toss well and enjoy.
Blueberry Walnut Guacamole
Avocados and berries are two of the hottest items in the produce department right now. Surprisingly, avocado and blueberries pair really well together. Be adventurous and try this new take on traditional guacamole. We promise you won't be disappointed.
Ingredients
2 ripe but firm Naturipe® Avocados, peeled and pitted
1/2 cup 

coarsely mashed fresh Naturipe® Blueberries

1-3 tsp lime juice
1/4 to 1/2 bottle Litehouse® 

Guacamole Herb Blend, to taste

Salt, to taste
Directions
Lightly mash avocados in a medium bowl. Add remaining ingredients and stir lightly to mix.

Serve with corn tortilla chips.
Farro Chickpea Salad with Avocado and Berries
This salad is a complete meal. It includes grains, veggies, plant-based protein, and fruit. It comes together quickly and is another great go-to meal for busy fall evenings.  The recipe serves 4 but is easily doubled for a crowd and will keep for a few hours in the refrigerator.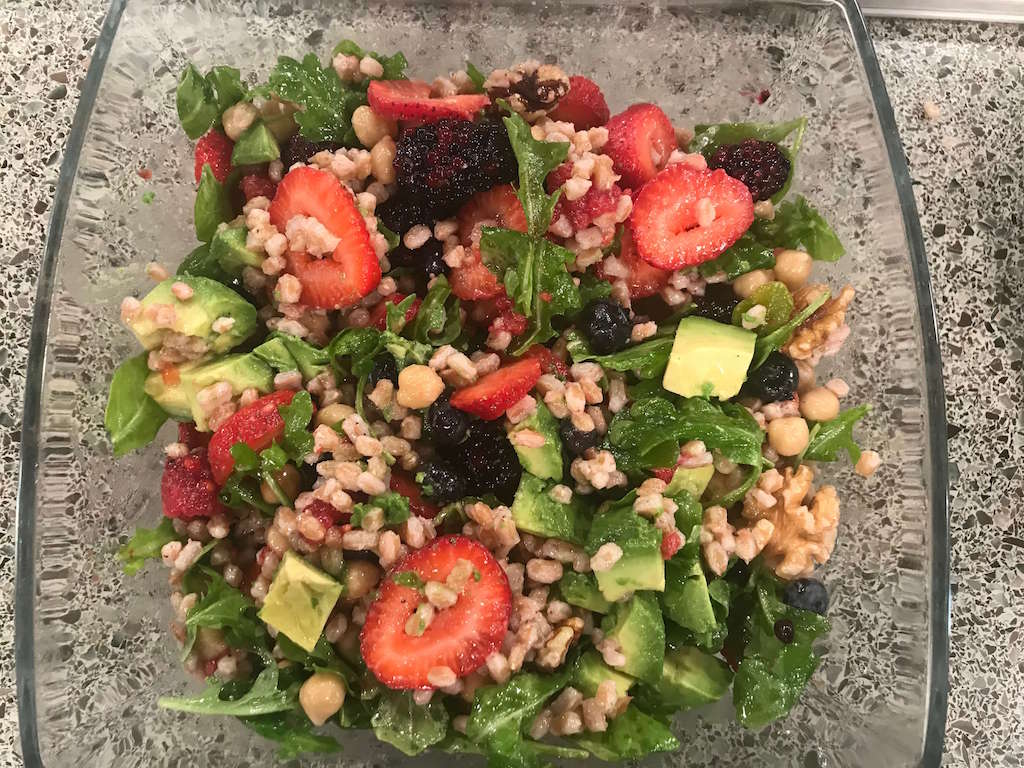 Ingredients
1 cup farro

1 15-ounce can chickpeas, drained and rinsed

2 cups arugula

3 tablespoons olive oil

2 tablespoons lemon juice

1/8 teaspoon salt

1 Naturipe Avocado, peeled, pitted and cut into cubes

¼ cup Naturipe Blueberries

¼ cup Naturipe Strawberries, sliced

¼ cup Naturipe Blackberries

½ cup Naturipe Raspberries
Directions
Prepare farro according to package instructions. Transfer to a bowl and refrigerate until cooled.

Combine cooled farro, chickpeas, and arugula in a large bowl. Add olive oil, lemon juice, and salt and toss to coat.

Fold in avocado and berries. Serve immediately.
Thanks for watching! Be sure to let us know which recipe you are most looking forward to trying. And if you have a favorite go-to fall meal or tailgating recipe that features produce, share it in the comments or tag us on Instagram @TheProduceMoms.