Celebrating Back-To-School Season with Blueberry and Apple Recipes on Indy Style
This post is sponsored by North Bay Produce. 
The back-to-school season is upon us! Whether your kids are taking classes online or heading back to the classroom, they'll need nutrients and energy to get the most out of every lesson. And what better way to give them that nutrition than with blueberries and apples? Lori showed off some of her favorite recipes on Indy Style alongside Sharon Robb from North Bay Produce.
Everything we're sharing is optimized for the back-to-school season. From snacks to boost your day to meals that you can prepare in batches and freeze, there's something here for even the busiest moms!
Back-To-School with Blueberries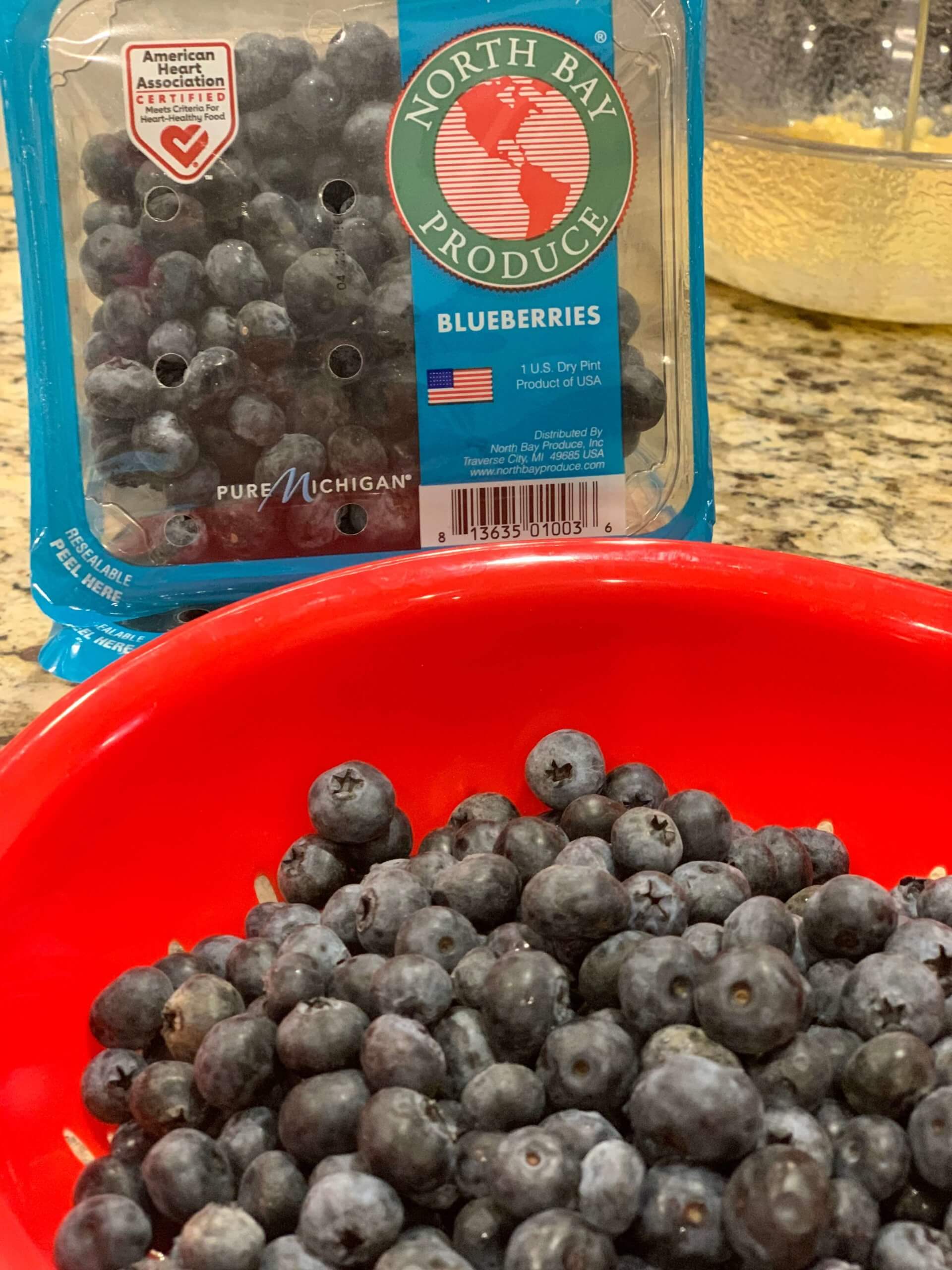 It's the peak of blueberry season, so we're using world-famous Michigan blueberries in our recipes! We started our Indy Style segment with a power muffin you can eat on-the-go. With oats, walnuts, chia, and flax seeds, these tasty oatmeal cups are an excellent source of fiber and other essential nutrients. You'll love how easily this recipe comes together, too!
Baked Blueberry Banana Oatmeal Cups
When the kids come home from school (or get up from the computer) and are hungry for a snack, whip up these simple oatmeal cups to keep them happy and energized all afternoon. The sweet scent alone will be enough to perk them up after a long day!
Ingredients
1 cup blueberries
2 eggs
2 cups old fashioned oats
2 medium ripe bananas
½ cup honey
1 tsp baking powder
1 TBSP flax
1 TBSP chia seeds
1 tsp cinnamon
1 tsp vanilla
½ cup chopped walnuts
Directions
Preheat oven to 425 degrees F.
In a large bowl, mash banana with a fork or potato masher. Add eggs and stir into bananas until combined. Add the rest of the ingredients, except blueberries and walnuts.  Mix well.
Fold in blueberries and nuts stirring gently. Using a large size ice cream scoop, portion mixture into a greased muffin tin.
Bake at 425F for 15 minutes. Leave to cool in muffin tins for 10 minutes to set up. Then remove from tins and place in cupcake liners to cool completely.
Sharon's tip: These oatmeal cups can be frozen for up to a month!
Blueberry Chia Jam with Ginger
Blueberry jam isn't just for toast anymore (although they still make a great pair). From sourdough to crackers, it's a versatile snack topping for all occasions. To that end, our North Bay Produce partners created this irresitable jam recipe.
Ingredients
3 cups blueberries
4 TBSP honey
2 TBSP lemon juice
3 TBSP chia seeds
1 tsp grated ginger
Directions
In a medium saucepan over medium heat, add blueberries, honey, lemon juice and ginger.  Bring to a simmer, mashing blueberries with a potato masher or back of spoon to release juices.
Add chia seeds and stir into mixture to distribute well.  Simmer for 10 to 15 minutes additional minutes until the jam is desired thickness.
Remove from heat and pour in heat resistant jars.  Once cool, store in the refrigerator for up to a week.
Sharon's tip: Try different combinations of fruit and juice to create different flavors!
You can control the sweetness of your jam when you make it at home. We use honey as a natural, nutritious sweetener, but you can use any sweetener of your choice. The secret ingredient in this jam is chia, which helps bind the jam together and adds a source of fiber. We've also added a bit of ginger to give it a sweet-and-savory flavor.
Perfect for afterschool snacks or a PB&J lunch, this blueberry jam with chia will help you add more nutrition to your family's favorite foods.
An Apple a Day
When we think of back-to-school snacks, a specific fruit comes to mind: apples!
Good presentation complements good food. That's as true for your kids' snacks as it is for the finest French cuisine! We put together a tray of eye-catching Fresh Apple Kabobs that are easy and fun to eat. With an assortment of red and green fruits, it's a mini rainbow on a stick! Here's what we added to each kabob:
Green Apple Kabobs
Green Apples
Kiwi
Green Grapes
Honeydew Melon
Red Apple Kabobs
Red Apple slices
Red Grapes
Strawberries
Raspberries
Watermelon
We use Crunch Pak apples because they're long-lasting and already sliced, meaning all we need to do is pop open a bag and get crunching. But they're a great choice for any apple recipe too, like these Pancake Cereal and Apple Slices.
Breakfast Pancake Cereal and Apples
Miniature things are in vogue this back-to-school season, so we decided to hop on the bandwagon! By using mini microwavable pancakes, we found this breakfast treat was easy to throw together on a busy morning.
Simply make the pancakes according to the package directions and add syrup as you normally would. Then add your apple slices on top. To spread the apples more evenly, try slicing them into even smaller pieces before adding them. We found another use for that amazing Blueberry and Chia Jam: finish off these pancakes by spreading it on top.
These pancakes are an easy way to get your kids to start their day with fresh fruit. Adding apple slices and a nutrient-dense spread in place of more processed or sugary options reinforces nutritious eating habits and boosts wellness and energy.
Ingredients
Directions
Prepare pancakes as directed on the box.
Chop one bag of Crunch Pak apples.
In bowl, add pancakes and on one side and chopped apples.  Top with syrup.
Nutrition for Learning
The biggest trick to getting your kids to incorporate more fruits and vegetables into their snacks and meals is to make sure they're easy to find and eat. Adding sliced fruit to your kids' lunchboxes with some dips or other snacking items will add some much-appreciated flavor to their lunch alongside essential nutrition.
We love Crunch Pak apples for the same reason we love other sliced fruits and vegetables: they're easy! Check out your grocery store's produce section for other pre-sliced options. The only difference between these and fresh, uncut produce is that they've been dipped in calcium and vitamin C to preserve their freshness. This natural preservation technique doesn't impact the flavor of the produce at all!
What are your favorite ways to sneak more produce snacks into your family's busy school schedule? Do you have any back-to-school snacks or meals your kids love? Share them in the comments below or tag us on Instagram @theproducemoms!