Banana Hair Mask
Jul 19, 2021, Updated Aug 15, 2022
Bananas are nature's perfect on-the-go snack! They boast a sweet, mild flavor in a convenient natural package. But there's much more to the banana than just taste! Let's unpeel another possibility of this incredible nutritious fruit with the Banana Hair Mask.
One way to give your body the nutritional benefits of the banana is by eating it, of course. But that's just one of the versatile banana's many uses! If your hair is dull and dry or looking a bit frizzy, apply the hydration and nutrition of your bananas directly to it. This Banana Hair Mask is a simple homemade way to boost the health of your hair and scalp.
How to Make a Banana Hair Mask
Hair masks are designed to improve the health of your hair. But do you always know what goes into them? You can be confident in the ingredients of this Banana Hair Mask because there are just two of them: bananas and honey!
Each ingredient is full of nutrients and health benefits, including antioxidants that are important for hair strength. But rather than eating them together on a sandwich, use them in this recipe to strengthen your hair, reduce dandruff, and rebalance your scalp's PH.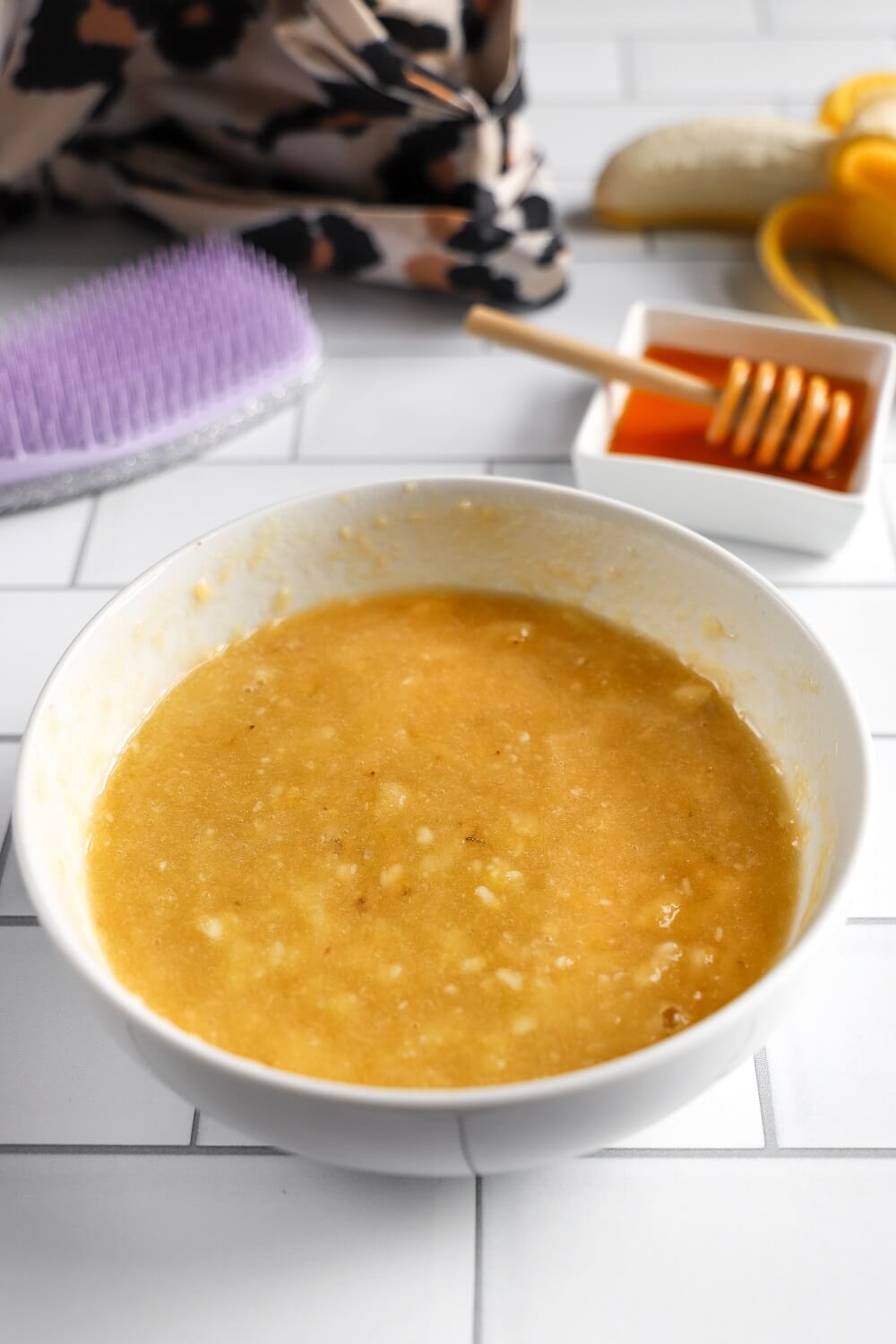 Bananas make a creamy base for this hair mask. Most people will find that two bananas suffice for their hair, but if yours is especially long, you may need to use three. To start, puree them in a blender or food processor or break them up with a fork in a bowl. Just be sure to break them down into a thick paste with no big chucks. Larger bits of banana are difficult to get out of your hair!
Next, add the honey to the banana paste and mix together thoroughly. You'll need about two tablespoons – but if you're using three bananas, increase to three tablespoons of honey as well. Need some extra moisturization? Try adding two tablespoons of olive oil to this mask.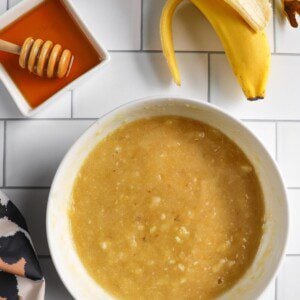 Ingredients
2

ripe bananas

2

tbsp

honey
Instructions
Blend or use a fork to mash ripe bananas into paste.

Add honey and blend thoroughly.
Nutrition information is automatically calculated, so should only be used as an approximation.
Like this? Leave a comment below!
Using Your Banana Hair Mask
Hair masks are easy to use and leave your hair feeling luxurious, and this Banana Hair Mask is no exception!
Begin by getting your hair slightly damp. Massaging some water into your hair should do the trick. Next, apply the mixture to your hair. To contain the mess, this is best done over a sink or bathtub. Massage it into your hair, starting at the roots and working your way down to the ends. Use all of the mask to fully saturate your hair.
When you're done, cover your hair with a shower cap. Let the mask sit on your hair for 30 minutes. This gives your hair time to absorb all of the nutrients and hydration of the bananas and honey.
Ready to wash your hair? Just wash and rinse your hair with your normal shampoo. Be sure to check your hair for any bits of mask! You may find that the Banana Hair Mask has hydrated your hair so much that you don't need to use conditioner, but you can still use it if you want to.
Get more out of your favorite produce items with our other DIY beauty recipes, like this Avocado Face Mask!
What did you think of this Banana Hair Mask? Did it refresh and hydrate your hair? Share your healthy hairdo with us on Instagram @@theproducemoms!