Back-To-School Recipes Featuring Apples & Blueberries {Indy Style}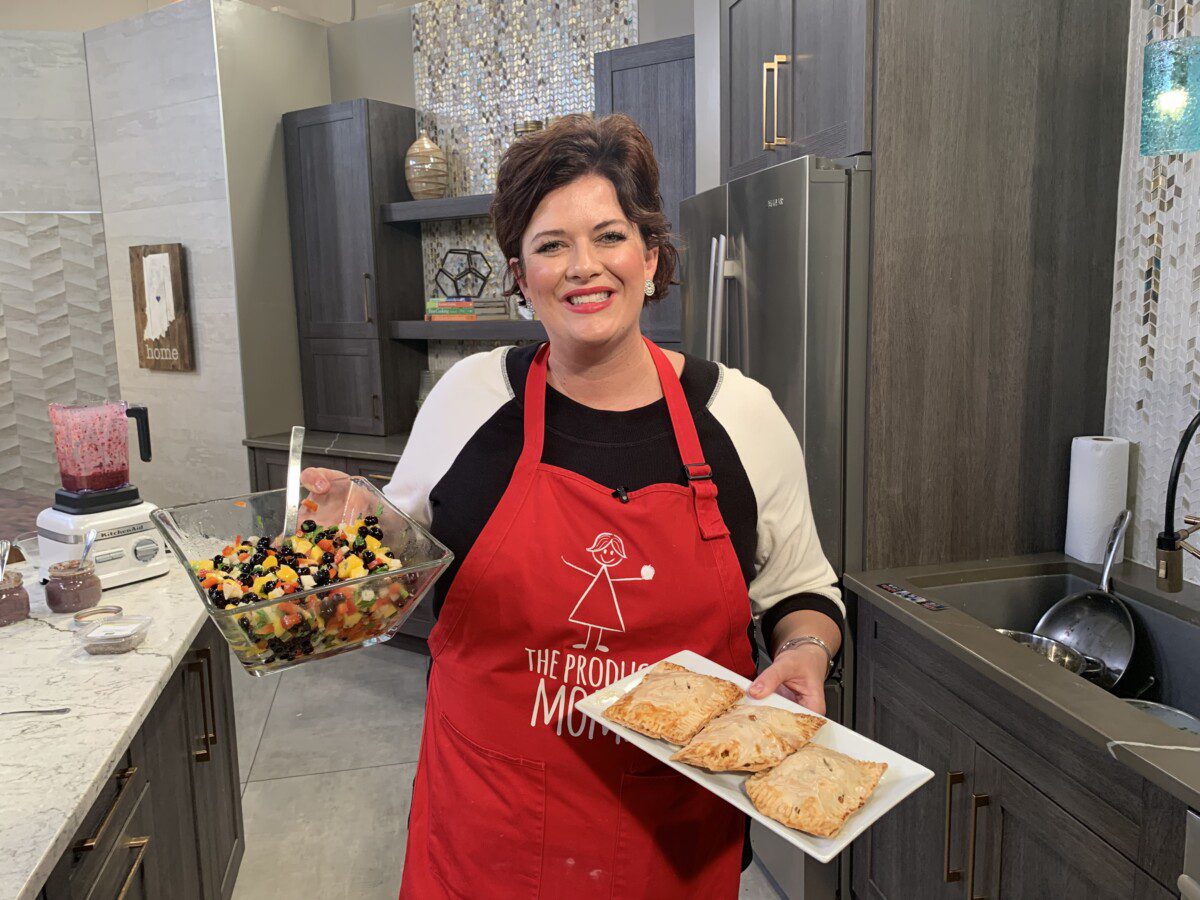 Mom and kid approved back-to-school recipes
The kids are headed back to school so today on Indy Style we shared mom and kid approved recipes featuring apples and blueberries. Blueberry season is in full swing, making it one of the most affordable times to purchase them. And apples are one of everybody's favorite fruits!
Apple Pop Tarts
Send your kids back to school with a special breakfast, Homemade Apple Pop Tarts.
Ingredients
3 cups chopped apples (from one or two 12 oz. packages Crunch Pak Organic Apple Slices)
1/3 cup coconut sugar, brown sugar, or pure cane sugar
1 teaspoon lemon juice + 1/2 teaspoon lemon zest, optional
1 teaspoon ground cinnamon
1/4 cup water
1 tablespoon cornstarch
2 refrigerated pie crusts or double pie crust recipe (use gluten-free, if needed)
egg wash, optional
Glaze: (optional)
1 1/2 cups powdered sugar
1 teaspoon vanilla extract
1–2 tablespoons milk of choice
Directions
1. Preheat oven to 375oF. Roughly chop apples into small cubes. Place chopped apples, sugar, and lemon juice/zest into a medium saucepan and cook over medium-high for several minutes, until apples begin to release juices and become tender.
2. In a small bowl, stir together cornstarch and water. Stir slurry into apple mixture and cook until sauce has thickened. Remove from heat let cool thoroughly.
3. Place one of the pie crusts on a lightly floured surface and roll into a rectangle/oblong shape. Trim the rounded borders, sparingly, to make a rectangle with four straight edges. Cut rectangle into 6 even squares/rectangles. Each pie crust will yield 3 large pop tarts, but you can make slightly smaller pop tarts and get 8 even sections in each pie crust, giving you 8 instead of 6 pop tarts altogether.
4. Place a generous spoonful of apple filling into the center of three of the cut pieces of pie dough, brush the edges with water or egg wash, then place the other halves over the side with
the pie filling and press the edges together. Use the back of a fork to crimp the edges of each pop tart. Repeat with the second pie crust.
5. Place all of the prepared pop tarts onto a baking sheet lined with parchment paper. Brush with egg wash, then bake in the preheated oven for 20–25 minutes, or until crust is golden brown. Let pop tarts cool completely before drizzling with glaze.
6. To make glaze: combine powdered sugar, vanilla, and 1–2 tablespoons of milk into a small mixing bowl, whisking until glaze is smooth. Add additional milk, if needed to get the right
consistency.
7. Drizzle glaze over pop tarts and serve.
*Recipe courtesy of our brand partner Crunch Pak. 
Chocolate-Dipped Apple Slices
Chocolate-Dipped Apple Slices make a fun after-school snack. Crunk Pak® Apple Slices make this recipe a breeze, no cutting required!
Ingredients
1 packet – Crunch Pak Honeycrisp Apple Slices (or Crunch Pak apple slices of choice)
3⁄4 cup semi sweet or dark chocolate chips
1 tbsp unrefined coconut oil
1⁄4 cup roasted pecans, chopped
1⁄4 cup roasted unshelled pistachios, chopped
1⁄4 cup cacao nibs
1⁄8 cup chia seeds
Directions
1. Line a baking tray with parchment paper and set aside.
2. Melt the chocolate chips and coconut oil in a microwave-safe bowl for 45 seconds.
Remove from the microwave and stir. Continue microwaving, stirring every 30 seconds
until the chocolate has melted and you have a smooth consistency.
3. Line your apple slices on the parchment-lined baking tray. Dip each slice in chocolate
and place back down on the tray.
4. Sprinkle one quarter of the apple slices with the pecans, one quarter with the chia seeds,
one quarter with the pistachios, and one quarter with the cacao nibs.
5. Place baking tray in the fridge for about 10-15 minutes, or until chocolate has hardened
and the toppings are set.
6. Store chocolate dipped apple slices in an airtight container in the fridge for 4-5 days.
*Recipe courtesy of our brand partner Crunch Pak. 
Apple Rosé Sangria
After you send the kids off to school, treat yourself to a celebratory cocktail. You survived the summer, and we think that deserves a toast!
Ingredients
1 bottle of your favorite Rosé
1 cup of Apple Juice
1/2 cup mint leaves
Crunch Pak Sweet Apple Slices
1 small bottle of Sparkling water
Strawberries, sliced
Directions
In a pitcher, mix together sliced apples, strawberries and mint.
Pour Rosé and Apple Juice into pitcher and mix well. Refrigerate for 30 minutes to let the flavors mix.
Upon serving, top with sparkling water. Serve and enjoy!
Blueberry Crisp
Blueberries can be enjoyed at every meal of the day. Start with this Blueberry Crisp for breakfast.
Ingredients
2 pints blueberries
1 cup of sugar
1/4 cup flour
juice of one lemon
1 tsp vanilla
Topping
1 1/2 cups oatmeal (old fashioned style)
3/4 cup brown sugar
2 TBLS flour
1/2 cup coconut (non-sweetened, fine shred)
1/4 tsp cinnamon
1 stick (1/2 cup) butter softened slightly
Directions
1. Preheat oven to 350 F.
2.In a bowl, combine blueberries, sugar, 1/4 cup flour and combine so berries are covered in the flour sugar mixture.
3. Sprinkle with lemon juice and vanilla and toss until liquid is evenly distributed.
4. Pour berries into a greased 8×8 pan or med sized casserole dish and set aside.
5. In another bowl, combine oats, brown sugar, 2 TBLS flour, coconut, and cinnamon. Mix well. Add the butter, tablespoon at a time using a fork or potato masher to incorporate. The butter should not be melted but soft enough to lightly coat the oat mixture.
6. Once the butter is incorporated, spread over berries and bake for 40 minutes or until the berries begin to bubble and the oat topping is golden brown. Serve with vanilla ice cream.
*Recipe courtesy of our brand partner North Bay Produce. 
Blueberry Mango Pico de Gallo 
Here's a fruity, fun spin on pico de gallo… Blueberry Mango Pico de Gallo. It's great on chicken or fish for dinner or serve it with cinnamon chips as an after-school snack.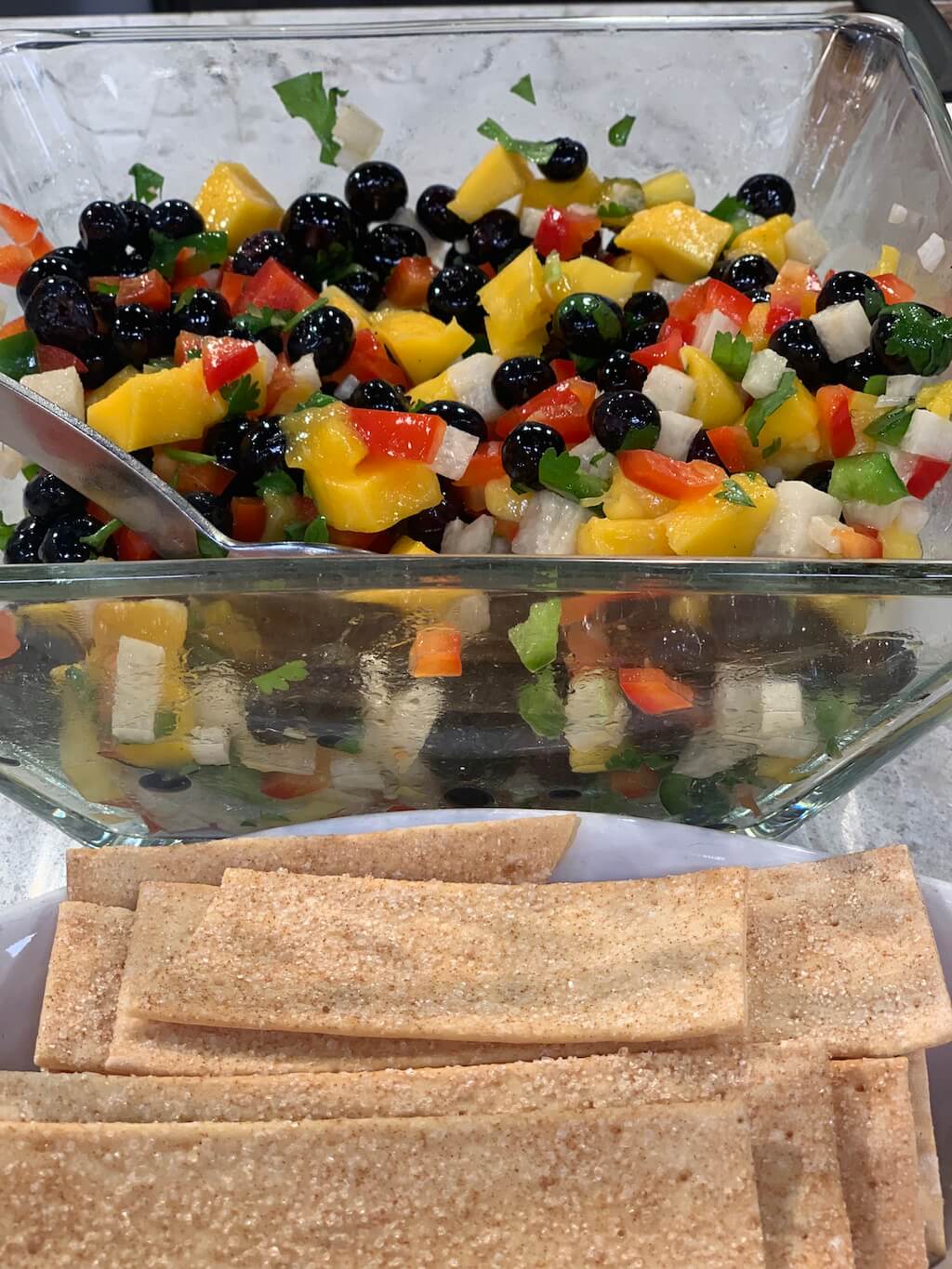 Ingredients
1 cup blueberries
1 mango (chunked)
1 jicama ( peeled & diced)
1 red pepper (diced)
1/2 jalapeno pepper (optional)
1/4 cup cilantro (chopped)
1 TBLS olive oil
salt and pepper to taste
Directions
Place all ingredients in a bowl (except cilantro) and mix to combine.

Add cilantro tossing to combine. Season with salt and pepper for the desired flavor.
*Recipe courtesy of our brand partner North Bay Produce. 
Berry Chia Pudding
This make-ahead breakfast option is packed with protein and fiber. It's a great way to start the day. Both kids and adults love this recipe!
Ingredients
1 cup blueberries
1/2 cup raspberries
1/2 cup blackberries
2 cups of coconut milk
1 tsp vanilla
2 TBLS maple syrup
1/2 cup chia seeds
Directions
1. In a blender, combine chia seeds, blueberries (reserve a few for the top of each cup), coconut milk, maple syrup, and vanilla until combined.
2. Ladle mixture into 4 ramekins or small glass dishes.
3. Cover with plastic wrap and chill half hour to set up.
4. Top with fresh berries divided up between the 4 cups.
*Recipe courtesy of our brand partner North Bay Produce. 
Thanks for watching! Which of these recipes will your kids love? Share in the comments below or tag us in your food photos on Instagram @theproducemoms.