August 2021 Indy Style: Summer's Most Popular Recipes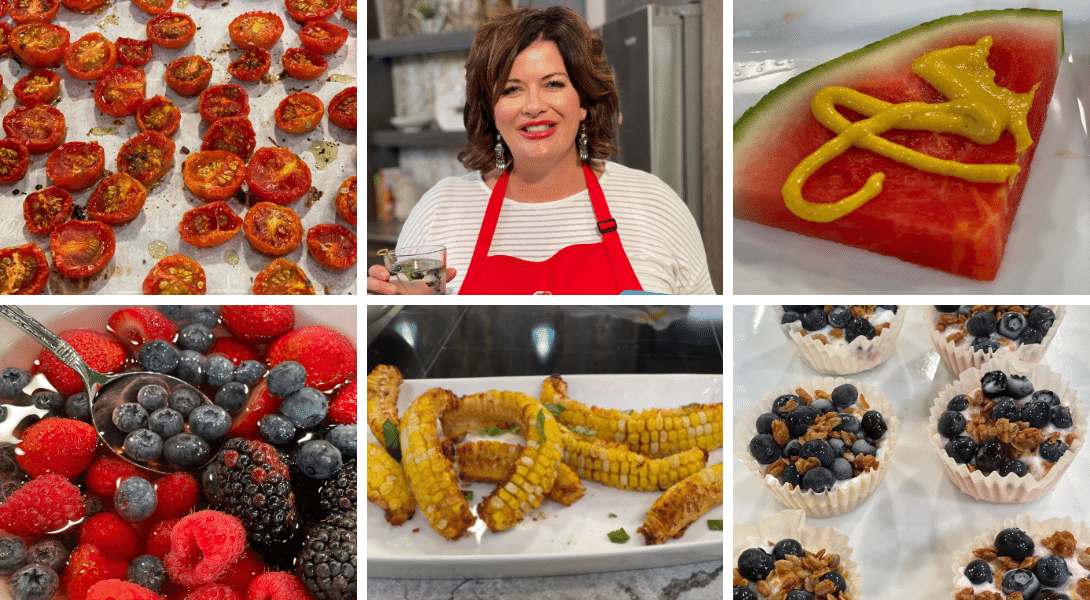 We're celebrating summer's most popular recipes in our August 2021 Indy Style appearance!
Right now we're obsessed with two things: blueberries and TikTok! We brought them both to the Indy Style kitchen to show you some of summer's most popular recipes to bring to your table before fall arrives. We'll try fun trends like mustard on watermelon, spiced pickled garlic, pasta chips, and much more.
If your kids have a case of the blues as summer ends, some tasty blueberry recipes are sure to cure them! Blueberries are in season right now, so we brought some of our favorites from North Bay Produce on set. We're also cooking with NatureSweet Glorys® and Dandy sweet corn, which we'll use in some unique and trendy TikTok recipes.\
Easy Blueberry Cobbler
Dump cakes and cobblers are easy to make and perfect for getting the kids involved in the kitchen. This Blueberry Cobbler makes a tasty breakfast, snack, dessert, or pitch-in item. Try it over vanilla ice cream for the full cobbler experience!
It takes just three ingredients to make our Blueberry Cobbler. You just need blueberries (lots of them!), butter, and a box of lemon cake mix. You can also add brown sugar as a topping, but it's optional.
Blueberry Cobbler
Ingredients
3 cups fresh blueberries
1/3 cup brown sugar
1 box lemon flavor cake mix
3/4 cup butter, thinly sliced
Directions
Spread blueberries in a rectangular cake pan (13×9 metal or glass).
Sprinkle sugar on top and mix everything together.
Spread dry cake mix on top.
Place butter slices evenly on top.
Bake at 350 degrees F for 30-40 minutes until the top is golden brown and firm.
Serve warm and enjoy!
Frozen Blueberry Yogurt Cups
Here's another recipe kids love to make! These Frozen Blueberry Yogurt Cups turn your breakfast parfait into a fun dessert. Just place yogurt, berries, and granola into cupcake liners and freeze! When frozen, yogurt turns into a tasty popsicle. You can also let it thaw a bit for a soft-serve consistency.
Frozen Blueberry Yogurt Cups
Ingredients
Granola
Greek yogurt (flavored or plain)
Favorite berries
Cupcake liners (optional
Directions
Line muffin tin with cupcake liners or set up cupcake liners on a cookie sheet.
Layer each cupcake liner with granola.
Add Greek yogurt on top of granola. Fill each cupcake liner to the top with the yogurt.
Top off each yogurt cup with berries and put in the freezer for at least 2 hours. Store in an airtight container in the freezer up to 2 weeks.
Blueberry Gin Mojito
Next up: a recipe for grown-ups! Mojitos are one of summer's most popular recipes as far as cocktails go. This Blueberry Gin Mojito is a refreshing drink for the hot days at the end of summer. You can whip up a drink worthy of the best cocktail bars around by using fresh mint and North Bay Produce blueberries.
Want an easier way to muddle fruit for your cocktails? Try using your lemon squeezer! Just place your berries into the squeezer and juice them into the glass, just like you would a lemon. When you've thoroughly squeezed them, just drop the crushed berries into the drink. You'll get the muddled flavor and effect without the extra work!
Blueberry Gin Mojito
Ingredients
1 cup North Bay Produce blueberries
1 bunch mint leaves
½ lemon (cut into slices)
1 ½ oz fresh lemon juice
2 tsp super fine sugar
4 ounces Gin
Club soda
Directions
Take 10 large mint leaves and divide into two glasses.
Add 1/2 cup blueberries (divided) and sugar (divided) muddling until mint has started to release oils and sugar is saturated.
Add lemon juice and stir until sugar is dissolved. Add Gin and stir.
Fill with crushed ice and top with club soda and stir well. Garnish with remaining blueberries and mint leaves with lemon slices.
Carrot Bacon
Want a meat-free alternative to bacon without losing that delicious bacon flavor? Try this Carrot Bacon! Using some seasoning wizardry, you can turn sliced carrot strips into a breakfast essential.
We paired our Carrot Bacon with some pesto eggs. For a fresh take on a classic breakfast, use pesto instead of butter or oil as the non-stick ingredient when frying your eggs. Start by heating pesto in your skillet, then crack the eggs on top. As they fry, the eggs will absorb the pesto flavor and become an incredible addition to your breakfast plate.
Carrot Bacon
Ingredients
2 medium carrots
2 tbsps maple syrup
½ tbsp soy sauce, tamari or liquid aminos work too
¼ tsp liquid smoke
¼ tsp garlic powder
¼ tsp onion powder
¼ tsp smoked paprika
⅛ tsp black pepper
Directions 
Preheat oven to 350°F (180°C) if using a regular oven. If using an air-fryer set it to 380°F (190°C).
Wash carrots and peel thinly lengthwise with a vegetable peeler or mandoline slicer.
In a shallow dish, mix together the remainder of the ingredients.
Marinate the carrot strips in the sauce for at least 5 minutes. Work in batches if needed so that the carrots are fully covered.
Place carrots on a lined baking sheet evenly spread out. Place in the oven for 10-15 minutes (or in an air-fryer for 5 minutes), flipping halfway through. When they are wavy they are ready. Don't worry if they're not crunchy yet, they will harden more as they cool. Sprinkle with salt if you want them to dry out faster and become crispier.
Glorys Pasta Chips and Dip
Pasta? As chips? You bet! These air-fried chips are a unique snack that you won't be able to get enough of. But if you don't have an air fryer, don't worry – you can still make these in the oven! Start by cooking the pasta al dente, then pop it into your air fryer or oven to make it nice and crispy.
The pasta chips by themselves are delicious, but this snack truly becomes glorious when paired with Glorys® Whipped Ricotta. Glorys are delicious by themselves, but roasting brings even more flavor out of them. And we've practically stuffed this dip with them! Cheesy and zesty, this addicting dip is perfect for parties, game nights, or movie nights. It turns this chips and dip recipe into one-of-a-kind classy comfort food.
Glorys Pasta Chips and Dip
Ingredients
For the Pasta Chips
8 ounces Bowtie pasta
1 tablespoon olive oil
3 tablespoons freshly grated Parmesan cheese
½ teaspoon Italian seasoning
½ teaspoon garlic powder
Kosher salt
Freshly ground black pepper
For the Glorys® Whipped Ricotta
2 cups ricotta
2 tbsp parmesan cheese freshly grated
zest of one lemon
1 tbsp fresh thyme chopped, plus more for garnish
1 container NatureSweet Glorys® tomatoes
1 tbsp olive oil
salt and pepper to season
Directions
For the Pasta Chips
Bring a large pot of heavily salted water to a boil. Cook pasta al dente according to package directions and drain.
Toss the pasta with olive oil, parmesan cheese, Italian seasoning, garlic powder, salt and pepper.
Air fryer at 400°F for 10-12 minutes, tossing a couple times.
For the Glorys® Whipped Ricotta
Preheat the oven to 350°F (180°C).
Cut the Glorys in half and place in a baking tray. Sprinkle with chopped thyme, salt, pepper and half ½ tbsp of olive oil. Roast for 15-20 minutes then remove to set aside and cool.
Put the ricotta, lemon, parmesan and a pinch of salt and pepper to a food processor, blitz until smooth (a couple of seconds).
Add the ricotta dip to a serving plate or shallow bowl and make a small well in the middle.
Add the roasted tomatoes, drizzle with a touch of olive oil, a sprinkle of salt and pepper and a few extra thyme leaves. Serve with crusty bread or crackers.
Nature's Cereal
We've featured many dishes that are solely made up of fruit (not including the mustard-covered watermelon we tried), but here's a new one: Nature's Cereal! Made with berries and frozen pomegranate seeds covered in the fresh flavor of coconut water, this is a recipe we can imagine eating while watching the sunrise on a beach.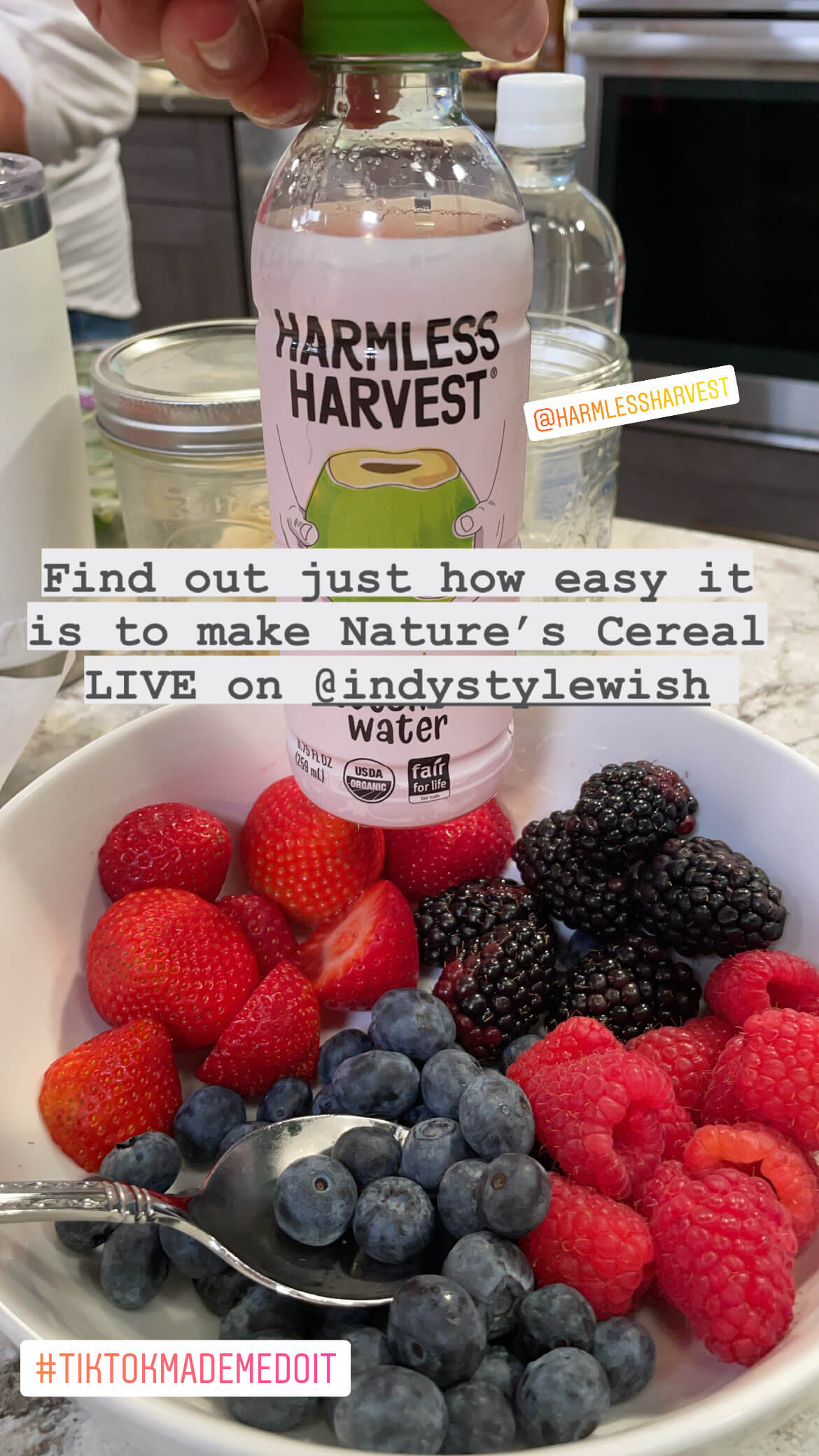 Nature's Cereal
Ingredients
Berries
Coconut Water
Frozen pomegranate
Directions
Berries in a bowl.
Cover with coconut water.
Add in frozen pomegranate.
Corn Ribs
It's still summer, and one of summer's most popular recipes is barbecued ribs. But if you're on a plant-based diet and missing those deliciously smoky flavors, here's an alternative that may be even better than the real thing: Corn Ribs! Air frying corn is one of our favorite corn on the cob hacks, and this recipe puts this hack to use with new flavor.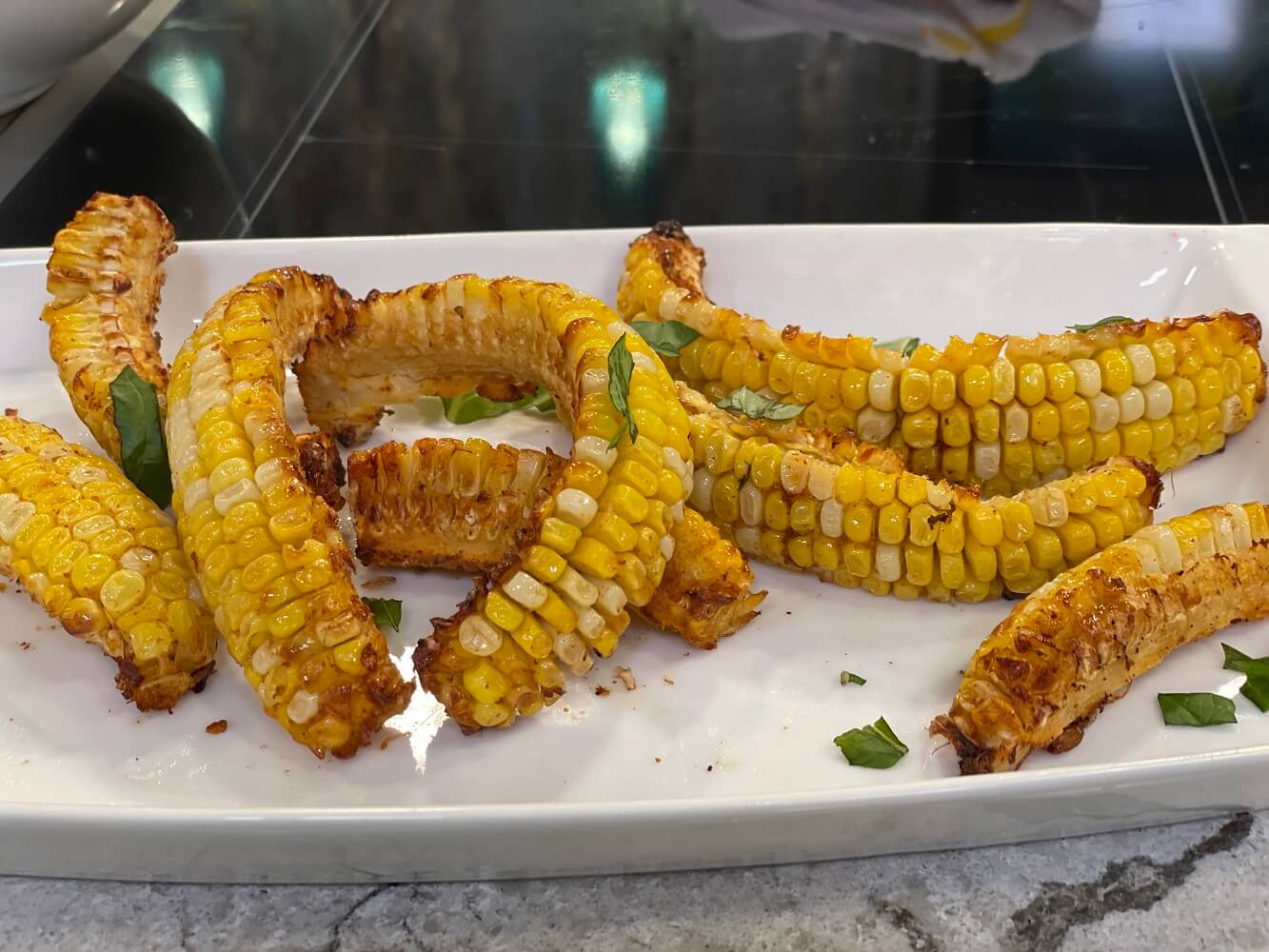 How do you make ribs from corn? It's actually quite easy! Start by preparing corn on the cob: shuck, wash, and quarter it. You can also shave the corn off the cob to create rib-shaped pieces. Then mix up your "barbecue" flavor. Liquid smoke and garlic powder recreate those grilled flavors you crave. Cover the corn in the mixture and fry it in your air fryer. When it's ready, you'll have transformed corn on the cob from a tasty side into an attention-grabbing cookout entree!
Corn Ribs
Ingredients
3 Corn fresh
2 tablespoon Olive Oil
1 teaspoon Paprika
2 teaspoon Garlic Powder
1 teaspoon Liquid Smoke
1 pinch Salt
Directions 
Remove corn from husk and cut off ends, wash and then quarter.
In a large mixing bowl, add oil, paprika, garlic powder, salt and liquid smoke. Whisk until combined.
Cover corn in spiced oil mixture and place singularly into air-fryer pan
Fry for 10 minutes on high setting or until tender with crispy brown edges. Serve immediately.
Spiced Pickled Garlic
Another recipe that has been trending on TikTok is Spiced Pickle Garlic. The flavors of Sriracha, thyme, and ground pepper combine with garlic in new and delicious ways. This is a fun and tasty way to add new dimensions to classic garlic – and any meal you want to add it to!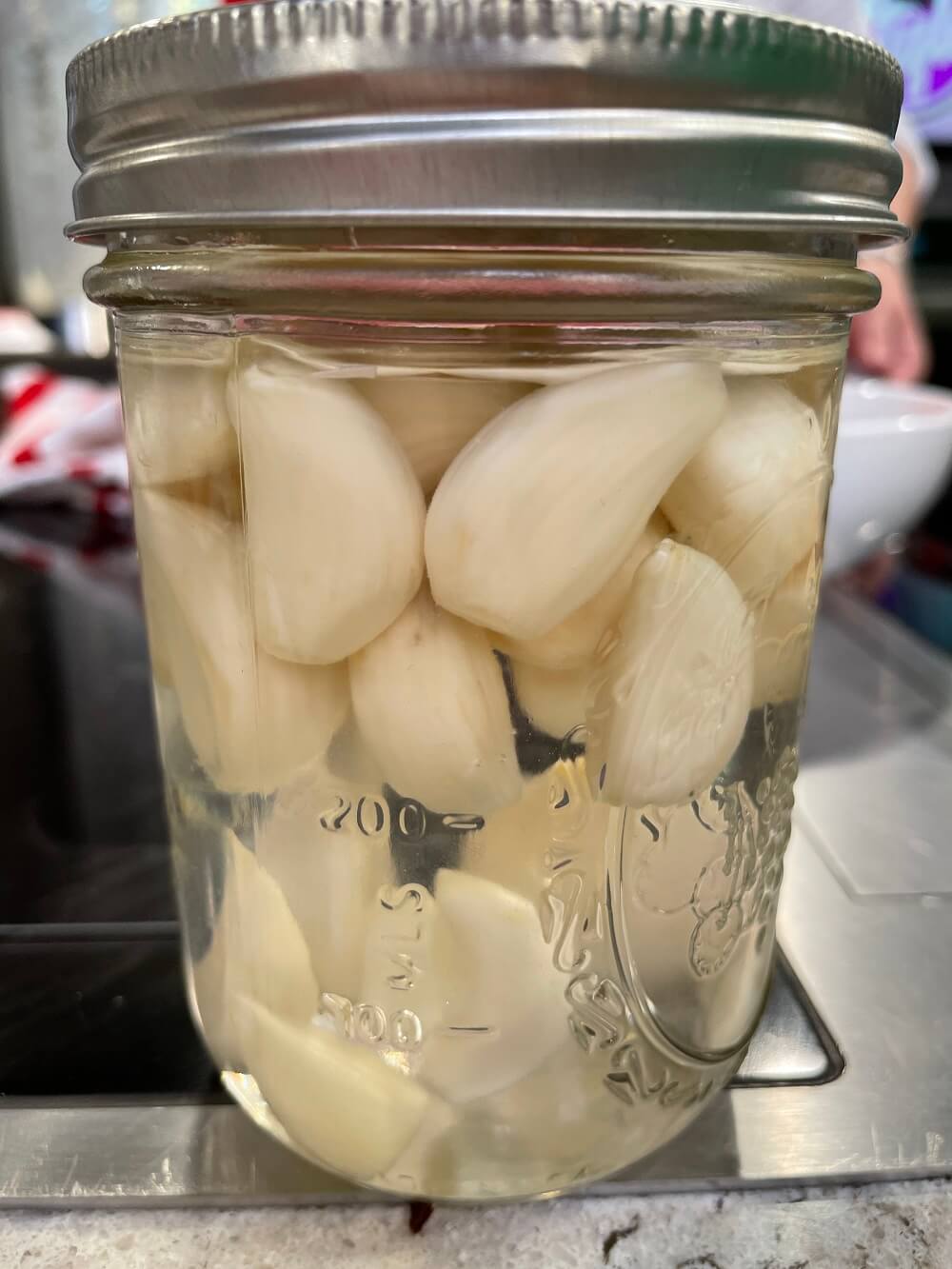 Spiced Pickled Garlic
Ingredients
16 ounce pickled garlic, peeled
2 tbsp Sriracha sauce
2 tsp dried thyme
2 tsp ground cayenne pepper or paprika
Directions
Open your jar and drain the garlic pickle juices.
Add sriracha sauce, thyme and cayenne pepper or paprika to the jar.
Close the lid of the jar.
Shake the jar really well so that everything gets well coated.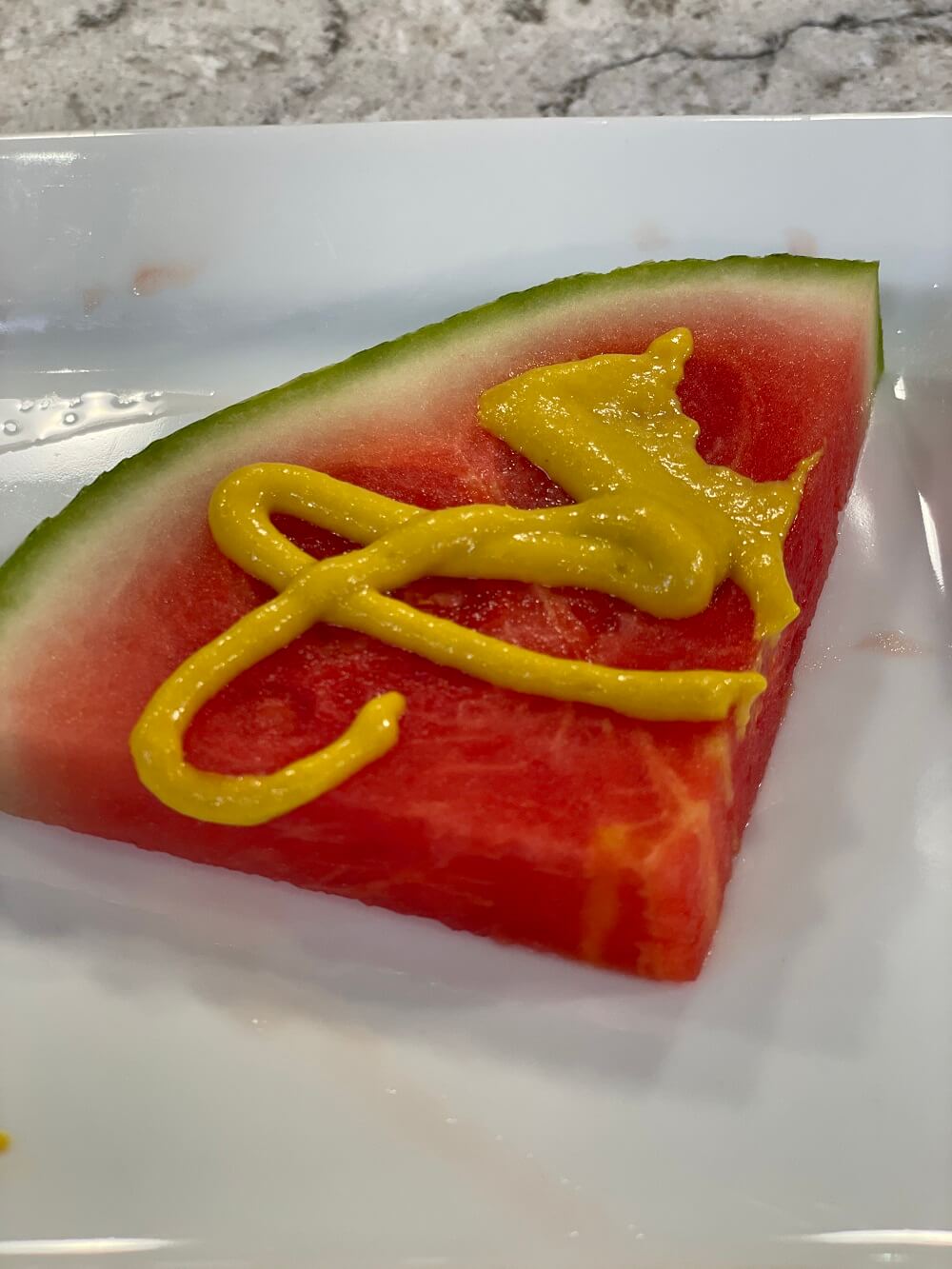 What were your favorites out of summer's most popular recipes? Which ones will make it to your dinner or picnic table before the weather cools off? Let us know in the comments!