All About Tropical Avocados
This post is sponsored by WP Produce.
Avocados are a tasty way to add color and cool, creamy texture  to any dish! Whether you roll them in a burrito, layer them on a sandwich, mash them into guacamole, or toss them in a salad, they'll bring flavor and nutrition to your meal. They're easy to store and slice or dice, too, which has them a favorite fruit in kitchens all over the world.
But do you ever wish you could get more avocado out of your avocado? Then check out Desbry Tropical Avocados from WP Produce! These avocados are bigger than the variety typically found in your produce section. There's a lot to love about these big avocados.
What is a tropical avocado?
The avocado most people are familiar with is a deep shade of green and covered in bumps or ridges. While they may simply call it an "avocado", it has a more specific name: the Hass avocado. You might also see it advertised as an "avocado from Mexico" or "California avocado." But it's just one version of this much-loved fruit.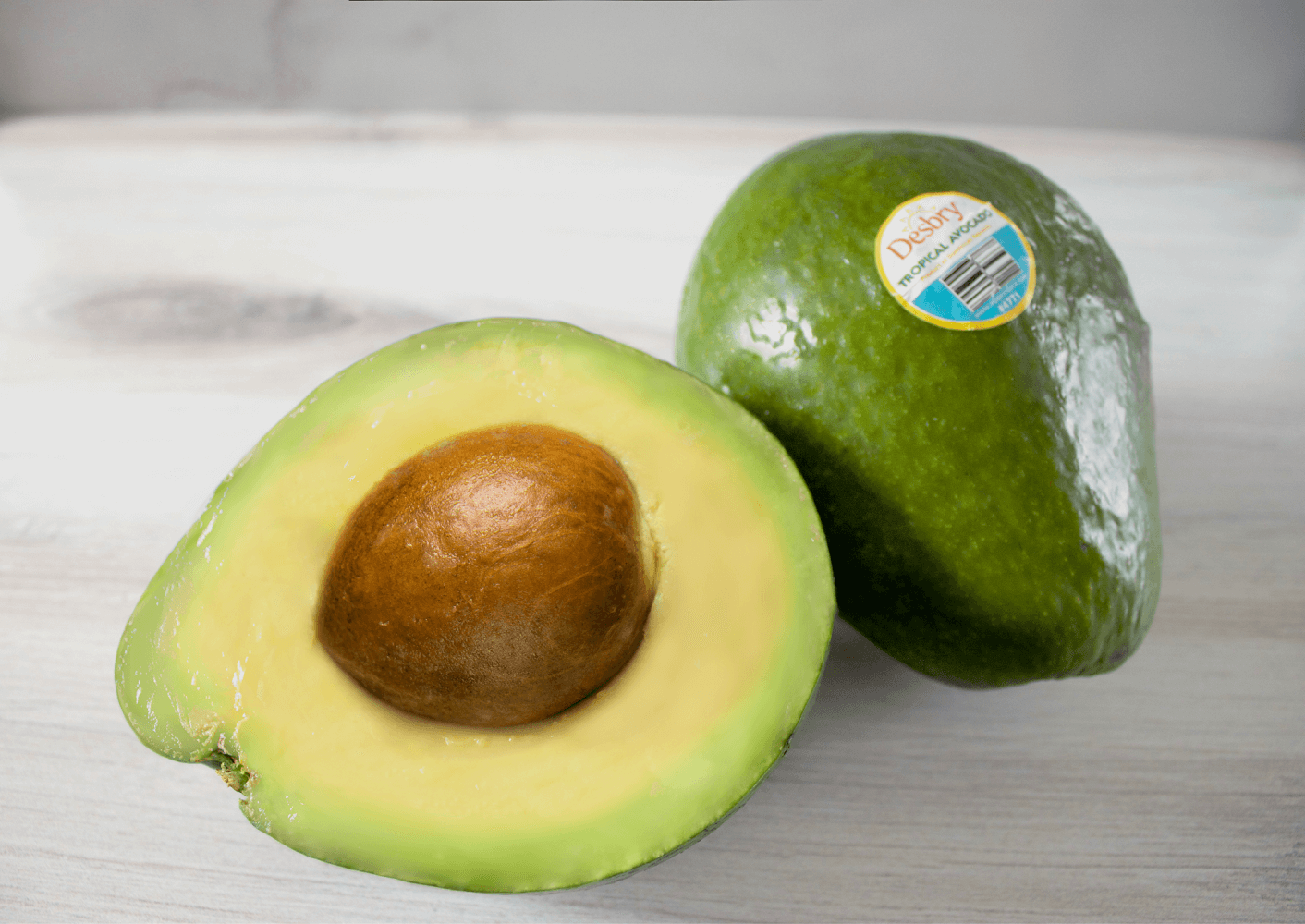 The tropical avocado is another. It has the same familiar pear-like shape and its smooth, bright green skin makes it even easier to spot in the produce section. But more importantly, it's naturally double or even triple the size of a Hass avocado. That means you'll be able to scoop more value out of each individual avocado!
Because they're so large, you won't have to spend as much time peeling and slicing them as you would smaller avocados. That means you can spend more time eating and enjoying them! And if you ever find that you don't use the whole thing, don't worry: tropical avocados don't oxidize, or turn brown, as quickly as other kinds of avocados.
Tropical avocados boast a slightly lower fat content than Hass avocados and have a lighter, sturdier, fresher texture to them. That makes them ideal for slicing and dicing and an excellent topping for sandwiches, wraps, and salads. They're also perfect for chunky dips like ceviche and pico de gallo and can even be blended into smoothies!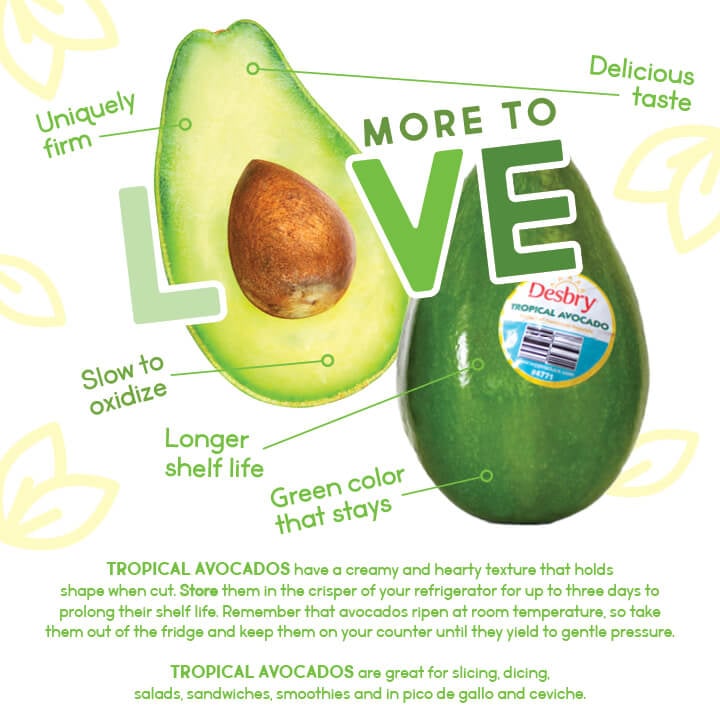 Where do they come from?
Desbry Tropical Avocados are shipped by our partners at WP Produce. Their story begins almost 30 years ago in Miami, where Willy Pardo sold tropical, hard-to-find produce to neighbors. These fruits and veggies were staples in their diets but weren't always available at their local supermarkets.
From the back of Willy Pardo's truck, WP Produce has grown into a purveyor of tropical fruit both common and exotic while maintaining strong partnerships with growers and a dedication to customers. Their Desbry line of produce is home to delicious tropical avocados, which are shipped to stores around the U.S. from growers in the Dominican Republic  and Florida. Tropical avocados are available year-round from the Dominican Republic, while ones from Florida are shipped from June through December.
How can I enjoy tropical avocados?
Once they're ripe, it's time to enjoy! Tropical avocados are great sliced, diced and cut into chunks where they can stand out as the main ingredient—such as salads, sandwiches, wraps, and avocado toast. Or, be added to a dish to enhance the flavor and visual presentation—such as soups, ceviche, and pico de gallo.
Some of our favorite recipes include the Caprese Tropical Avocado Salad, Tropical Avocado Mango Pico de Gallo and Tropical Avocado Tacos.
Where can I find tropical avocados?
Want to add these delicious avocados to your recipes? Find tropical avocados in your local produce section year round.. They're already popular along the East Coast of the United States, particularly in Florida, and throughout the Caribbean, but we think avocado lovers everywhere should get a taste of the tropical avocado!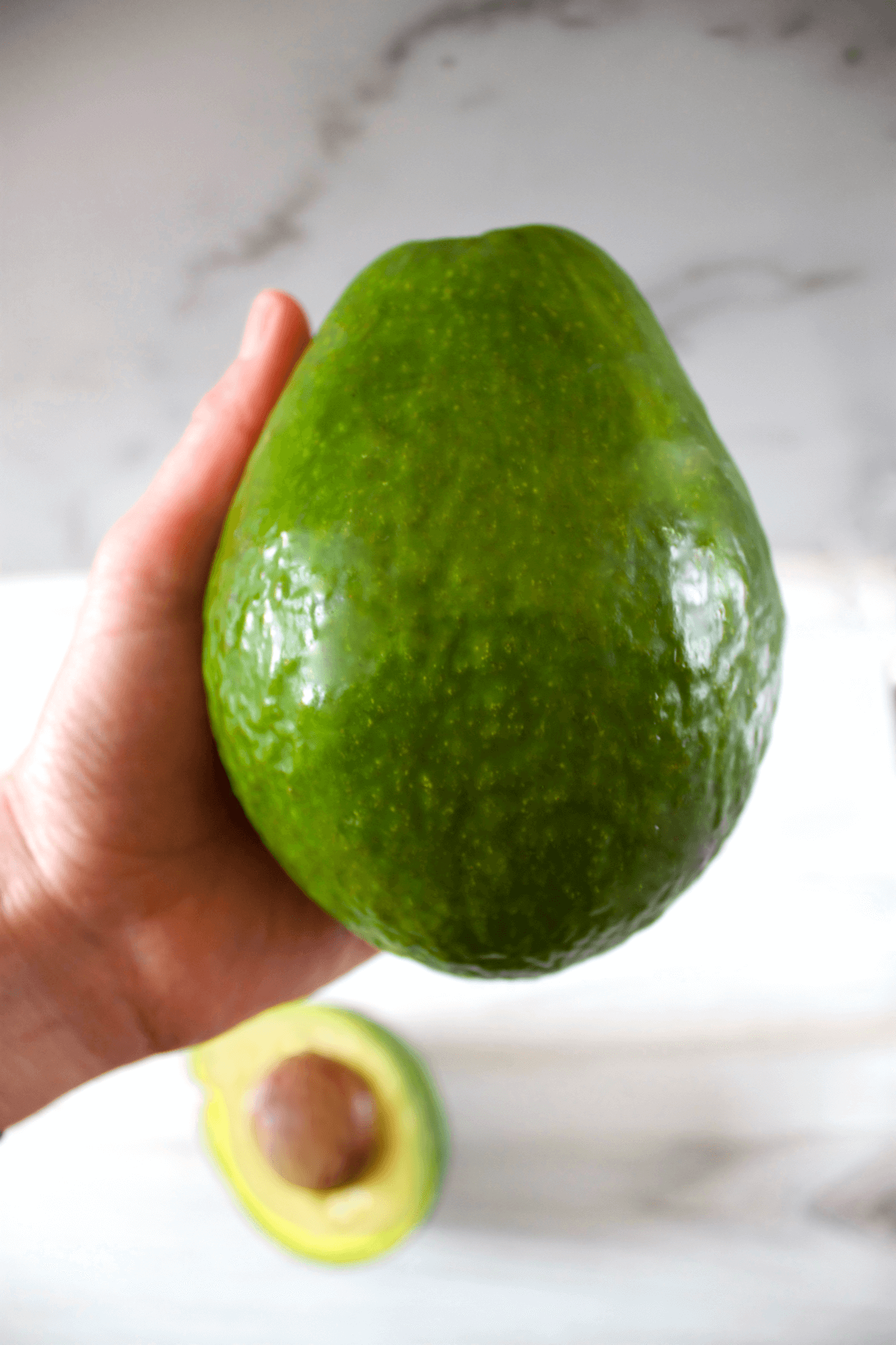 While tropical avocados are available around the country, if you can't find them at your favorite grocery store, you can still order them from Tropical Fruit Box! Order a regular box to get four large tropical avocados. If you're avocado-obsessed, you can order a large box for eight to ten tropical avocados.
Have you tried a tropical avocado? How did it compare to other avocados? Share your favorite ways to enjoy tropical avocados with us in the comments or tag us on Instagram @theproducemoms, @desbryproduce and @tropicalfruitboxusa.