21 Must-Try Produce Items in 2021
Jan 15, 2021, Updated Jun 21, 2023
It's a new year, and that means it's time to start fresh! What better way than with fresh fruits and vegetables? Change it up and add some variety to your family's diet by bringing these must-try produce items into your kitchen. We've picked our favorites to try in 2021 — we think you'll love them too! 
You may recognize some of these must-try produce items from our recipes, articles, and podcast episodes, as they're grown or produced by our brand partners. We partner with growers and brands who make fresh, exciting products that are sustainable and nutritious. We're proud to showcase some of their best products. Some of them are new, while others may just be new to you — but we love them all. 
From convenience to innovation, environmental responsibility to nutritional value, these are 21 of the best produce items to try in 2021. We've also included a few bonus items at the end of this list that will help you live more sustainably and reduce your environmental impact. Resolve to make 2021 a year of trying new things!
Mushrooms
Mushrooms are packed with flavor, full of texture, and incredibly versatile. They are naturally high in fiber, low in calories, fat-free, cholesterol-free, gluten-free, low in sodium, and rich in vitamin B. They are a good source of plant-based protein, serving as a meat alternative in vegetarian diets. If 2021 is the year you are committing to a more plant-based diet, you are going to want to make good use of mushrooms!
For a much-needed vitamin D boost, look for Monterey Mushrooms® "High Vitamin D" labeled mushrooms. Eating a dozen of their medium-sized "High Vitamin D" mushrooms provides all the vitamin D you need in a day! 
Most commercially raised mushrooms are grown indoors in the dark and therefore don't contain significant amounts of vitamin D. Monterey Mushrooms® teamed up with the U.S Department of Agriculture to replicate vitamin D-rich sunlight indoors. When mushrooms are exposed to this light, their penetrable tissue responds similarly to the way people do: by increasing vitamin D content. Learn more here. 
Do you know your mushroom varieties? We discuss mushroom varieties, flavor profiles, and uses here. 
Plumsicle™
Oh so sweet, the Plumsicle is unlike any other plum or plumcot on grocery store shelves. It's super sweet and bursting with flavor. They are visually appealing too with their signature yellow starburst of speckles dotting their deep, rich skin. Inside, you'll find a beautiful reddish-purple flesh. 
Plumsicles are available from mid-June through mid-July, exclusively from HMC Farms. Once you get your hands on some, try our recipes for Plumsicle Wine Pops and Ice Pops. 
Big Honeys 
Big Honeys from Trinity Fruit Company is an absolute must-try for 2021! It is a dekopon mandarin, which is similar to normal mandarins but super-sized. Big Honeys are super sweet, seedless, and easy to peel. That makes them a winner for kids too!
Big Honeys will be hitting produce departments soon and available for a limited time so when you see them, grab them fast!
Sarah's Homegrown Agua Fresca
Agua Fresca is a guilt-free way to add more fruit to your diet while staying hydrated.  Sarah's Homegrown Agua Frescas make it easy to enjoy this popular drink. Simply grab a bottle and enjoy! Available in three fruity flavors: strawberry, watermelon, and mango. Each bottle is made with all-natural, GMO-free ingredients and contains just 60 calories. 
For 2021's special occasions, whip up easy mimosas by adding champagne. Fill half a glass with Sarah's Homegrown Agua Fresca and the other half with champagne.  
Delicata Squash 
Delicata squash has a nutty, slightly sweet flavor. And the best part? There's no peeling required! Roast them with the skin on to create a crispy, crunchy outside and a tender inner flesh. They can also be baked or sautéed. 
Delicata squash is an excellent source of Vitamin A and a good source of Vitamin C. Find Covilli Brand Organics delicata squash and CeCe's Delicata squash fries at your local grocery store. 
Naturipe® Bentos 
We're all looking for ways to boost our healthy eating habits. Boost Bentos™ and Bliss Bentos™ from Naturipe make healthy eating a little easier, even when life gets busy. 
No prep is required — they are 100% grab and go! Simply peel back the seal and start enjoying fresh, nourishing ingredients like blueberries, dark chocolate covered chickpeas, honey roasted walnuts, lemon coconut granola clusters, pistachios, strawberries, gouda cheese, and much more. 
Grab Naturipe Snacks™ on your next trip to the grocery store and look for Bliss Bentos™ on United Airlines flights too! 
Tajín® Seasoning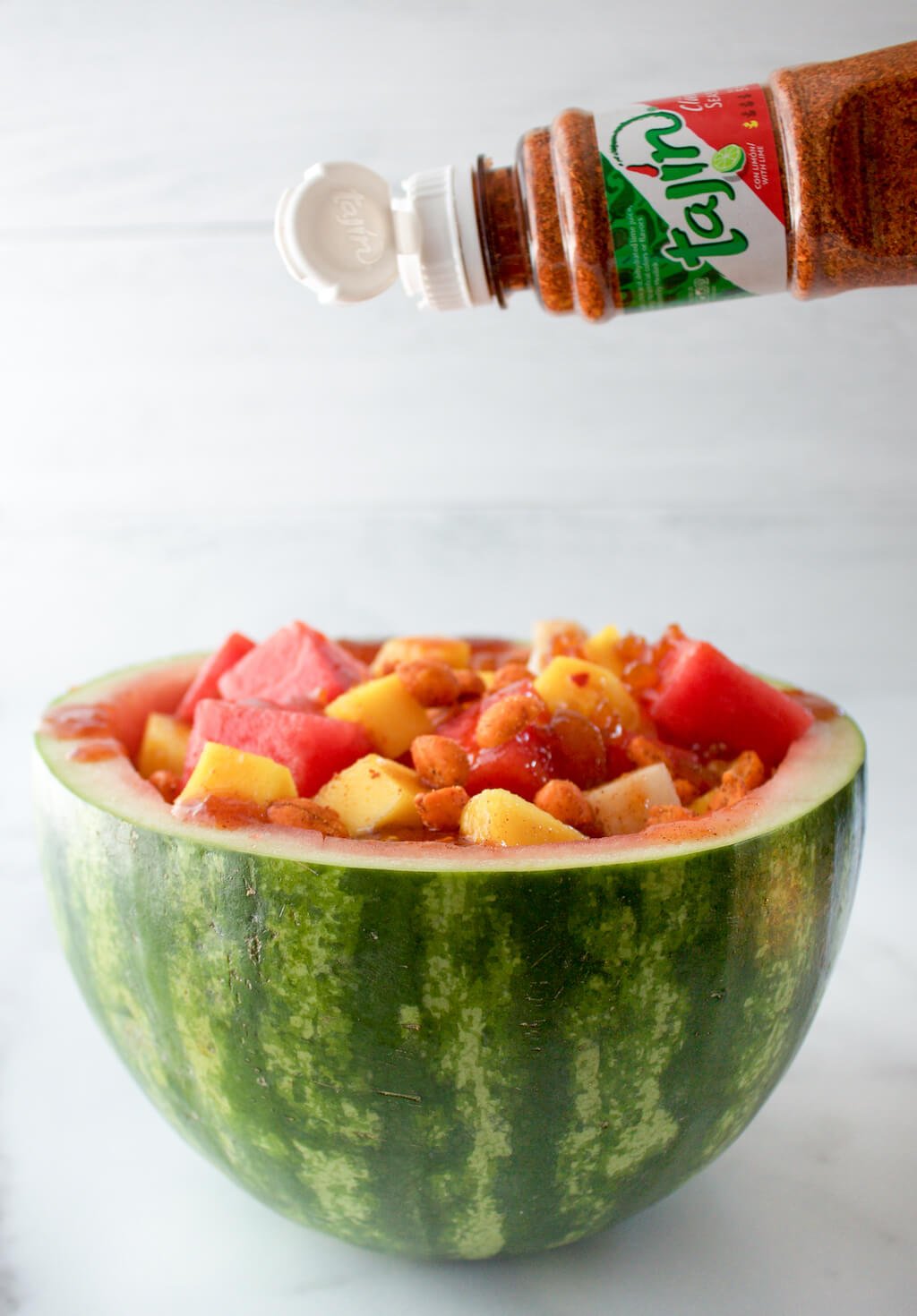 Make 2021 the year you stop eating boring meals! It doesn't have to take a lot to elevate the flavors of any dish, especially when you have Tajín clasico seasoning on hand. Made with mild chili peppers, lime, and sea salt, it complements both fruits and vegetables. It's even great sprinkled on salads! 
Go a little crazy and make sandía loca (Mexican-style "crazy" watermelon) with Tajín seasoning. 
Tajín also offers a low sodium option as well as a habanero flavor, chamory sauce, and snack sauce. We love them all and believe they are all worth a try in 2021! 
That's Tasty Organic Stir-in Purées
Fresh and effortless, That's Tasty Organic Stir-in Purées will make dinner time so much easier in 2021! These herb purées are USDA Organic and GMO-free and come in a variety of options including cilantro, ginger, basil, and dill. Try the sun-dried tomato purée with fettuccine alfredo or the lemongrass purée in stir-fries and curries. 
PinkGlow™ Pineapple 
PinkGlow™ Pineapples from Del Monte are the star of social media this year! Known as the jewel of the jungle™, this insta-worthy fruit is getting much-deserved attention for its unique pink color and incredibly sweet and juicy flavors. 
This rare culinary delicacy took decades for growers to perfect and each pineapple takes about eighteen months to grow.  Treat yourself to your very own PinkGlow pineapple via Tropical Fruit Box. 
Crunch Pak® Dipperz and Family Packs
From kids to adults, everyone loves sliced apples! They're the perfect bite-sized snack. And they're full of nutrition, too! Check out Dipperz from Crunch Pak. These snack-sized apple slice packs come with delectable dips like caramel and peanut butter and are ideal for lunch boxes.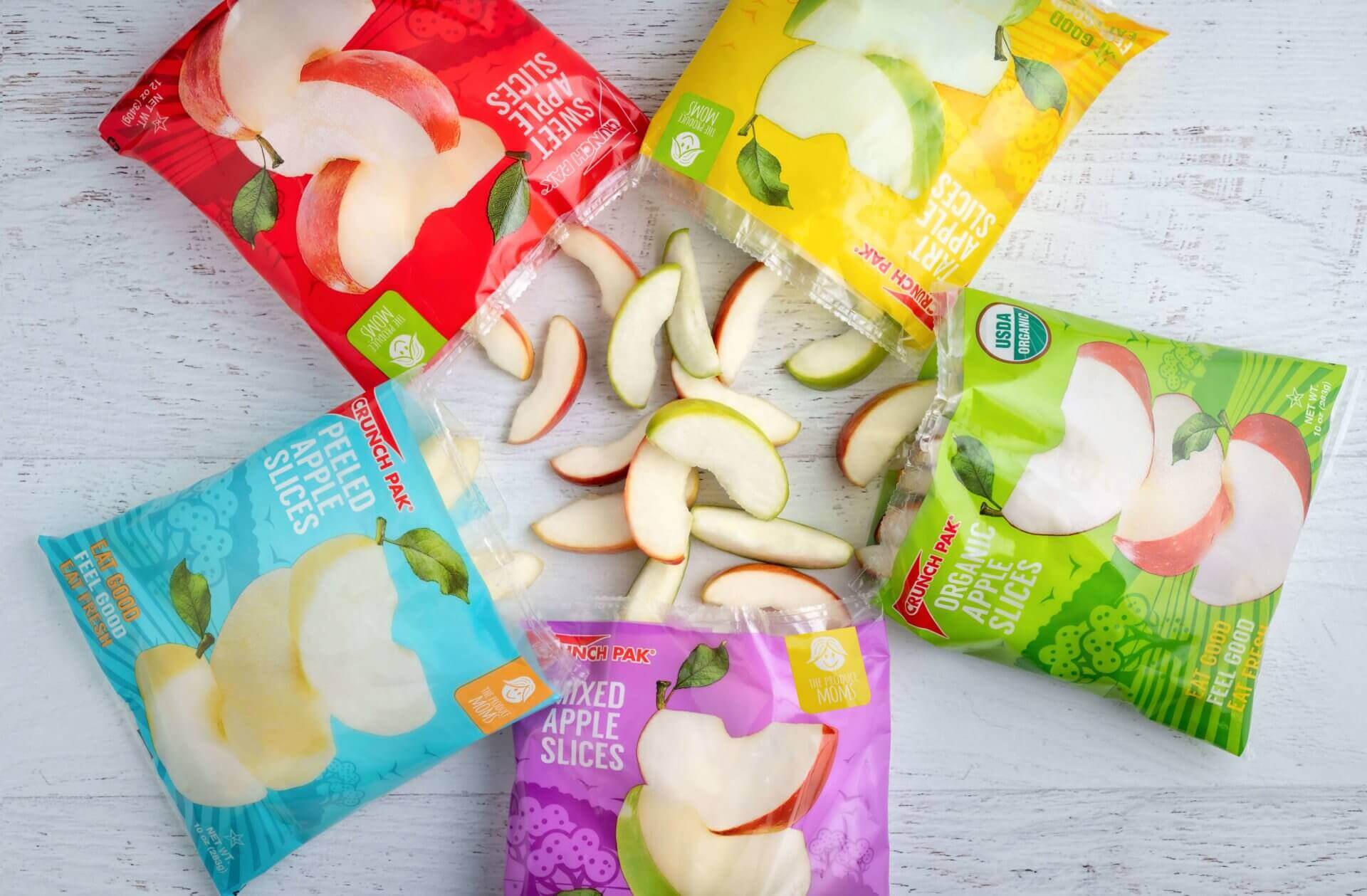 Crunch Pak Family Bags featuring The Produce Moms
If you want to have more apple slices on hand without all the effort of actually slicing them, Crunch Pak has taken care of that, too! Look for their Family Size bags that are co-branded with  The Produce Moms at your local grocery store. 
NatureSweet D'Vines®
Snacks? Check. Salads? Check. Soups, stews, and sauces? NatureSweet D'Vines Cherry Tomatoes check all the boxes! These cherry tomatoes are packaged with vines still attached for extra freshness and flavor. No matter how they're used, these cherry tomatoes have a flavor that's best described as… well, divine! 
MandaRosa Mandarins
Make this year extra vibrant with MandaRosas! Naturally cultivated in Sicily from blood oranges and clementines, these look like normal mandarins from the outside but reveal a beautiful red hue when cut open. Our Pro Citrus Network partners brought this sweet seedless fruit to market for the first time last year. But it's hyper-seasonal, so buy them if you see them before they disappear in the beginning of March! 
Want to know more about the MandaRosa? Tune in to Episode 136 of The Produce Moms Podcast, which features Kim Flores from Pro Citrus Network!
Purple Potatoes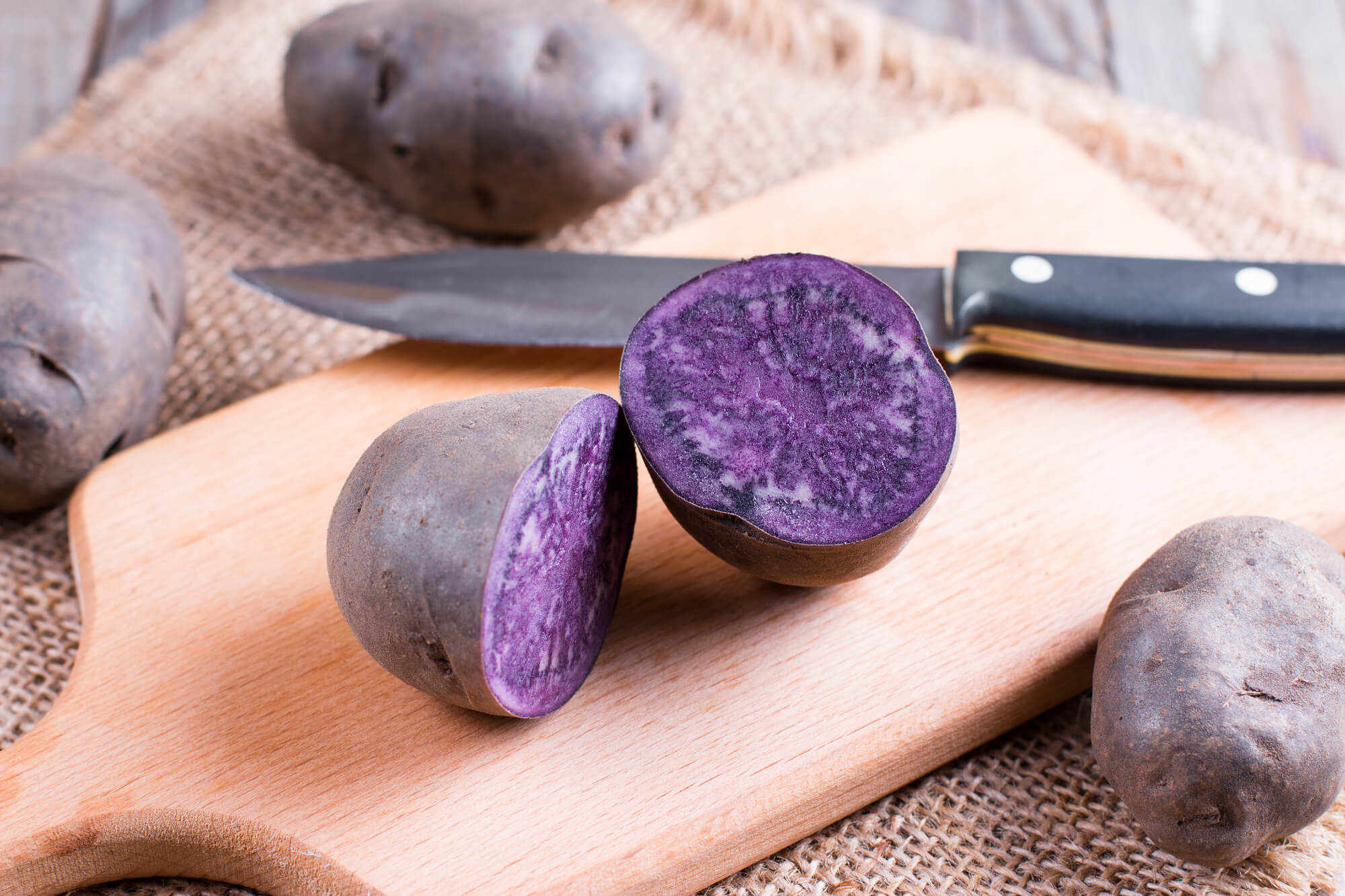 Vibrant oranges not enough to satisfy your color craving? What about some purple potatoes? These potatoes aren't dyed – they get their color from natural pigments and flavonoids. These stand-out spuds retain the dependable flavor of Russet potatoes with a texture that's slightly moister and less starchy. Bonus: kids love their fun color! 
French Beans
Green beans are an old standby in many kitchens, but let's make 2021 the year French beans get the recognition they deserve! Green and yellow French beans from North Bay Produce are always in season and always a great option for sides, salads, and casseroles. Plus, they require no prep! For some fresh meal prepping ideas, check out our French Bean Refrigerator Salad. 
Pecans 
Last year was a little nuts, but don't let that deter you from eating pecans this year! Small but mighty, the pecan is one of our favorite nuts and made this list for its versatility and flavor. This complex nut packs flavonoids, beta carotene, Vitamin E, fiber, monounsaturated fat, and essential minerals. They are also a plant-based protein! 
Use pecans in pies and salads or simply snack on them plain. You can even add a handful into your morning smoothie (yes, they blend up great!) Since they're packed with nutrition, you can't go wrong when you add this superfood to your diet! 
Learn more about pecans and their incredible nutritional benefits from American Pecans.
Bolthouse Farms Wunderoots™
Eat more carrots this year with Bolthouse Farms Wunderoots™! These root vegetable wizards have swapped out some classic favorites with carrots — and made them even tastier in the process! Check out their Carrot Fettuccine and Riced Carrot kits, both of which are perfect for many dishes. We especially love their Carrot Dogs, which can be grilled and served just like a regular hot dog. Don't forget the mustard! 
Dandy® Radish Coins
Radishes may not be the first thing you think of when you hear the word "snack" or even "salad", but this vegetable is seriously underrated! Dandy® Radish Coins make it easy to add this nutritious veggie to your salads, sandwiches, tacos, and more. Or try pickling or frying these pre-washed, crinkle-cut radishes for a unique crunchy snack. 
Try this kid-approved snack, Roasted Radish Coins. 
Eat Smart® Flavors of the World™
Salads are synonymous with healthy eating – but all too often they're also seen as boring or not filling enough. Fix these misconceptions by serving Flavors of the World™ salad kits from Eat Smart®! These salad kits are made with 100% clean ingredients and are ready to mix up for a quick and easy meal or side. 
They're available in delicious flavors like Asian Sesame, Chili Lime Crunch, Mexican Fiesta, and Thai Style Chili Mango. You can also find to-go bowls of Asian Sesame and Chili Lime Crunch flavors in your local produce section. 
Gummyberries
This year, replace candy with something more nutritious but equally as sweet. Gummyberries, the extra sweet, gummy bear flavored grapes from Divine Flavor make it easy! These juicy treats contain all the benefits of grapes with an addicting candy flavor. They're perfect for snacking or packing in lunches. Your kids won't miss candy when you have Gummyberries around! Look for them in stores in May and June. 
Dried Fruit
Dried fruit is great to have on hand to add into homemade trail mix, yogurt, or baked goods. Keep some in your purse or in the car for snack cravings! 
Check out Sunrise Fresh, the number-one-selling dried fruit company on Amazon. Their dried cherries, blueberries, apples, and peaches contain no added sugars or preservatives.  Fruit and sunshine are all it takes to make this irresistible snack!
BONUS ITEMS FOR 2021: Sustainable Products 
Feel good about your carbon footprint this year by making more sustainable choices. Here are some of our favorite brands making sustainability accessible to all: 
Matter™
Disposable tableware isn't always good for the environment. Some are made partially or wholly out of plastic, while other kinds use paper that is not sourced responsibly. Matter is here to change all that. Their bowls and plates are 100% compostable and made with natural, renewable, sustainable fibers. They're sturdy enough to handle a meal but unlike plastic plates and bowls, they'll break down in a matter of months when you're ready to dispose of them. Lean more here, and Make It Matter!
Lotus Sustainables
Plastic bags can take thousands of years to decompose and are polluting every corner of our planet. But you can take action! Lotus Trolley Bags are the reusable bag of the future. Use these bags on your trips to the grocery store and you'll help eliminate waste from plastic bags. 
These bags are innovative in other ways, too. They're designed in an accordion system that fits perfectly in your shopping cart. During checkout, just open up the bags and load them with your groceries to make transporting them easier than ever. 
Lotus Produce Bags can help you keep even more plastic out of your home — and subsequently, the landfill — by offering an alternative to the flimsy plastic bags offered in your local produce section. 
Purlite™
Shine a light on germs and viruses with PurLite! This system cleans your phone, wallet, keys, glasses and any other small items you come in regular contact with. Using powerful UV-C light, PurLite destroys bacteria and viruses, including COVID-19, in just 30 seconds. Help beat both the pandemic and the regular flu season with this amazing cleaning device.
What of these must-try produce items are you excited to try in 2021? Do you have any favorites from our 2020 list that you'll keep eating? Let us know in the comments below!