October is National Apple Month and October 26th is National Pumpkin Day. Today on Indy Style, The Produce Moms founder Lori Taylor shared ways to enjoy apples and pumpkins in the month of October and beyond. Get into the festive spirit with these recipes and produce tips!
Slow Cooker Apple Cider
It's so easy to make homemade apple cider, plus it'll make your whole house smell yummy.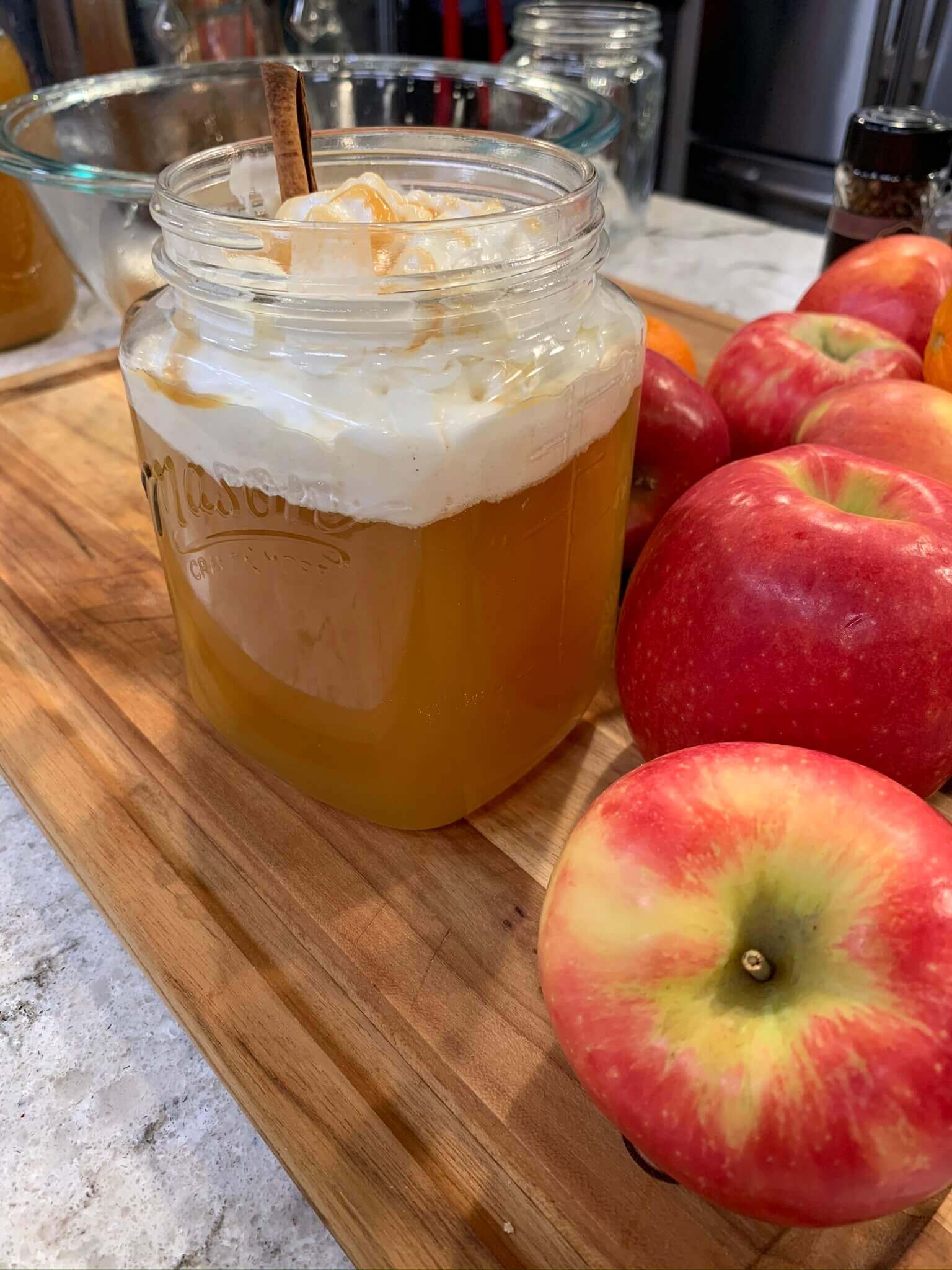 Ingredients 
8 Apples, any variety
 8 cups of water
4 cinnamon sticks
1 tbsp whole cloves
1/2 cup brown sugar
Whipped Cream (optional)
Directions
Place sliced apples, water, cinnamon sticks, clove, and brown sugar into your slow cooker and cook for 2 hours on high.
Mash apples with a potato masher. Strain and serve hot.
Optional: Top with whipped cream and serve with a cinnamon stick. For the adults, add a shot of cinnamon whisky.
Apple Pecan Salad
Apple Pecan Salad combines great flavors, textures, and colors. Sage Fruit Gala and Granny Smith apples are combined with baby greens, tomatoes, cabbage, pecans, and blue cheese and drizzled with a Lemon Garlic dressing. It's bursting with color and is full of flavor and crunchy texture.
Ingredients 
Sage Fruit Gala Apple

 

chopped

Sage Fruit Granny Smith Apple

 

chopped

Lemon (juice only)

baby greens

cherry tomatoes

 

halved

red cabbage

 

shredded

pecans

blue cheese crumbles
lemon juice

olive oil

garlic

 

minced

dijon mustard

honey

salt

pepper
Directions 
Combine all salad ingredients in a large bowl.

Whisk together dressing ingredients in a small bowl.

Before serving, pour dressing over top salad and toss.

Tip: Soak chopped apples in lemon juice to prevent them from browning.
*see the full recipe post here 
Caramel Apple Cheese Spread
Make this appetizer in just minutes. It rivals traditional caramel apples for taste and is easier and less messy to eat!
Ingredients 
8

 

ounces

 

cream cheese

1/2

 

cup

salted

caramel sauce

4

 

tablespoons

 

toffee bits

6-8

 

apples 
Directions
Unwrap a block of cream cheese and place it on your serving plate. Create a small well in the cream cheese using the back of a spoon.
Spoon caramel sauce into the well, allowing some to spill over the sites. Sprinkle toffee bits on top.
Serve will sliced apples.
 Banana Pumpkin Dog Treats 
Keep your dog out of the Halloween candy by offering him his own special treat. Whip up these adorable Banana Pumpkin Dog Treats and watch your pup scarf them down!
Ingredients 
3/4

 

cup

 

pumpkin puree

1

 

banana

1

 

egg

2 – 2 1/2

 

cups

 

flour

 

use your choice of flour

1/4

 

cup

 

oats

green beans

 

cut in half
Directions
Preheat the oven to 350 degrees.

In a mixer, blend together the pumpkin puree, banana, and egg. Mix until smooth.

Slowly add in flour until dough forms (amount will depend on the flour you choose. Dough should be similar to a sugar cookie dough). Fold in oats.

Shape dough into ping pong sized balls and flatten slightly with hands. Place on a lined baking sheet.

Using a fork, press down on each dough round (similar to making peanut butter cookies). Then place a green bean into the top of each treat.

Bake treats until edges begin to brown, about 15-18 minutes.
Tips for Cooking Pumpkin and Other Hard Squashes
Those large pumpkins you see in the grocery store are for carving. Only cook with edible pumpkin varieties like those labeled "pie pumpkins."
If you are finding it difficult to cut through your pumpkin or other hard squash, prick it a few times with a fork and cook it in the microwave for 2 minutes. This will soften it up so it's easier to cut through.
Butternut squash can be peeled with a vegetable peeler. It's much easier than using a knife!
Acorn squash can be roasted with the skin on. It's edible and delicious! The seeds can be roasted like pumpkin seeds.
Thanks for watching! What are your favorite ways to enjoy apples and pumpkins in the fall? Share in the comments below.