How to Carve a Watermelon Flower Garden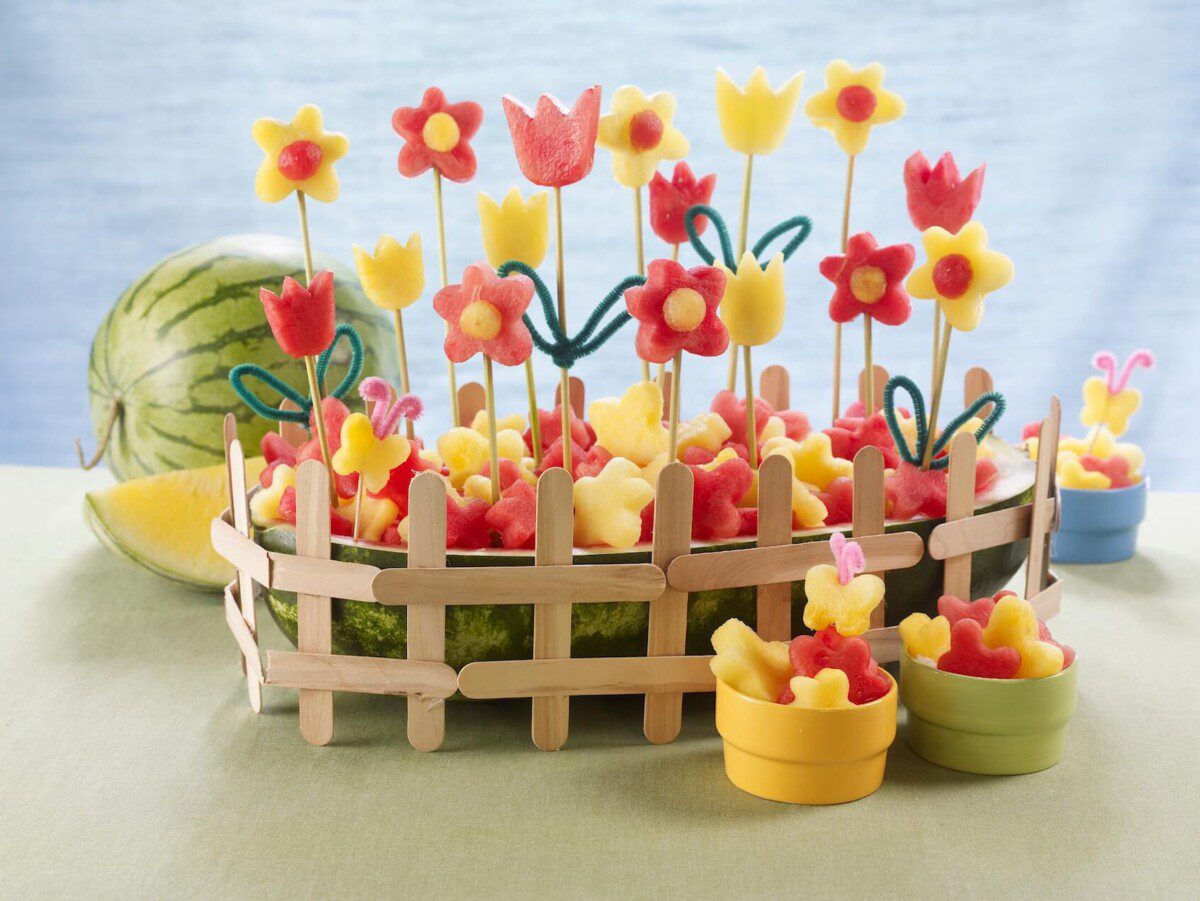 A fun and easy watermelon carving tutorial
Our brand partner Watermelon Board helped us create this step-by-step infographic on How to Carve a Watermelon Flower Garden.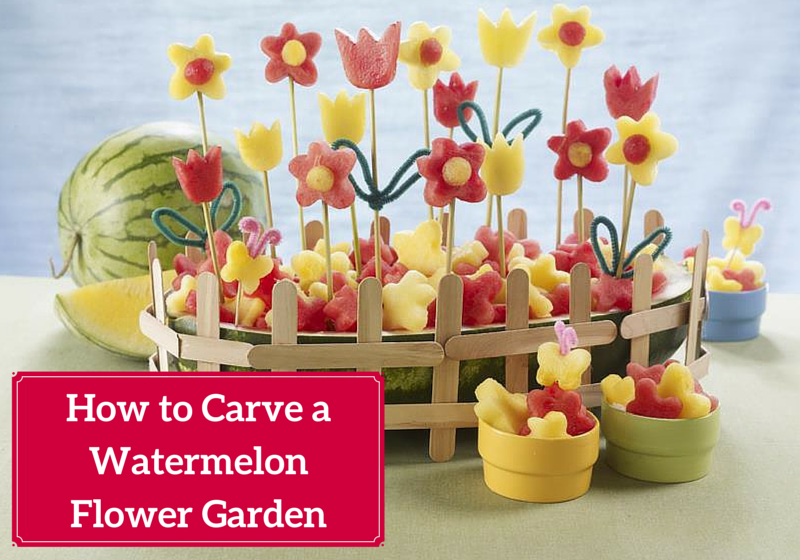 Everyone is familiar with carving pumpkins, but did you know that it's just as fun and easy to carve a watermelon?! Carving a watermelon can be a great family activity. Not only is it fun, but the result is an impressive centerpiece that it delicious to eat.
From the photos, you may think this watermelon carving requires a lot of artistic and culinary skills, but even a novice can tackle this project. We've broken it down into 5 easy steps. Here's what you'll need to get started:
Materials
Watermelon
Yellow Watermelon (or Pineapple)
Cutting Board
Small Melon Baller
Sharp Knife
Flower Cookie Cutters
40-50 Jumbo Popsicle Sticks
15-20 Skewers
Toothpicks
Hot Glue Gun or Glue Stick

Steps
Step 1: Cut a 1/4 inch slice off one of the long sides of the watermelon to provide a stable base. Cut the top third off the opposite long side to expose the top of the flower bed.
Step 2: Cut out flat watermelon pieces from the flesh of the top slice and from the flower bed. Use cookie cutters (or freehand cut) to make desired shapes or flowers. Be sure to cut shapes from the yellow watermelon (or pineapple) as well.
Step 3: Use a small melon baller to create flower centers from both the yellow and red watermelons. Assemble the flowers by attaching the center balls with toothpicks. Place the entire flower head on a skewer, and insert the skewer flower stems into the base of the flower bed. Be sure to alternate colors.
Step 4: Fill the flower bed with the rest of the fruit, formed in flower shapes and balls.
Step 5: Using extreme caution, use a hot glue gun (or a glue stick) to attach the Popsicle sticks around the flower bed, as shown, to create a fence for the garden.
Share photos of your watermelon carvings and tag us on Facebook and Instagram.
*To view more fun watermelon carvings from Watermelon Board, click here!*