Instant Pot Pumpkin Puree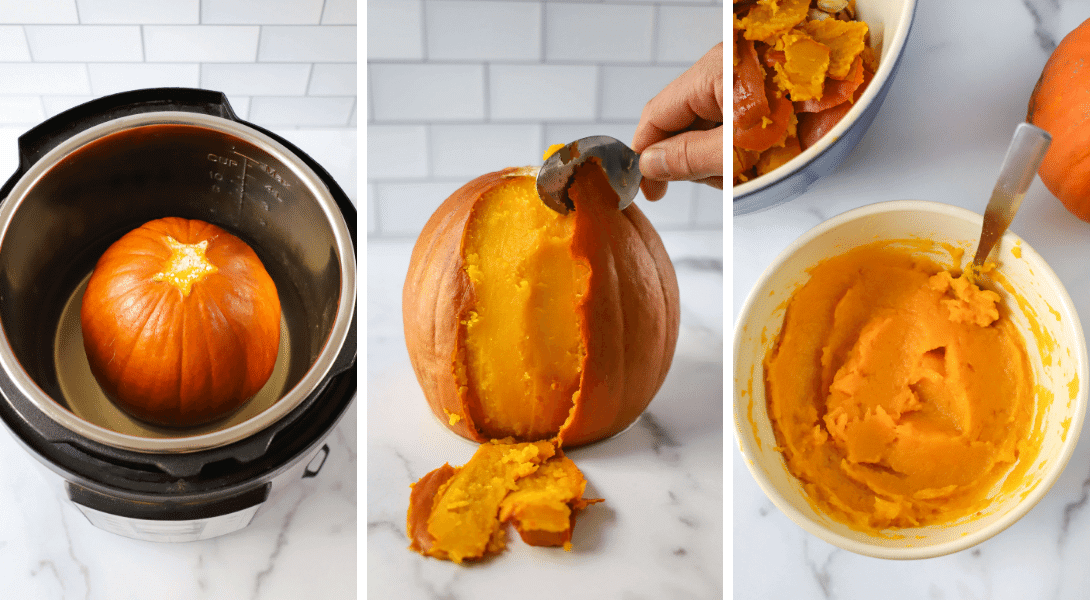 Canned pumpkin is just fine, but the best cooks and bakers know that fresh pumpkin puree can't be matched. If you can't find canned pumpkin this year or you simply want to take your pumpkin treats to the next level, try this easy recipe for Instant Pot pumpkin puree.
When we say easy, we really mean it! All it takes is a pie pumpkin, a cup of water, an Instant Pot, and a spoon. In just thirteen minutes, the Instant Pot softens the pumpkin so the skin peels right off and it effortlessly blends into a silky puree.
How to make pumpkin puree in an Instant Pot
Begin by removing the stem of your pie pumpkin (yes, you must use a pie pumpkin!). The stem should snap right off with a quick twist. However, if you have a stubborn stem, use a sharp knife to cut it off.
RELATED ARTICLE: How To Pick A Pumpkin
Add one cup of water to the Instant Pot and then place your stemless pie pumpkin inside. Set the Instant Pot to the manual setting for thirteen minutes. After the cook time is complete, allow for a natural release. This will take about ten minutes.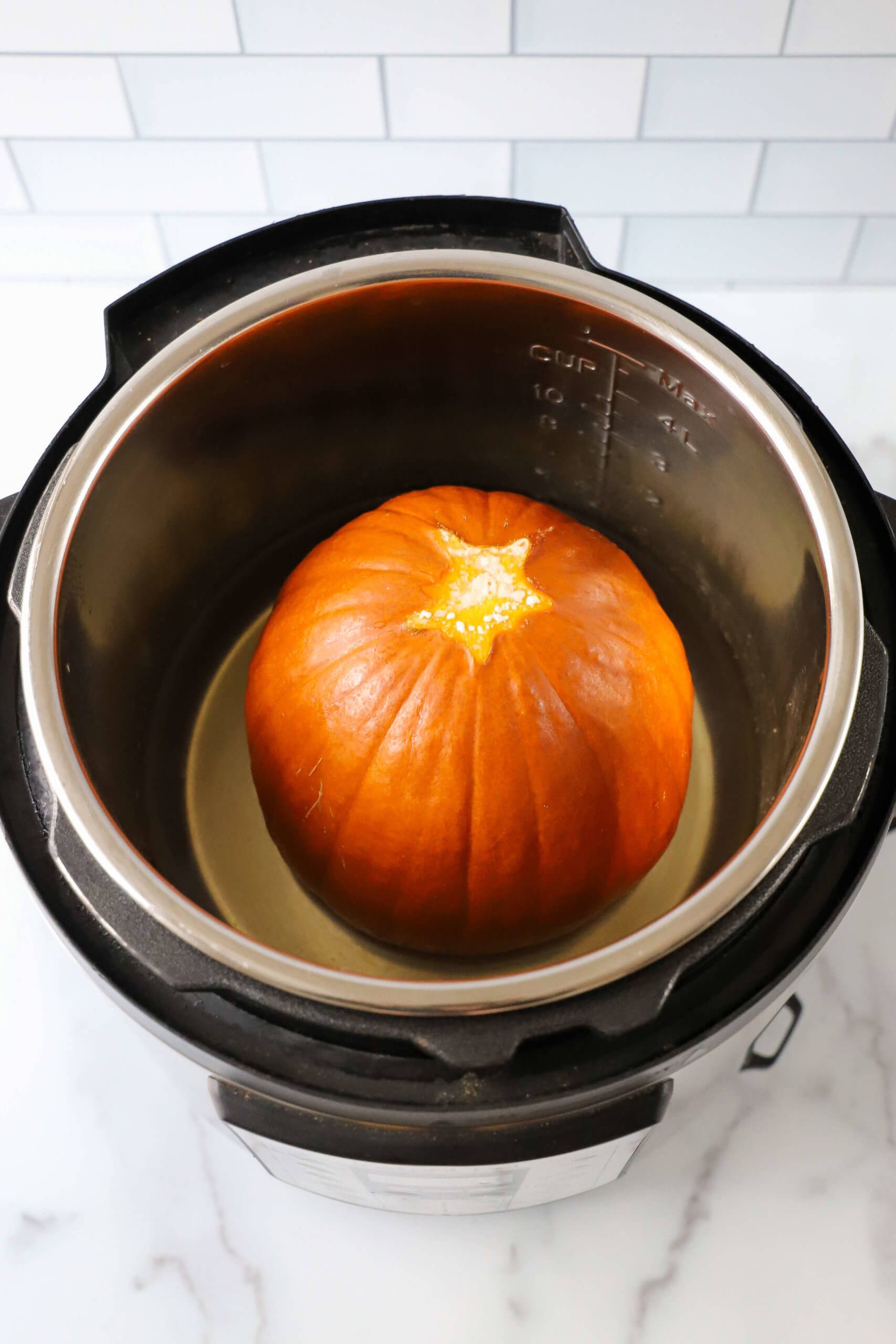 The pumpkin will be hot when it finishes, so be careful. Allow it to cool for a few minutes before moving to the next steps.
Once the pumpkin has had a chance to cool, slide a spoon underneath the skin and work downwards. The skin peels away with incredible ease. 
Once the skin is off, use a spoon to dig out the seeds inside. Create a small hole at the top of the pumpkin and then reach downwards with the spoon to scoop out the seeds. Save the seeds to enjoy later!
After the skin and seeds have been removed, use a spoon to stir the pumpkin until it reaches a puree consistency — this takes about sixty seconds of stirring. The Instant Pot turns the pumpkin so soft, there's no need for a blender or food processor to puree!
How to Store Pumpkin Puree
If you won't be using your pumpkin puree right away, place it in a freezer bag and remove as much air as possible before sealing. Store it in the fridge for up to a week or in the freezer for up to three months. Make your pumpkin puree now and you'll be set for the upcoming holiday season!
Recipes to Make with Homemade Pumpkin Puree: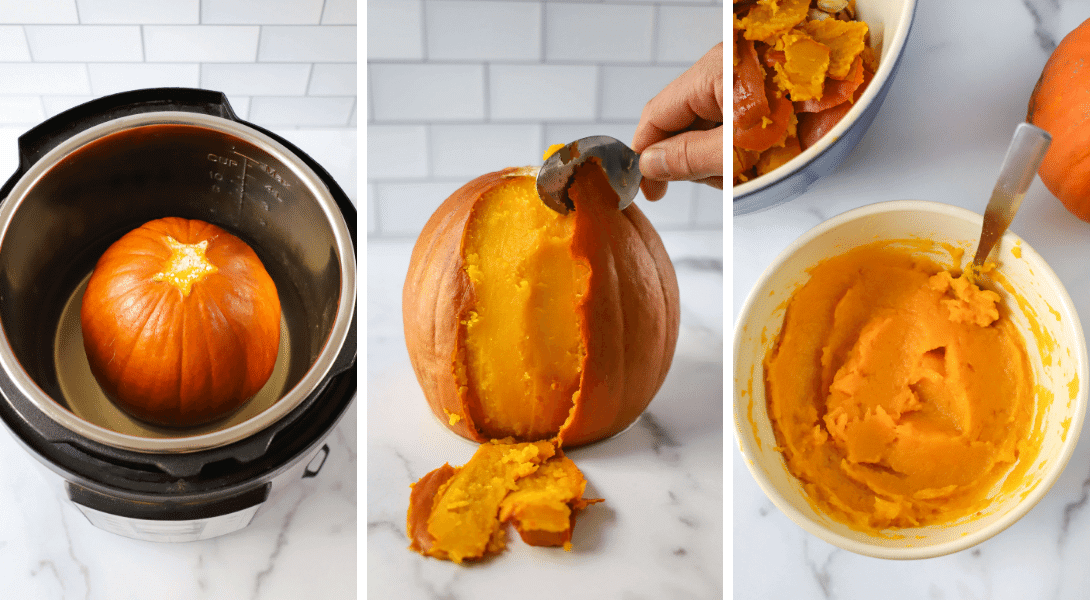 Instant Pot Pumpkin Puree
Make your own pumpkin puree in minutes with an Instant Pot. All it takes is a pie pumpkin, a cup of water, an Instant Pot, and a spoon.
Print
Pin
Rate
Instructions
Remove the pumpkin's stem.

Add 1 cup of water to the Instant Pot. Place the pumpkin inside and seal. Set the Instant Pot to manual for 13 minutes. Allow for a natural release of pressure.

Remove the pumpkin and gently scrape off the skin with a spoon.

Using a spoon, cut a whole in the top of the pumpkin and remove seeds from the center.

Place pumpkin in a large mixing bowl and stir until smooth (about 60 seconds).
Nutrition
Calories:
354
kcal
|
Carbohydrates:
88
g
|
Protein:
14
g
|
Fat:
1
g
|
Saturated Fat:
1
g
|
Polyunsaturated Fat:
0.1
g
|
Monounsaturated Fat:
0.2
g
|
Sodium:
14
mg
|
Potassium:
4624
mg
|
Fiber:
7
g
|
Sugar:
38
g
|
Vitamin A:
115777
IU
|
Vitamin C:
122
mg
|
Calcium:
286
mg
|
Iron:
11
mg
If you don't have an Instant Pot, you can still make pumpkin puree from scratch using your oven. Click here to learn how. 
Pumpkin puree can be used in pies, soups, smoothies, or baby food. Create homemade pumpkin ravioli or add it to oatmeal along with roasted pumpkin seeds and walnuts for an autumnal breakfast. Don't forget the family dog! Try your hand at making these adorable pumpkin dog treats.
How will you use your homemade pumpkin puree? Be sure to tell us in the comments below or tag us in your pumpkin food photos on Instagram @theproducemoms.