Thomas & Friends Party Trays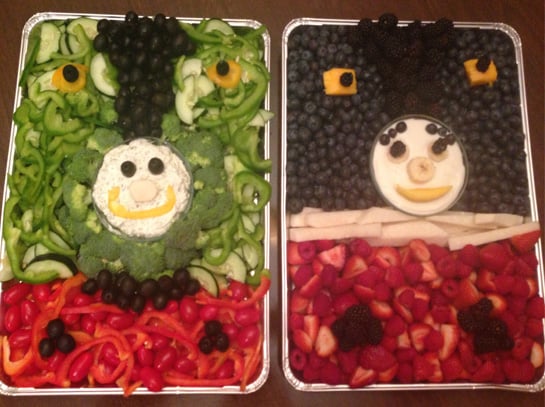 I love making theme fruit & veggie trays for parties! Maybe you had an Elmo themed birthday party like I did for my son & made the Sesame Street Trays. Or maybe your little princess needed a Rainbow tray for a My Little Pony or Care Bear party. And lets not forget the Spidey tray for all those little webslingers in your life (I live with 2 webslingers!).
Well, it's my pleasure to add another group of children's favorites to the party tray lineup… for all the little engineers & train lovers, check out the Thomas & Percy trays! I had so much fun making these.
First, get organized with your fruit – it makes it so much easier to create your masterpiece!
This took me about 15 minutes to assemble:
Step 1: arrange strawberries & raspberries to cover bottom 1/3 of rectangular tray.
Step 2: place jicama sticks (bananas or apples would also work) above red berries
Step 3: fill a bowl with fruit dip & center above jicama sticks
Step 4: create smoke stack with blackberries
Step 5: fill in top half of tray with blueberries
Step 6: accessorize: blackberry wheels in front, mango chunk headlights with blackberry center, mango slice smile, banana nose, banana eyes with a blackberry pupil, blueberry eyebrows
And what's a fruit tray without a veggie tray:
Step 1: arrange red bell peppers & grape tomatoes to cover bottom 1/4 of rectangular tray.
Step 2: fill a bowl with dill dip & place 2 inches above lower layer of red veggies
Step 3: arrange broccoli around dip bowl
Step 4: create smoke stack & lower collar with black olives
Step 5: fill in remaining upper portion of tray with green bell peppers & cucumbers
Step 6: accessorize: olive wheels in front, yellow pepper headlights with black olive center, yellow pepper smile, jicama nose, black olive eyes
Consider serving fresh produce at the next birthday party you host!  Kids get excited about themes; a themed fruit & veggie tray is a great way to spark a child's interest in healthy eating 🙂
Enjoy!
xoxo Produce Mom