The Produce Mom's 2013 Healthy Kids Champion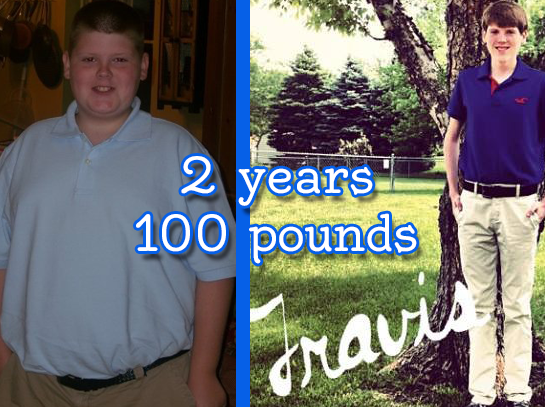 My friends at Sage Fruit are celebrating Healthy Kids in their Yakima, WA growing region today with NASCAR driver Kasey Kahne.  It is my honor to join this effort & cause by showcasing a young man who is a true inspiration & wellness warrior.  I'd like to introduce you to Travis, my 2013 Healthy Kids Champion.  Enjoy this letter from his mother, Megan.
Dear Fellow Moms,
My name is Megan & I used to be the mom of an obese child.  Today I'm simply Travis' mom.  Here's our story.
Travis was born into a family that has always struggled with their weight.  He was a chubby child, but we all thought that was cute.   We would excuse his size by saying "he will grow out of it."  I honestly thought that once he got his growth spurt he would shoot up & thin out.  However, as my son's elementary years progressed so did his weight.  Food was a reward, too.
"Did you have a good day?"
"Did you have a bad day?"
"Were the kids at school nice to you?"
Regardless of how Travis answered these questions I look back on those countless moments of his adolescent years & now can identify how FOOD was always the way we dealt with Travis' good days, bad days, hurt feelings, jubilation & everything in between.
My parents helped me quite a bit with raising Travis.  I was okay with them feeding Travis fast food; it made their lives easier & they were helping me so much by caring for my son while I was at school & work.  Plus it was a "treat" of sorts for Travis to have food like pizza, french fries or chicken nuggets with his grandparents.  And, as previously mentioned, most of the family was struggling with weight issues so it's not like we didn't enjoy eating these lousy foods with our cute, chubby Travis.
My son has always been a good kid.  I always want him to be happy.  At that stage of Travis' life, junk food & video games made him happy.  I was happy that he was happy.
The summer of 2009 was when Travis changed his life… and changed my life.  I am not sure if it was high school around the corner, if he was sick of being the "fat kid" or if he simply saw "the light."  But 2009 was when my 12-year-old taught me that people can change.  Kids can take control of their wellness & being.  Parents need to protect their kids from obesity, but if you are like me & find yourself as a parent of an obese child – it's definitely not permanent.  It is a disease that can always be cured.  This process was the hardest thing we've ever done, but hands down the most rewarding.
Travis slowly began to try foods that most people enjoy from the moment they start eating solid foods.  For example, my son tried grilled chicken breast for the very first time when he was 12 years old.  You would have thought it was a new cutting-edge product that was just introduced to the consumer market.  Travis discovered a whole new way of eating.  All these foods that he had snubbed throughout his childhood were now slowly being introduced.  For the 1st time in his life, my son ate a raw vegetable.  Travis made the decision to eliminate soda & other high-sugar foods from his diet.  Another huge milestone during the summer of 2009… my son began playing soccer in our church league.
Once Travis began this journey he had everyone's support.  Weight loss is not easy, and it can be embarrassing.  Imagine being a preteen at a birthday party & not eating the pizza, only drinking water & saying no to the cupcakes.  That's the type of courage my son has.  He was surrounded by love and he got involved with our grocery shopping.  Travis was making the decisions about what fruits & vegetables we would buy.  Our family started eating whole grain bread.  Travis would still indulge, but he was now choosing sugar free pudding & jello instead of a pound of twizzlers.  He also completely cut out McDonald's.  Eliminating fast food & soda, as well as having the right food available both at our home & at the grandparents' house were the most influential actions/changes that we made as family during Travis' weight loss journey.
1 in 3 American kids is like my young Travis – obese.  Childhood obesity is a real concern & this is a real story, which could obviously be authored by countless other moms.  We know as parents that the best thing we can do for our children is to love them.  It broke my heart to see Travis slowly gaining weight.  I could identify with it all because I was also the fat kid in school.  Travis' journey changed our family.  We did it together.  I now know that being healthy with your kids is one of the best ways to show them your love.  I know people have judged me & judged my son for his weight.  Instead of judging an obese child (or his parent) be uplifting & encouraging.  You could easily be the reason why someone like Travis sees "the light."
Travis, I am so proud of you.  You have accomplished a feat most people can only dream of… you have lost over 100 pounds in a mere 24 months.  You have managed to keep it off.  You have changed your entire life to reflect a healthy image.  Your entire family is so proud of this massive accomplishment.  Enjoy every moment of this healthy life.  You deserve it.
I love you Travis,
Mom
"They always say time changes things, but you actually have to change them yourself." –Andy Warhol
My most sincere gratitude to Megan for sharing this story & allowing Travis to be my 2013 Healthy Kids Champion.  Congratulations to Travis & his entire family!!!  Thank you to Sage Fruit & Kasey Kahne for dedicating TODAY to Healthy Kids #KKHealthyKidsDay
xoxo Produce Mom