The Food Lovers Gift Guide: Valentine's Day Edition
Feb 05, 2021, Updated Nov 23, 2021
Valentine's Day is approaching and love is in the air! If you have a food lover in your life, the way to their heart is through tasty treats. After all, nothing says "I love you" like homemade sweets and gourmet treats. Use our Food Lovers Gift Guide to find the perfect Valentine's gift. 
Here are fourteen delicious gift ideas for the food lover in your life. 
Big Honeys®
Is your honey the sweetest of all? Then give them Big Honeys®, an ultra-sweet dekopon mandarin from Trinity Fruit Company. This must-try item is big in size and big on flavor. It's also seedless and easy to peel. The Fruitful Market can even ship these famous California mandarins and other farm-fresh produce directly to your door!
Looking for an easy & romantic Valentine's Day breakfast – check out our Mandarin and Pomegranate Overnight Oats featuring Big Honeys®. 
Lydgate Farms Kauai Chocolate
Chocolate is a Valentine's Day classic. This year, go all out and gift Lydgate Farms chocolate. This fifth-generation, small-scale sustainable farm located in Kauai, Hawaii, crafts some of the world's finest chocolate. 
But it's not just chocolate that Lydgate Farms specializes in. They also produce some of the finest vanilla and honey you'll ever experience. If your food-loving sweetheart has a sweet tooth, Lydgate Farms products are a must! Anyone who loves chocolate, loves Hawaii, or loves unique family-farming artisans – Lydgate Farms Kauai Chocolate is the perfect gift!
Saffi Foods 6 bottle Oil & Vinegar Tasting Kit – MICHELIN Star Edition

Gourmet food lovers will go wild when they receive Saffi Foods oils this Valentine's Day. Used by Michelin Star restaurants around the world, these oils can elevate any home kitchen to that of a fine dining establishment. 
Their 6 bottle oil and vinegar kit is a great gift option. In addition to the six bottles of sustainable oils and vinegars, it also includes a $20 gift card, six recipe cards, and a tasting and product information guide. An absolute perfect gift for any foodie, global traveler, or enthusiastic home cook! 
Jalapeno Blueberry Jam
Is your love sweet and spicy? Then Jalapeno Blueberry jam is the perfect gift! Its unique blend of peppery heat and juicy sweetness is as unique and special as your love. This is a great gift for teachers, co-workers or any other foodie in your life! Get the recipe. 
Whip up a batch and tag them with these cute downloadable Valentine's labels. 
PinkGlow™ Pineapple
Glowing pink and extra sweet, PinkGlow™ Pineapple from Del Monte is an unexpected yet spot-on gift for Valentine's Day. Serve up juicy slices and you'll feel like you and your sweetheart have been transported to a remote paradise. 
Lavishly luxurious and lustfully pink, PinkGlow™ arrives from afar straight to your door, elegantly packaged in its precious cargo box which includes a certificate of authenticity and limited edition Valentine's card. 
Fall in love with this sensational fruit by ordering yours now from Tropical Fruit Box. 
Pasta Gift Basket featuring NatureSweet® Tomatoes
Share a romantic dinner at home with your love. Package everything you'll need to make a pasta dinner in a gift basket and cook up something delicious together. Be sure to include NatureSweet® Tomatoes so you can whip up a yummy red sauce like their Glorys® Marinara Sauce.
Also include pasta, herbs like Litehouse Freeze Dried Oregano, olive oil and balsamic vinegar, breadsticks, and hard cheese. Another fun option for Valentine's Day is Beet Pesto from Do Anything® Foods. 
Medjool Dates
Whisk your Valentine off on a sweet date… with dates! It takes just four ingredients and fifteen minutes to whip up a batch of chocolate-dipped peanut butter dates. 
They taste just like a candy bar, but you don't need to be an experienced candymaker to make them. The key is using quality dates. Rancho Meladuco ships only the very best dates! This year's "last call" for Valentine's Day delivery is February 8th!
Get the recipe for chocolate-dipped peanut butter stuffed dates.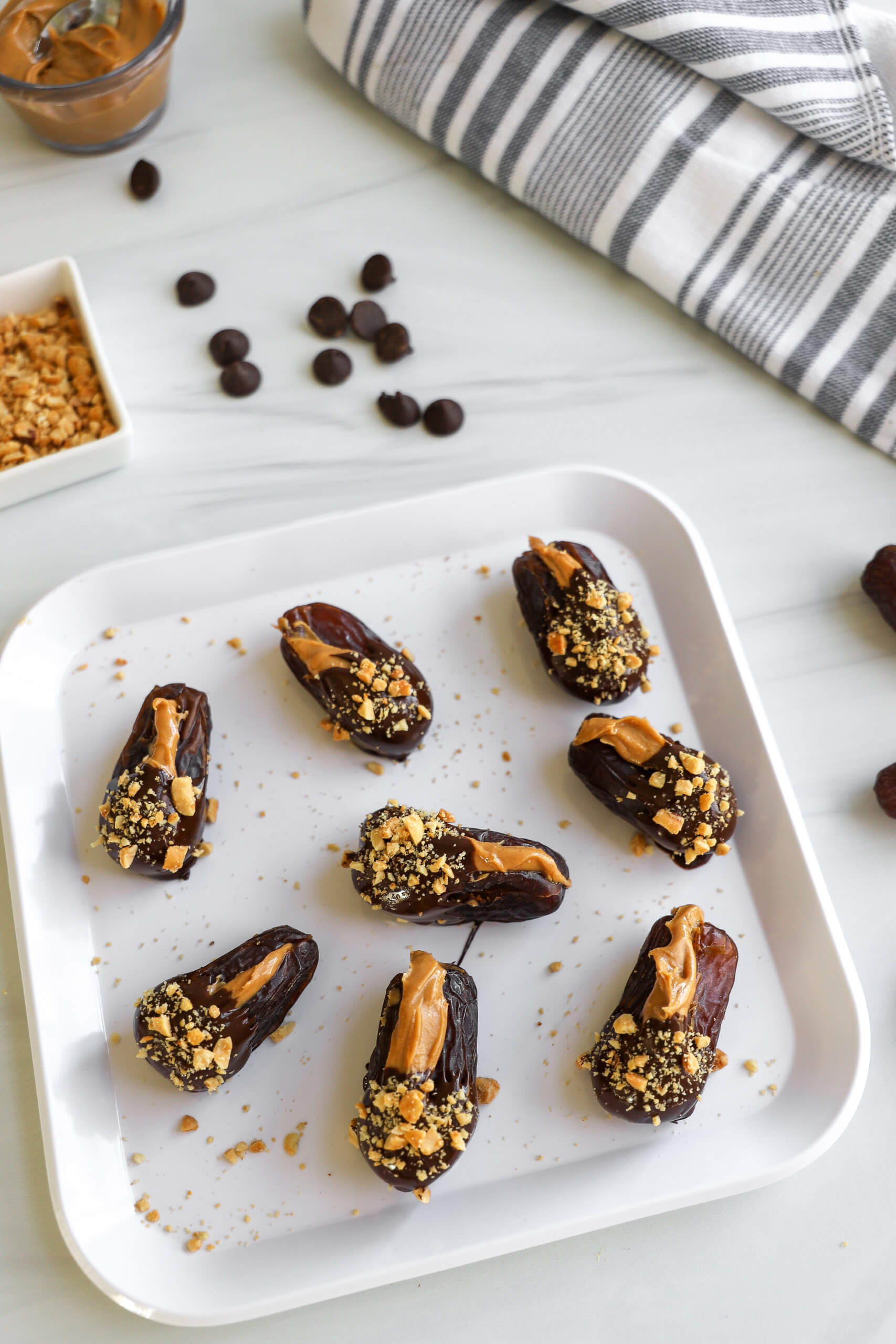 MandaRosa Mandarins
This captivating, beautiful, red-fleshed citrus fruit will make your heart skip a beat and your taste buds sing! As you cut into a MandaRosa, you'll notice its flesh is as red as a glass of wine. Sometimes, it has an ombre effect and looks like a tequila sunrise. How romantic! 
MandaRosas are hyperseasonal, only coming to market for around a month each year making it an extra special treat for Valentine's Day. Gift your food-loving sweetheart a MandaRosa gift basket or make them a special citrus salad featuring this special fruit. 
Surprise your sweetheart with a beautifully made MandaRosa Salad for a lunch at home this Valentine's Day. 
GIVE THE GIFT OF HOMEMADE FOODS
Staying in this year for Valentine's Day? We have so many great recipes that are perfect to share with the ones you love. Whether it is for your one true love or for your kiddos, these easy recipes will be adored by all.
Air Fryer Apple Fritters
Put a warm smile on your sweetheart's face by putting warm apple fritters in their belly! These delightful fruit-filled pastries are fluffier and more flavorful than anything your grocery store's bakery can offer. 
Made with Smitten apples grown by our partners at Sage Fruit, these aptly-named apples are infatuating and the perfect selection for baking a sweet Valentine's treat. Get the recipe here. 
Heart-Shaped Fruit Pizza with Mixed Berries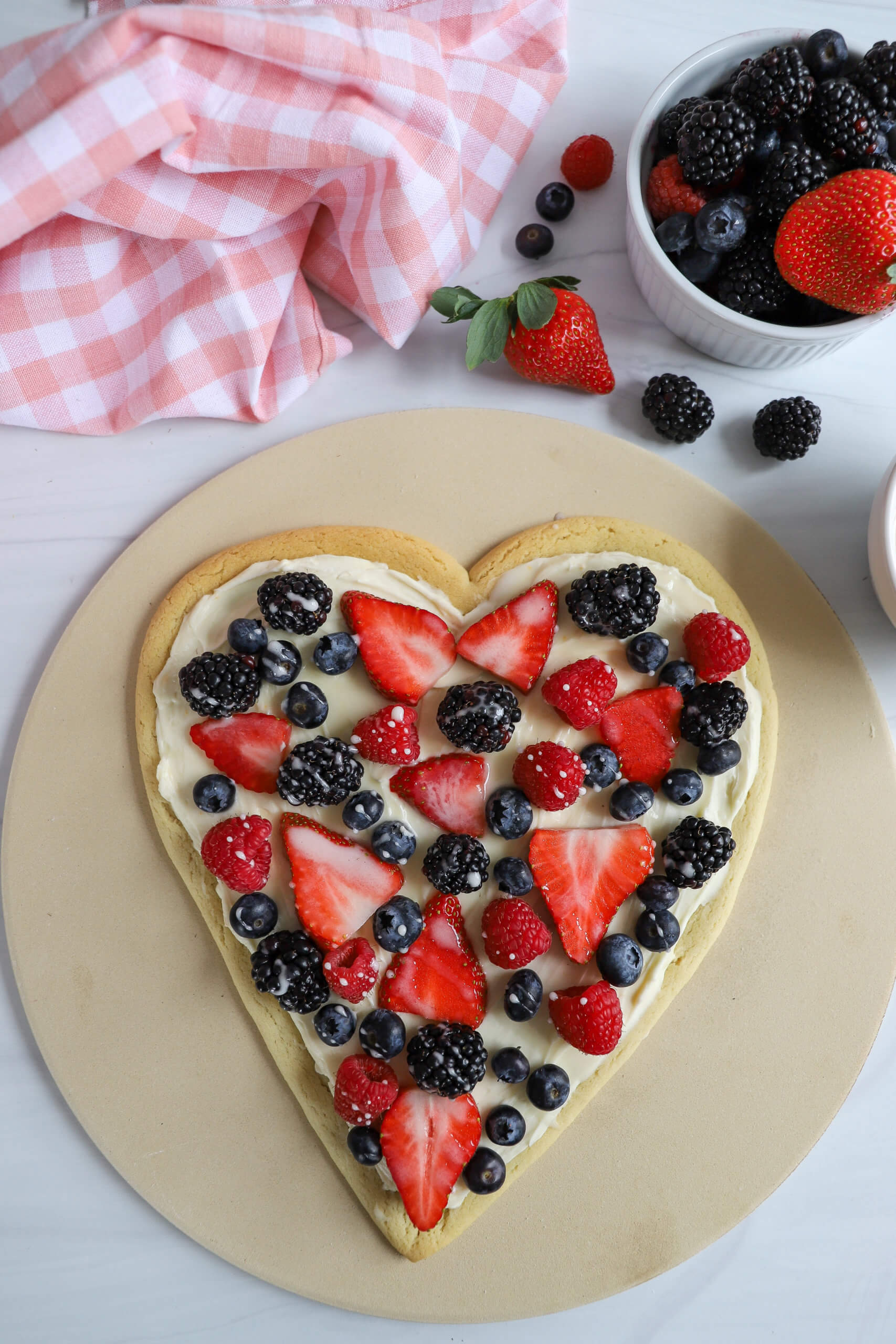 This heart-shaped fruit pizza is as sweet as cuddles with your honey. Say "I love you BERRY much" with strawberries, blackberries, raspberries, and blueberries on a sugar cookie crust with cream cheese frosting and vanilla glaze.
When it comes to berries, you can't beat Naturipe Farms! They've been farming for over 100 years so they know a thing or two about growing quality produce. Additionally, Naturipe® is committed to operating in ways that minimize environmental impacts and support local and global communities. Who doesn't LOVE that?!
Learn how to make your own Heart-Shaped Fruit Pizza with Mixed Berries. 
Roasted Multi-Color Cauliflower Steaks
Your Valentine lights up your life. Light up their dinner plate with roasted multi-color cauliflower steaks! Cauliflower steaks are simple to make yet deliver big on flavor and texture. And when you use Carnival® Multi-Color Cauliflower from Salad Savoy Corp. this dish doesn't just burst with flavor, it bursts with color too!
Get the recipe for Roasted Multi-Color Cauliflower Steaks. 
Pomegranate Hearts
Give your heart away this Valentine's Day! These pomegranate gelatin hearts are easy to make but they are so beautiful and so tasty, they'll make your sweetie's heart skip a beat. Learn how to make them here. 
Apple Roses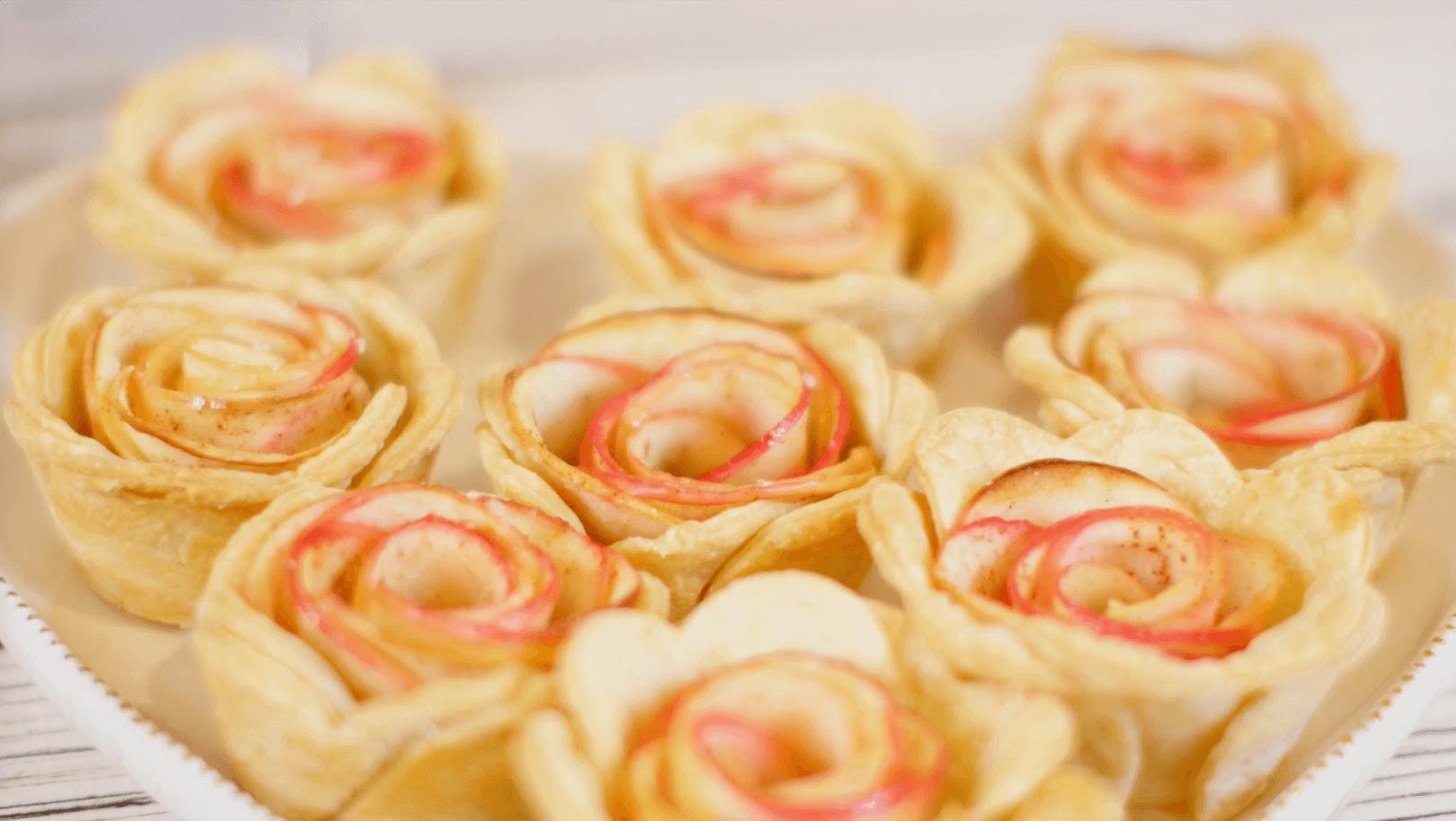 Treat your sweetie to a dozen roses… apple roses that is! These edible blooms are made with just five ingredients: Pink Lady® apples, pie dough, lemon juice, cinnamon, and sugar. No special baking skills are required — just follow the instructions outlined here. 
XOXO Fruit Tray
Will you be celebrating Valentine's Day with the whole family? Here's a healthy sweet treat that everyone can create and enjoy together. Nosh on it over family game night or family movie night. See how to make it here. 
What homemade sweet or gourmet treat will you gift your food-loving sweetheart this Valentine's Day? Is there something we should add to our Food Lovers Gift Guide? Share in the comments below!