That's Tasty Mulling Spice Kits
This post is sponsored by That's Tasty
As the leaves fall and the nights get colder, warm up with some classic drinks! These autumn and winter favorites will help you stay cozy no matter if you're wrapped up in a blanket indoors or taking a stroll to look at holiday lights. Using mulling spices from That's Tasty, you can easily whip up mulled wine and mulled cider. 
In addition to cozy drinks, mulling spices can be used to create a festive fragrance that ignites holiday spirit. They can also be used for pickling — perfect for holiday hostess gifts. Keep reading and we'll show you how to make all four! 
Mulling Over History
Using mulling spices to spruce up a drink is a tradition that goes way back. People have been making wine for millennia. In fact, there is archeological evidence for wine production in China dating as far back as 7000 BCE! 
Ancient farms weren't as sophisticated as our modern agricultural systems, meaning sometimes a crop of grapes would yield a subpar harvest. Drought, disease, and other problems in the field coupled with poor fermentation could lead to wines that were underwhelming. But sometimes you just have to take what you can get – and even if a wine was poor in quality, someone would still be thirsty for it! 
So how did ancient peoples stomach it? Sometimes they used spices to cover it up! Trade along the Silk Road gave people across the Roman Empire access to all kinds of spices, including cardamom, cinnamon, nutmeg, and ginger. As far as we can tell, the Romans figured out how to make a hot, tasty drink by heating these spices in wine sometime around the 2nd century CE. 
The drink caught on throughout the empire, particularly in the cooler climates of northern Europe, and it stuck around throughout the Middle Ages. British, German, and Scandinavian cultures all celebrated mulled wine as a way to stay warm in the harsh winters. In England, mulled wine and cider gained renewed popularity in the Victorian period when carolers would offer it to neighbors as part of their Christmas celebrations. 
That's Tasty Mulling Spice Kits
Ready to brew up your own mug of holiday cheer? That's Tasty Mulling Spice Kits give you everything you'll need. These convenient packages come with a variety of spices, all prepared for steeping. 
Big smells come in small packages! Pop open one of these That's Tasty Mulling Spice Kits and you'll be met right away with a strong, cheery fragrance. These spices are potent — perfect for making drinks that stave off the cold. 
You'll also find a reusable steeping bag inside. It's perfect for making multiple batches of drinks and can even be cleaned out between uses. We used it to make mulled wine first, then emptied and rinsed it to make cider and fragrance. It worked perfectly all three times. 
Each kit comes with enough mulling spices to make about four batches when following the provided recipes. We also recommend picking up a package of That's Tasty Cinnamon Sticks, which are perfect for all of these recipes. 
Let's start mulling some festive beverages!
How To Make Mulled Wine
That's Tasty Mulling Spice Kits turn ordinary wine into something truly special. Make this mulled wine once and it's sure to become a holiday tradition. 
This recipe calls for one standard bottle of wine, making measuring easy — just pop the cork and pour! However, we recommend a fruit-forward red wine. A wine that's too dry will make the recipe turn out more bitter than some might like. And while some honey can help sweeten it back up, a little fruitiness is a welcome part of this beverage. 
Ingredients
1

bottle

red wine

2

tbsp

That's Tasty Mulling Spices

5

Cinnamon Sticks

one per mug

5

slices

orange

one per mug

honey or agave syrup

to taste

5

shots

brandy, bourbon, or cognac

one per mug - optional
Instructions
In a saucepan, gently simmer one bottle red wine and mulling spices (in reusable steeping bag), taking care not to overheat the wine.

Add honey or agave syrup.

Remove spices and serve hot in mugs garnished with a cinnamon stick and an orange wedge.

Optional: Add shot to mug for medicinal purposes.
How To Make Mulled Cider
If you want a sweeter, non-alcoholic spiced drink option, cider makes a delightful alternative to mulled wine. We recommend using fresh cider straight from your local orchard. It is the season for it, after all! However, you can often find gallons of local cider in grocery stores too. 
As you prepare this drink, be careful not to overheat the cider. Boiling can cause the cider to become flaky. It doesn't ruin the flavor, but some may find it off-putting.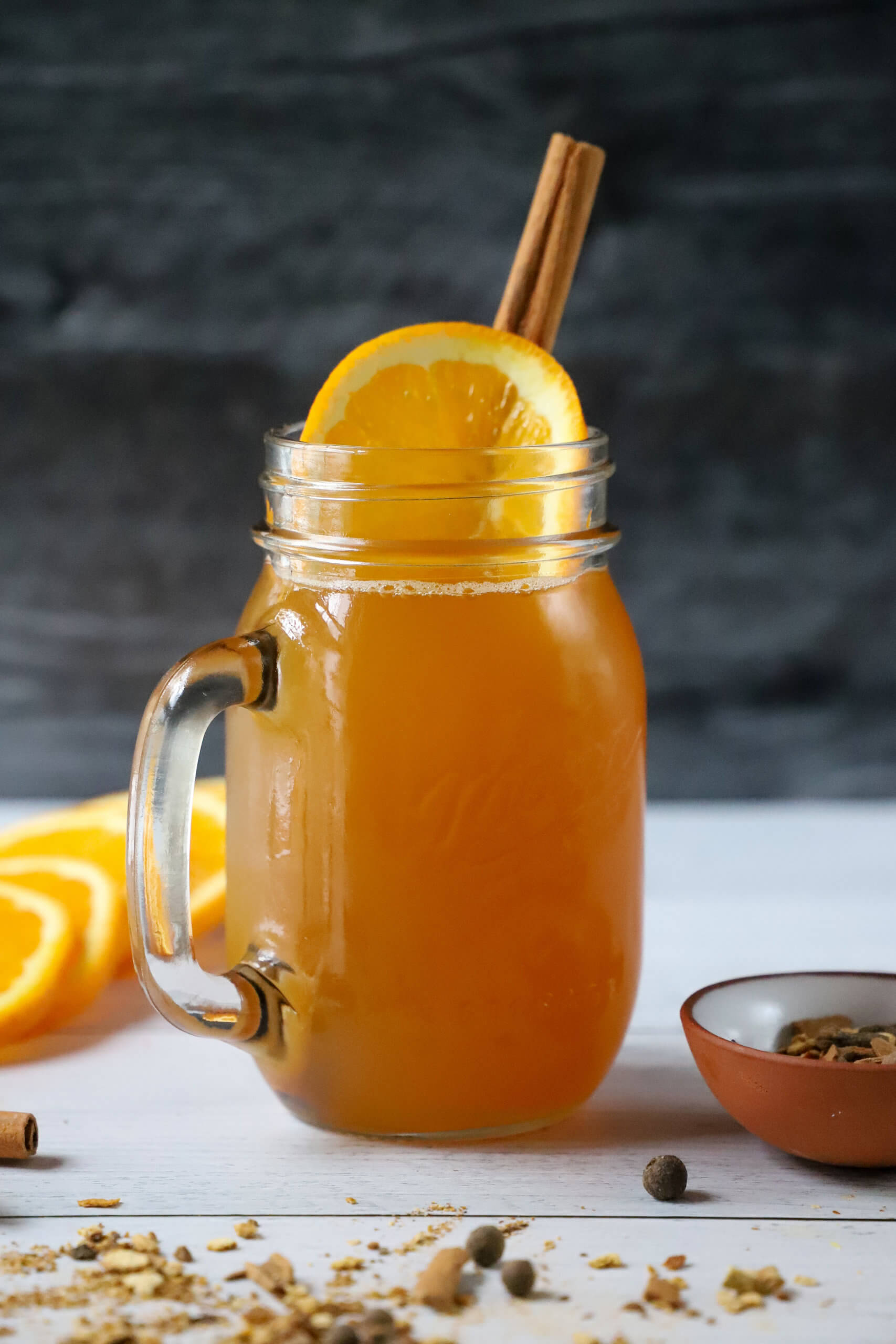 Ingredients
1

quart

fresh apple cider

2

tbsp

That's Tasty Mulling Spices

1

cinnamon stick

per mug

1

slice

orange

per mug

1

shot

Brandy, whiskey or rum

per mug (optional)
Instructions
In a saucepan, gently simmer cider and mulling spices (in reusable steeping bag), taking care not to overheat the cider.

Remove spices and serve hot in mugs garnished with a cinnamon stick and an orange wedge.

Optional: Add shot to mug. Baby, it's cold outside!
Festive Home Fragrance
Want to bring some holiday scents to your kitchen? With That's Tasty Mulling Spice Kits and a stove, you have everything you need. 
This is a great way to give your home a little extra festive feeling. You can also use the fragrance to mask the scent of recent cooking during dinner parties (although we're sure it was delicious, it's nice for the scent to disappear once the food is gone!). 
To get the fragrance without the beverage, all you need to do is add 1 oz of That's Tasty spices in the reusable steeping bag to 6 cups of water. Bring the water to a boil over medium heat, then reduce it to low. Let it simmer for up to 4 hours for maximum yuletide scents. 
Gin Pickles
Show up to all your holiday parties with a great hostess gift. These gin pickles are unique and festive. The gin and mulling spices give them a festive holiday flavor that can't be matched. 
These pickles whip up in under thirty minutes and no special equipment is required, other than a few mason jars and caps. 
Ingredients
4

tbsp

That's Tasty Mulling Spices

1/2

cup

gin

2

cups

white vinegar

2

cups

apple cider vinegar

1/2

cup

granulated sugar

1

tbsp

kosher salt

8

small

pickling cucumbers

sliced thinly
Instructions
Combine all ingredients except cucumbers in a medium saucepan and bring to a boil. Reduce heat and simmer for 20 minutes.

Add sliced cucumbers to two sterilized pint jars. Pour hot pickling mixture over top and leave ¼ inch headspace. Seal caps firmly and invert on a plate to seal. Allow to cool completely.

Store in the refrigerator for up to 3 months.
A That's Tasty Holiday
With That's Tasty Mulling Spice Kits, you're equipped to fill every cold caroler's hand with a mug of holiday cheer. These all-in-one kits can help you brew delicious mulled cider or wine that's sure to put a festive smile on any Scrooge's face! Even if you're not whipping up a drink, you can still fill your home with delightful fragrance by boiling a bag of spices. 
These kits from That's Tasty earned The Produce Moms stamp of approval. We're sure you'll enjoy them too. 
Want to share your holiday cheer with us? Tag us in your photos with a piping hot mug of That's Tasty mulled wine or cider on Instagram @theproducemoms and @thatstastyorganic and use the hashtag #thatstastyorganic.