Sweet Potato and Salmon Sheet Pan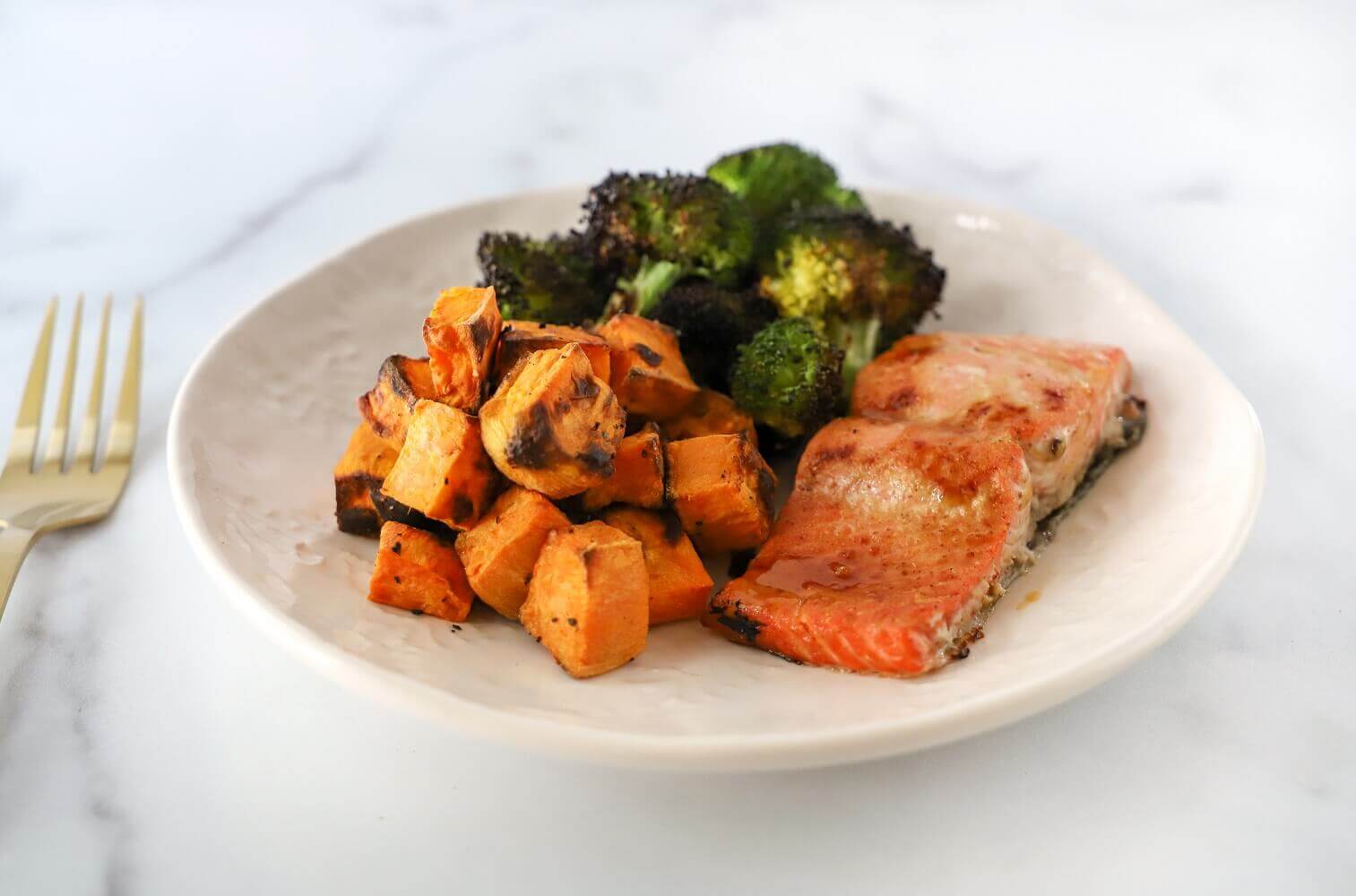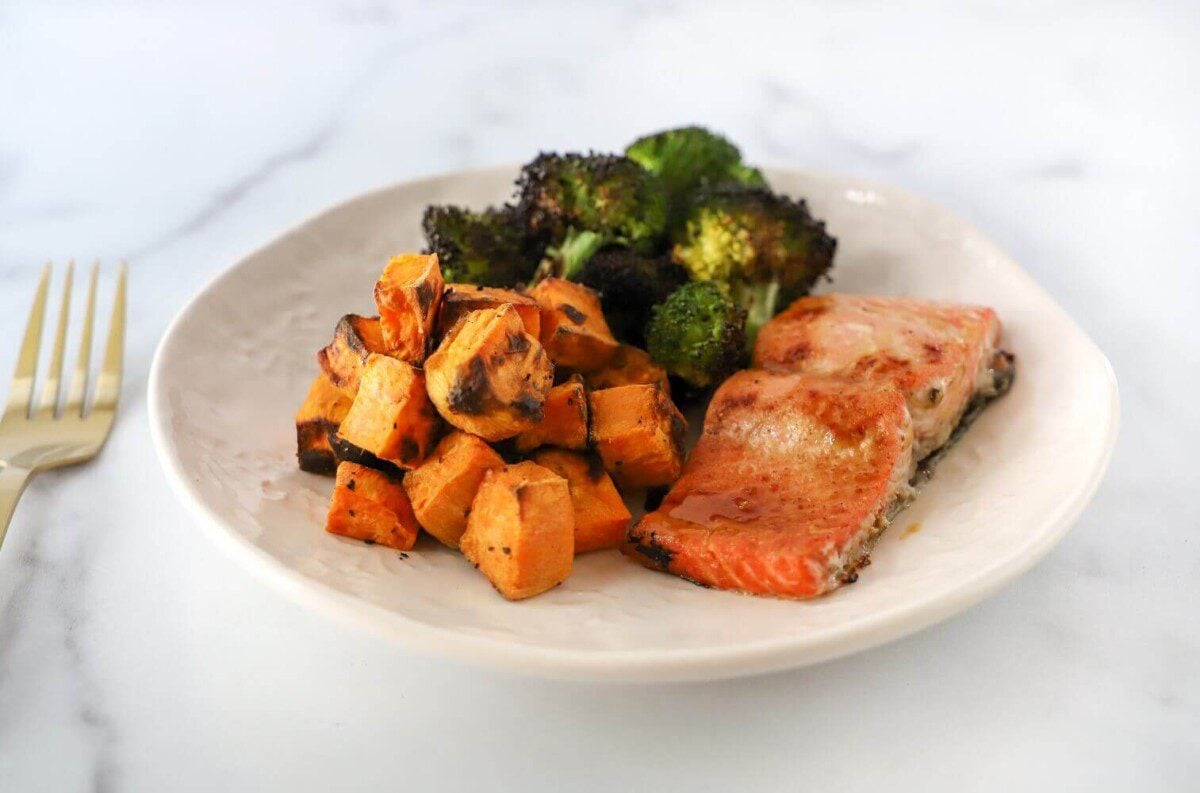 This post is sponsored by Wada Farms, a member of The Produce Moms' family of partners.
As fall rolls ever closer to winter, your family will appreciate a hearty, lively, flavorful meal on cold, dreary nights. But there's no need to brave the chill or break quarantine to go to a restaurant; you can prepare that kind of feast easily in your own kitchen! Sheet pan meals make preparation a snap. So fend off the cold with this hot and delicious Sweet Potatoes and Salmon Sheet Pan!
All About Sweet Potatoes
We use Wada Farms sweet potatoes as the base of this sheet pan meal. Sweet potatoes complement all kinds of savory dishes. But while they may taste like dessert, they're actually packed with nutrition! Sweet potatoes are rich in potassium, magnesium, and iron. They're also high in Vitamins C, D, and B6 and contain Carotenoids, an antioxidant that protects against both cancer and aging.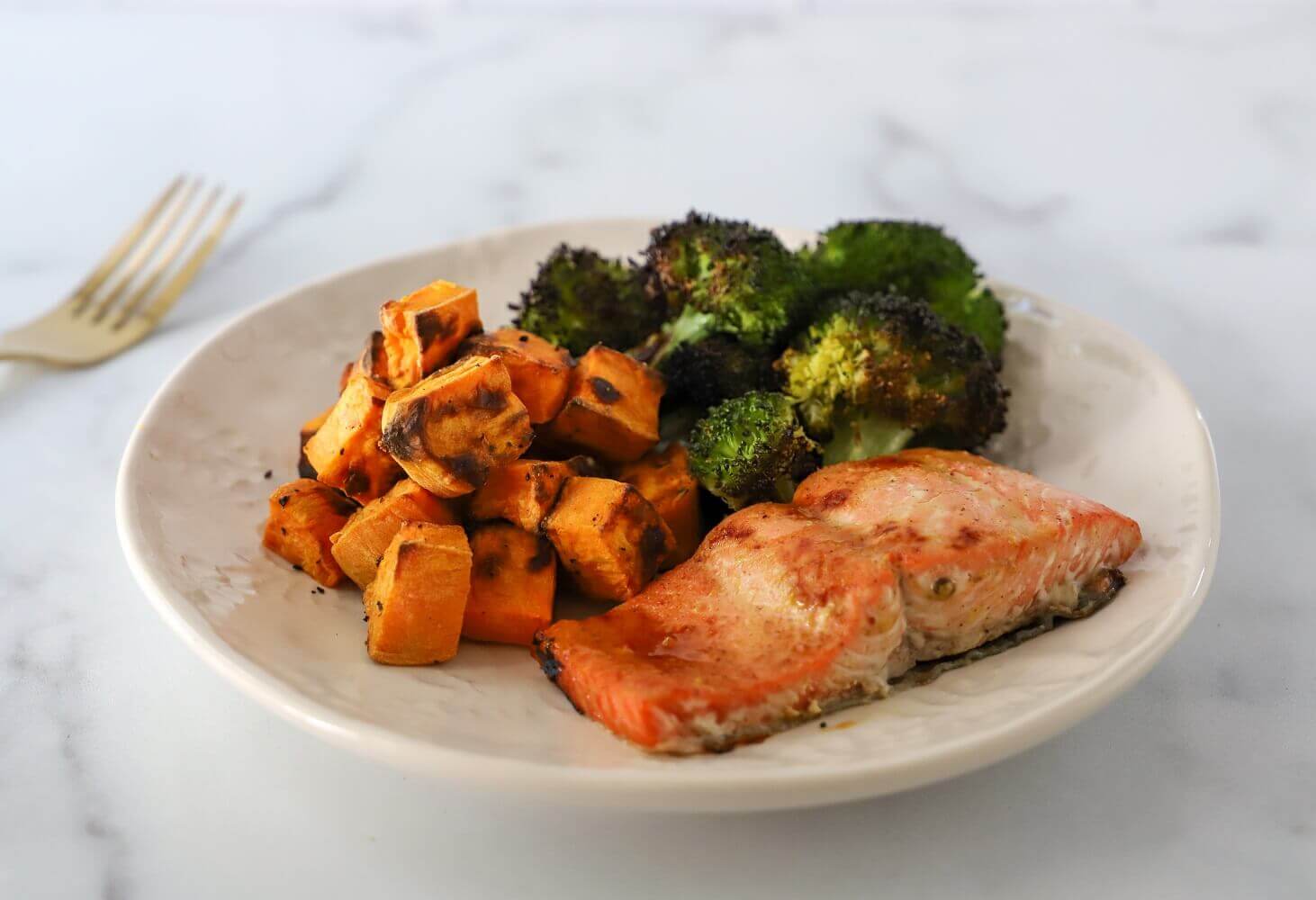 The nutrients of broccoli, salmon, and sweet potatoes make this an excellent end-of-day meal. Because they're both fat- and cholesterol-free and loaded with carbohydrates, sweet potatoes are a great source of energy. This Sweet Potatoes and Salmon Sheet Pan will give your family the chance to recharge from an exhausting day so they wake up bright and fresh tomorrow.
A hefty sweet potato goes a long way, and our favorites come from Wada Farms. These sweet potato experts have been sprouting spuds since 1943. They've since grown to become one of the nation's largest suppliers of fresh potatoes, onions and sweet potatoes. Wada Farms uses sustainable practices to grow their potatoes, so you can feel good about feeding them to your family.
Learn more about sweet potatoes from the Wada Farms experts themselves!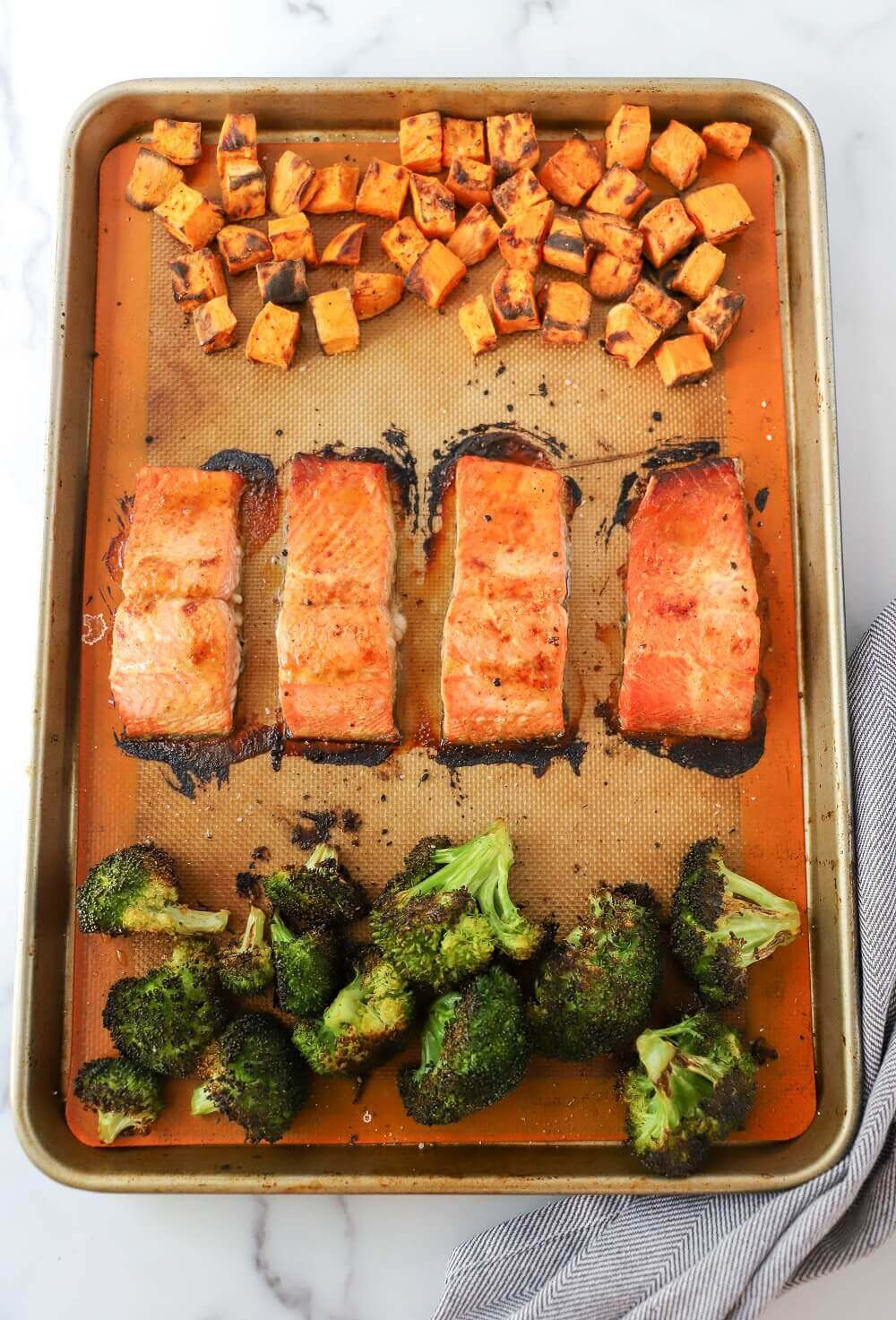 Making a Sweet Potatoes and Salmon Sheet Pan
Our Sweet Potatoes and Salmon Sheet Pan meal can be found in our eBook, Back to School with Potatoes, along with more tasty potato dishes! Potatoes are a great way to end a school night. This sheet pan meal is easy enough to fit into a busy schedule, too!
This sheet pan meal is made in steps, but it's all cooked on the same pan. To get each part of the meal perfectly cooked, you'll add the ingredients over time. Start with the broccoli and cubed sweet potatoes tossed in salt, pepper, and olive oil.
Once these have started roasting, you'll prepare the salmon glaze. This delectable glaze is one to use again and again. We love the way it enhances the flavor of the fish! File it away to spice up your fish in the future. When you've added the salmon to the sheet pan, broil it until it's flakey and tender. Then get ready to serve up a new family favorite!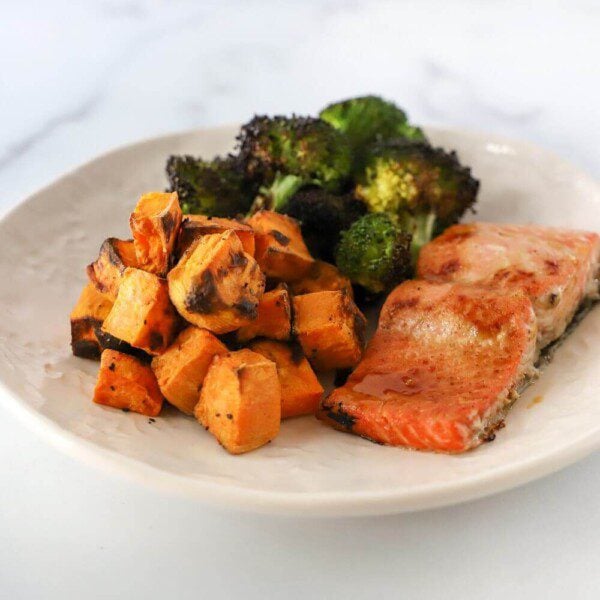 Ingredients
2

Wada Farms' Sweet Potatoes

peeled and cubed

2

tbsp

olive oil

12

oz

broccoli florets

4

salmon fillets

1/4

cup

honey

2

tbsp

spicy brown mustard

salt and pepper
Instructions
Heat oven to 425 degrees F.

Line a rimmed baking sheet with aluminum foil and spray with cooking spray.

Lay sweet potatoes and broccoli on pan and drizzle with 2 tablespoons of olive oil.

Season with salt and pepper to taste and toss.

Roast in the oven for 10-15 minutes. Sweet potatoes should be tender.

While sweet potatoes and broccoli are roasting, prepare salmon glaze. In a small bowl, whisk together honey, spicy brown mustard, ¼ teaspoon salt, and ¼ teaspoon pepper.

Remove vegetables from oven and stir. Turn oven setting to BROIL on "high."

Move broccoli and sweet potatoes to the edges of the sheet pan to make room in the center for the salmon.

Place salmon in center of tray, leaving space in between each fillet so that they cook evenly. Brush glaze on top of each piece of salmon.

Broil for 8-10 minutes (depending on size and thickness of the filets), or until salmon flakes easily with a fork. The top of the filets should be browned and crispy. Sweet potatoes and broccoli should be fully roasted and tender.
How did your family enjoy this Sweet Potatoes and Salmon Sheet Pan? Let us know your thoughts in the comments below, or tag us in your sheet pan photos on Instagram @theproducemoms and @wadafarms.