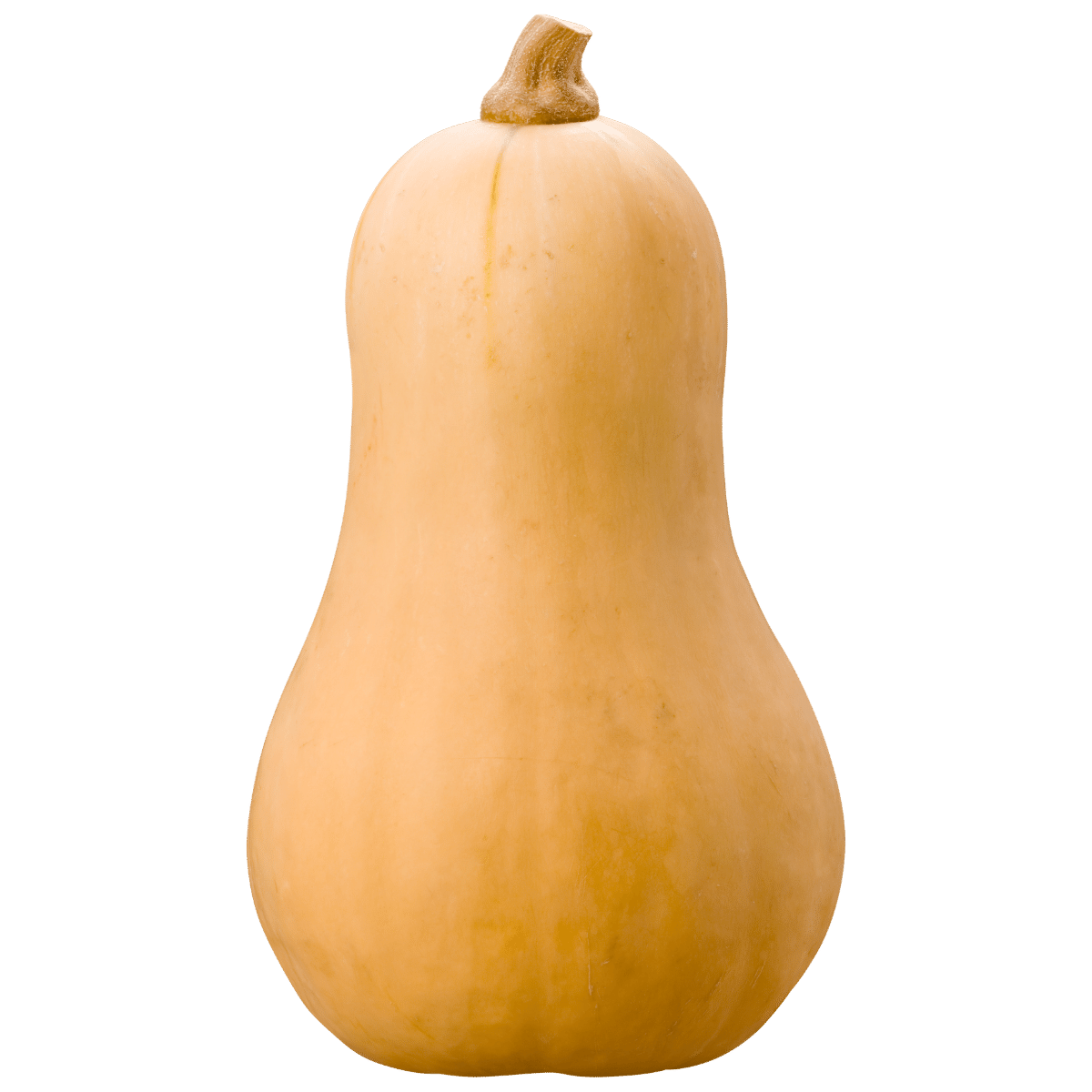 How to Select Butternut Squash
Select a butternut squash that is heavy for its size and has firm, matte skin that is free from cracks. Avoid squash that has shiny or waxy skin or visible cuts or soft spots.
Select a butternut squash that still has its stem intact. Look for a deep brown stem that is firm and not easily pricked with your fingernail.
Choose a squash that is a deep tan color. Avoid ones that have green spots or streaks.
When is Butternut Squash in Season?
If you head to the grocery store, you will likely find butternut squash in the vegetable section year-round. But butternut squash is more in season during late summer through the fall. A fall harvest vegetable, butternut squash is a delicious gourd with rich flavor and deep orange color. 
Varieties of Butternut Squash
There are several varieties of butternut squash, but we'll focus on five of the most common types you would find at the grocer or farmer's market:
Waltham Butternut

: The most common butternut squash you will find in a grocer. It weighs between 2-3 lbs, has pale yellowish tan skin, and has a sweet orange interior. It takes 85 days to grow.

Butter Boy Hybrid

: The butter boy hybrid squash is about 2-3 lbs and is lighter orange skin color. The flesh of the gourd is bright orange and has a nutty, sweet flavor. The growing period for this gourd is about 80 days.

Burpee's Butterbush

: The Burpee's butterbush butternut squash is a small gourd that grows to 1 to 2 lbs. It has pale orange skin and dark orange flesh. The flavor is sweet and has a buttery smooth texture. Its growing period is about 70 days.

Argonaut Hybrid

: This is a massive squash that can grow to 20 lbs. A sweet and nutty gourd that has a bright orange interior.

Autumn Glow

: This squat squash grows to about eight inches long. It has golden skin and a tender sweet flesh. It takes about 80 days to grow.
Butternut Squash Nutrition Facts & Benefits
A nutrient-rich vegetable, brussels sprouts have many health benefits:
Nutritional Facts
Serving size: 1 cup
Approximate 63 calories
0.1 grams of fat

1.4 grams of protein

16 grams of carbohydrates

3.1 grams of natural sugar

2.8 grams of fiber
Health Benefits
A few main health benefits of a butternut squash:
A serving of butternut squash has more than 450% of the recommended daily amount of

Vitamin A

and 50% of Vitamin C, which is fantastic for a veggie.

Butternut squash is a significant source of beta-carotene that

reduces your risk of lung cancer

.

Yellow-orange vegetables can

reduce your risk of heart disease by 23%

.
Butternut squash contains carotenoids that enhance visual attention, memory recall, and verbal fluency.
How to Store Butternut Squash
How To Store Whole Butternut Squash: Store whole butternut squash in a cool, dry place (or on the countertop) for up to three months.
How To Store Peeled Butternut Squash: Store uncooked, peeled and cubed butternut squash in an airtight container in the refrigerator for up to five days.
How To Freeze Butternut Squash: Peel the squash and cut it into 1″ cubes. Flash freeze on a cookie sheet until the cubes are frozen solid, about one to two hours. Transfer the cubes into an airtight container or freezer bag and freeze for up to one year. For the best taste and texture, use within six months.
How to Prepare Butternut Squash
Butternut squash isn't a vegetable that you eat raw. You'll want to use one of these methods to prepare the squash:
Roasted

: Peel and cut the squash into cubes. Preheat your oven to 400 degrees. You can drizzle the squash with olive oil, salt, and pepper. Then place the cubes on a cooking sheet and bake for 20-30 minutes, depending on the size of your cubes.

Pressure cook

: Use an Instant Pot to pressure cook a peeled and cut squash. It takes about 17 minutes total cook time (7 min of active pressure cooking).
Boil: Peel and cube squash and place in a boiling pot of water. Cook until tender. Then you can mash it like a potato or add it to a soup.
How to Serve Butternut Squash