Matter™ A New Way To Live Sustainably
Apr 15, 2021, Updated Jun 09, 2021
This post is sponsored by Matter™
A healthier planet matters to us. But have you ever found yourself wondering why it's so difficult to find plastic-free tableware and storage bags? If you feel like you're stuck with plastic, then we have good news for you!
Matter™ 100 percent compostable products will help you break out of the cycle of creating plastic waste. Look for them on the shelves of your local Target!
Matter Products: A New Way To Help the Planet
In the kitchen, we constantly find ourselves having to choose between readily available products and Earth-friendly sustainable options. Now you don't have to choose! Compostable Matter plates and bowls are now available at Target. They're an accessible option for picnics, potlucks, parties, or anytime you need a single-use disposable way to enjoy your food.
Matter plates and bowls have been a hit with environmentally-conscious shoppers, and now they're thinking bigger. This month, they're launching a line of cutlery, food storage bags, and kitchen supplies — all of which are made of natural, renewable fibers and resins! You'll find everything you need for a carefree, waste-free kitchen: straws, cups, forks, spoons, sandwich bags, kitchen bags, and much more.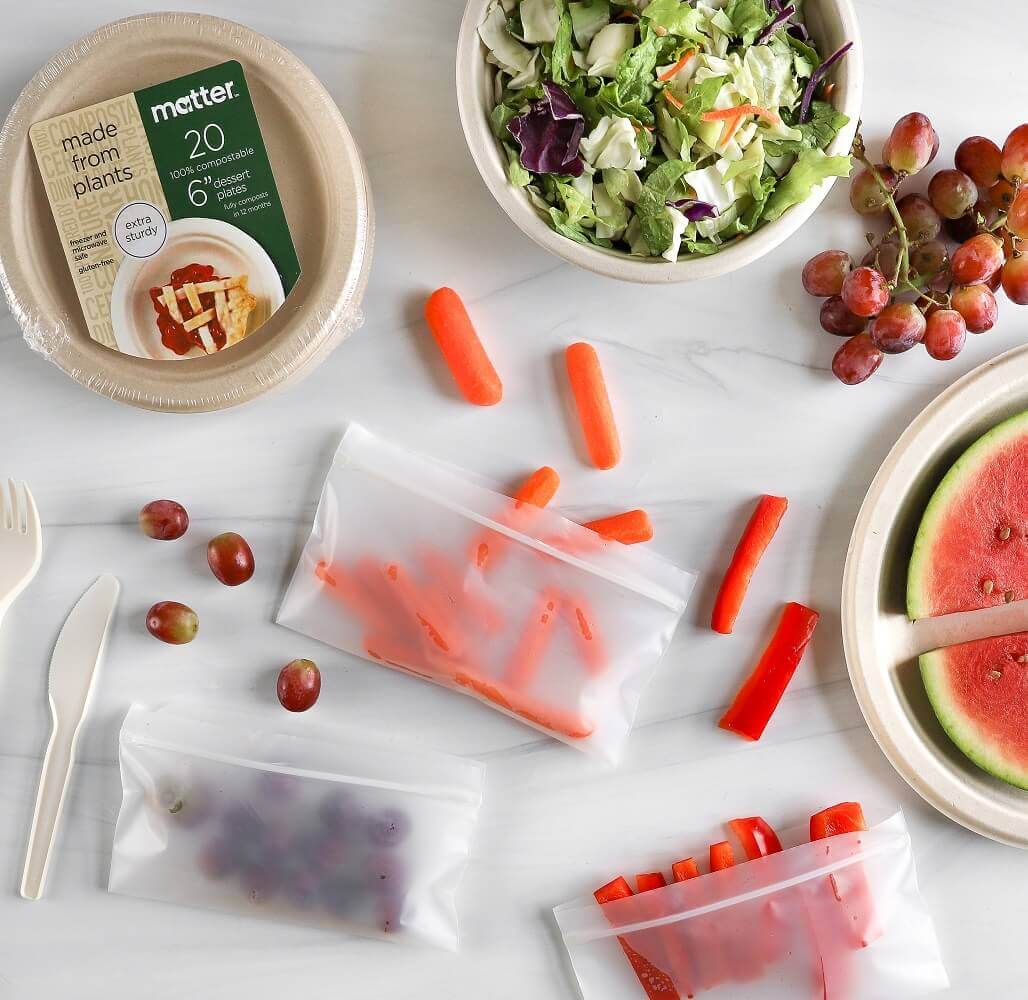 These products don't trade functionality for sustainability. The plates and bowls are designed with durability in mind with high heat resistance, flexibility, and strength, and the storage bags and wraps are freezer-safe. Matter products will work just as hard as your old paper or plastic products!
Every Matter product is safe to use in your kitchen. Rest easy knowing that any Matter item your kids use is manufactured with high standards and made with natural, plant-based materials.
Sustainability Matters
It's time to do away with one-use plastics. We're filling our landfills with plastic products, which can take thousands of years to decompose. We're even filling our oceans with them, causing harm to plants and animals on every level of the food chain.
Even if we try to be conscious of how we throw things away, only 10 percent of plastics are actually recycled. And the same toxins contained in plastics that can leak into the ocean can also leak into the food in your refrigerator.
Matter is looking to change all that, starting with the manufacturing process. Every Matter product is made using sustainable plant parts that would normally be burned or discarded. Any scraps created during the process are ground and re-processed. By creating their products out of plants instead of mineral oils, they reduce reliance on fossil fuels. That saves on energy, too, as they can be manufactured at a lower temperature.
While Matter products are durable and useful, you don't need to feel bad about throwing them away after use. They're designed to leave a smaller environmental footprint on the planet, even at the end of their usefulness. Matter items don't contain the toxins found in their plastic counterparts, which can leach into soil and water tables. They don't pose a threat to plant or animal life, either.
Each Matter product is designed to break down in around 12 months. But when they decompose, they don't just disappear. They actually fertilize and enhance the earth, adding valuable nutrients to the soil!
You can even use them in your home composter instead of throwing them away. Not only will you get even more benefits from your Matter plates, cutlery, and other items, you'll also conserve landfill space and reduce greenhouse gas emissions. Look for more information in our upcoming Composting 101 post!
Accessible Sustainability
Matter finally gives us an easy way to sustainably stock our kitchens with disposable items. Replacing your disposable plasticware has never been simpler. With essentials like kitchen bags, resealable storage bags, utensils, straws, plates, coffee cups, and more, Matter has everything you need.
Want to start making your kitchen more Earth-friendly today? Head to your nearest Target to find the full range of Matter products. To see them at work, check out our April Indy Style segment!
Learn more about the Matter mission here!