How to Stuff a KONG with Fruits and Veggies
*Always consult with your veterinarian before introducing new foods or treats into your dog's diet.
A KONG is a great way to keep dogs entertained and mentally stimulated. They are especially helpful for dogs with high levels of energy or puppies with a strong desire to chew. They are perfect for bad weather days when you just can't get your dog outside to burn off that extra energy.
Stimulate your dog's natural instinct to scavenge and provide mental stimulation by stuffing a dog KONG with healthy and dog-safe fruits and vegetables. So how do you stuff a KONG?
How to Stuff a KONG
First, be sure to start with a KONG that is the right size for your dog. This will help ensure that you don't overtreat your pup with too much food and that they have success at obtaining what's inside. If you're unsure what size is appropriate for your dog, their website has a helpful sizing guide.
Once you have the appropriate size for your dog, begin by plugging the small hole on the top of the toy with peanut butter. This will help prevent your "stuffers" from falling out.
Flip the KONG over to access the larger hole on the bottom.  Using a small spatula, smear a little bit of plain yogurt, peanut butter (choose a brand that does not contain xylitol), cottage cheese, or wet dog food inside. Next, place in kibble and bite-sized, doggy-safe fruits and veggies.
Place the KONG in a cup with the large hole facing up and fill it with water or low sodium chicken or beef broth (the cup will prevent spills in your freezer). Plug the large hole with a dog treat or more peanut butter. Keep the KONG in the cup and place it in the freezer and chill until frozen. Freezing the KONG will make the entertainment last much longer!
Note: If you don't have time to freeze, skip the liquid ingredients.
What Fruits and Veggies Can I Stuff Inside a KONG?
There are lots of dog-safe fruit and veggies that can be stuffed inside. Here are some options to try!
Apple (no seeds, stem, or core)
Banana
Broccoli
Blackberries
Blueberries
Cantaloupe
Carrots
Cauliflower
Celery
Cucumber
Green Beans
Peas
Pumpkin
Spinach
Strawberries
Sweet Potato
Watermelon
Zucchini
Click here for more information on which fruits and veggies are safe and which are unsafe for dogs.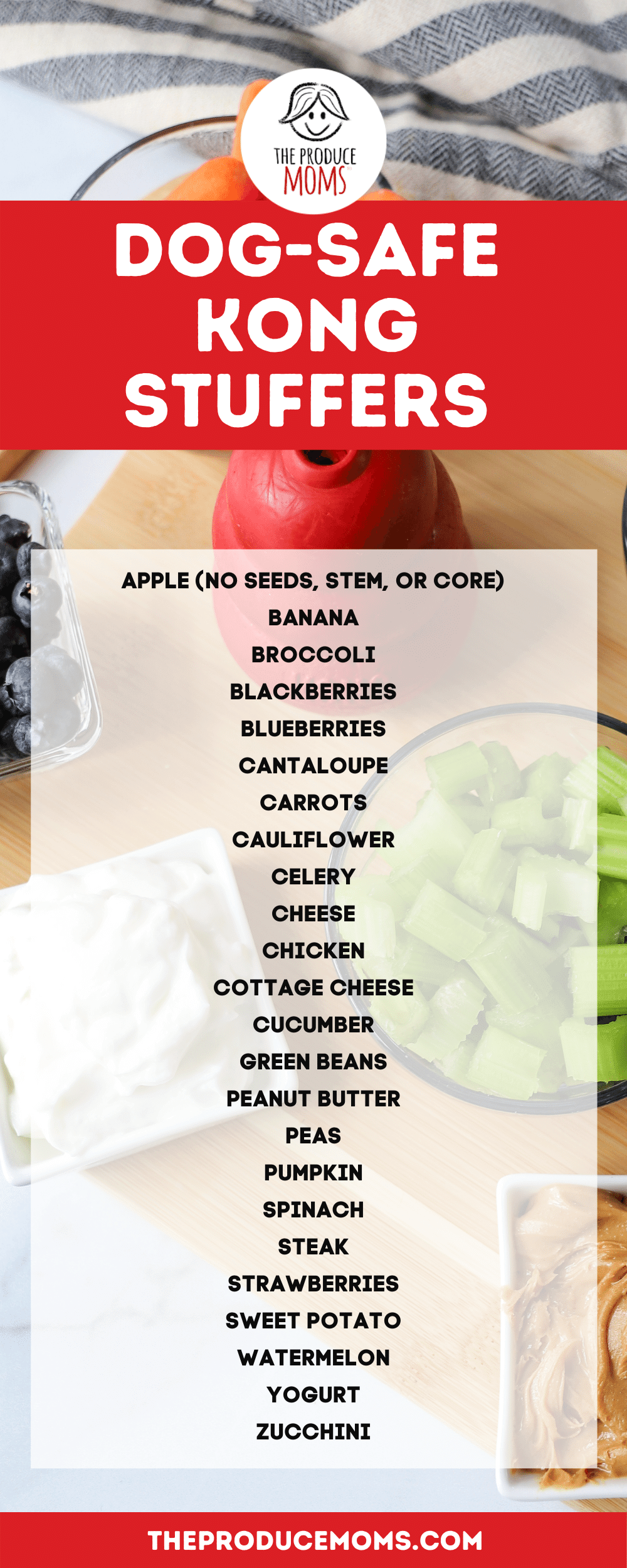 How To Stuff a KONG for a Novice User
If you have a younger puppy or a novice KONG user, you may want to try a simpler stuffing combination to get them used to this new activity.
Start by mashing bananas and peanut butter and stuffing it inside the toy. Or, smear the inside with yogurt and add frozen peas and blueberries. Plug each end with peanut butter.
As your pup gets more advanced at unlocking the good stuff, you can create more challenging combinations.
Do you have any tips or tricks for stuffing a KONG? Does your dog have a favorite flavor combination? Head over to our Facebook Group and let us know!
Check out all our dog treat ideas here!