Fresh, Sweet, and Juicy Plum Salad With Ricotta Is In Season
May 03, 2023, Updated Jun 16, 2023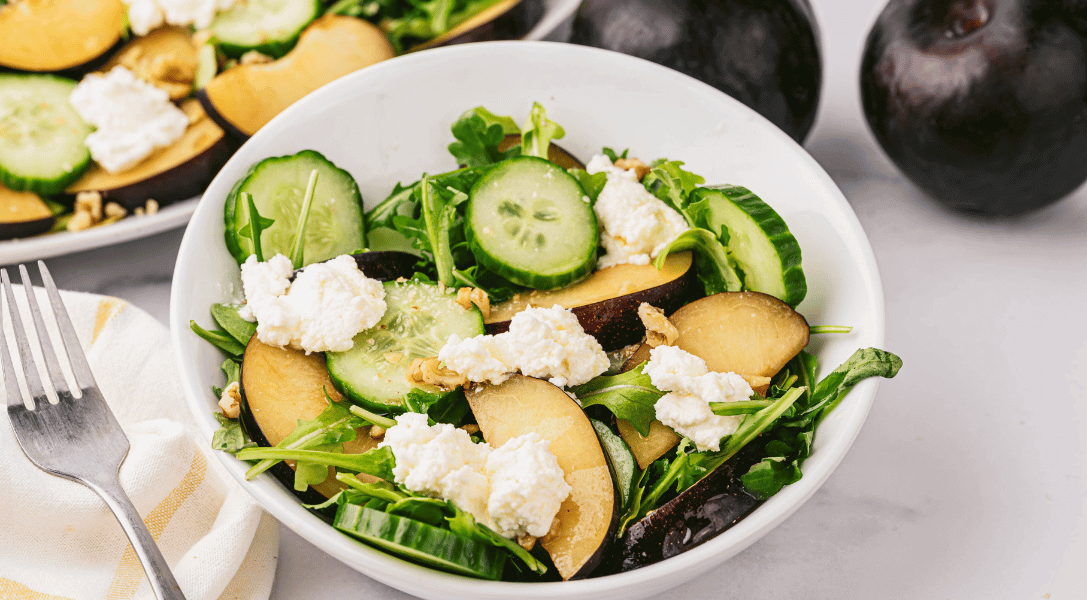 Ready to welcome the season with a new salad recipe? Plum and Ricotta Salad is an easy and quick side that comes together in minutes. Loaded with vitamins and minerals from peppery arugula, this salad is topped with crunchy walnuts, juicy plums, and creamy ricotta for balanced flavors you'll love. Add your favorite protein for a light meal that won't weigh you down in the heat.
We've almost made it to summer!
And what better way to celebrate the season than with some fresh, juicy seasonal plums.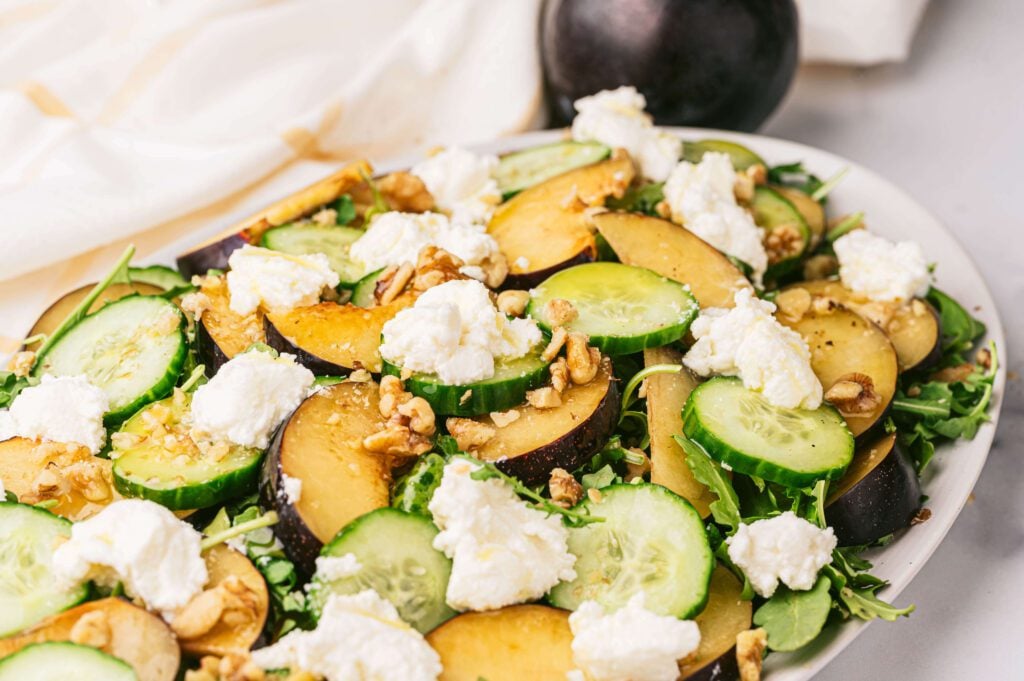 Plum Ricotta Salad is sponsored by Trinity Fruit.
We added some sliced plums with dollops of ricotta and earthy walnuts to our salad. Whip up a simple vinaigrette with ingredients you already have on hand, and you're all set.
C'mon, we'll show you how easy this recipe is.
What is Plum and Ricotta Salad?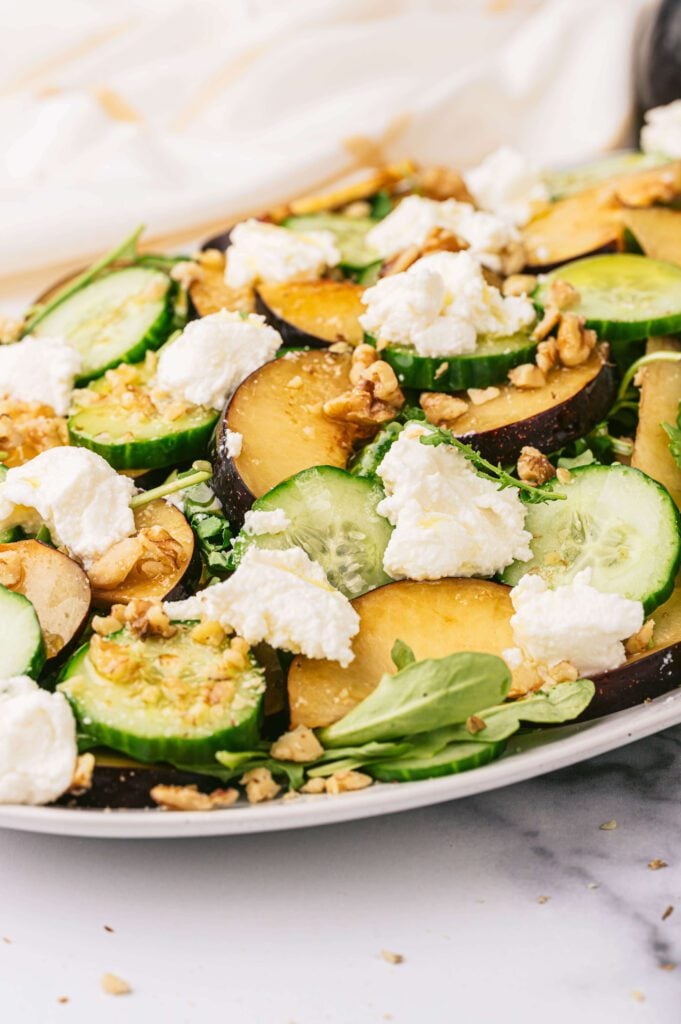 There are many plum salads that are basically fruit salads with plums and other stone fruits mixed together and maybe drizzled with a sweet "dressing". But Plum and Ricotta Salad has a spicy arugula base that's topped with sliced plums, refreshing cucumber, nutty walnuts, and thick ricotta chunks. Try the five-ingredient dressing to really make this a home run with your family.
Why Choose Plums for This Salad?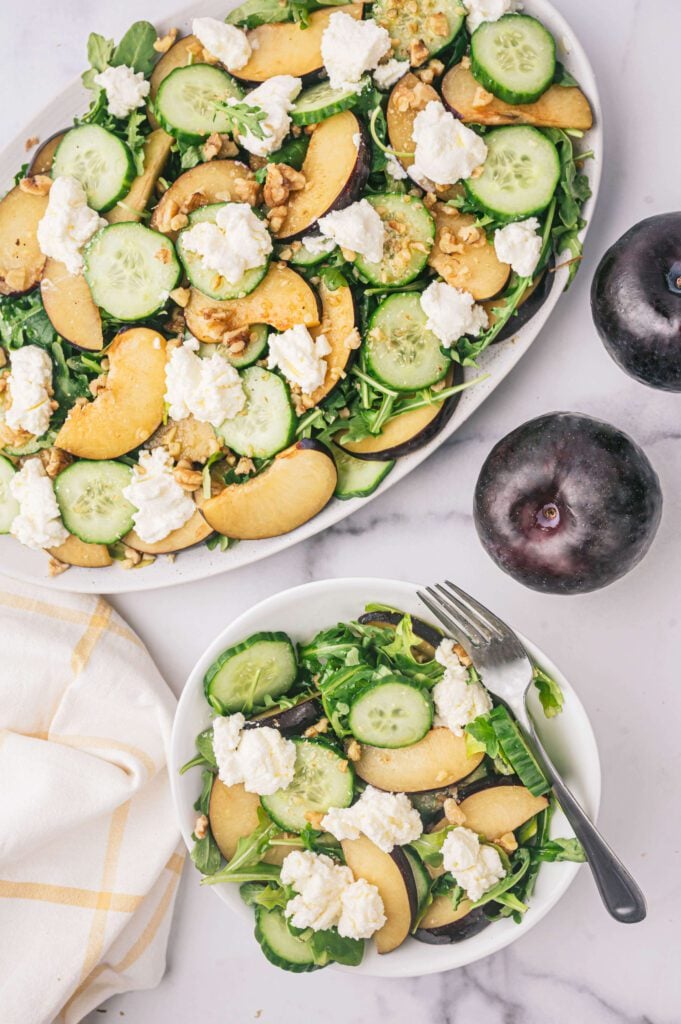 Plums belong to the stone fruit family. So plums have a pit — or a stone — in the middle that contains the seeds of the fruit. This part isn't edible, but the flesh around the pit and the skin of the plum are yummy. Cherries, peaches, and apricots are part of the stone family, and plums are eaten the same way.
Not to be confused with prunes — plums are heart-shaped or round with red or dark purple skin. The flesh of plums is sweet and juicy with a tart aftertaste from the compounds found in the skin. The tart flesh of the plums complements the peppery arugula.
Plums can be eaten and picked right off the tree. They can also be baked, boiled, grilled, stewed, and poached. And plums are very affordable, making them a great addition to your Plum and Ricotta Salad, desserts, or a simple snack.
You'll Love Plum And Ricotta Salad Because It's…
It's a perfect meal to perk up your day.
Ingredients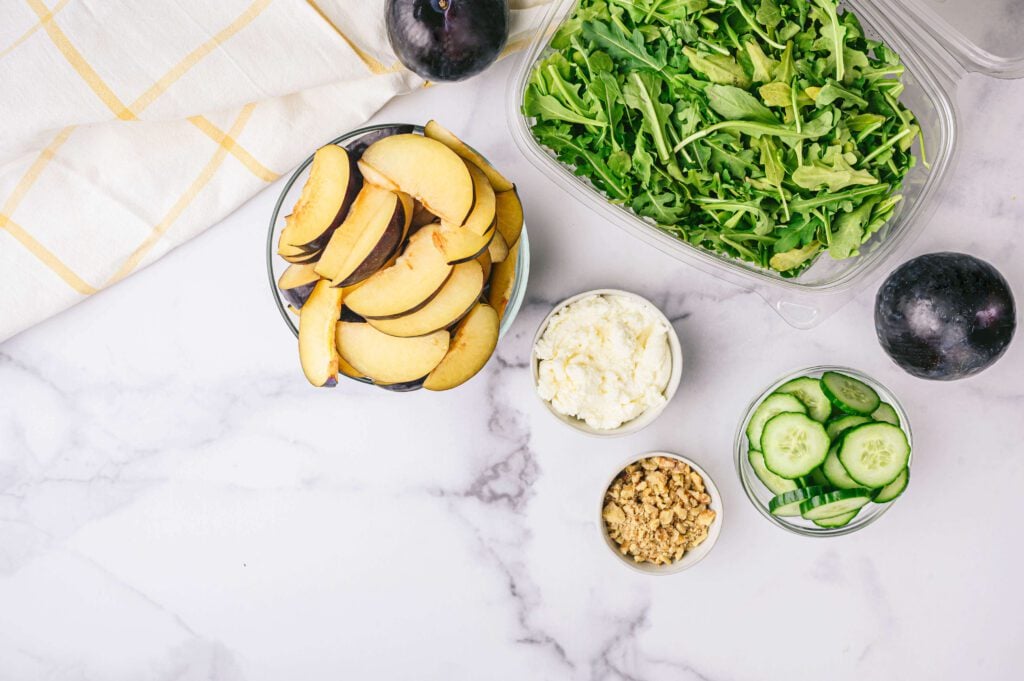 You don't need many ingredients to make this plum salad. You probably already have the ingredients for the dressing on hand. Add a few things to your shopping list to prep this for lunch or serve a whole group.
Arugula
Did you know that arugula is not considered lettuce? It's actually part of the mustard-green family. That's one of our favorite reasons to use it in salads because of its unique peppery flavor that holds up well against flavored dressings. It has glucosinolates that make it taste spicy, and it pairs well with the other ingredients in this salad.
Plums
Trinity Fruit offers red, black and speciality plums that all pair well with the spicy, earthy, creamy, and refreshing flavors in this salad. The plums add a sweet tartness for a well-rounded bite. The antioxidants in plums may help with anxiety and possibly reverse bone loss1.
English Cucumber
These cucumbers are long, thin, and wrapped in plastic. They're ideal for a sweeter, bit-size crunch versus traditional cucumbers that are fat and short. English cucumbers have thinner skin, so you don't have to peel them, cutting down on your prep time and eliminating a step. Cucumbers are great for helping you stay hydrated when it's hot and are known to help with vision and boost immunity2.
Walnuts
Look for walnuts that are whole or already chopped. If you get whole walnuts, you'll need to chop them yourself when you prep your salad. We prefer to buy them already chopped, so you can use ⅓ cup scoop and sprinkle them on your serving platter. Super easy. But don't skip on the walnuts because they offer good fats for energy and Omega-3 to fight inflammation3.
Ricotta
You should be able to find ricotta cheese in the dairy section at your grocery store. It has a smooth, more fine texture than cottage cheese, so it's in a plastic container with a lid. You don't need very much. Feel free to get a small container unless you plan to feed a lot of people or make Plum and Ricotta Salad throughout the week.
How to Make Plum and Ricotta Salad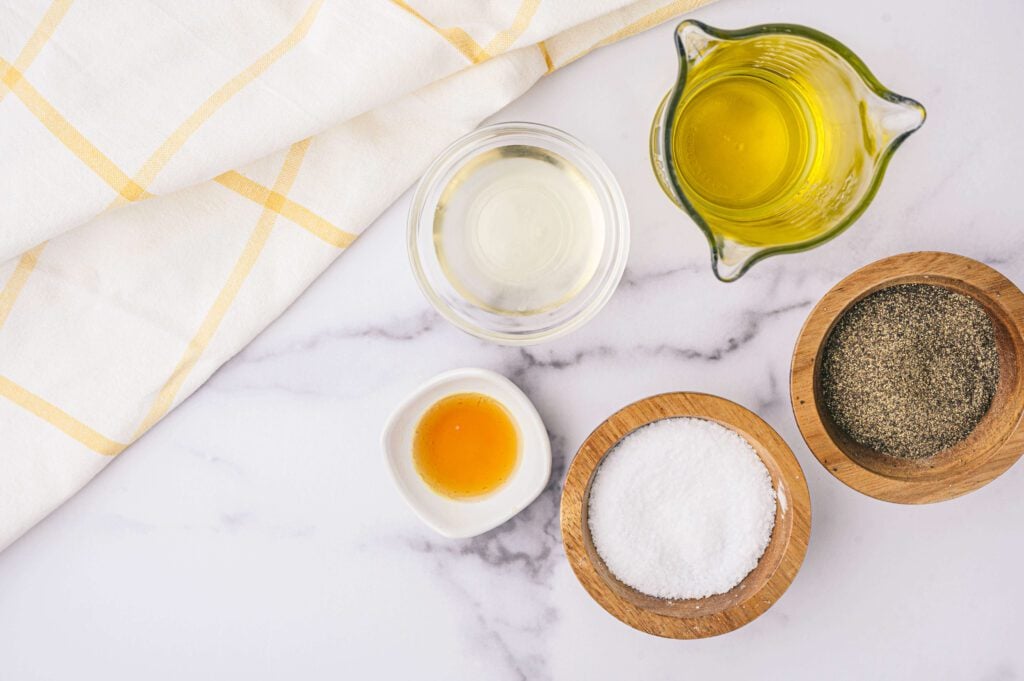 Step 1
Mix olive oil, white balsamic vinegar, honey, salt, and pepper in a small bowl. Set to the side.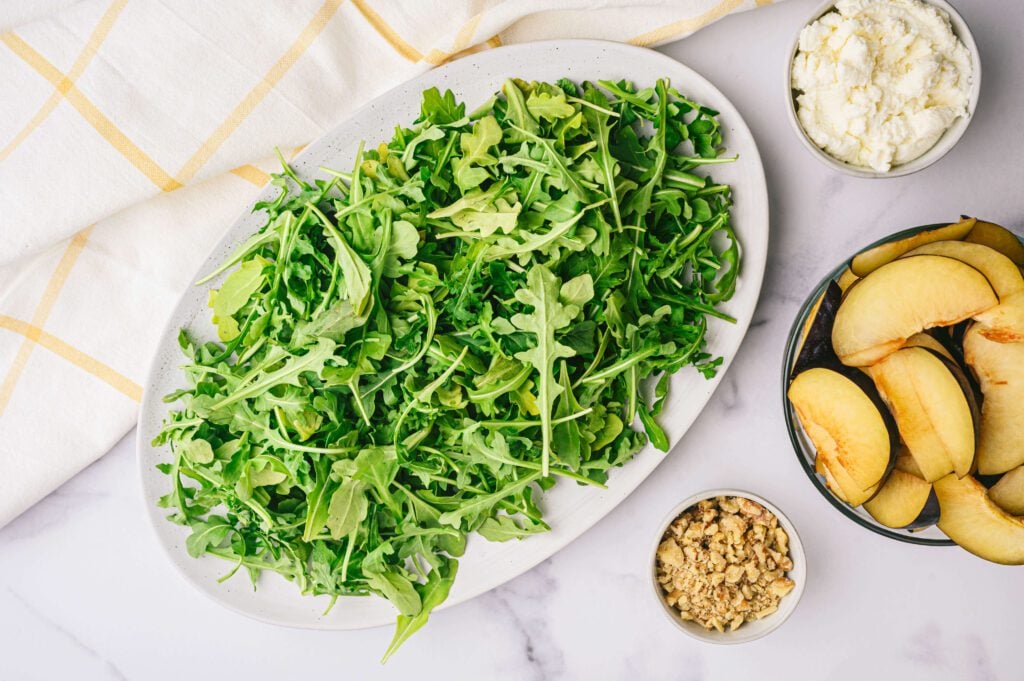 Step 2
Lay a bed of arugula on your serving platter.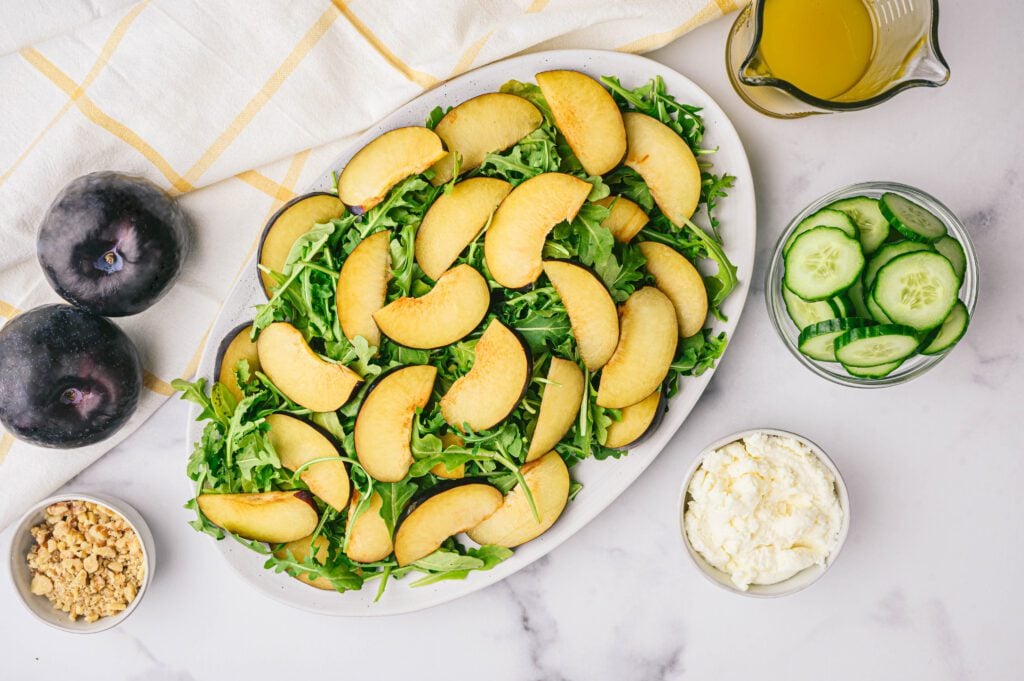 Step 3
Evenly place your sliced plums over the bed of arugula.
Step 4
Add sliced cucumbers.
Step 5
Sprinkle the walnuts on top.
Step 6
Use a spoon to put dollops of ricotta around your serving platter.
Step 7
Drizzle the dressing over the top of your Plum and Ricotta Salad, serve, and let the compliments roll in.
Why We Love Trinity Fruit
At The Produce Moms, we're passionate about sustainability. That's why we love working with Trinity Fruit because we share that core value in our businesses. Trinity Fruit operates with the goal of using each piece of fruit they grow to create healthy products and enhance your quality of life. When it comes to sustainability, they do it all — use solar energy, packaging that's recyclable, zero waste, and more.
Trinity Fruit is passionate about innovation and cross-aisle products. In addition to offering fresh fruit, they also offer frozen fruit, dried fruit and juices so they can use everything from the entire fruit tree. Now that is real sustainability.
Look for Trinity Fruit products in your produce section to support their sustainability practices.
Seasonal Plum Recipes
Plum Ricotta Salad
Juicy plums, crisp cucumber, creamy ricotta, and crunchy walnuts are a few easy and affordable toppings for a new salad twist this summer. Be sure to add the five-ingredient dressing to your plum and ricotta salad for a light lunch.
Ingredients
Dressing
1/3

cup

extra virgin olive oil

3

tablespoons

white balsamic vinegar

2

teaspoons

honey

sea salt
Salad
4

cups

baby arugula

4

Trinity Fruit ripe plums

pitted and sliced

1/2

long English cucumber

sliced

1/3

cup

walnuts

chopped

1/2

cup

ricotta
Instructions
Dressing
Whisk olive oil, white balsamic vinegar, and honey together in a small bowl.

Add a pinch or two of sea salt and a few turns of freshly ground black pepper. Whisk again until all the ingredients are mixed together. Set aside for later.
Salad
Lay the baby arugula on a long serving platter or in a bowl.

Place the sliced plums and cucumber evenly around your serving platter on top of the bed of arugula.

Use your hands to sprinkle your salad with chopped walnuts.

Use a spoon to dollop chunks of ricotta throughout the serving platter.

Then, drizzle the vinaigrette dressing over the salad.

Serve right from your beautiful serving platter for a mouthwatering presentation!
Notes
Feel free to use red or black plums. They both taste great in Plum and Ricotta Salad.
Nutrition
Calories:
339
kcal
|
Carbohydrates:
17
g
|
Protein:
6
g
|
Fat:
29
g
|
Saturated Fat:
6
g
|
Polyunsaturated Fat:
7
g
|
Monounsaturated Fat:
15
g
|
Cholesterol:
16
mg
|
Sodium:
35
mg
|
Potassium:
323
mg
|
Fiber:
2
g
|
Sugar:
13
g
|
Vitamin A:
880
IU
|
Vitamin C:
10
mg
|
Calcium:
119
mg
|
Iron:
1
mg
Nutrition information is automatically calculated, so should only be used as an approximation.
Like this? Leave a comment below!