Episode 98: Dr. Wendy Bazilian
May 13, 2020, Updated Jun 11, 2021
If you love snacking, you aren't alone.
Dr. Wendy Bazilian is a writer, researcher, educator, food enthusiast, award-winning journalist, and a lover of snacks. She is also an ambassador for California Walnuts, and is full of incredibly insightful information about the power walnuts have to fuel a healthy, active lifestyle.
"Today, 95% of US adults say that they snack daily, and 70% say they snack two or more times each day." – Wendy Bazilian 
If you find yourself at the pantry or fridge between meals, you aren't alone! Research indicates that snacks are a regular part of nearly everyone's diet.
The Dietary Guidelines for Americans Advisory Committee report showed that 1 in 4 of our calories come from snacking. This means that a whopping 25% of our daily energy comes from snacks. However, consumer studies also show that snacking accounts for 42% of our daily allowance of added sugars. That's a lot of sugar!
Snacks fulfill a variety of needs. They satiate hunger but also can facilitate comfort, fun, and the sense of community that comes from sharing food. With snacks playing such a big role in our day to day life, there is a huge opportunity for it to fuel a healthy lifestyle!
With walnuts, you can have your "cake" and eat it too.
When it comes to snacking, you don't have to forego fun or flavor in order to make a healthy choice.
Walnuts are an excellent versatile snack option that provides taste and texture, alongside incredible nutritional qualities. Below are a few of the benefits walnuts provide.
Research has shown that regularly eating walnuts may support cardiovascular and cognitive health.,
Walnuts are the only nut that contains an excellent source of Omega-3 ALA, at 2.5 grams per ounce.
Walnuts also deliver 4 grams of plant-based protein and 2 grams of fiber per ounce.
Walnuts contain a host of phytonutrients. These are substances found in plant foods that may be beneficial for our health.
Tips to make nutrient-dense choices the easy choice.
To make a healthy snack the easy choice, it's important to find snacks that hit a variety of levels. Even during this time of working from home, it's important that snacks are convenient. One of the beautiful aspects about walnuts is their versatility. They compliment both the savory and the sweet snacking tendencies, and they are the ultimate multitasker.
Here are a few different ways to snack on California Walnuts!
Just grab a handful! (The recommended serving size of walnuts is 1 ounce, or about 12-14 halves. A handful is an accurate and "handy" approximation)
Incorporate them into baked goods
Blend them into walnut butter
Puree them to add to dips or spreads
Use them to top your morning oatmeal
Top a quick, afternoon salad with a handful
A walnut recipe for your arsenal.
This recipe is an incredibly creative and simple way to incorporate nuts into a snack or even a meal. The ingredients and amounts can be altered to work for your tastebuds and the ingredients you have on hand.
Walnut "Chorizo" Crumble 
Walnuts
A small amount of liquid (stock or oil)
Vegetables (Use whatever you have on hand! We like zucchini and mushrooms).
Beans (Our favorite is black beans!)
An arsenal of spices to your liking (go spicy, Mediterranean, south of the border, be generous and get creative)
Add all ingredients to a blender or food processor and blend until nice and crumbly.
This can be put into grain bowls or tacos, added into hummus or spread on a cracker. The flavors are delicious and the possibilities are endless!
"This is down to earth, approachable nutrition." – Lori Taylor (36:57) 
When it comes to nutrition, it doesn't always have to be so complicated. The numbers show us that we ALL like snacking! With just a little bit of planning, and intentional choices day-to-day, we can eat snacks that fuel our body and help us to live healthier lives! Next time you're rummaging for that afternoon snack, give walnuts a try.  Happy snacking!
How to get involved
If you liked this episode, be sure to subscribe and leave a quick review on iTunes. It would mean the world to hear your feedback and we'd love for you to help us spread the word!
How do you like to snack with California Walnuts? Share in the comments below.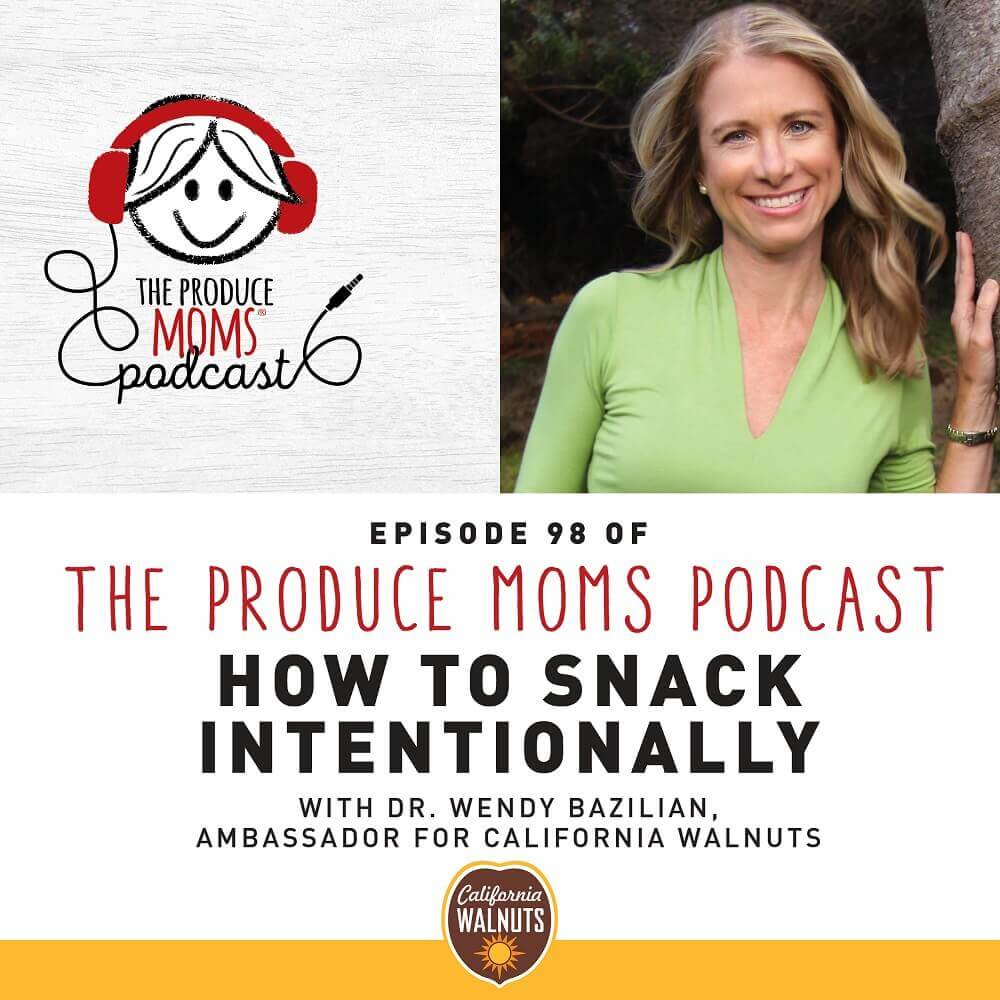 Previous episodes you may enjoy