Episode 47: Earth Day Special Edition with Hans Sauter of Del Monte Fresh Produce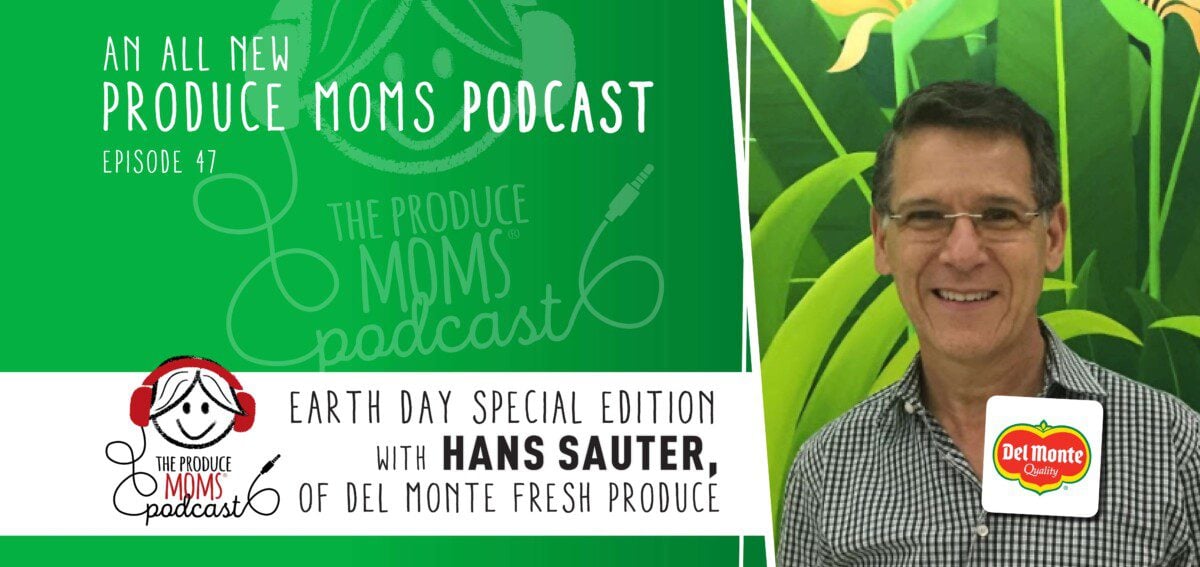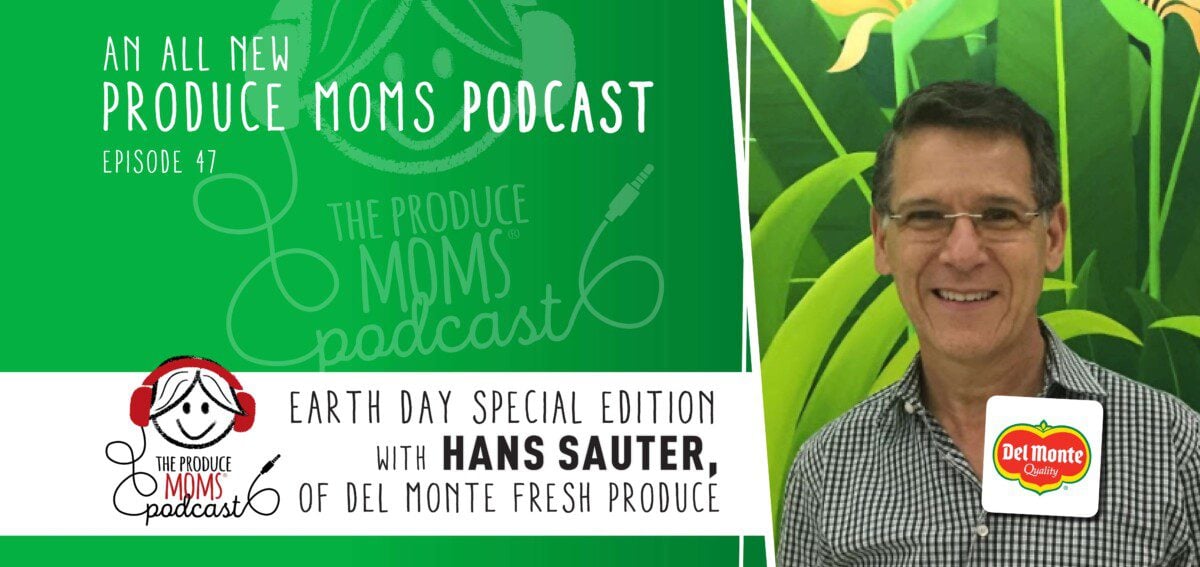 The Produce Moms Podcast
Episode 47: Earth Day Special Edition with Hans Sauter of Del Monte Fresh Produce
"We believe that it is not only our duty to be sustainable in our own operations, but also to motivate and inspire other businesses to do the same during this critical moment our planet is going through." – Hans Sauter (4:16 – 4:39)
Hans Sauter is the Senior Vice President of Research & Development and Agricultural Services at Del Monte Fresh Produce Co. He has over 30 years of experience in the produce industry, and he is responsible for developing programs to deal with Del Monte Fresh's environmental impact consciously and efficiently. With Hans' help, every day is Earth Day at Del Monte Fresh.
How Del Monte Fresh is promoting sustainability through its farming practices.
It's that time of the year again – it's time to celebrate Earth Day 2019. Earth Day is an annual event held in over 190 countries around the world in support of environmental protection. Since fresh produce and environmental sustainability go hand-in-hand, now is a great time to take a look at what Del Monte Fresh, one of the leading suppliers of fresh produce in the world, is doing to promote sustainability.
Del Monte Fresh views sustainability from a scientific point of view. They measure their processes to create awareness within their organization. They've also developed programs to deal with their environmental impact in the most conscious and efficient ways. Along with prioritizing ecological consciousness in their own farming practices, Del Monte Fresh believes they can also inspire other businesses to embrace sustainability in this crucial moment for the planet.
"When it comes to sustainability, Del Monte Fresh is fully committed to the common good and to the mission at hand. They even work hand-in-hand with their direct competitors to promote sustainability." – Lori Taylor (12:19 – 12:35)
The following are just some of the measures and practices Del Monte Fresh has adopted as they aim to bring high-quality, healthy, and nutritious foods to people in a way that protects the environment, and builds strong ties to the communities they operate in.
Protecting Flora and Fauna
The reality of farming is that it has an effect on flora and fauna. It affects the local ecosystem by displacing the species that previously inhabited there. Del Monte Fresh recognizes that if they don't provide a new space for them to flourish, then they'd be competing with the local flora and fauna, which harms the environment.
Before farming on new lands, Del Monte Fresh studies them carefully to decide which new areas would be best suited to be set aside for the displaced flora and fauna. They also take into account the impact on the water supply which is not only critical to the farming process, but also to the local communities.
Protecting and Conserving Natural Resources
Del Monte Fresh makes it a priority to protect and conserve as many natural resources as possible. Resources like air, water, soil, and energy are essential for any agricultural activity. Del Monte Fresh has invested in more efficient irrigation systems like Drip Tape, which delivers water right at the plants where it is needed instead of wasteful and inefficient spreading of water. They've also redesigned the water tanks in some of their packing houses so that they can operate with less water.
Additionally, they have designed agricultural process to limit soil erosion, and they continue to invest heavily in solar and wind energy, both in the United States and internationally.
Sustainable Waste Management Practices
Del Monte Fresh has been practicing sustainable waste management practices. They reduce, re-use, and recycle waste to diminish the impact on the environment. They were early adopters of plastic recycling in their banana farms. They've also been using drone technology and GPS-guided tractors to reduce the use of fertilizers and pesticides, to localize them only where they are needed.
Sustainable Packaging Practices
Reducing plastic in packaging is a big concern for consumers of fresh produce, and Del Monte Fresh has taken the initiative to transition to sustainable packaging practices. For the last 20 years,  they've been working to reduce the raw material requirements for their cardboard boxes by 30%. Reducing the use of plastics in packaging requires an extensive amount of research, and Del Monte Fresh is continually exploring more sustainable alternatives.
Empowering and Developing the Community
Being a global company, Del Monte Fresh operates in many communities throughout the globe. They also work with other growers in many countries, and they've actively made it a requirement that their partners are certified and internationally recognized as sustainable. As of today, close to 78% of Del Monte Fresh's entire volume of produce is certified as sustainably grown, and they are pushing for 100% in the coming years. With numbers that impressive, it is important to mention that all of their sustainability reporting relies on third-party audits!
Del Monte Fresh recognizes that taking care of Mother Earth means not only protecting the environment but also empowering the communities they work in. Throughout the many countries where they have farms, Del Monte Fresh has created programs to support schooling infrastructure, and they've provided students with scholarships and school materials. One of the most rewarding effects of their social agenda has been the fact that many of the beneficiaries of their scholarships now hold administrative and managerial positions with Del Monte Fresh around the world.
"In Del Monte Fresh operations around the world, we are committed to making sure that those communities and our operations are working synergistically, and that we're helping to develop those areas." – Hans Sauter (19:59 – 20:15)
As a company, Del Monte Fresh continues to take deliberate action to protect the environment and the communities where they operate. One of the unique things about them is that they work collaboratively even with their competitors to establish infrastructure and best practices to protect the environment. When people choose Del Monte Fresh Produce, they're really using a product that allows people around the globe to enjoy healthier lifestyles – from the people who grow the produce all the way to the consumer.
Learn more about Del Monte Fresh Produce
Learn more about Del Monte Fresh Produce on their

website

.

To learn more about Del Monte Fresh Produce's sustainability efforts, connect with them on

Instagram

.
How to get involved with The Produce Moms
The Produce Moms Podcast is live on iTunes, Google Play, Stitcher and Spotify.  If you like what you are hearing on the podcast, reviews, subscriptions & ratings will help us keep this going!  It would mean the world to hear your feedback, and we'd love for you to help us spread the word!
[bctt tweet="Today on #TheProduceMoms #Podcast we are celebrating #EarthDay ???? with Hans Sauter of @DelMonteFresh. Learn how they are committed to promoting sustainability through farming practices and much more!" username="theproducemom"]
Other Episodes You May Like
Episode 46: Top Healthy Meal Prep Hacks
Episode 45: How SitckyLickits Is Helping Children Eat More Veggies
Episode 44: Debunking the Myths Surrounding Fresh Produce
Episode 43: Fighting Food Waste