Episode 45: How StickyLickits is Helping Children Eat More Veggies with Linda York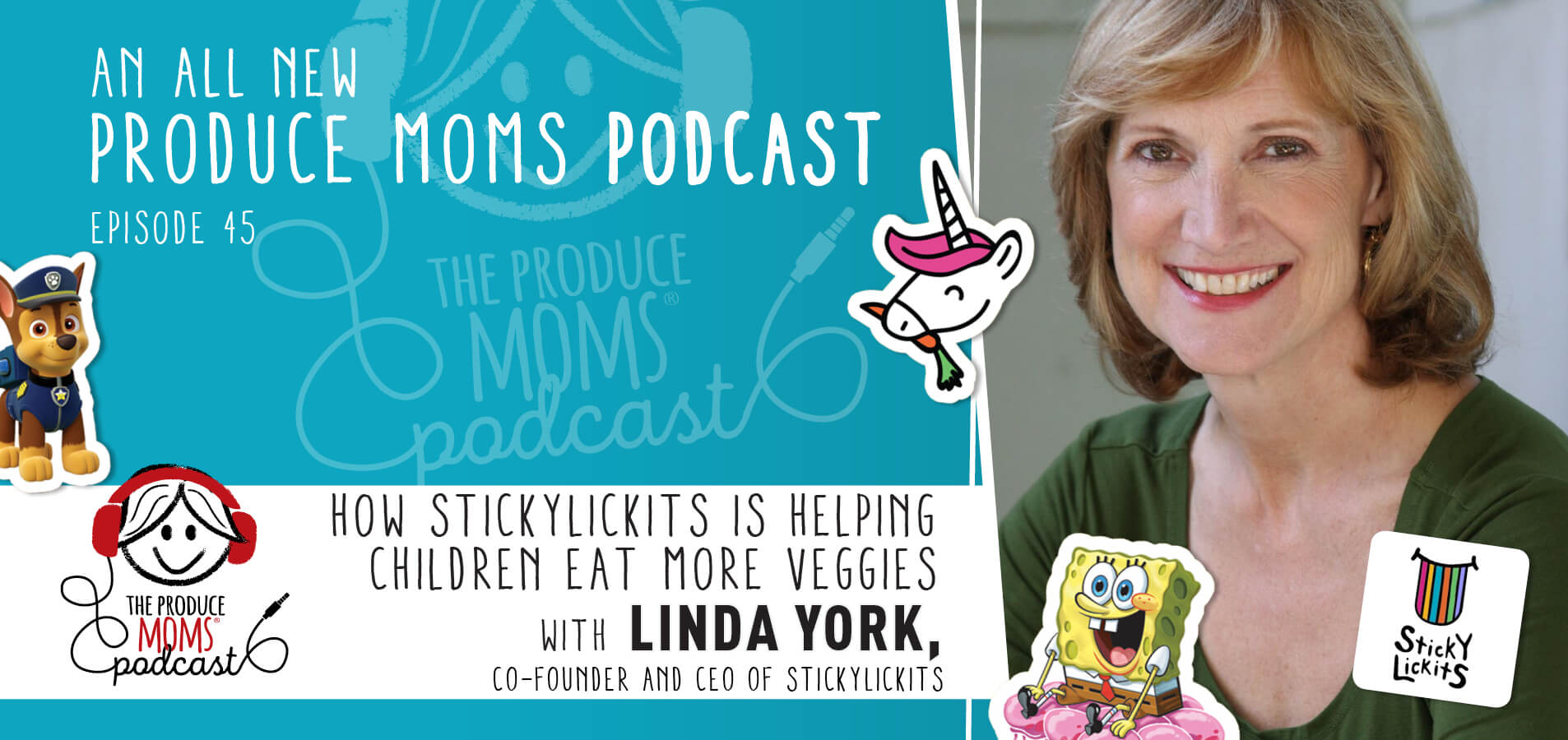 The Produce Moms Podcast
Episode 45: How StickyLickits is Helping Children Eat More Veggies with Linda York
"Being a mother, I remember going through the difficulty of trying to get my son to eat an array of fruits and vegetables when he was growing up." – Linda York (2:59 – 3:12)


Linda York is the Co-Founder and CEO of StickyLickits, a company committed to making fruits and veggies fun for kids. As a mother and grandmother, she has experienced the difficulty of getting children to eat their fruits and veggies. She helped create StickyLickits to solve that problem for parents across America.
StickyLickits is Changing the Way Kids Think about Produce
Fresh fruits and vegetables are essential elements in a balanced and healthy diet for children. They contain a wide range of vitamins and nutrients that are crucial for kid's development and growth. The challenge is that kids are typically very picky about what they want to eat. And vegetables aren't usually their favorites. Kids even stop wanting to try new fruits and vegetables as they get older. This makes it harder for them to develop a taste for various fruits and vegetables. As a result, almost 90% of the kids in the United States aren't getting an adequate amount of fruits and vegetables regularly, according to available consumption data.
That is the problem that StickyLickits is committed to solving. They make edible stickers that make fruits and veggies fun for kids. The stickers are tapioca based, and they are all natural, with no sugar and zero artificial ingredients. The stickers are also  peanut free, tree nut free, gluten free, vegan, Non-GMO, and kosher. The only added ingredient is fun!
"We are the most food secure nation in the world, and  yet close to 90% of our nation's children are not getting their recommended amounts of fruits and vegetables on a daily basis." – Lori Taylor (6:08 – 6:18)
Today, parents need a product like StickyLickits more than ever before. Parents used to be more proactive about finding solutions to get their kids to eat fruits and vegetables. However, today they are more likely to identify only a couple of fruits or veggies that their children like and keep those items around the house. At the end of the day, children need a wide array of fresh produce to get the most health benefits. StickyLickits makes eating fresh produce fun for kids, making it easier for parents to introduce a wider variety of fruits and veggies to their children.
Using StickyLickits
One of the questions parents often ask is if StickyLickits modify the taste of the fruits and vegetables. StickyLickits stickers don't have a distinct taste. Kid's taste buds widely vary. It is difficult to identify natural flavors that would be universally liked by all children. StickyLickits stickers have a neutral flavor, so the children develop a taste for the actual fruit or vegetable they are eating. However, the stickers do have a feature that makes them irresistible to kids.
To pique children's interest in the stickers, StickyLickits has partnered with Nickelodeon. The stickers feature PAW Patrol, SpongeBob, and other fun characters that many kids love. The response has been great. Kids love the process of sticking a few of their favorite characters on apples, pears, celery, potatoes, etc. All of a sudden, eating fresh produce becomes a fun activity for them. Because of StickyLickits, children end up eating more variety of fruits and vegetables. And as a result, they get more of the crucial vitamins and minerals that they need.
"Nearly 2.5 billion dollars are spent each year by food and beverage companies to market unhealthy products to children with the help of cartoons. Why can't we do the same to promote foods that are healthy?" – Linda York (17:24 – 18:14)
StickyLickits is a mission-driven brand committed to increasing consumption of fresh produce by children in all communities. They are using all natural edible stickers to help as many children as possible to eat more fruits and vegetables. They are doing this by partnering with fresh produce companies, hospitals, and schools in areas where children tend to have less access to fresh produce. In an era when children are inundated with billions of dollars in marketing promoting unhealthy foods, a company like StickyLickits is precisely what many parents need.
Learn more about StickyLickits
Visit their website: www.stickylickits.com.

Keep an eye out for a list of StickyLickits' retail partners across the country, or shop online

here

!
How to get involved with The Produce Moms
The Produce Moms Podcast is live on iTunes, Google Play, Stitcher and Spotify.  If you like what you are hearing on the podcast, reviews, subscriptions & ratings will help us keep this going!  It would mean the world to hear your feedback, and we'd love for you to help us spread the word!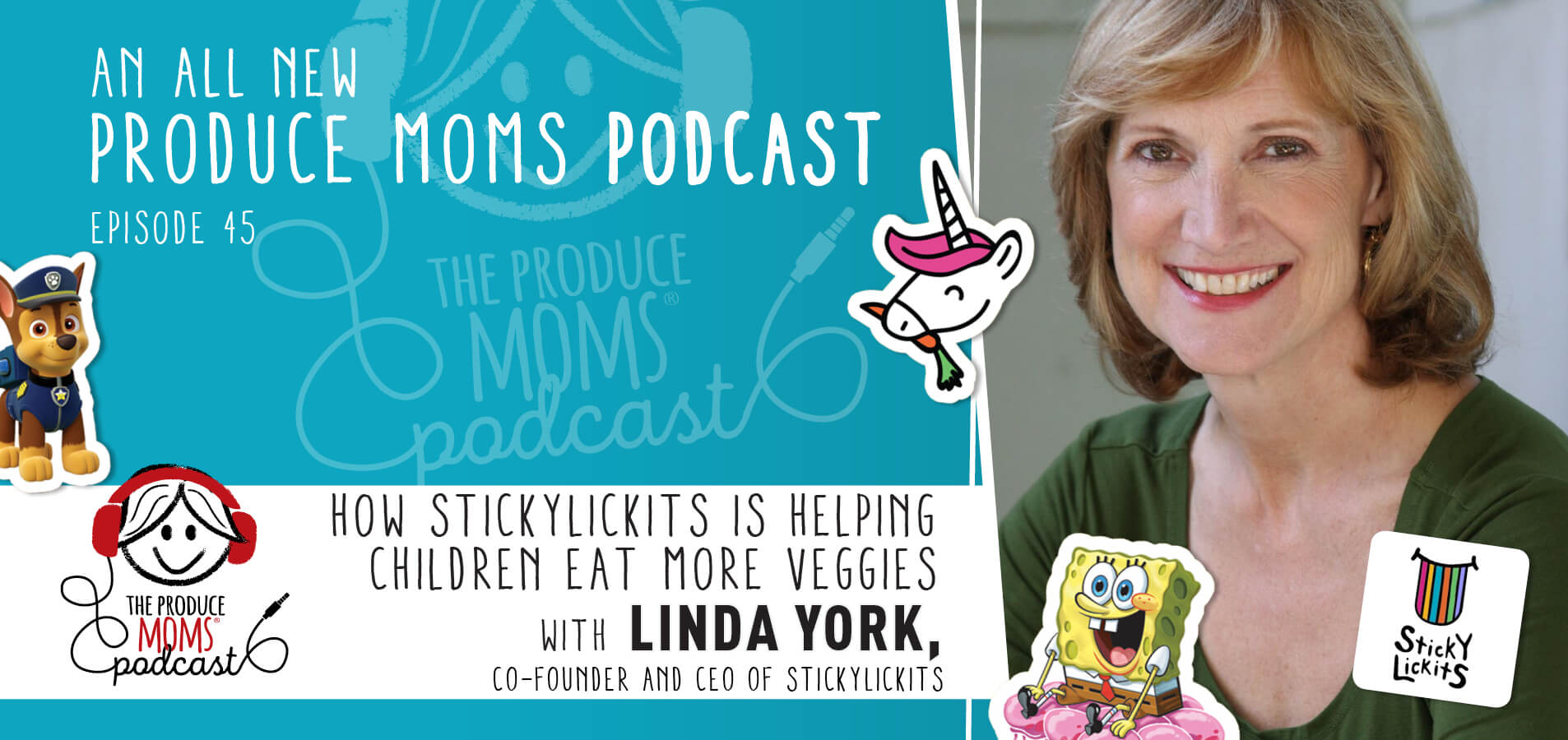 [bctt tweet="Episode 45 of #TheProduceMoms #Podcast features #StickyLickits Co-Founder and CEO, Linda York. Learn how these edible stickers are helping increase the consumption of fresh produce and making it fun for kids to try new fruits and veggies." username="theproducemom"]
Other Episodes You May Like
Episode 44: Debunking the Myths Surrounding Fresh Produce
Episode 43: Fighting Food Waste
Episode 42: The New Face of Modern Technology
Episode 41: The Future of the Grocery Industry
Episode 40: Fighting the Obesity Epidemic