Episode 3: Making Produce Relatable, Fun, and Timeless with Alex Jackson Berkley of Frieda's Specialty Produce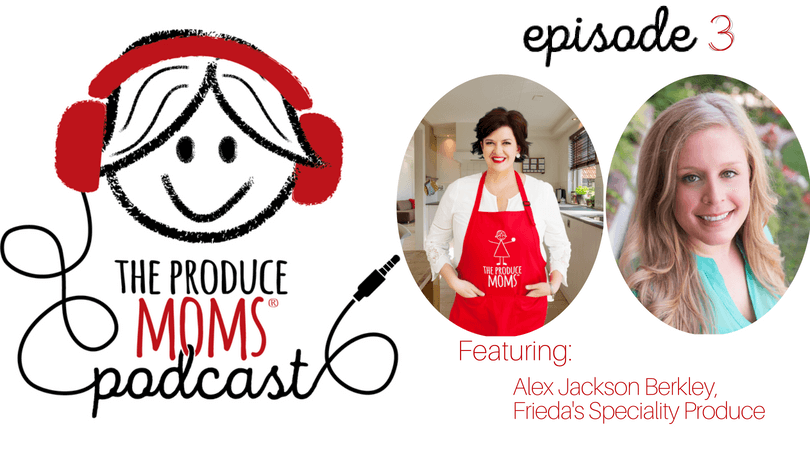 The Produce Moms Podcast Episode 3
Making Produce Relatable, Fun, and Timeless with Alex Jackson Berkley of Frieda's Specialty Produce
"We've been known for introducing a variety of fruits and vegetable to US supermarkets"
In Episode 3, Lori talks all things fresh produce with the eldest daughter of Frieda's Specialty Produce CEO Karen Caplan, and the granddaughter of founder Dr. Frieda Rapoport Caplan, Alex Jackson Berkley. She joined the company in 2011 after graduating from George Mason University, making Frieda's a three-generation family-business success story.
"We try to make produce relatable through something fun that's going to make people smile and laugh at the same time"
Alex started in Frieda's marketing department before moving into the sales department in 2014 as an account manager. In 2014 at age 24, Alex was the youngest produce professional to be accepted into the United Fresh Leadership Program Class. That same year, Alex earned a certificate of Produce Executive Development from Cornell University's Food Industry Management Program.
"Food is a common language of our world"
In 2017, Alex was named one of the "40 Under 40" by Produce Business Magazine for her success and leadership in the produce industry.
Alex served as a member of the Produce Marketing Association's Women's Fresh Perspectives Advisory Committee and was co-chair from 2015 to 2017. She also serves on the Board of Trustees of the Westerly School of Long Beach, a California K-8 non-denominational private school.
Some Topics we talk about in this episode:
Introduction // Alex Jackson Berkley – 0:45

What is Frieda's Specialty Produce? – 2:55

Understanding the Fresh Produce Supply Chain – 7:25

What it's like to run a family business – 11:25

Predicting the Culinary Trends – 17:05

Final Questions – 22:10
Watch the Documentary "Fear No Fruit" The Frieda Caplan Documentary – http://fearnofruit.com/
How to get involved
If you liked this episode, be sure to subscribe and leave a quick review on iTunes. It would mean the world to hear your feedback and we'd love for you to help us spread the word!
[bctt tweet="Check out #TheProduceMoms #Podcast, Episode 3 featuring Alex Jackson Berkley of @FriedasProduce !" username="theproducemom"]