Episode 160: Sandy Spavone and Kayla Godbey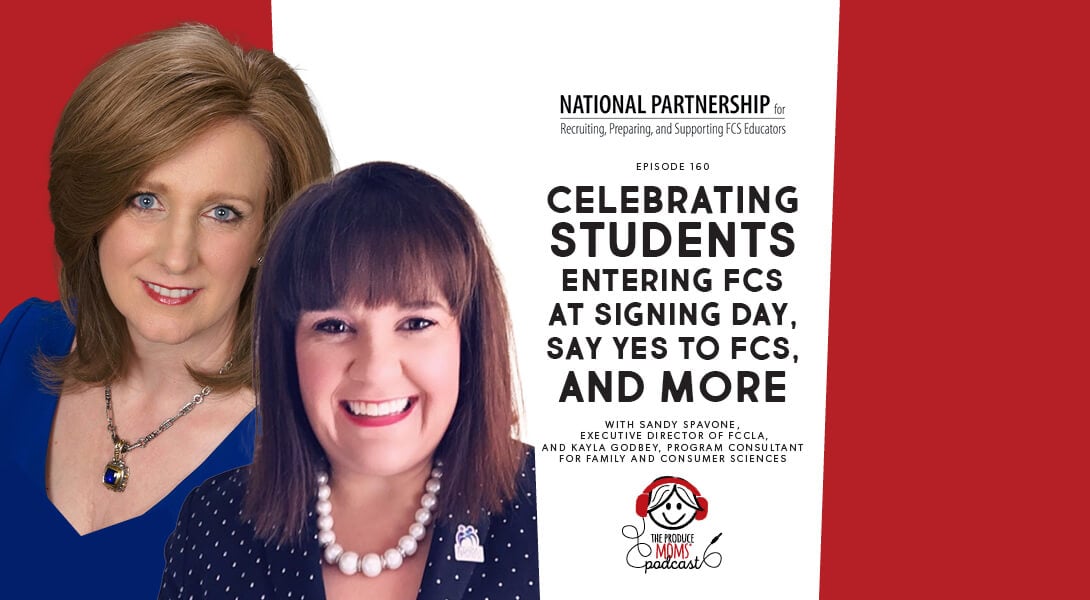 FCCLA is the Family Career and Community Leaders of America which touches over 5,400 Family and Consumer Sciences teachers across the US and connects with students to prepare them for careers through Family and Consumer Sciences classroom integration.
FCCLA, formerly known as Future Homemakers of America, is a 75-year-old student leadership group that works hand in hand with Family and Consumer Sciences. They currently have over 175,000 youth based in middle and high schools across the United States as well as in Puerto Rico and the Virgin Islands. The students that are a part of FCCLA have enrolled in Family and Consumer Sciences courses and want to take it one step further through the FCCLA leadership opportunity.
"Our goal is to help students explore and prepare to be leaders in whatever career they choose in family and consumer sciences." – Sandy Spavone (5:52-6:01)
The connection between the FCCLA and FCS is essential. FCCLA isn't a club or an extracurricular activity. FCCLA is meant to be integrated as a part of the classroom to provide all of the resources and opportunities students need to succeed… resources which are crosswalked with the national standards of Family and Consumer Sciences education.
One of the things that's foundational to FCCLA is their Competitive Events, which they have over 30 of at different skill levels. The Competitive Events incorporate project-based learning inside the classroom. It could be anything from fashion design, interviewing for a job, early childhood education… there are many opportunities to explore careers through the FCCLA Competitive Events.
Once a student decides what career they are interested in exploring, the competition they want to enter, and what the specifications are, they then develop the project requirements, whether it be creating a portfolio or decorating a cake, and then have the opportunity to compete at a regional and/or state level. At the national level, they're representing their entire state and competing for national recognition and scholarships.
Another thing about Family and Consumer Sciences teachers that goes unrecognized is the safe space and emotional nurturing they give for students. It's in those classrooms that a lot of emotional, social learning happens which inspires so many of those who go into the field that want to be another safe space and caring person for a student and make a difference.
How does a student win and move on to the next level? Their projects are evaluated based on a rubric and they get feedback from evaluators who are typically in the business industry or in the career field. The beautiful thing about these competitive events (unlike others) is it is a safe place to fail! Not only are they learning FCS-related skills, they're also learning about time-management, conflict resolution, communication skills, team leadership skills, and, what kids are most excited about, is the opportunity to win a scholarship through several of FCCLA's partners. In many of the competitions, students have the opportunity to explore different careers, which is good because they can find out, for example, they'd rather be a teacher on a particular topic, not be out in the field of that career path.
Another event called "Say Yes To FCS" was specifically designed to have students who are thinking about becoming an educator go through the process of creating a lesson plan and getting feedback on it. Kids can apply the skills they've learned in the classroom, explore career opportunities and prepare themselves to be successful while also contributing to their communities.
Signing Day, part of the FCCLA National Leadership Conference, started in Kentucky and was spearheaded by Kayla Godbey, Kentucky's Program Consultant for FCS. Signing Day is an event that recognizes a student's commitment to FCS Education. Complete with a huge banner similar to an NCAA event, the president of the teacher association pins students on stage who then sign their letter of intent that isn't legally binding, but helps them commemorate, celebrate and welcome them into the FCS education profession.
The amazing thing about a career in Family and Consumer Sciences that was brought up in our previous episode is that the ability to find a job is extremely easy. Students don't have to hunt and go through the pains of going through multiple job applications just to be shut down. There are plenty of positions out there and these jobs are in high demand.
How to get involved
Join The Produce Moms Group on Facebook and continue the discussion every week!
Reach out to us – we'd love to hear more about where you are in life and business! Find out more here.
If you liked this episode, be sure to subscribe and leave a quick review on iTunes. It would mean the world to hear your feedback and we'd love for you to help us spread the word!
Previous episodes you may enjoy