Episode 114: Adam Russo and Mollie Van Lieu
Sep 02, 2020, Updated Jun 11, 2021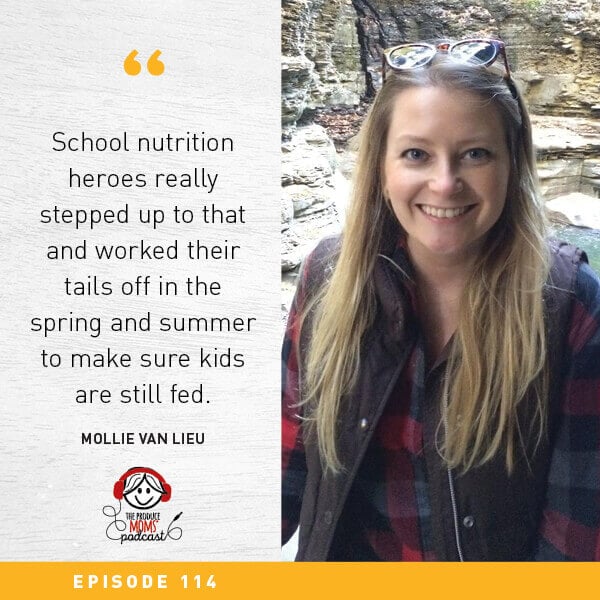 There's no one size fits all for school meal programs, let alone with a global pandemic.
If there's anyone who's passionate about the success of school children and feeding them nutritious school meals, it's Adam Russo and Mollie Van Lieu. Adam is the Director of School Food and Nutrition Services at Prince William County Public Schools located in Virginia and Mollie Van Lieu, who was on The Produce Moms Podcast 100 episodes ago (wow!) is the Senior Director of Nutrition Policy at United Fresh Produce Association.
When schools shut down in March at the start of COVID-19, state and local districts had to make fast decisions about how they would deliver (or if they would deliver) class curriculum and school meals. You may not realize it, but there are about 30 million school lunches served every day and about 72 million servings of fruit and vegetables.
"A hungry kid can't learn." – Adam Russo (15:01-15:03)
Not only is that important to keep feeding the children of America nutritious school meals, ensuring their brains are fed for optimal learning, but it's vital to the fresh produce supply chain, especially in rural and small areas. In Adam's school district where there are over 100 schools and centers, they've focused on things like all you can eat salad bars, corn husking competitions, and getting fresh fruits and vegetables from local farmers. One of the first things Adam's district did to pivot with COVID-19 was figure out how to keep children fed, provide fresh fruits and vegetables, but comply with new CDC regulation standards.
They've started transitioning to a grocery style supplement box for families to pick up once a week, filled with fruits and vegetables that don't have to be refrigerated since a lot of families don't have access to heating and cooling methods for one week's worth of food.
Not only will they be fueled much longer, but their energy will be kept in the right place, they'll be better behaved, more attentive in class and that's extremely important whether they're back at school in the public classroom or still learning virtually at home. The other benefit to providing a week's worth of healthy food for kids and sending it home is they're starting to take ownership of their health. This in turn is inspiring for other members of the family and helps everyone open their palettes up to fresh fruits and vegetables they might not have tried otherwise.
Help Your District Provide Nutritious School Meals
It's important to note that this industry needs your help. Schools don't get funding from the school board for school meals, even though other things like textbooks and transportation are provided for free. Without sales of school lunches, they don't exist or the economy isn't there to buy fresh fruits and vegetables, so if you're wondering why your child's school provides junk, they might not be receiving enough sales.
Profitability shouldn't be the metric to go off of, it should be how well students are performing in class, but sometimes it's a necessary evil of the food and nutrition services of a school. Also important is the feedback you give to these programs. If your school division is serving junk food or it's just not up to your expectations, call the manager in charge and tell them!
"I know that our staff would do anything, they would run through a brick wall to make sure a kid was fed that day. That isn't different across the country." – Adam Russo (25:05-25:13)
These schools want to improve and truly care about the health and livelihood of our students, even if it may not seem so with the lunches they provide. These meals are incredibly important and are a responsibility of us all to think about because they're shaping the health, nutrition and future of our country.
Adam's district is continuing to look at how they can provide self-service salad bars in a COVID-safe manner, and even looking at restaurant style serving options if and when children go back to the public classroom. Mollie, who's done great work with federal nutrition policies, will be advocating for increased waivers, more flexibility and universal school meals at the Washington School Nutrition Association Conference this September and invites individuals like you to participate and help us change our country's school meal system.
How to get involved
Join The Produce Moms Group on Facebook and continue the discussion every week!
Reach out to us – we'd love to hear more about where you are in life and business! Find out more here.
If you liked this episode, be sure to subscribe and leave a quick review on iTunes. It would mean the world to hear your feedback and we'd love for you to help us spread the word!
Previous episodes you may enjoy