Eat Like a Brown Bear: Baked Salmon with Blackberry Sauce
Apr 09, 2020, Updated Apr 07, 2022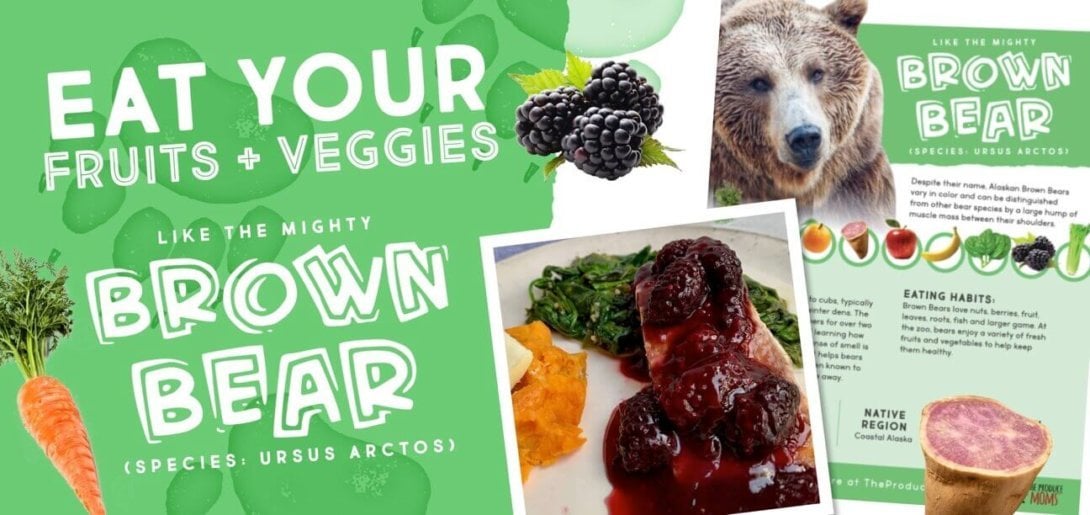 Kids aren't always easy to please when it comes to mealtime. Some meals you just KNOW they'll love end up being boring or heaven help us, yucky and gross! Well, we have an approach that might just help your picky eater clean their plate. When the same old meals are making your kids want to go into hibernation, try encouraging your child to eat as a brown bear does. You read that right…we want you to entice your young diners by fixing a meal that's bear-tested, kid-friendly,  and mother-approved. 
Over the next few weeks, we're exploring meals and snacks kids will love because they are delicious and enjoyed all over the world by their favorite zoo animals.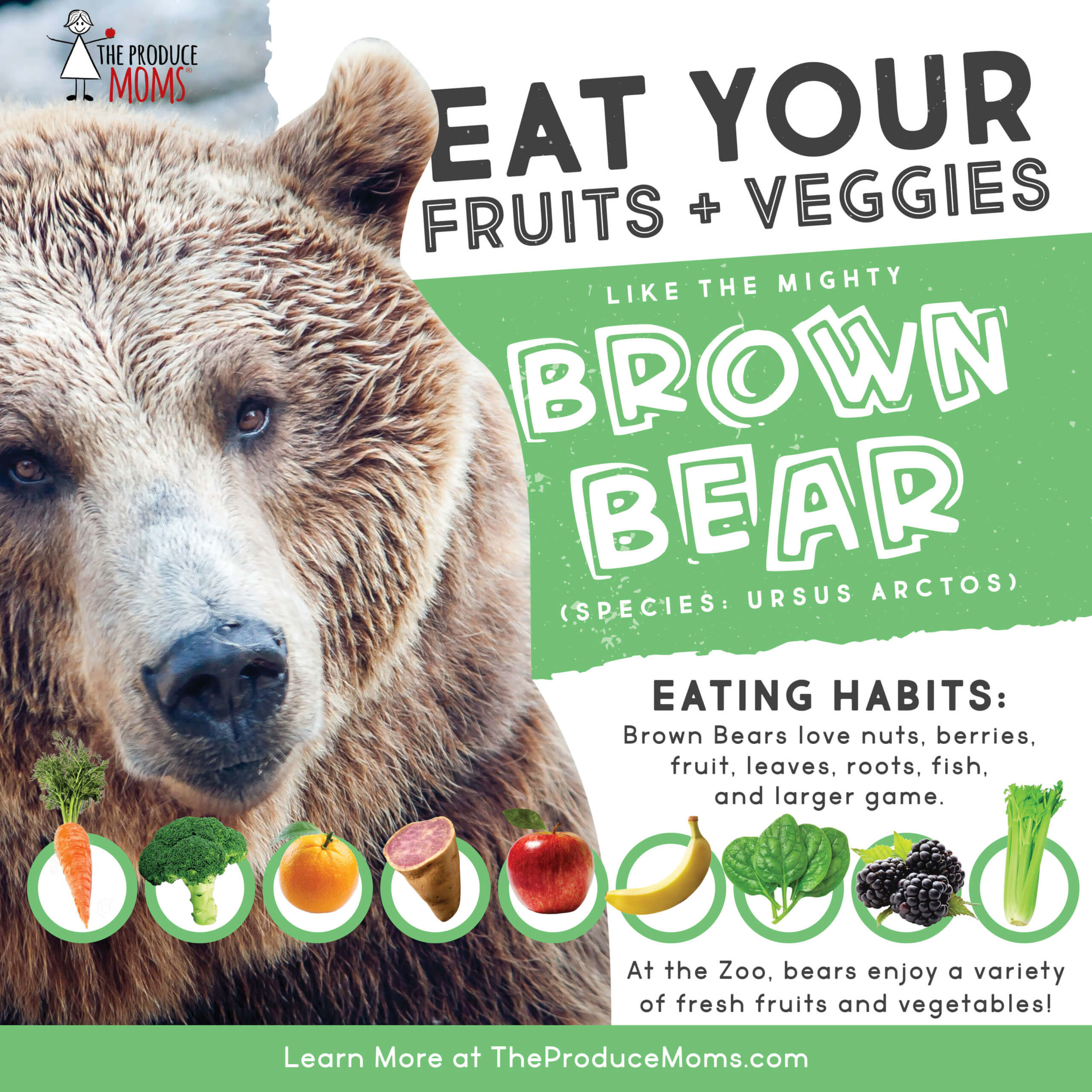 Eat like a brown bear
Today, let's talk about fresh produce and other foods brown bears love and why they are perfect for your little cubs at home too. 
Brown bears are known for their ferocious growls and hefty appetites, which is why they love protein-packed salmon and other fish. Beyond their taste for salmon, they also love many nuts, berries, fruits, and vegetables.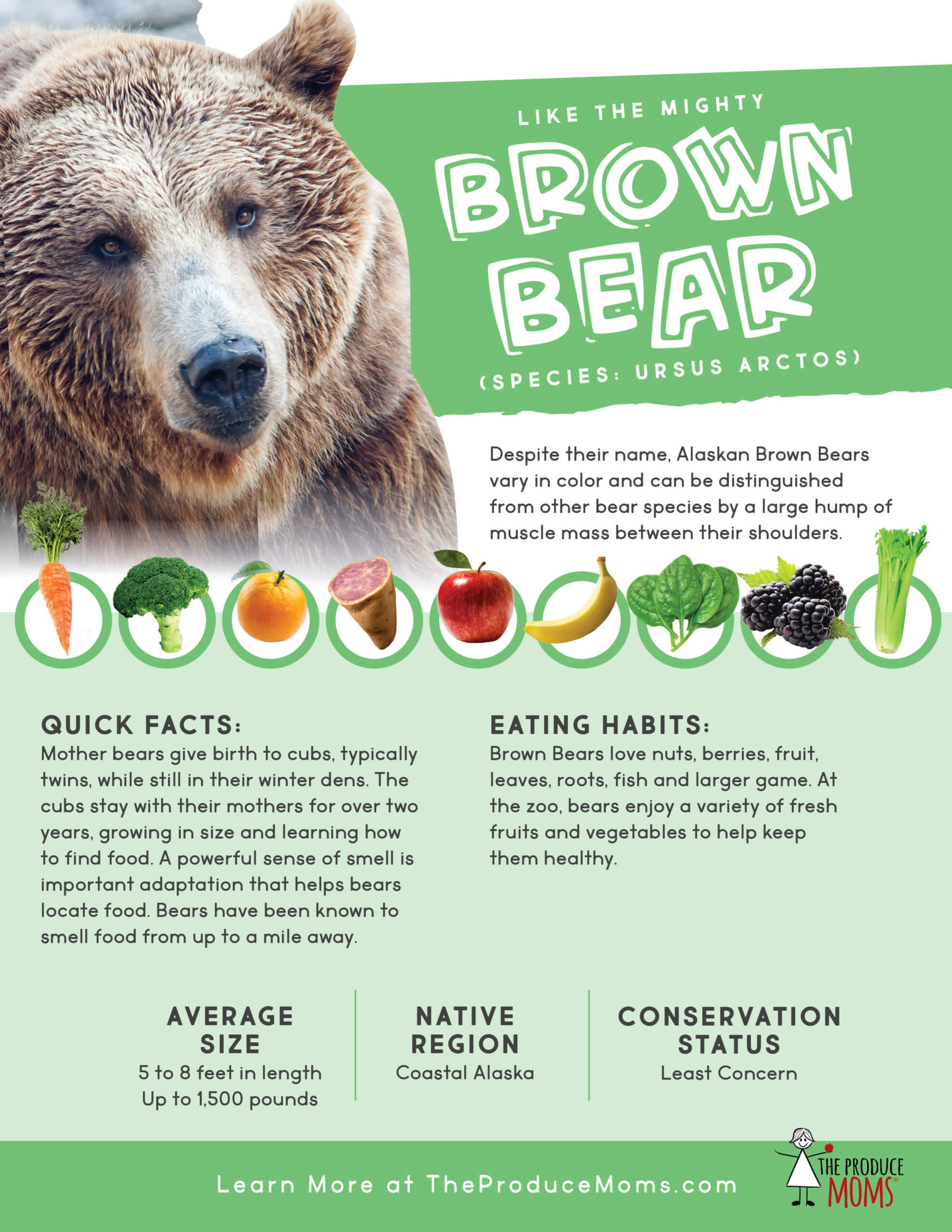 We've picked several of a brown bear's favorite foods like salmon, blackberries, spinach, and sweet potatoes and made a recipe using them all. It's a simple recipe that will prevent dinnertime from becoming a grizzly scene. 
How to make a brown bear dinner
Start by preparing your salmon. Whether fresh or frozen, simply salt and pepper the salmon and bake skin-side down at 400 degrees for 25-40 minutes or until cooked through. If the salmon is frozen you'll likely be on the high end of that cooking time. 
While the salmon is baking, prepare the other items starting with the blackberry sauce. We've kept it simple by using jarred blackberries preserves, fresh blackberries, balsamic vinegar, minced garlic, and just a pinch of black pepper. Combine all of the sauce ingredients in a small saucepan and simmer until it starts to thicken. Turn off the heat and let it cool slightly. 
For the sweet potato, simply prick a few times with a fork and microwave for 5 minutes until cooked to your desired doneness. 
Lastly, heat a little avocado or olive oil in a skillet over medium heat and add 1 tablespoon of minced garlic. Cook until fragrant and then add spinach a little at a time. Cook until it's just starting to wilt. 
Now it's time to make your plates. Add a portion of the wilted spinach and top with a piece of salmon. Top the salmon with blackberry sauce and then plate the sweet potatoes. We know many children prefer them mashed, so we mashed ours with just a little salt and butter. 
That's it! Now your cubs are ready to dine just like their favorite furry friend. It goes without saying, but this dish is obviously ideal for adults too. Moms and dads will love the combination of sweet and savory in the salmon with blackberry sauce. The wilted spinach, although simplistic, provides a welcomed vibrance to the plate. And let's face it, everyone loves sweet potatoes!
Baked Salmon with Blackberry Sauce
Ingredients
Salmon
2

lbs

side of salmon

salt and pepper

to taste
Blackberry Sauce
1/2

cup

blackberry preserves

1/2

cup

fresh blackberries

1

tbsp

balsamic vinegar

1

clove

garlic

minced

1

pinch

black pepper
Wilted Spinach
16

oz

baby spinach

1

clove

garlic

minced

2

tsp

avocado oil

salt and pepper

to taste
Mashed Sweet Potato
4

sweet potatoes

2

tbsp

butter

salt and pepper

to taste
Instructions
Place salmon on a parchment-lined baking sheet skin-side down. Sprinkle with salt and pepper. Bake at 400 degrees for 25-40 minutes. NOTE: Frozen salmon will take longer, thawed salmon will take less time.

While the salmon is baking, prepare the sauce. Mix together all sauce ingredients in a small saucepan. Cook over medium-low heat until it begins to simmer. Simmer for 5-7 minutes. Remove from heat and let cool slightly.

Microwave sweet potatoes: For one sweet potato microwave for 5 minutes. For every additional sweet potato, add 2 minutes. (For 4 sweet potatoes microwave for 11 minutes.)

Remove sweet potatoes from microwave and mash. Top with butter and salt and pepper.

Wilt spinach. Heat avocado oil in a medium skillet. Add garlic and cook for 30 seconds. Add spinach one handful at a time until it is all wilted. Season with salt and pepper to taste.

To plate: Place salmon on a bed of wilted spinach and drizzle salmon with berry sauce. Place mashed sweet potatoes on the side.
Nutrition information is automatically calculated, so should only be used as an approximation.
Like this? Leave a comment below!
We want to know what you and your sleuth thinks. Tell us how your brown bear buffet went in the comments below or tag us in your dinner photos on Instagram @theproducemoms. 
View more recipes in our "Eat Like An Animal" series. 
Thanks to the Indianapolis Zoo for sharing their brown bear diets with us.