4 Easy Mason Jar Salads To Try
May 15, 2020, Updated Jan 30, 2023
Mason jar salads are a smart way to always have a healthy snack or meal ready to go. With a little bit of prep work, you can batch-make salads to have on hand throughout the week. If you find yourself reaching for questionable food choices midday, give this solution a try!
Not only are they convenient, but mason jar salads are inexpensive too. When you break down the costs of batch-making salads each assembled jar is just a dollar or two — busting the myth that healthy eating has to be expensive.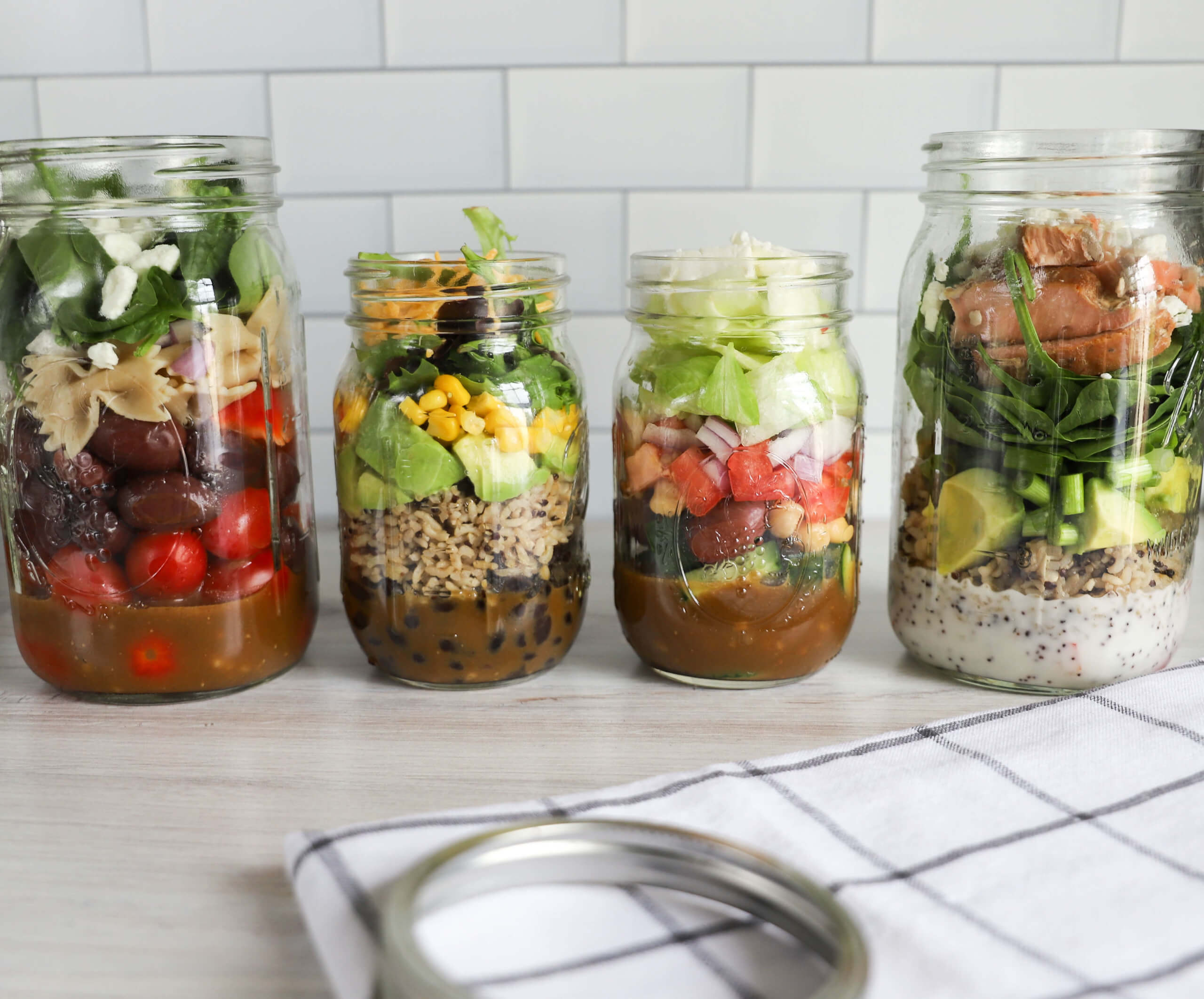 It's all about the layers
When prepared properly, mason jar salads can stay fresh in the refrigerator for several days. Freshness is key because you won't want to reach for a soggy salad. The trick is layering your ingredients in the right order.
To prevent ingredients from getting mushy, you need to be smart about how you layer them in the jar. Always begin with the salad dressing. Next, layer in grains, legumes, and hardier fruits and vegetables that won't easily absorb the dressing — items like broccoli, carrots, tomatoes, and radishes. Next up is more delicate veggies and fruits. Then layer on your protein — chicken, salmon, hard-boiled eggs, etc. Finally, layer in your greens.
Endless options
There is no end to what salad combinations you can create. And don't just think about green salads! Mason jars are a great way to batch and store grain salads, fruit salads, taco salads, chicken salads… any salad you like!
Here are some ingredients to consider for your salad creations:
4 easy mason jar recipes
These four mason jar salads are great for beginners because they are easy and appeal to just about any taste. Simply layer the ingredients in the jars and store them in the refrigerator until you're ready to enjoy. Shake the jar right before eating to distribute the dressing.
Pasta Salad
Ingredients (from bottom to top)
Balsamic Vinaigrette
Grape Tomatoes
Black Olives
Red Bell Pepper
Bowtie Pasta
Red Onion
Baby Spinach
Goat Cheese Crumbles
Burrito Salad
Ingredients (from bottom to top)
Balsamic Vinaigrette
Black Beans
Brown Rice
Avocado
Corn
Mixed Greens
Shredded Cheddar Cheese
Salmon & Spinach Salad
Ingredients (from bottom to top)
Poppyseed Dressing
Brown Rice
Avocado
Baby Spinach
Green Onions
Smoked Salmon
Goat Cheese
Greek Salad
Ingredients (from bottom to top)
Greek Dressing
Cucumber
Black Olives
Chickpeas
Red Bell Pepper
Red Onion
Iceberg Lettuce
Feta Cheese
Which mason jar salad will you try first? Share your favorite combination of ingredients in the comments below, or tag us in your food photos on Instagram @theproducemoms.
Love salads? Give these salad recipes a try too!