Easy Fruit and Vegetable Cars
Do your kids love playing with cars? If so, they'll adore our vegetable race cars! Made with healthy fruits and vegetables, these cars are the perfect snack for active little ones. Just cut up some apples and celery, and other favorite fruits and veggies into car shapes, and let your kids' imaginations run wild. You'll feel good knowing they're getting a nutritious snack.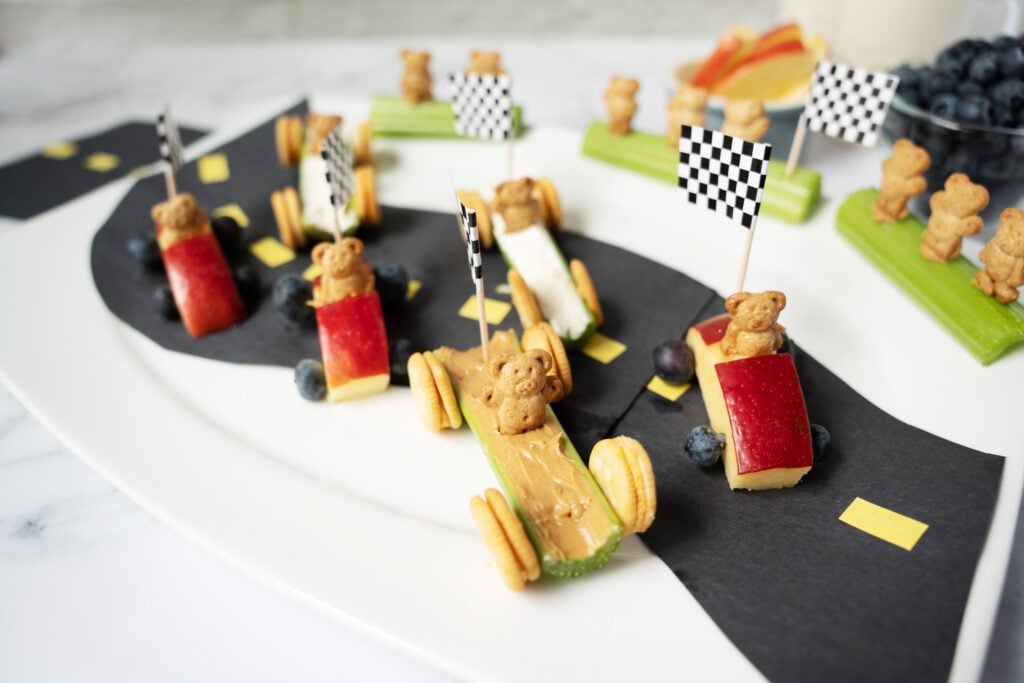 Veggie Race Cars for the Snacking Win
Easy Fruit and Veggie Cars are the perfect solution when you want a healthy snack that the kids will actually want to eat! These fun snacks are made with celery, apples, grapes and teddy bear cookies. They're nutritious and delicious – your kids will love them!
Your kids will have so much fun eating these cars that they won't even realize they're getting a healthy snack. With Easy Fruit and Vegetable Cars, you can rest easy knowing your kids are getting the nutrients they need with different fruits and vegetables.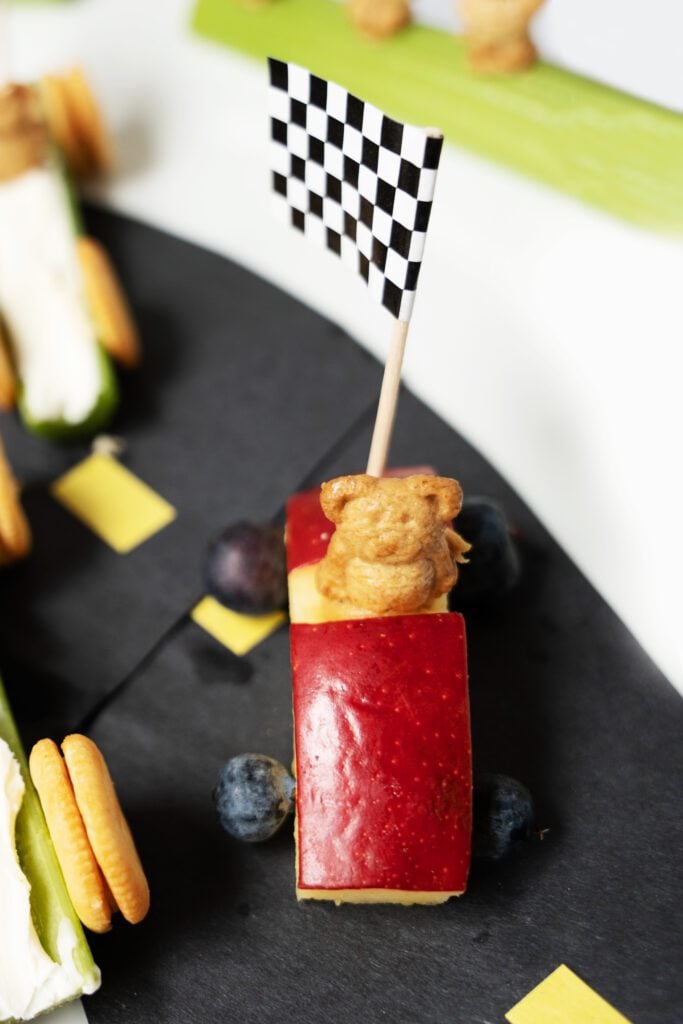 Can I Use Other Fruits and Vegetables?
The best part about these vegetable race cars is that you can use whatever your kids will eat. I am using celery and apples as the base for the race cars, but you can use carrots, cucumbers, or any other type of firm fruit or vegetable.
If you want to get creative, you can use different fruits and vegetables for the wheels. Experiment with different combinations until you find a combination that your kids will love!
Can I Make the Vegetable Cars Ahead of Time?
Not only do these vegetable cars make a great snack, they are also perfect for school parties, birthday parties or other events. However, if you need to make a lot of them, who has time to make them right before you want to serve them. You can make the vegetable race track the night before or the day of when you want to serve them.
When you store them in the refrigerator, you will want to make sure everything is covered well and wrapped well in plastic. You will want to treat the apples with a lemon water ice bath to prevent them from turning brown as they sit. Lastly, you want to wait to add things like the crackers and pretzels until it is time to serve.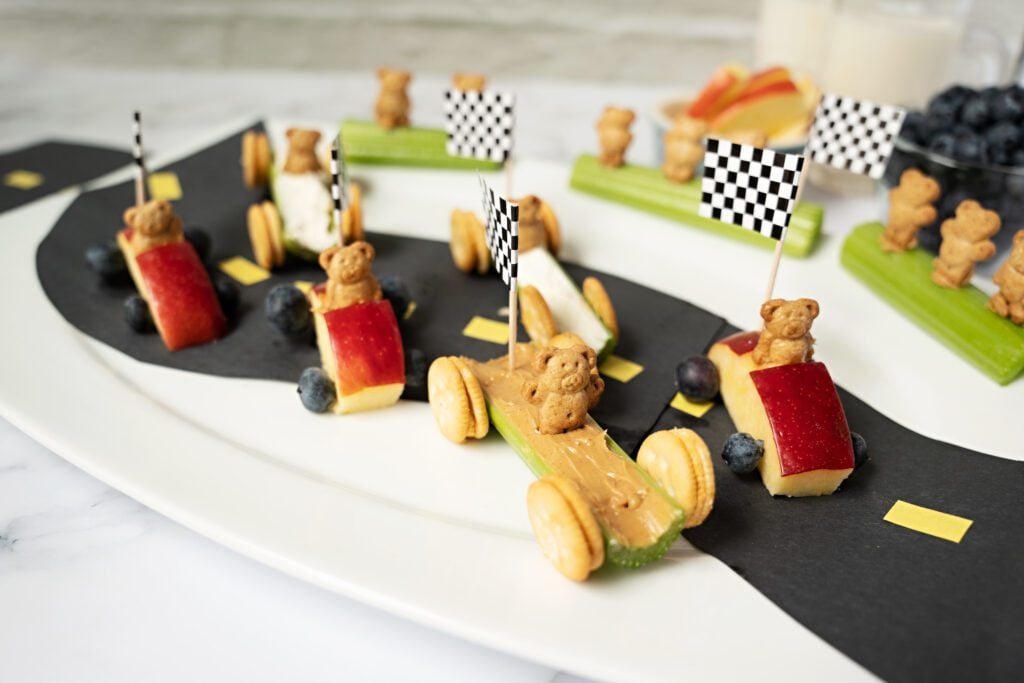 What can I Use to Fill the Celery Vegetable Cars?
My main fruit and vegetable race car designs are a piece of celery and an apple as the bases. I am using cream cheese and peanut butter as the filling for the celery. You can go with those basic ideas, or you can choose to fill the celery with some of your other favorites. Some other ideas are :
Jelly
Mixture of jelly or apple butter and cream cheese
Tuna salad
Chicken salad
Egg salad
Ham and cheese
String cheese
Hummus
Guacamole
French onion dip
Ranch dip
Then, you can even go a little further and and top them off with other toppings:
Crackers
Granola
Oats
Dried fruit
Nuts
Chocolate chips
Mini marshmallows
The possibilities are endless! You can use whatever your kids like to dip their vegetables in or they like on their sandwiches.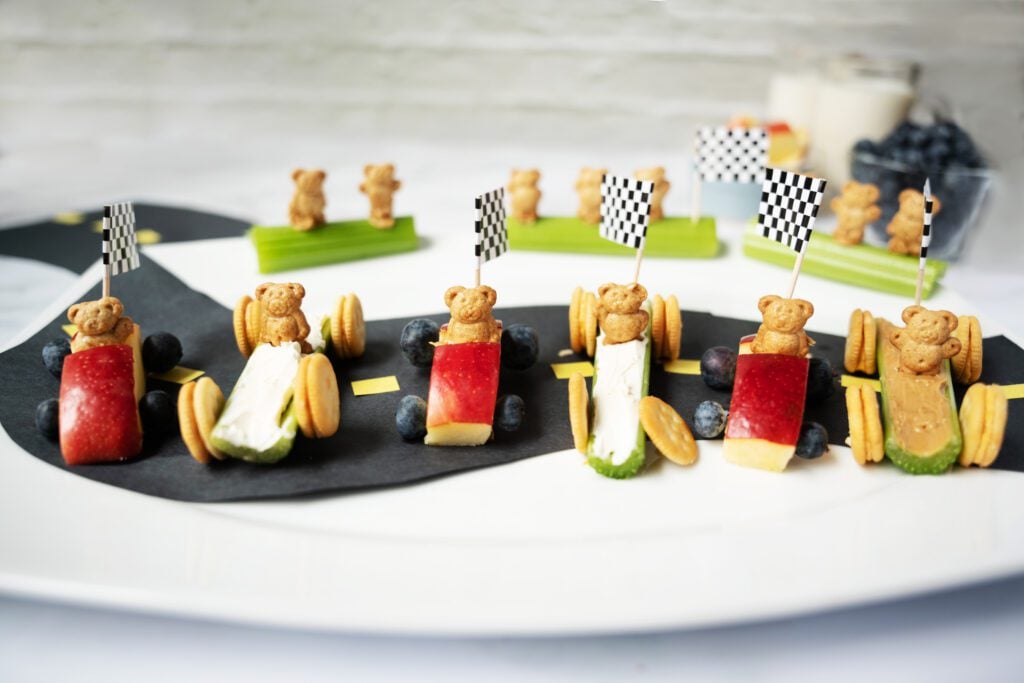 What fruit I used to make the Car Wheels?
When you are making the race cars, you want to make sure to add the wheels. For the celery, I am using a peanut butter sandwich cracker. The apples have blueberries because they are smaller.
Other ideas you can use for wheels on the vegetable race cars are:
Grapes
Raisins
Mini marshmallows
Chocolate chips
Round Pretzels
You can really use whatever you have on hand or whatever your kids like. Just make sure that the wheels are small enough to fit on the car.
What's the Best Way to Cut the Fruits and Vegetables?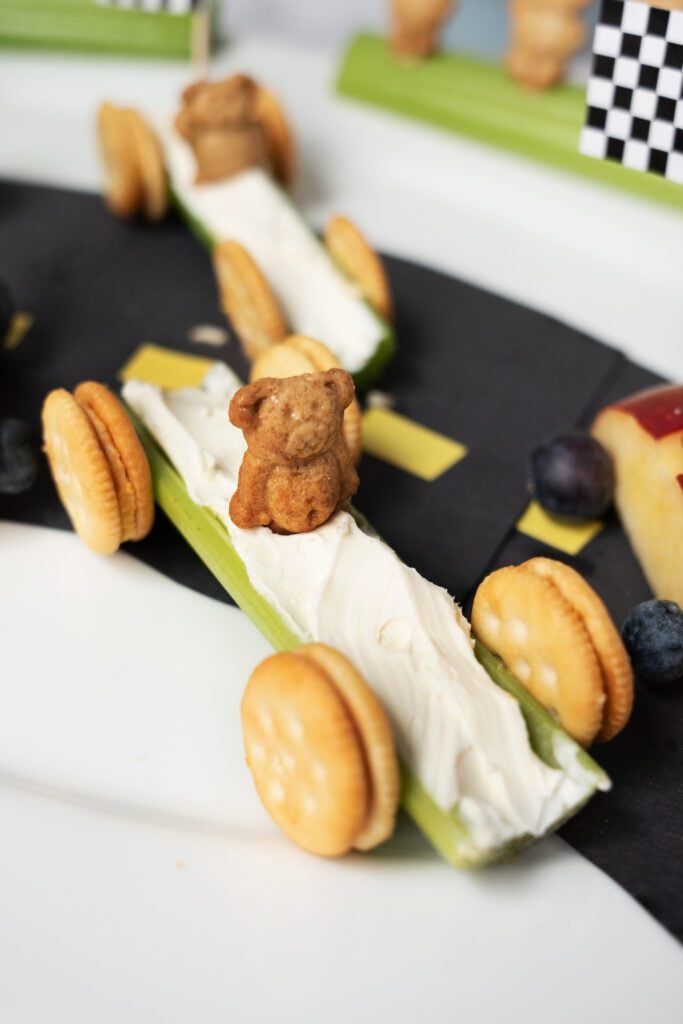 When you are cutting the fruits and vegetables for the cars, you want to make sure that they are all about the same size. This will make it easier to assemble the cars and make them look more uniform. For the celery, we suggest cutting it into thirds. For the apples, we suggest cutting them into quarters.
If you are using other fruits and vegetables, you will want to adjust the size accordingly. You can use a knife to cut the fruits and vegetables, or you can use a mandoline slicer. We find that the mandoline slicer is much easier and gives more even cuts.
Once you have all of your fruit and vegetables cut, it is time to start assembling the cars.