Easter Basket Stuffers: StickyLickits
This post is sponsored by StickyLickits
Easter is just a bunny's hop away. It's time to start gathering treats for Easter baskets. All Easter baskets should include some sweet treats. In addition to the usual chocolates bunnies and cream-filled eggs, add in fruit made fun with StickyLickits.
StickyLickits are edible stickers that make eating fruits and vegetables a fun-filled adventure. Kids lick the back of the sticker, stick it on a fruit or veggie, and then eat the whole thing. They contain NO sugar, GMOs, dairy, soy, peanuts, or tree nuts. In fact, they contain NO artificial ingredients whatsoever and are vegan and kosher too!
Through play and whimsy, StickyLickits change kids' attitudes about fresh produce. Getting kids to try a new fruit or vegetable is the biggest battle. Once they give an item a try, they often love it. StickyLickits defuses the battle and gets kids excited to decorate and then eat fresh produce.
LISTEN: How StickyLickits is Helping Children Eat More Veggies with Linda York, Co-Founder and CEO of StickyLickits
Choose from a variety of sticker themes, including character favorites like SpongeBob SquarePants and PAW Patrol. The Making Faces pack allows kids to add funny faces to their fruit.
Produce Moms Tip: StickyLickits are perfect for Easter eggs too!
Children need a wide array of fresh produce to get the most health benefits. If your child sticks to the same few fruits of veggies, it's time to encourage exploration. Placing StickyLickits in his/her Easter basket alongside toys and other treats is a great way to introduce this idea and build excitement.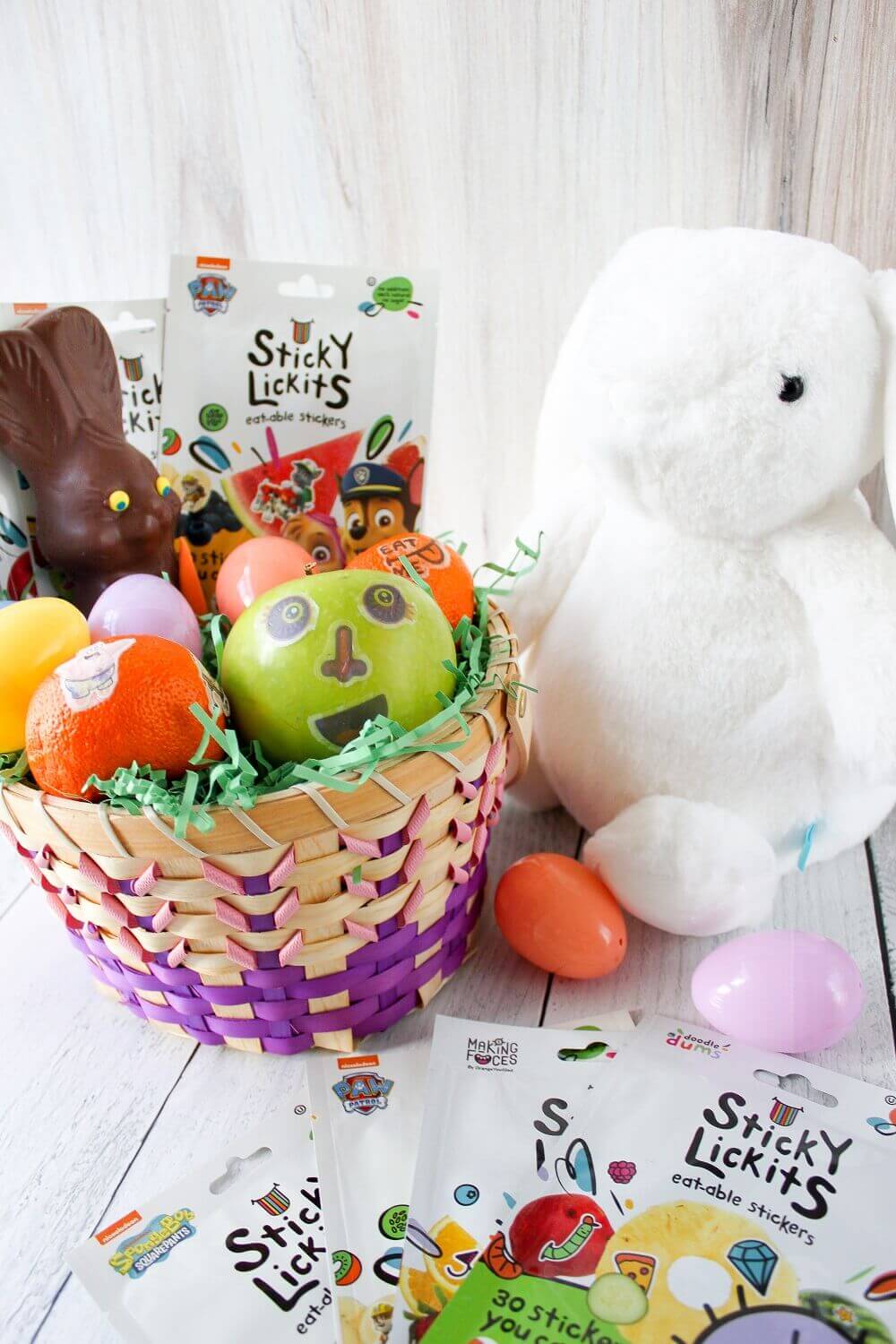 StickyLickits makes eating fresh produce entertaining and exciting, making it easier for parents to introduce a wider variety of fruits and veggies to their children. Order yours today in time for Easter.
What healthy items are you adding to your child's Easter basket? Share in the comments below or tag us in your Easter basket photos on Instagram @theproducemoms and @stickylickits.