Cosmic Crisp® Apple Breakfast Hash
We worked with Cosmic Crisp® to bring you this recipe for Cosmic Crisp® Apple Breakfast Hash.
Sweet and savory ingredients come together in one skillet to create this irresistible breakfast. Bacon, sweet potatoes, spinach, and the star of the dish — Cosmic Crisp® apples — are cooked to perfection and then topped with eggs and green onion.
When we say that Cosmic Crisp® apple is a star, we mean it! Grocery stores around the country are rolling out the red carpet for the produce department's newest and hottest addition. Everyone from Martha Stewart to TIME magazine is talking about the rising star of Cosmic Crisp® apple.
This dreamy apple was created by big dreamers in Washington state who craved a firmer, crisper, and juicer apple. After more than 20 years of study and research, the Cosmic Crisp® apple was born and has quickly risen to fame and is generating buzz across the globe.
The sweetness of Cosmic Crisp® apples are unmatched. They are large, crisp, and super juicy — making them a great choice for snacking and baking. Because they are naturally slow to brown, they are also perfect for lunchboxes and entertaining.
Cosmic Crisp® Apple Breakfast Hash is an easy enough recipe to make on a weekday morning but special enough to make for a holiday. Whatever the occasion, it's sure to make mouths water and taste buds sing!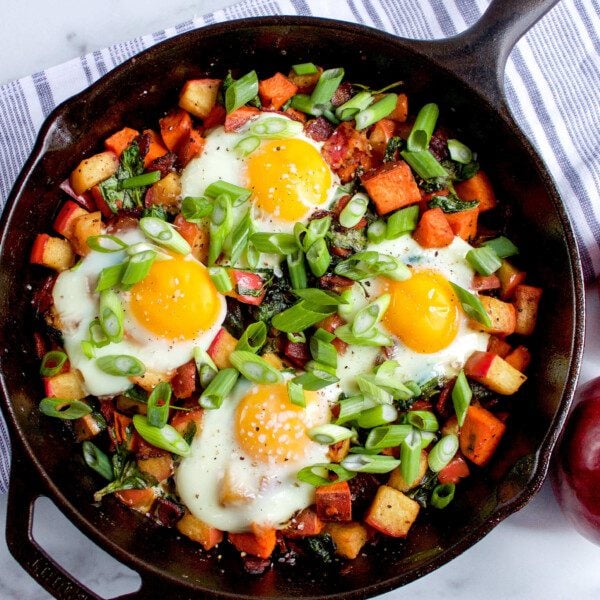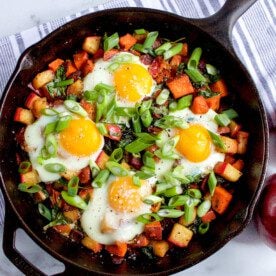 Ingredients
8

slices

bacon

chopped

2

Cosmic Crisp® Apples

chopped

1

sweet potato

1

bunch

Green Onions

remove roots, slice all the way to the top

2

cups

spinach

4

eggs

salt and pepper

to taste
Instructions
Heat a 12 inch ovenproof skillet on the stove over medium-high heat, and preheat your oven to 400 degrees.

Chop your bacon into 1 inch pieces and add to the heated skillet.

Let the bacon cook until a bit crispy but not fully done. Drain off some of the fat, leaving enough to cook sweet potatoes and Cosmic Crisp® Apples.

Add the chopped Cosmic Crisp® Apples and chopped sweet potatoes in the skillet with bacon. Toss to coat, and sprinkle with salt and pepper to taste.

Turn down the heat to medium. Cover, and let the sweet potatoes and Cosmic Crisp® Apples soften. After 2-3 minutes uncover, and stir to evenly brown.

Once the Cosmic Crisp® Apples and sweet potatoes are browning and soft add the spinach. Toss, and cook for another 3-4 minutes

Remove the skillet from the heat. Carefully crack each egg in a different spot on top of the hash (you want to avoid breaking the yolk).

Sprinkle salt and pepper over the eggs. Place the entire skillet in preheated oven for 5-10 minutes, depending on how well you like your eggs cooked.

Once the eggs are cooked to choice, remove the skillet from the oven. Sprinkle a generous amount of chopped green onions on top. Let it sit for 5 minutes, serve and enjoy!
Have you had the chance to try Cosmic Crisp® apples yet? If you're lucky enough to find them at your local grocery store, snatch enough to snack on and make this irresistible breakfast hash.