Cosmic Crisp® Activity Sheets for Kids
The Apple of Big Dreams™
The Cosmic Crisp® apple variety may be new to consumers, but it is the remarkable result of 20 years of research and study by Washington State University's world-class tree fruit breeding program. The Cosmic Crisp® is the apple that goes beyond expectations for snacking, baking and entertaining. And the most exciting part? The wait is almost over! Cosmic Crisp® apples will begin shipping to retailers on December 1, 2019.
Eat. Play. Cook. Inspire.
Amazing Flavor + Infinite Possibilities™
The Cosmic Crisp® apple is remarkably crisp, sweet, sharp, tangy, and unbelievably juicy. This large, red apple has a firm and crisp texture that provides ample sweetness, making it an excellent eating and baking apple. It is naturally slow to brown when cut and maintains its texture and flavor in storage for more than a year.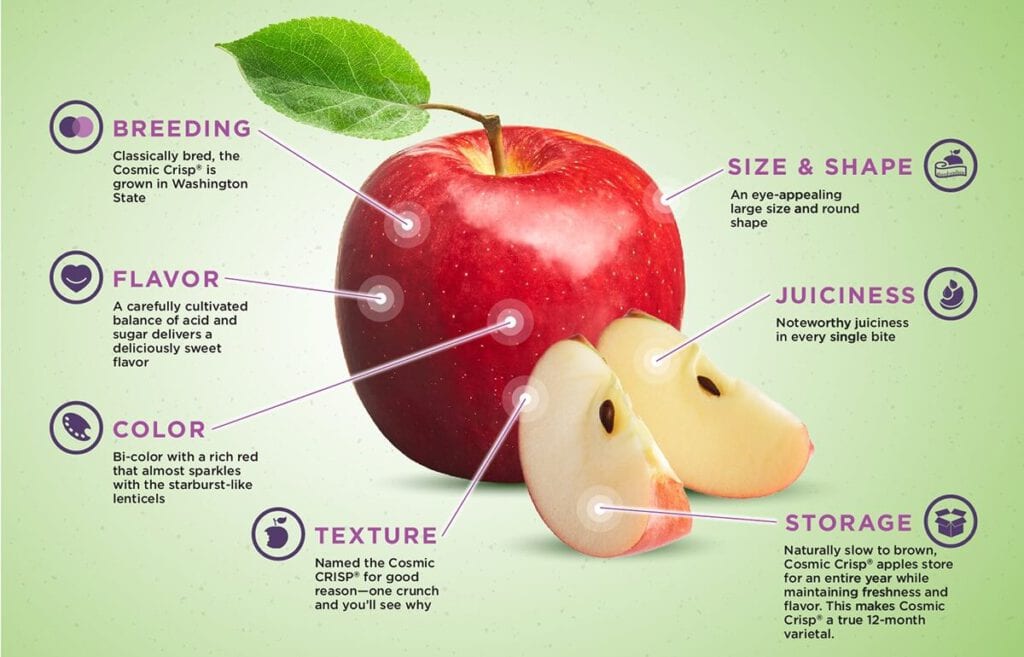 The Cosmic Crisp® Timeline
1998-2000
Seeds were germinated and raised in a greenhouse in 1998 at the Washington State University (WSU) Tree Fruit Research and Extension Center, Wenatchee. The seedling was transferred to a collaborating commercial nursery in May 1998 where it grew until Sept. 1999, when it was budded onto M.9 rootstock.
2001-2004
The resulting tree was planted in the Phase 1 seedling evaluation orchard CV12 at WSU's Columbia View orchard (row 16B, position 75) in Apr. 2001. Fruit from this original budded tree was evaluated in 2002 and 2003. Based on fruit quality, 'WA 38' was selected and advanced to Phase 2 evaluation in Oct. 2003. Buds were taken from the seedling tree and propagated onto M.9 rootstock in Sept. 2004.
2005-2008
Five trees were planted at each of three Phase 2 sites in central Washington in Apr. 2006. Additional trees were budded in 2006 onto M.9 rootstocks for larger scale Phase 3 plantings in 2008 at four commercial orchard sites in central Washington. 'WA 38' was virus-tested and certified material was budded onto virus-indexed vigorous rootstocks at nurseries for the production of State certified propagation material.
Since 2008, trees have been grown in four locations across Washington and evaluated for horticultural traits and storage behavior by Washington Tree Fruit Research Commission scientists Tom Auvil and Dr. Ines Hanrahan and WSU apple breeder Dr. Kate Evans, with the help of an industry advisory group.
Cosmic Crisp Activity Sheets
With the Cosmic Crisp® coming to a retailers this December, we want to give kids an opportunity to play and learn more about the apple that goes beyond expectations. In essence, we want them to Imagine the Possibilities™!  These FREE downloadable Cosmic Crisp® activity sheets are perfect in the classroom, at local libraries and in restaurants.  They are also great for parents at home who are looking for a rainy day activity for the kids!
Get Social with Cosmic Crisp®
Website           Facebook            Instagram         YouTube