Coconut Shrimp with Minneola Salsa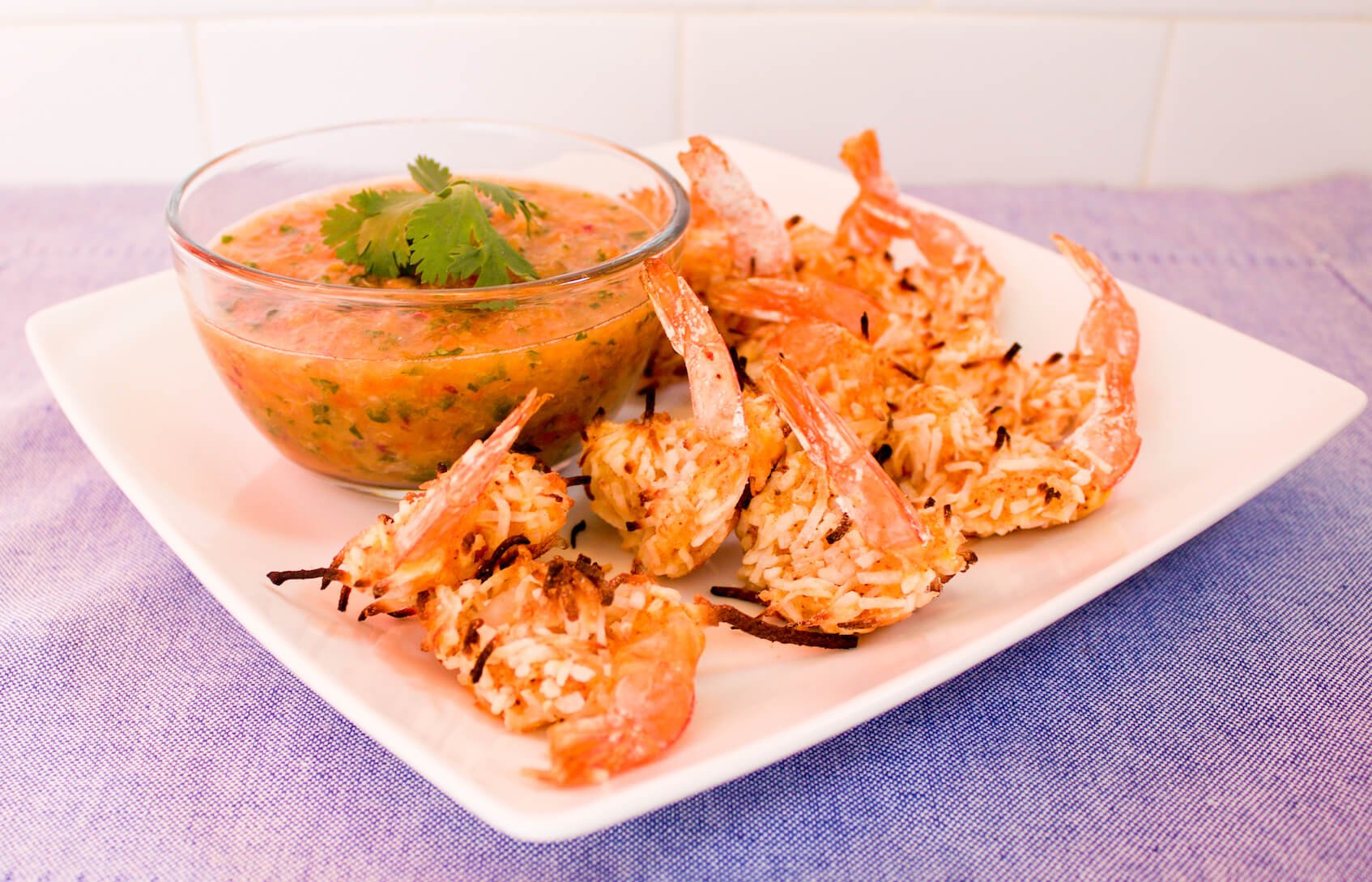 Transport your taste buds to the tropics!
Coconut Shrimp with Minneola Salsa is easy to make and is a treat for the taste buds! Many breaded shrimp recipes call for frying the shrimp. Our Coconut Shrimp is baked for a lighter, healthier option. The Minneola Salsa is the perfect balance of sweet and sour — a great match for Baked Coconut Shrimp.
What Are Minneolas?
Minneolas are a kind of tangelo. They are a cross between a tangerine and a pummelo. You can recognize Minneolas by their bell shape, pronounced neck, and red-orange color. They are easy to peel and have few to no seeds. They are sweet and tart, just what you would expect from a tangerine/grapefruit hybrid. Minneolas are delicious out-of-hand but can be used in various ways, from baking to smoothies to salsas like the one here.
How To Peel and Devein Shrimp
This recipe calls for peeled, deveined shrimp. To save time, purchase shrimp that has already been peeled and deveined. To save money, purchase easy-to-peel shrimp and clean it yourself.
To peel shrimp, place your thumb under the thin, clear shell and slide off. Leave the tails on for this recipe. To devein the shrimp, use a paring knife and cut along the back of the shrimp just until you see the grey vein. Remove the vein with the tip of the knife or your fingers. (Here's a great video tutorial if you need more help.)
Once you have your shrimp peeled and cleaned, breading it with a coconut batter is easy. First, you will dredge the shrimp in a flour mixture (see recipe below). Then, you will dip it in eggs that have been beaten. Finally, coat the shrimp with shredded coconut and a bit of salt. Now you're ready to bake!
Minneola Salsa
Bake Coconut Shrimp is certainly delicious, but the Minneola Salsa is what really makes this dish shine. It is sweet and sour with just a touch of heat. Using minneolas rather than tomatoes as the base makes for a bright, tangy salsa. Combined with the coconut shrimp, this duo will mentally transport you to the sunny tropics!
Making fresh Minneola Salsa is easy! Simply combine all of the salsa ingredients (see below) into a food processor and blend.
Minneola Salsa is also tasty when paired with white fish. Make a big batch and use the rest for fish tacos for dinner another evening. And don't forget to save some back for tortilla chips! Trust us, this stuff is good and you're going to want extra!
Ingredients
Coconut Shrimp
1

lb

raw shrimp

1

tsp

salt

2

large

eggs

1/3

cup

all-purpose flour

2

tsp

chili powder

1/2

tsp

garlic powder

1

cup

unsweetened & shredded coconut
Minneola Salsa
2

cups

minneola

peeled and chopped

1/2

cup

red bell pepper

chopped

1/4

cup

cilantro

chopped

1

tbsp

serrano pepper

minced

1/2

small

red onion

diced small

1/4

tsp

salt

1

lime

juice only
Instructions
Preheat oven to 450 degrees Fahrenheit. Line a large baking sheet with parchment paper.

To make salsa, use a food processor or blender and blend minneola, bell pepper, cilantro, serrano pepper, red onion, ¼ tsp salt, and lime juice to your desired consistency. Set aside.

In a small dish, beat together eggs.

In a second small dish, whisk together flour, chili powder, and garlic powder.

In a third small dish, combine coconut and 1 tsp of salt.

Peel shrimp but do not remove the tails. Butterfly the shrimp by cutting half way through the back, stopping at the tail.

Dredge shrimp in the flour mixture. Then dip in the egg mixture. Then coat with coconut mixture. Stand the shrimp tail up on the baking sheet.

Bake shrimp 10-12 minutes, or until the shrimp is cooked through and the coating is beginning to brown.

Serve the coconut shrimp with the minneola salsa.
Serve Coconut Shrimp and Minneola Salsa as an hors-d'oeuvre or serve it alongside of rice as a main course.
Do you love minneolas? Have you tried them in salsa before? Let us know your favorite way to enjoy them in the comments below.