Caprese Pasta Salad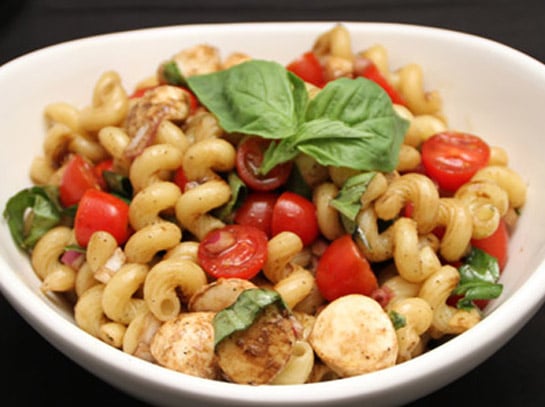 Caprese Pasta Salad… One of my favorites from our new Garden Cut Summer Menu! Have you utilized Chef Concetta's recipe index or downloaded our free smartphone/tablet app? Get on it! Our new Summer menu will roll out on June 20th & you do NOT want to miss this! I have been spoiled the last few months – every Thursday has been spent in the test kitchen preparing for the Solstice menu change. I spend Thursdays with Chef Concetta… helping her cook, tasting the food, plating it for pictures. It has become my favorite day of the week 🙂
My other favorite day of the week is Monday. Most people hate Mondays. I'm not like most people. There is something refreshing about starting anew every week AND… there is the Bachelorette. I'm a huge junkie! I have seen every episode of the Bachelor & the Bachelorette. Yes…. Every. Episode. It's turned into a tradition for me & my friends. We gather at my house every Monday night to watch the show together & catch up. Many memories have been made in the GNO Cave – that's the Girls' Night Out Cave aka my basement. Whatcha got, Man Cave?
The GNO Cave girls love Chef Concetta almost as much as I do. We always have a snack during the Bachelor/Bachelorette & lately, it's been one of Concetta's recipes from the Garden Cut website. This week it was Caprese Pasta Salad. I felt like a hero serving it. So simple, yet so good. GNO Cave Approved!
Be the hero at your next party – serve Caprese Pasta Salad!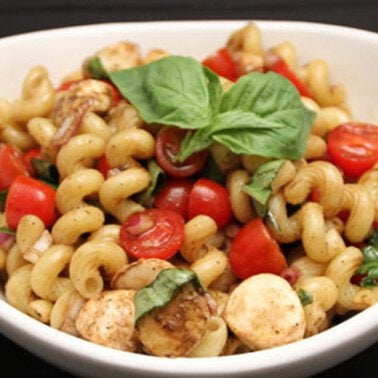 Ingredients
6

oz

red onion

diced

1

pt

grape tomato

halved

1

lb

mozzarella

fresh, diced

1

cup

basil

fresh, chopped or julienned

1

lb

pasta

(I recommend cavatappi pasta)

1/4

cup

balsamic vinegar

3/4

cup

olive oil

extra virgin

salt and pepper

to taste
Instructions
Bring a large pot of salted water to a boil.

Cook pasta according to directions on package.

Drain pasta & set aside to cool.

When pasta is cool, toss with diced onion, tomatoes, fresh mozzarella & basil.

Pour the balsamic vinegar and extra-virgin olive oil over the mixture and toss until evenly coated.

Season with salt & pepper.

Chill in refrigerator for 30 minutes before serving.
Notes
I was in a hurry & didn't have time to allow the pasta to cool on its own so I just ran cold water over the noodles.