Autumn Glory Apple Crumble Tart
What sounds more delicious and heart-warming than a good ole apple crumble tart?
This easy apple tart recipe with an aromatic crumble topping showcases the pure and distinct "apple" flavor of Domex Superfresh Growers' Autumn Glory apple. Thin slices of the apple cook into a solid filling that's accented with clove and cinnamon, echoing the spice character in the apple itself. A scoop of old-fashioned vanilla ice cream would top off this tart in perfect style.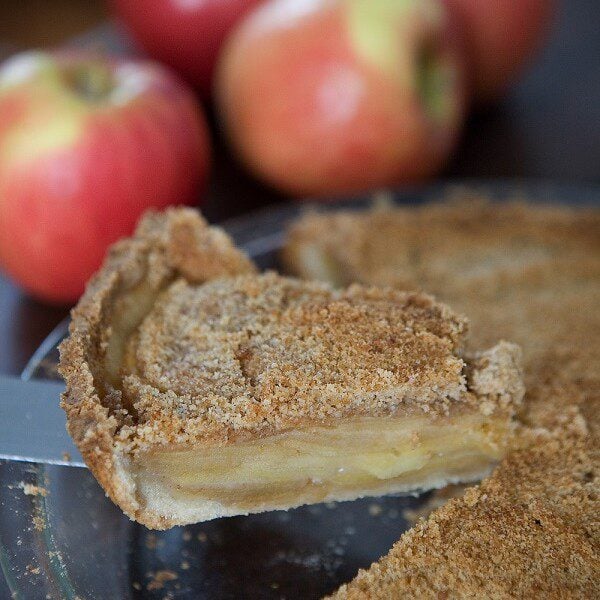 Ingredients
Crust
2

cups

all-purpose flour

3/4

cup

powdered sugar

pinch

salt

1

tsp

vanilla extract
Filling
2

pounds

apple

Autumn Glory

1/2

cup

brown sugar

1/2

tsp

ground cinnamon

1/4

tsp

ground cloves
Instructions
Preheat the oven to 375˚F.

For the crust, combine the flour, powdered sugar and salt in a food processor and pulse a few times to blend.

Cut the butter into pieces and add it to the food processor with the vanilla.

Pulse just until the butter is finely blended with the flour and the mixture has the texture of coarse sand with a few small pebbles.

Set aside 1 cup of the mixture and pour the rest into a 10-inch deep dish pie pan.

Press the dough firmly along the bottom and up the sides of the pan. If your fingers stick to the dough, lightly dust them with flour.

For the filling, add the brown sugar, cinnamon and cloves to the remaining dough mixture and stir to evenly blend.

Peel and core the apples, then cut them into 1/8-inch slices (a mandoline slicer is ideal for quickly making even, thin slices).

Arrange the slices in the tart shell, in even layers. After every 3 layers or so, sprinkle about 2 tablespoons of the brown sugar mixture over the apples.

Make the final layer a tidy as you can, overlapping the slices in an attractive pattern. Sprinkle the last of the brown sugar mixture on top.

Bake the tart until the apples are very tender and the top is lightly browned, about 50 minutes. Set aside to cool, then cut into wedges to serve.
Notes
- Makes 8 to 10 servings
This recipe is bound to please your entire family. It certainly hits the spot. You better grab a slice yourself before it's all gone!
Enjoy!
xoxo The Produce Mom