Ask the Produce Expert: Kid-Friendly Packaging and Marketing
Apr 28, 2016, Updated Jun 07, 2021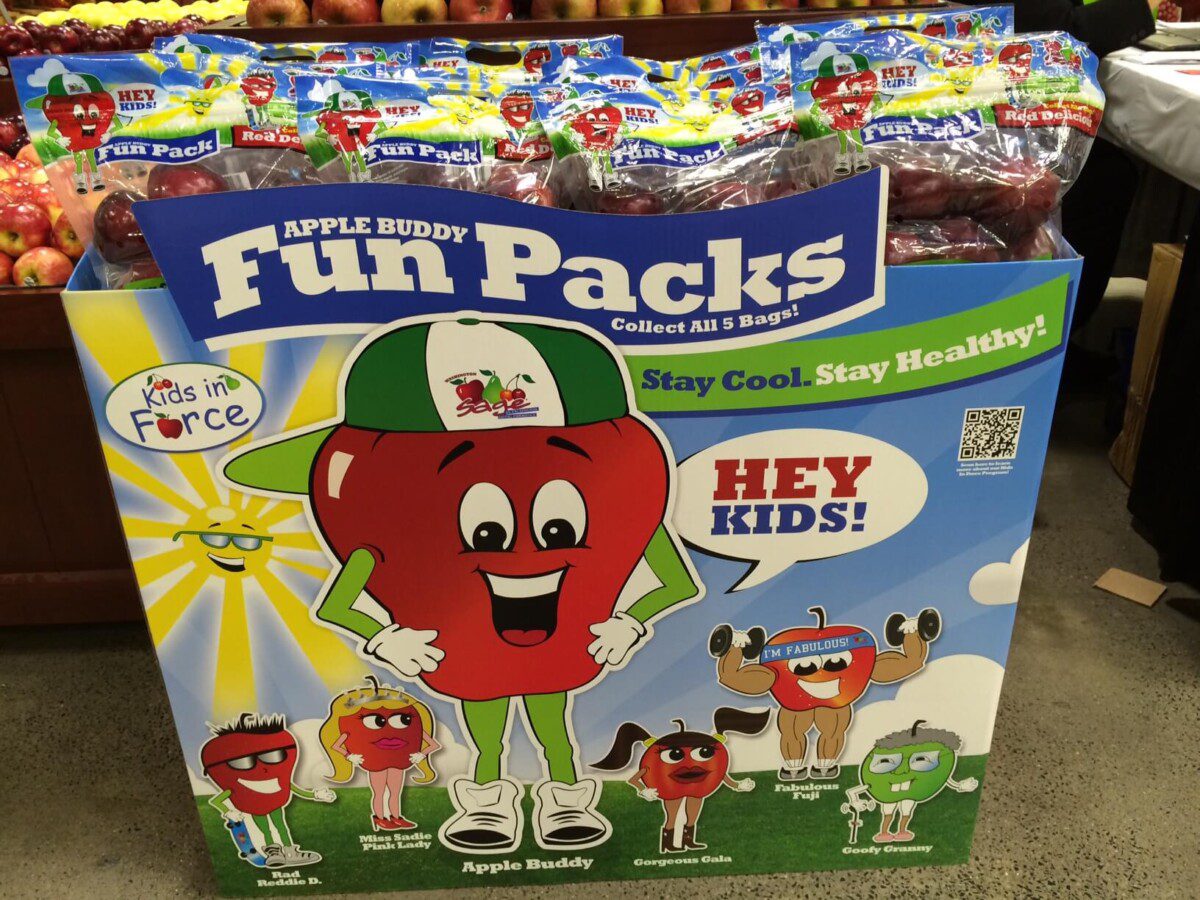 Welcome to the 14th edition of our featured series, titled "Ask the Produce Expert."  In this series, we feature one of our partner growers, suppliers or commodity boards, and ask them farming industry-related questions that will help us, as consumers, become more educated about the food that we purchase and eat on a daily basis.  If you have a question that you want answered by an industry expert – it's as easy tweeting us or posting your question on The Produce Mom Facebook page! The Produce Mom Family of Partners is here to answer your questions!
Founded in 1999, Sage Fruit Company has become a premier grower-shipper of apples, pears and cherries. Located in the heart of the Pacific Northwest, Sage Fruit takes great pride in their commitment to quality, innovation, and service. Their growers farm several thousand acres of orchards throughout the state of Washington, as well as parts of Oregon. Sage Fruit is on a mission to deliver the highest quality fruit and foster long-term relationships with customers, employees and growers.
In this edition of Ask the Produce Expert, Kaci Komstadius, Social Media and Marketing Manager for Sage Fruit Company, is our featured expert. Kaci was born and raised in the Pacific Northwest and currently resides in Yakima, Washington. After graduating from Eastern Washington University in 2009, Kaci began her career in the produce industry—starting as a sales assistant and now working in social media and consumer marketing. Kaci is passionate about helping Americans eat more fruits and vegetables, which is why she is a proud Produce for Better Health (PBH) Ambassador.
Kaci is here with us today to discuss the use of kid-friendly packaging and marketing strategies within the produce industry. If you are a parent, grandparent, aunt, uncle, teacher… then you know how difficult it can be to get children to choose fresh produce over sugary, highly-processed foods. Sage Fruit is using innovative packaging and marketing strategies to make fresh produce enticing and cool to kids.
Welcome, Kaci! What kinds of kid-friendly packaging does Sage Fruit offer?
Currently, Sage Fruit has a number of different kid-friendly packages available. We have Disney's Frozen, Marvel's Spider-Man, as well as the Avengers, and Star Wars. In addition, we also offer Fruit Friends packaging. Fruit Friends and the Kids in Force program were created by Sage Fruit.
What are the goals for Sage Fruit's kid-friendly packaging and marketing efforts?
The primary goal with regards to introducing kid-friendly packaging is to inspire children to eat more fruits and vegetables; we look to compete with the candy aisles. Sage Fruit is dedicated to encouraging a healthy lifestyle in not only adults, but children as well. We feel this can be accomplished through innovative marketing programs that provide engaging content, useful tools and unique experiences. Our hope is that we can reach a younger demographic in the produce department, as well as help parents by making nutritious eating simple and fun.
How does your kid-friendly packaging & marketing efforts help my child to eat more produce? 
When kids see packaging with characters aimed towards them – whether it be from their favorite TV show, a new movie coming out, or just something colorful and different – they have a tendency to relate to it more.
Do products offered in kid-friendly packaging cost more? If so, why? 
Kid-friendly packaging does not cost more than Sage brand packaging or any private label packaging. We do our best to keep packaging costs as low as we can. Typically, if there is an increase in price at the store level, it has to do with a number of other factors. There are so many variables that need to be taken into consideration when it comes to the picking, packing and shipping of fresh produce. 
Is your packaging recyclable? 
Yes, our packaging is recyclable. 
Do apples lose nutrition when they are stored in plastic bags? 
Apples, pears, nor cherries will lose their nutritional value if stored in a plastic bag. The best place to store apples and cherries however, whether they are in a plastic bag or not, is in the crisper section of the refrigerator – they last much longer than when they sit on the counter. Pears are a little different story. You generally purchase pears before they are an ideal ripeness for eating. Letting them sit on a counter top will help them ripen. Once they do, then placing them in refrigeration will help keep them fresher longer.
What are some other tips I can use to encourage my child to eat more produce? 
Take them grocery shopping with you and have them pick out something they want to try. Cook together. Sit down and find a recipe that interests them, and then prepare it as a family. The more they are included in the entire process, the more likely they will be to try a variation of fruits and vegetables.
Do you have any kid-approved recipes to share that use Sage Fruit products?
We have a number of kid-approved recipes!
Two of the favorites are:
Both of which have been featured as finalists in the PMA Fresh Summit's Sensory Experience contest. The Fresh Apple Breakfast Parfait and Crunchy Apple & Butterscotch Dippers are a huge hit with kids too. We also look to release some new recipes in the next couple of months.
That concludes the 14th edition of our Ask the Produce Expert series! A big thank you to Kaci Komstadius for sharing her expertise and insight! Learn more about Sage Fruit and their commitment to quality, innovation, and service on their website. Also be sure to visit Kids in Force, a program that Sage Fruit implemented to educate our youth on the importance of health and nutrition.
Do you have a question about kid-friendly packaging or marketing that didn't get asked? Leave it in the comments below & we'll be sure to answer it.