You can make an elegant holiday appetizer in minutes!
We worked with our brand partner Mann's Fresh Vegetables to develop this recipe for Prosciutto-Wrapped Broccolini with Honey Mustard Dipping Sauce.
Broccolini® is a hybrid of broccoli and gai lan. It has a slender, tender stalk with a small, tender floret. Broccolini is sweeter and more delicate than broccoli and is edible from flower to stem. It's dark green color and delicious taste make it a great finger food for holiday parties.
Prosciutto-Wrapped Broccolini with Honey Mustard Dipping Sauce is an elegant appetizer that requires just 4 ingredients. And you know what's even more awesome? This appetizer can be made in less than 10 minutes! Because no one has time to spare during the holiday season!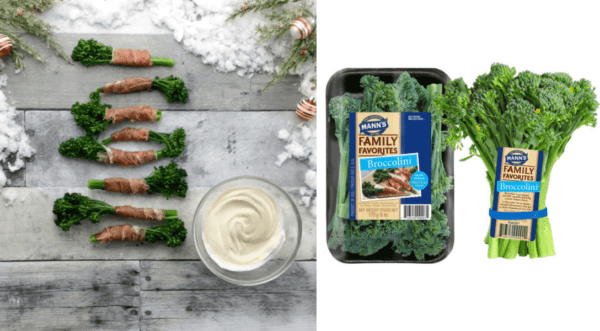 | | |
| --- | --- |
| | |
Blanch broccolini by boiling it for 30 seconds and then cooling it in an ice water bath.

Wrap broccolini with prosciutto.

Make dip by mixing together honey mustard and sour cream.
See the recipe for Chilled Broccolini with Lemon Pepper Dip here.
Happy holidays! What appetizers you will be serving at your celebrations? Will they include Broccolini? Let us know in the comments below.