20 Must-Try Produce Items in 2020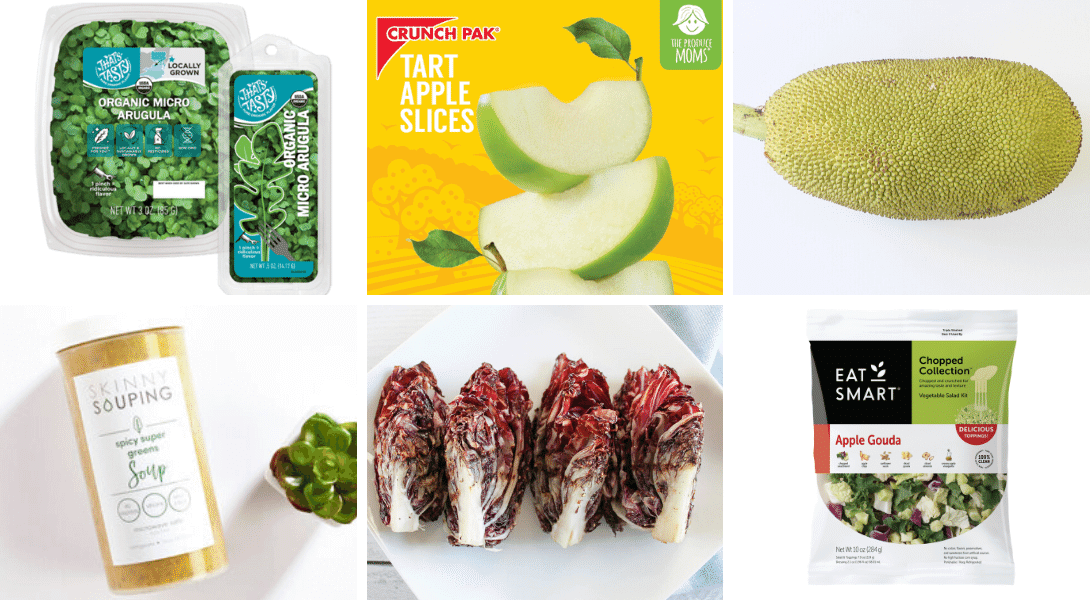 Does it ever feel like you're always picking up the same items week after week when you visit the produce department? We all do sometimes. It can be difficult to look past the usual suspects to identify new fruits and veggies to incorporate into your meals and snacks. 
It doesn't have to be that way. Let's make 2020 the year of trying new things. Some of the items on this list are grown or produced by our brand partners.  All of the items on this list are delicious, on-trend, and convenient solutions for eating more produce (both volume AND variety) in 2020!
There's always something new and interesting to try in the produce department and we've collected 20 of our favorites. From convenience items to innovations, cooking trends to unsung heroes, we've chosen 20 items you can find in most grocery stores that will expand your snacks and meals. Make a little room in your shopping cart for these items and help make 2020 your healthiest year yet!
1. Crunch Pak® and The Produce Moms Co-Branded Apple Slices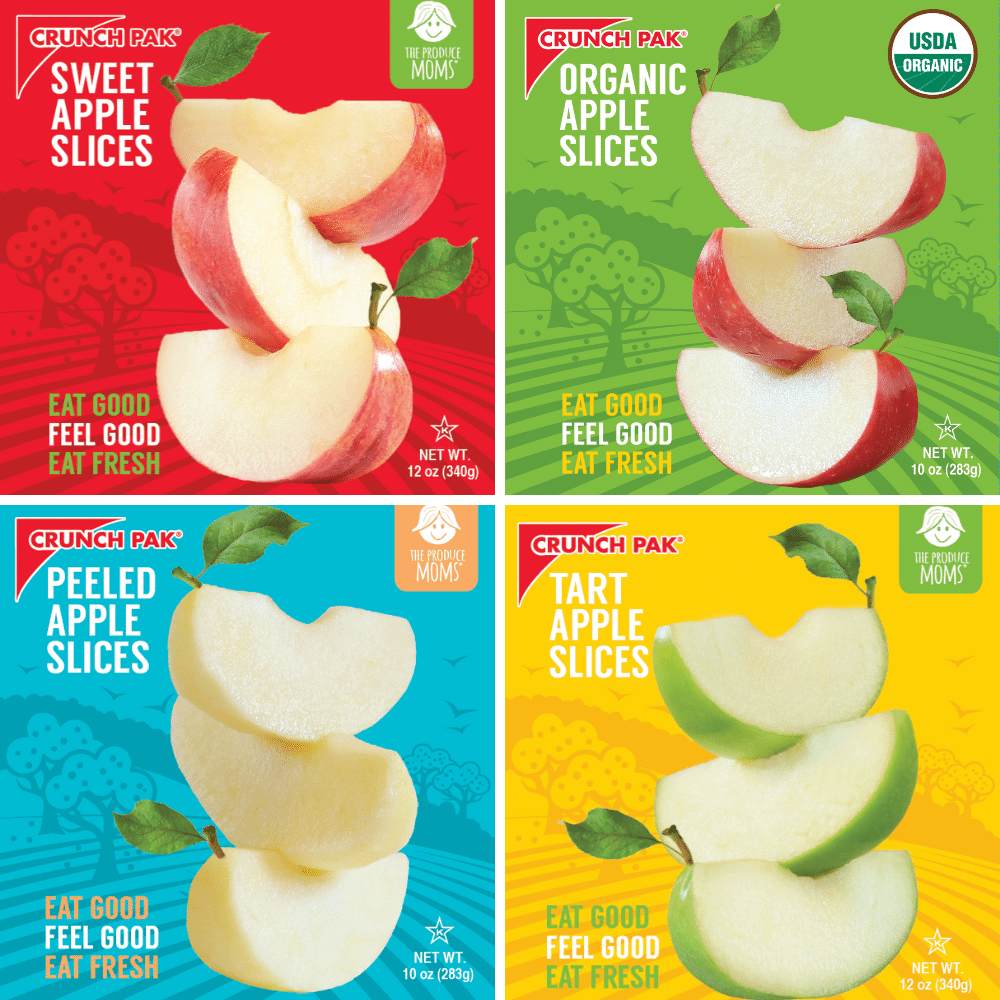 Crunch Pak® makes snacking on fruits and veggies easy with fresh-cut produce in convenient packaging. You can now find Crunch Pak® apple slices with The Produce Moms logo on them. These products are a busy mom's dream and we are excited to show our support to a brand that's making healthy snacking easier for families. 
Look for Crunch Pak® 12-ounce bags of sweet, tart, and mixed apple slices and 10-ounce bags of peeled and organic apple slices carrying The Produce Moms logo on them. They have recently hit grocery store shelves nationwide. 
2. Eat Smart® Salad Kits
Topping lovers, rejoice! You're going to love the Eat Smart® Chopped Collection™. Each salad kit features bite-sized ingredients that have been chopped or crisped for amazing taste and texture in every delicious bite. With so many flavor options including Southwest, Bistro Bacon, Mediterranean Crunch, and Avocado Cheddar Ranch, you'll never get bored. Add your choice of protein and you have a complete meal. Think how quickly you'll get dinner on the table in 2020 with these 100% clean ingredient salad kits! 
3. Yucatan Guacamole®
Yucatan Guacamole® makes enjoying guac easy! Hand-picked avocados from the Yucatan Peninsula are hand-scooped and turned into authentic guacamole. That guacamole is then packaged in convenient containers including tubs, squeeze bottles, and single serving cups. 
4. Skinny Souping®
Do you find eating healthy on-the-go to be difficult? If you answer yes, drinkable soup is the newest food trend you definitely want to get in on. Skinny Souping® is a line of drinkable plant-based soups designed to be enjoyed hot or chilled. Real veggies, real nutrition, really convenient! 
Listen to our podcast episode with Skinny Souping's founder and CEO, Alison Velázquez. 
5. MandaRosa Mandarins
Naturally red MandaRosa mandarins are a cultivar of a blood orange and a clementine. The result is a sweet and juicy delicacy. This red-flesh speciality citrus is only available from Pro Citrus Network for a limited time in February and March so grab them while you can! 
6. Green Giant™ Fresh Veggie Bowls
The new Veggie Bowls from Green Giant™ Fresh are the epitome of quick and easy. Each bowl comes in a microwave-safe container and includes a fork. Never again choose between wholesome nourishment and convenience. Green Giant™ Fresh Veggie Bowls make it possible to eat well with a busy, on-the-go lifestyle.
They include a 100% fresh vegetable base of the brand's first-to-market Cauliflower Crumbles® chopped cauliflower. There are several varieties to choose from, and with a suggested retail price of just $3.99, they are affordable too!
7. Fresh Veggie Ramen from Cece's® Veggie Co
When a little girl named CeCe developed a gluten allergy, her dad sprung into action to create plant-based alternatives like Organic Riced Broccoli, Organic Sweet Potato Spirals, and Organic Butternut Vegan Shells & Cheez. Personally, we love Cece's® Fresh Veggie Ramen kits. See all of their product offerings here.  
8. Love Beets
Finally, beets without the mess or fuss. Love Beets products make it easy to enjoy beets in salads, as a snack, or as juice. Their cooked beets remove the messy prep work and can be enjoyed hot or cold in a variety of dishes. We're crazy for all of Love Beets easy and fun products! 
9. That's Tasty™ Microgreens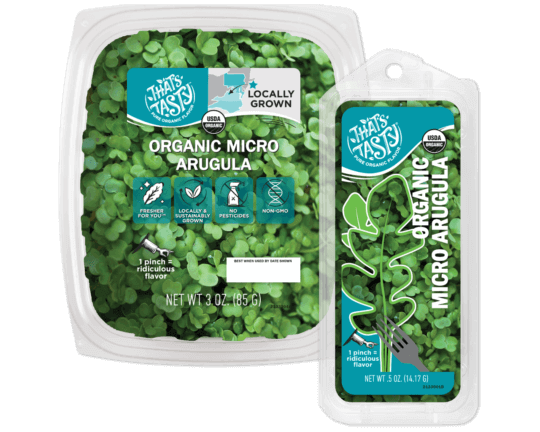 From living herbs to stir-in purees, That's Tasty™ has a large selection of products to help you ramp up the flavors in your cooking. Right now, we're loving their microgreens. Microgreens are baby greens that are just 7-14 days old. Because they are harvested young, they have tons of flavor and a delicate texture. Try incorporating microgreens into your meals in 2020.      
10. Sunions®
Imagine how great it would be to cut up onions without shedding a tear. Imagine no more! Sunions® from Peri & Sons are 100 percent tearless! This hybrid onion variety is naturally sweet and mild. Even kids like the flavor of this onion! Only available December through March so don't miss your chance to try these tearless, sweet onions. Learn more here.
11. Mango
Mango is the most popular fruit in the world! Many Americans, however, avoid mango at the grocery store because they don't know how to use it. If that's you, resolve to change that in 2020. Stop missing out on the vibrant flavor and nutrition of this mighty fruit. Learn how to easily slice a mango and then enjoy it in a smoothie, salsa, or salad. Kids love mango too — serve slices for a tasty after school snack.  
Listen to this episode of The Produce Moms podcast to learn more about mango varieties and tips for enjoying mangoes. 
12. Tropical Avocados
Grown in Florida and the Caribbean and available year round, tropical avocados are large and bright green. They have less calories and fat content than Hass avocadoes, giving them a milder flavor. They also have a firmer texture making them ideal for slicing. Put tropical avocado slices on sandwiches or use them to make baked avocado fries. 
13. Radicchio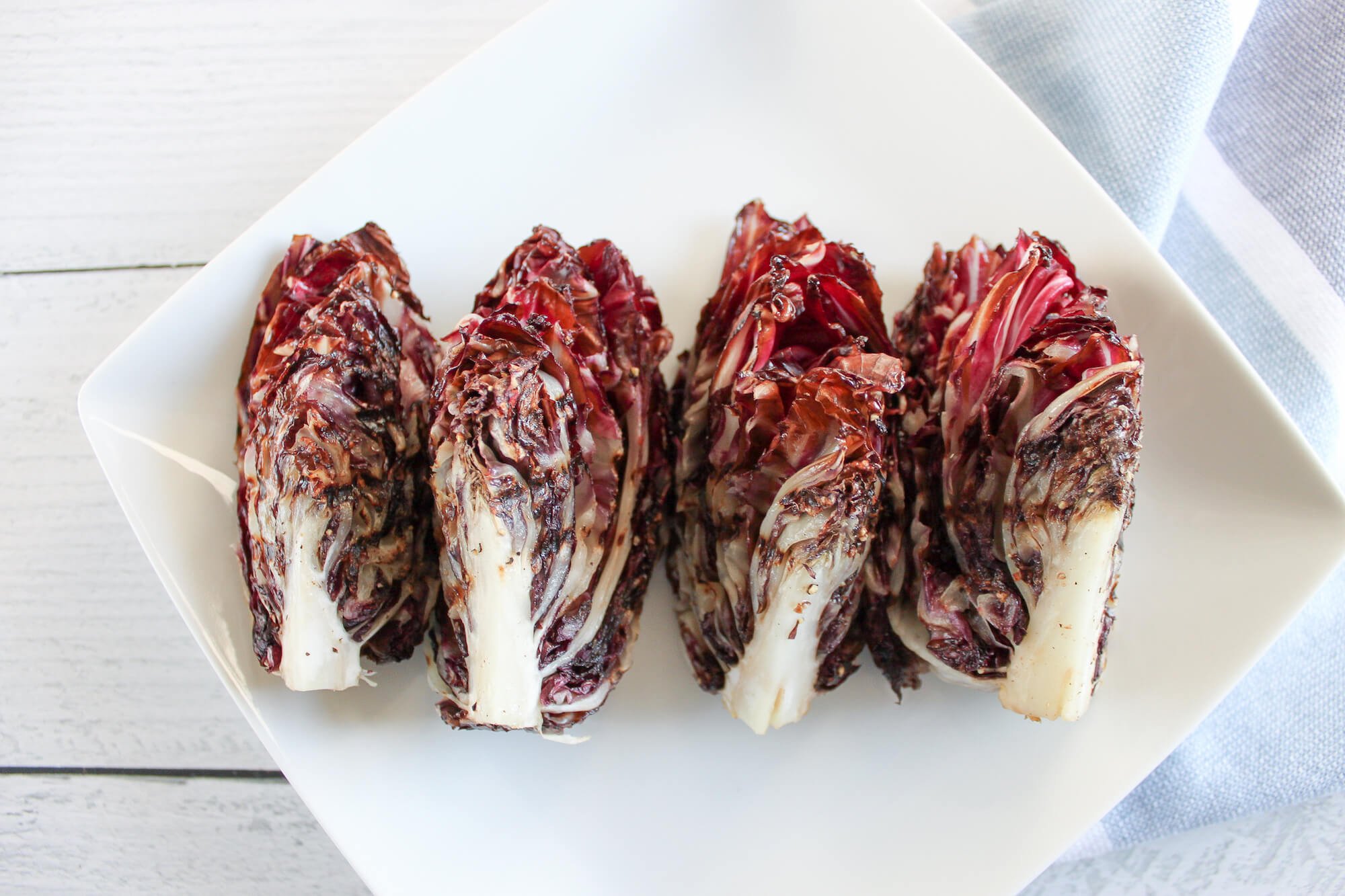 Add more color to your meals in 2020 with radicchio! It's great in salads, pasta, or on pizza. Radicchio is a type of leaf chicory. It's spicy and bitter when eaten raw and becomes milder and even a little sweet when cooked. Put grilled radicchio on your must-try list for the year. 
14. Jackfruit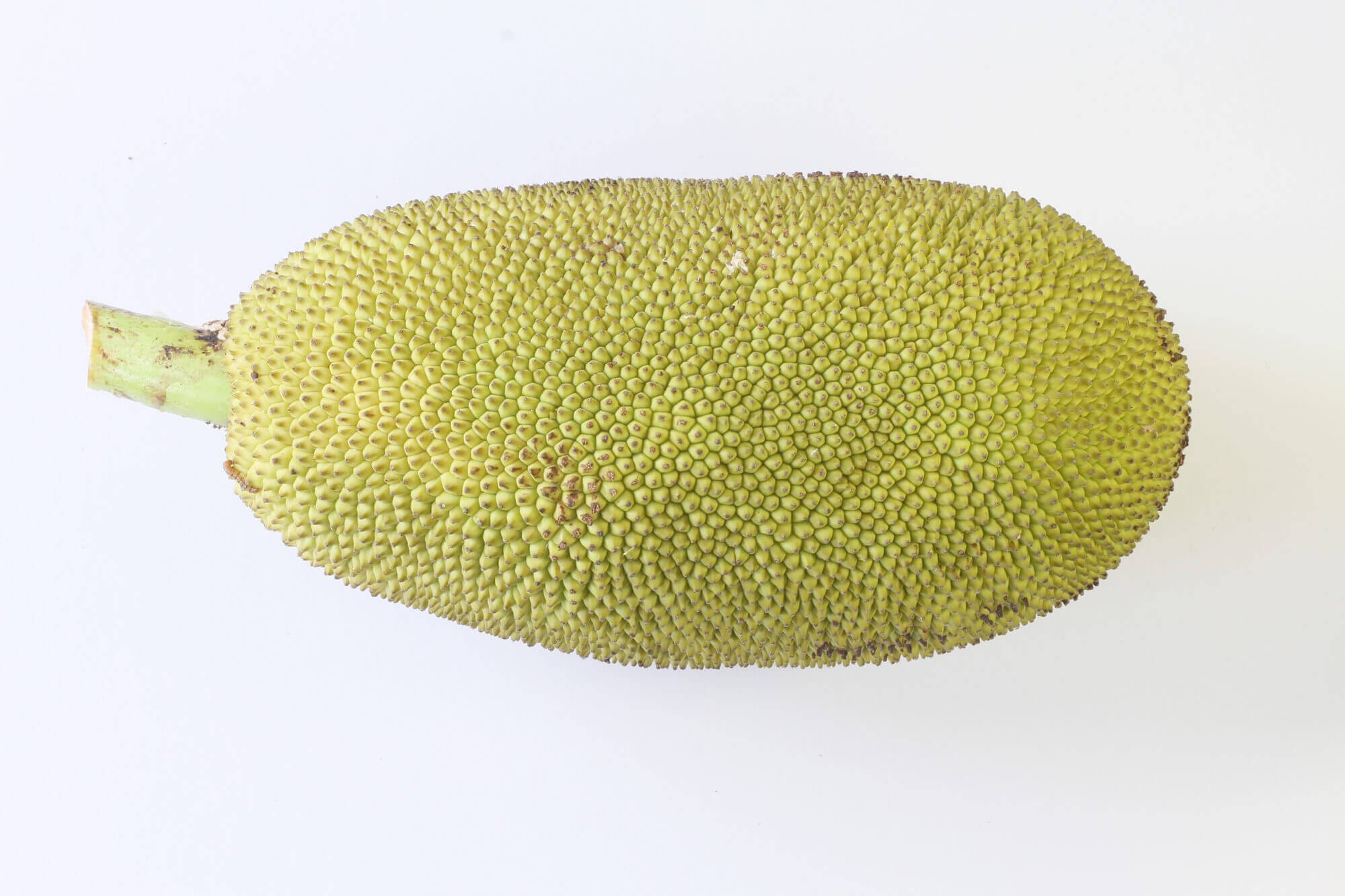 You have likely seen one or two of these enormous fruits in the produce department and thought to yourself, "what on earth is that thing?!" Not only is jackfruit large, but its green, rigid skin is also a bit unusual. Large and unusual it may be, but this fruit is extremely versatile and growing in popularity. Often used as a meat substitute, jackfruit is ideal because it is easy to grow, nutrient dense, and can be used in many ways. One of the most popular ways to consume jackfruit as a meat substitute is by making BBQ pulled jackfruit. If tackling an entire jackfruit seems overwhelming, look for pre-portioned slices that are just enough for the recipe you are using. 
Vegan Pulled Jackfruit BBQ Sandwich
15. Red Anjou Pear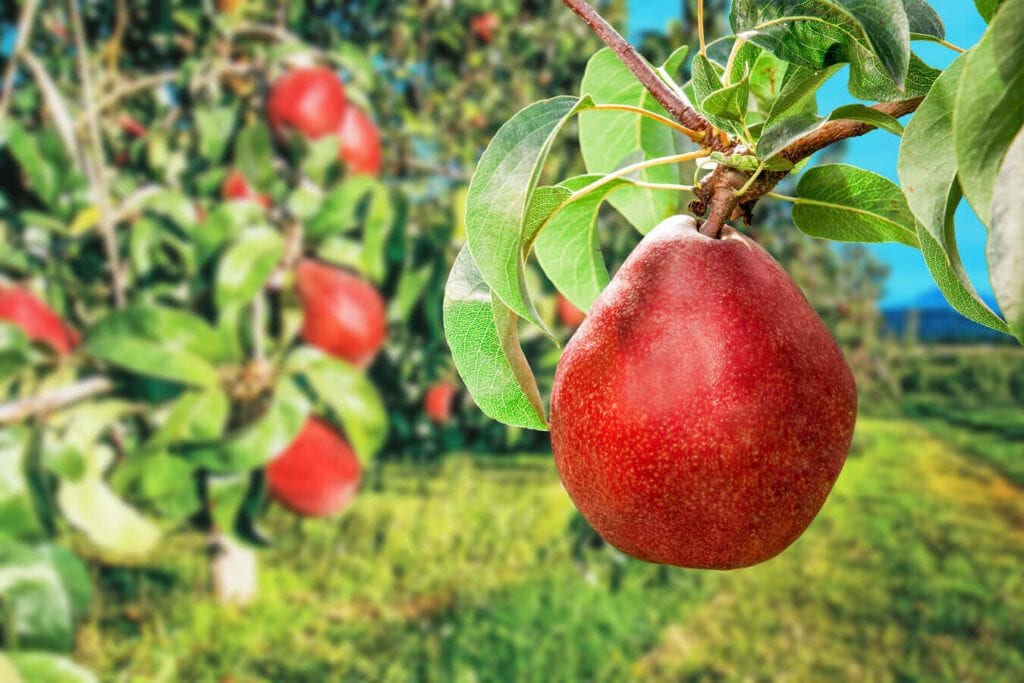 Red Anjou pears are juicy with a fresh, sweet, slightly tangy flavor. They are great out of hand, in smoothies, and on cheese trays. They had a beautiful red color to green salads. Anjous hold up well to heat so go ahead and bake with them or throw them on the grill.
Learn more about USA Pear varieties here. 
16. Honeynut Squash
You read that right…honeynut squash, the cute cousin of the butternut squash, is making its mark on cooks all over. It's smaller than a butternut and (we can't believe we're saying this) is even more flavorful. With a skin that is more delicate than most hard squashes, it's totally acceptable to keep it on during cooking and enjoy as you eat. Our favorite way to prepare honeynut squash is to dice and roast in the oven with a light coating of olive oil and sprinkle of salt and pepper. You don't need to add anything else to this savory squash to make it delicious, so keep it simple and let the squashy-ness shine through! Covilli Brand Organics grow and sell this unique squash that you must try.  They are the first company to be 100% organic and 100% Fair Trade certified, and they were recently featured on episode 83 of The Produce Moms' Podcast.  Listen here.
17. Blueberries
Blueberries are a favorite every year, but they are really having a moment in 2020. Naturipe Farms, the world's largest grower and fresh packer of blueberries, announced this year is expected to be its biggest and best blueberry year on record! 
"After Pantone named 2020's color of the year classic blue, and Firmenich announced 2020's flavor of the year classic blueberry, we knew this year was going to be special," said CarrieAnn Arias, Vice President of Marketing at Naturipe Farms. "What's even more exciting is that Mother Nature is joining the celebration, allowing us to confidently predict 2020 as our largest blueberry production ever." 
Be prepared for a plentiful crop! Check out our Blueberry Pinterest Board. 
18. High Vitamin D Mushrooms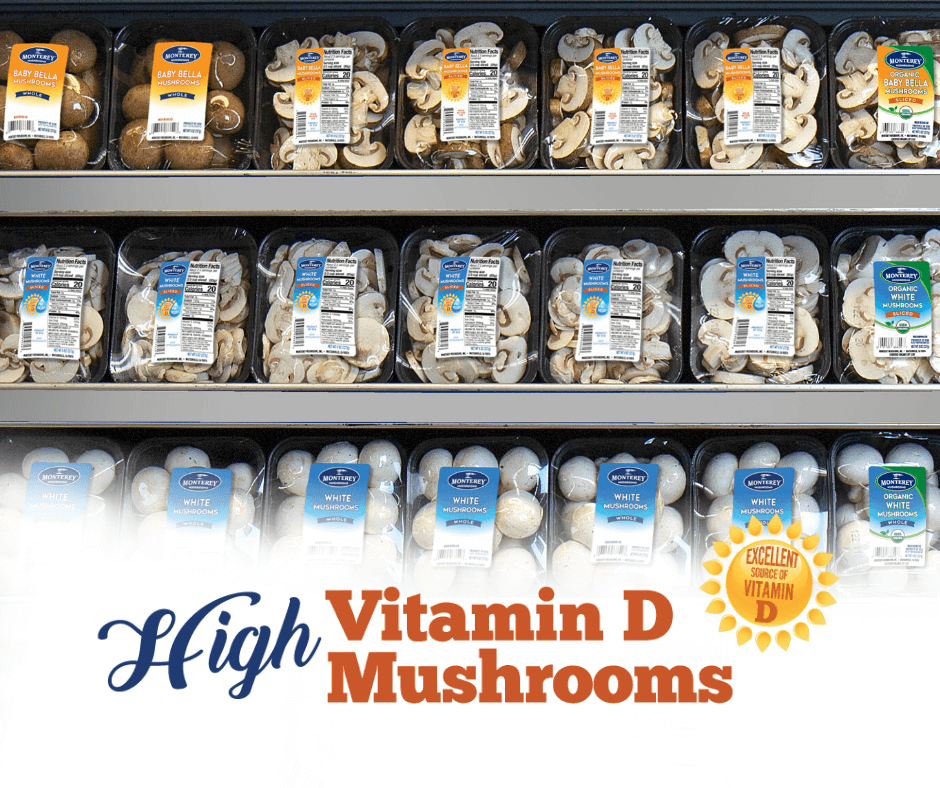 40% of Americans are vitamin D deficient and this number is significantly higher in African Americans and Latinos due to increased melanin in the skin. One easy, delicious way to get more vitamin D in 2020 is with "High Vitamin D" mushrooms from Monterey Mushrooms®. Eating a dozen of their medium-sized "High Vitamin D" mushrooms gives you all the vitamin D you need in a day. 
Most commercially raised mushrooms are grown indoors in the dark and therefore don't contain significant amounts of vitamin D. Monterey Mushrooms® teamed up with the U.S Department of Agriculture to replicate vitamin D-rich sunlight indoors. When mushrooms are exposed to this light, their penetrable tissue responds similarly to the way people do: by increasing vitamin D content. Learn more about "High Vitamin D" mushrooms here. 
 15 Mushroom Recipes For An Extra Kick of Vitamin D
19. Artichokes
Ahh, the beloved artichoke. Delicious, nutritious, and just the slightest bit mysterious. These beautiful vegetables are actually buds and contain a fibery choke in the center which is not edible. Canned artichokes are tasty, but you haven't truly experienced this elegant vegetable until you've tried it fresh. It's a crowd favorite on our site, with crockpot artichokes consistently ranking as our most popular recipe. It was in our top 10 posts for more weeks in 2019 than than any other!
Cook artichokes in the slow cooker or Instant Pot and enjoy the delicate texture and flavor of the artichoke petals. You can dip them in warm olive oil or garlic aioli or enjoy all by themselves. Whatever way you choose, you'll fall in love!  
20. CAULILINIi®
Fun to say and easy to enjoy! CAULILINI® baby cauliflower from Mann's comes pre-washed and ready to use. It's versatile enough to grill, fry, steam, or bake which makes it the perfect veggie to keep in your crisper inventory. CAULILINI® is sweet and tender and can be eaten completely, including the stems. Serve as a side, add to soups, or include it as a pizza topping. There's really no wrong way to enjoy this flavorful floret. As an added treat, the stalk CAULILINI® turns a vibrant green when cooked! 
Which of these must-try produce items are you most excited to test out in 2020? Did we miss something? Tell us what's on your must-eat list for the new year.