Spicy Vegetarian Ramen Soup
Jan 19, 2019, Updated May 02, 2022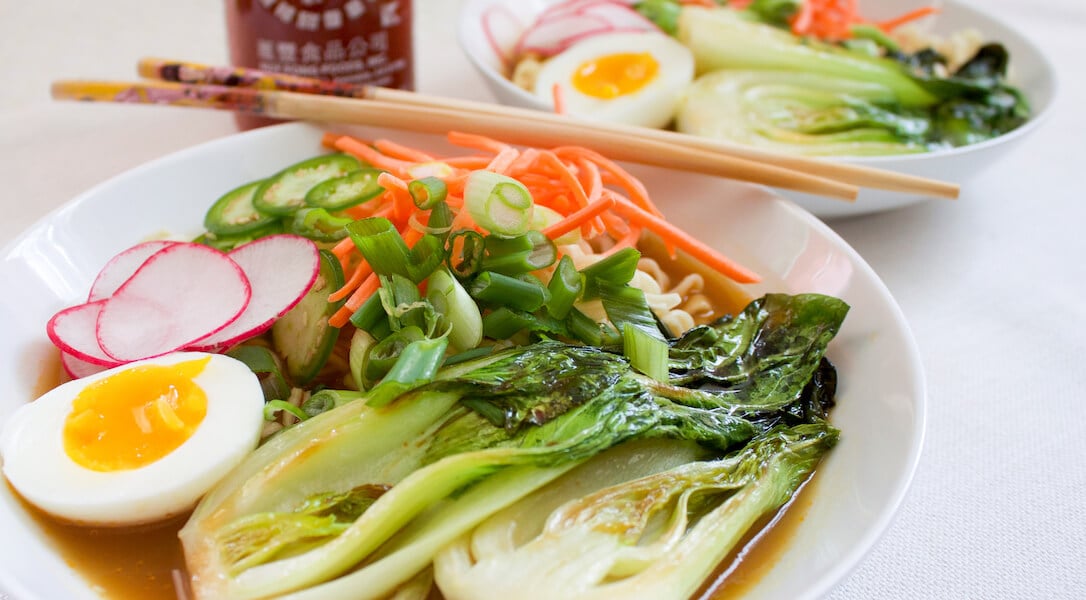 A satisfying Vegetarian Ramen Soup with umami and loads of fresh veggies!
Are you looking for a filling soup that's also nutritious? Call off the search… you found it! Our Spicy Vegetarian Ramen Soup is full of flavor and loaded with good-for-you veggies.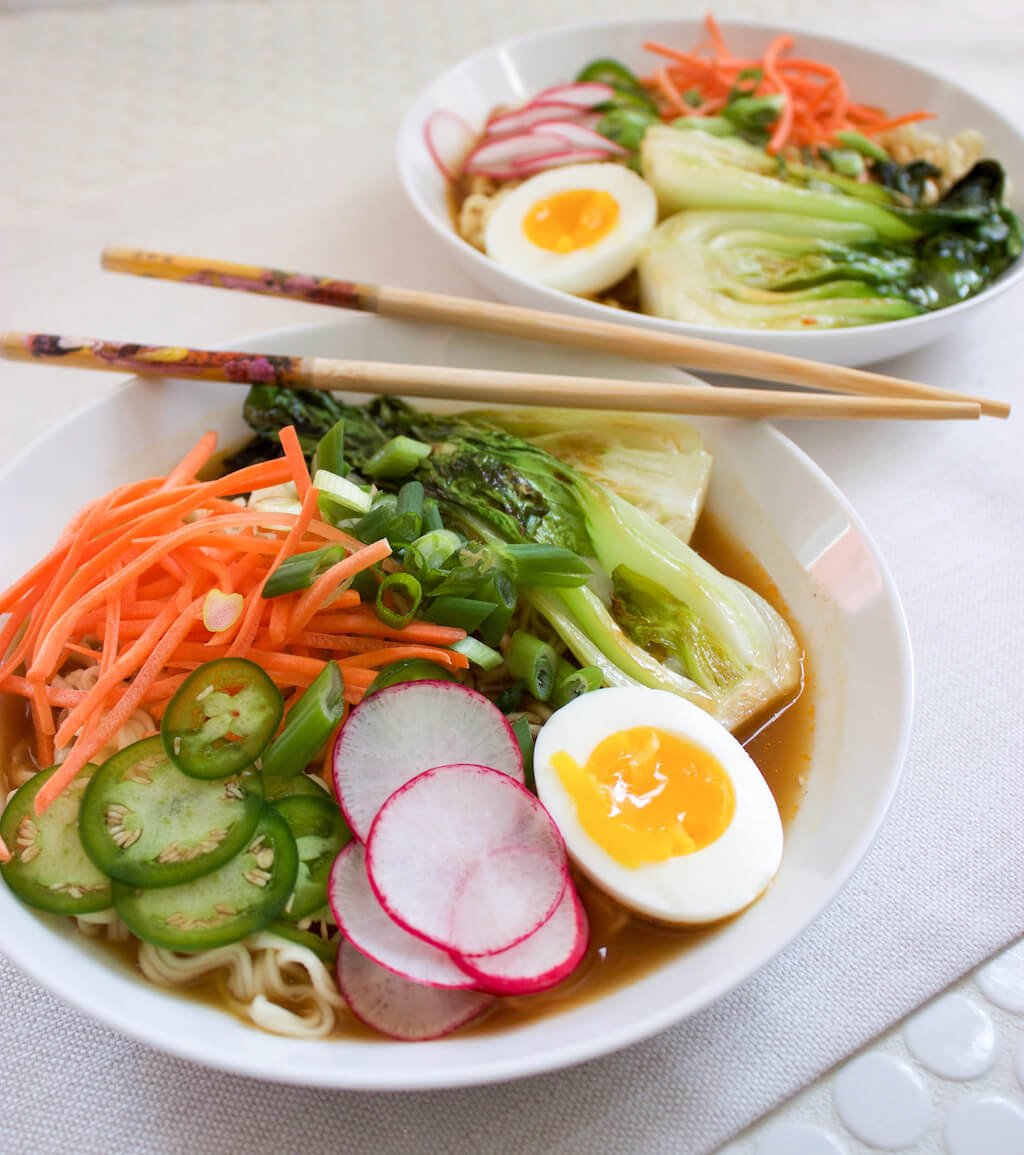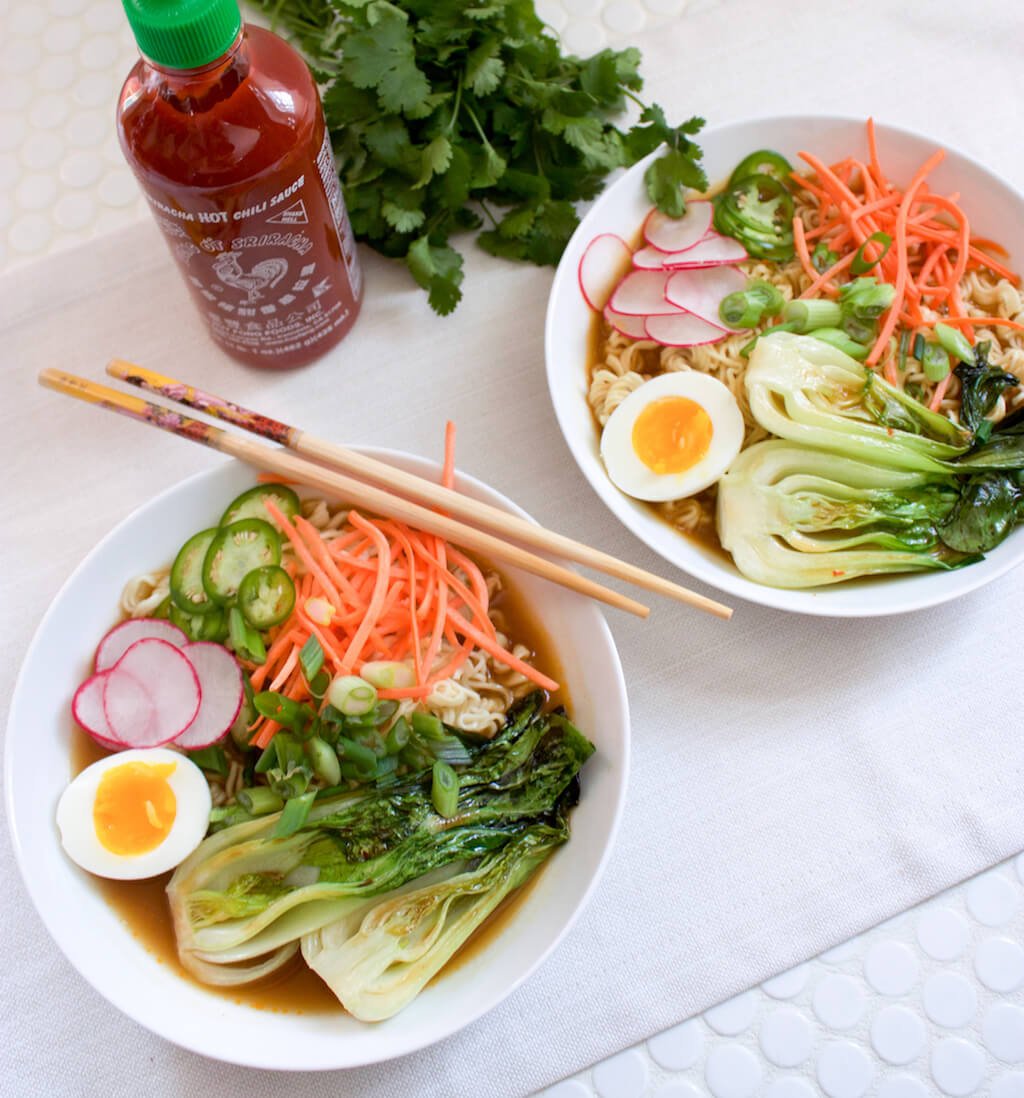 A great soup begins with a great broth. To make this soup vegetarian-friendly, we opted for a vegetable broth. If you would rather use a chicken or beef broth, you certainly can, but it's not necessary. Ginger, garlic, red pepper flakes, soy sauce, and Chinese Five Spice work together to give this veggie-based broth lots of umami.
Crunchy carrots, jalapeños, and radishes give this soup an enjoyable texture. The real star veggie star of this soup, however, is the baby bok choy. Pan-seared in sesame oil with smashed garlic, it has a deep, robust flavor. Did you know bok choy is an excellent source of calcium, potassium, iron, and vitamins C, A and K? You may find yourself wanting to add extra to this recipe and we say go right ahead!
Produce Mom Tip: To quickly and thinly slice your radishes and jalapeños, use a mandoline slicer. Speed up prep time by buying carrots that have already been shredded.
This recipe has a mild level of spice, just enough to be flavorful without overwhelming your tastebuds. If you love extra-spicy foods, pump up the spice by adding sriracha to your finished soup.
Foolproof Soft Boiled Eggs in an Instant Pot
Don't be intimidated by the soft boiled eggs in this recipe. If you have an Instant Pot, making soft boiled eggs is foolproof! Simply add two cups of water into your Instant Pot and insert the steamer rack. Gently place your eggs on the rack and seal the lid. Cook the eggs on the manual setting for three minutes. When the three minutes are up, release the steam and immediately place the eggs into an ice water bath. The ice water bath prevents the eggs from cooking any further, so don't skip this step! Once they have cooled to warm, the eggs will peel easily and you'll find they are cooked to perfection.
Foolproof Soft Boiled Eggs, the Traditional Way
If you don't have access to an Instant Pot, you'll need to cook your soft boiled eggs the old fashion way. Bring a pot of water to a boil over medium-high heat. Then, gently add your eggs and cook for six and a half minutes. Remove the eggs from the water and place directly into an ice water bath. Let cool and peel. Voilà! Perfectly cooked soft boiled eggs.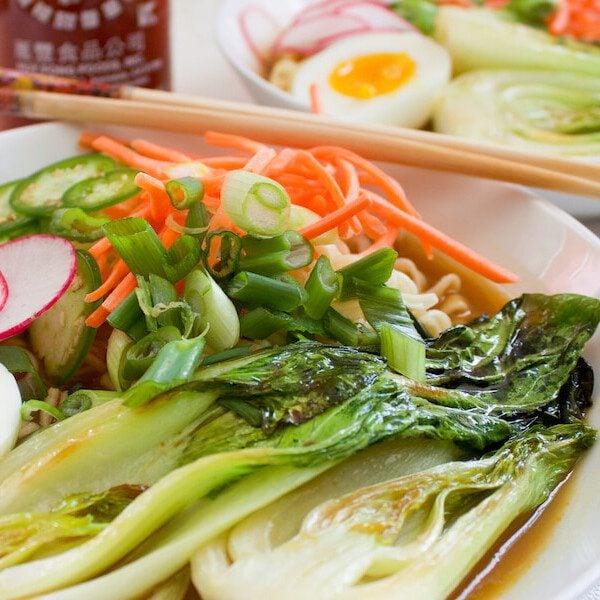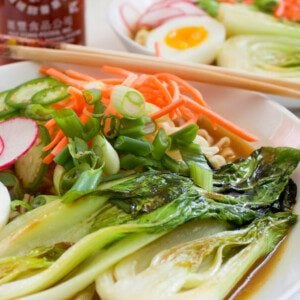 Spicy Vegetarian Ramen Soup
Ingredients
2

tsp

sesame oil

4

baby bok choy

cut in halves, lengthwise

32

oz

vegetable broth

2

inch

ginger

peeled

5

cloves

garlic

smashed

3

tbsp

soy sauce

1

tsp

red pepper flakes

1

tsp

Chinese Five Spice

4

pads

ramen noodles

1

jalapeno

sliced thinly

4

radishes

sliced thinly

1/2

cup

Carrots

shredded

4

soft boiled eggs

cut in half

3-5

Green Onions

sliced

sriracha

optional

cilantro

optional
Instructions
Heat sesame oil in a medium-sized saucepan. Add ginger and 3 cloves garlic and cook for 2 minutes.

Add vegetable broth, 2 TBSP soy sauce, red pepper flakes, and Chinese Five Spice to the saucepan. Bring to a boil and then simmer until ready to serve.

In a large saute pan, cook baby bok choy and 2 cloves garlic in sesame oil over medium heat until bok choy is brown on both sides (3-5 minutes per side). During the final minute of cooking, add 1 TBSP of soy sauce and toss to coat. Remove from heat and cover.

Bring a large pot of water to boil. Add ramen noodles and cook according to package instructions. Drain.

While ramen is cooking, make soft boiled eggs. To make in an Instant Pot, add 2 cups of water to Instant Pot. Insert steamer rack and place eggs on the rack. Seal Instant Pot and cook on manual setting for 3 minutes. Release steam and add eggs to an ice water bath.

Build your ramen bowls. First, add ramen noodles. Then add carrots, radishes, jalapeno, and bok choy. Cover with broth. Add soft boiled eggs. Garnish with green onions or cilantro. Serve with sriracha (optional).
Nutrition information is automatically calculated, so should only be used as an approximation.
Like this? Leave a comment below!
Spicy Vegetarian Ramen with Baby Bok Choy makes a great lunch and it's also filling enough for dinner. Let us know how you serve it. Tag us in your Ramen Soup photos on Instagram @theproducemoms.