Sunday Night Celery and Red Onion Salad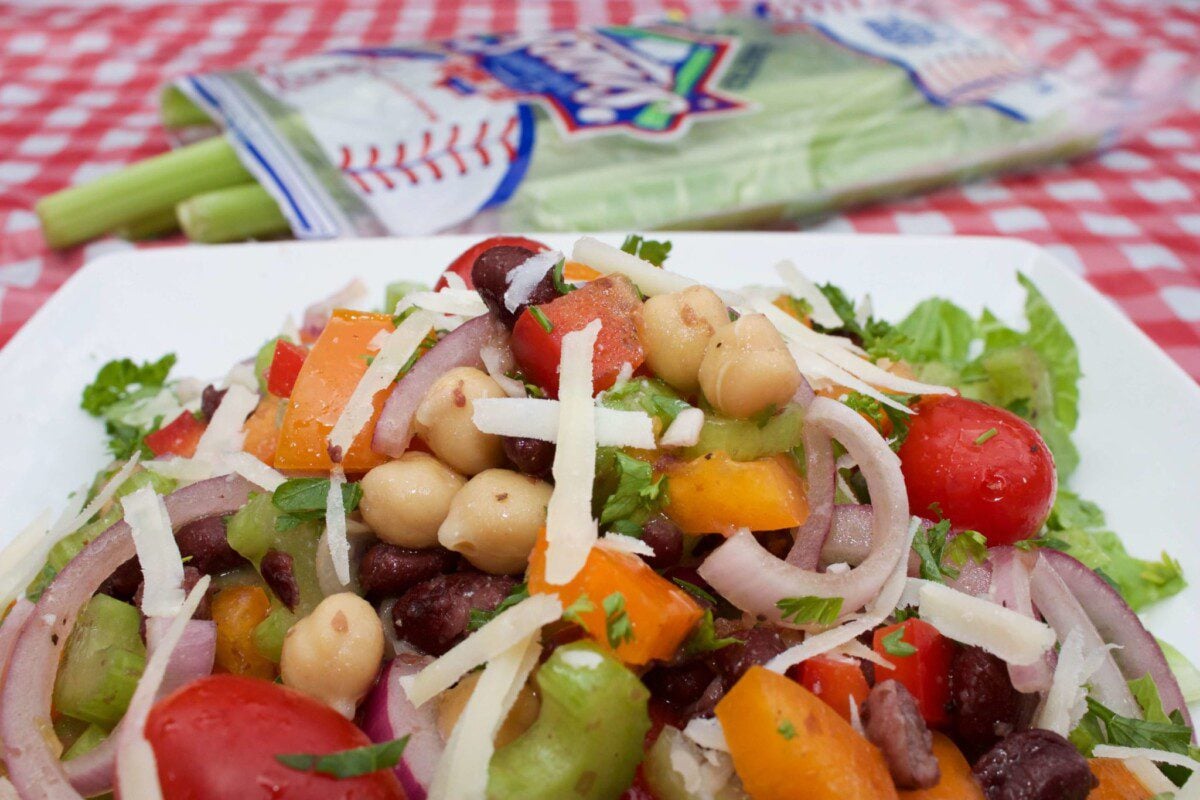 This post is sponsored by Duda Farm Fresh Foods
It's Sunday night and it's too late to run to the grocery store but you still need to get dinner on the table. Don't settle for fast food or pizza delivery because chances are you have everything you need to make a delicious meal!
Sunday Night Celery and Red Onion Salad was created out of necessity when I faced this exact predicament. Without much of a plan, I began chopping up an assortment of veggies that were left over from the week and searched the pantry for other ingredients I could add. Before I knew it, I had a fresh, colorful salad that was surprisingly tasty and filling.
This salad is great for many reasons but here's what you'll love most about it. First, it's flexible. Don't worry if you do not have every single ingredient in the recipe. Substitute for what you do have in your fridge and pantry. The only ingredient I always put in is Dandy® Celery. Its sweet flavors and crunchy texture make it the star of the meal. Plus, I always have Dandy® Celery in the fridge because my kids and I snack on it all the time! 
Second, this is a great way to clean out your fridge and use up what might otherwise have spoiled and gotten thrown away. If you find yourself pitching a lot of produce at the end of the week, you must add this salad to your weekly dinner menu! There's nothing more satisfying than using up every bit of produce bought. It's kitchen sustainability at its most delicious!  
Third, this salad is easy to pack up and lasts 3 days. I like to make extra to take to my kids' baseball practice and share with the other parents. It's also great for family picnics. Pack it in a picnic basket along with a few Dandy® Celery Snackers (The Celery + Peanut Butter Fun Snacks are my family's favorite), and some drinks and you have a colorful summer picnic.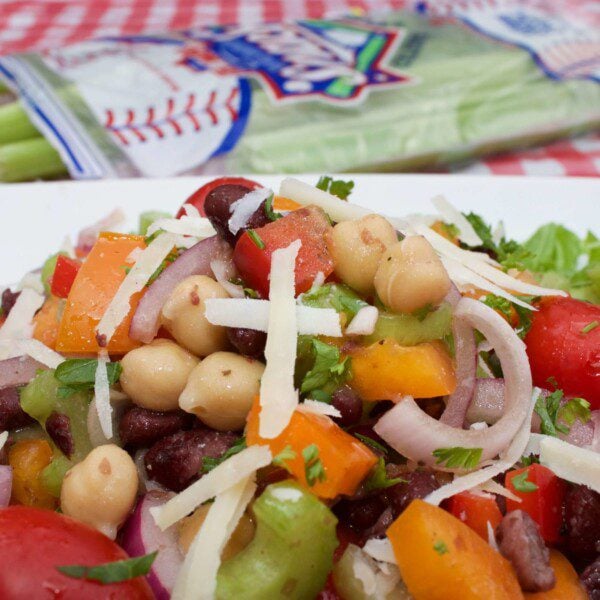 Ingredients
Salad Ingredients
1

small

red onion

thinly sliced

1

can

chickpeas

drained and rinsed

1

can

black beans

drained and rinsed

1

package

grape tomatoes

whole

2

bell peppers

diced

2

cups

Dandy® Celery Sticks

thinly sliced
Dressing Ingredients
6

tbsp

lemon juice

freshly squeezed

1/2

cup

olive oil

1/2

tsp

black pepper

1/2

tsp

salt
Toppings
1

head

lettuce

chopped

parmigiano-reggiano cheese

(or other hard cheese) grated for garnish

parsley

for garnish
Instructions
Mix dressing ingredients together.

Mix all salad ingredients together and toss with dressing.

Make a bed of lettuce and top with salad/dressing mixture.

Garnish with Parmigiano-Reggiano cheese and parsley.
Notes
This entree will last up to 3 days.
I find myself making this salad often—anytime I need a meal but don't have all the ingredients for a specific recipe or when the fridge is full of leftover produce I want to make sure gets used up. I don't keep this recipe just for Sunday nights, but I did keep the name to remind me of that fateful Sunday evening when I created a beautiful meal out of seemingly random ingredients.
What produce do you have in your fridge right now? Get started making your "Sunday Night" salad!
Enter the Dandy® Snack League Sweepstakes
Our friends at Dandy® are celebrating America's favorite pastime by giving away baseball themed prize packs. There are just a few more days to enter so hurry!
Enter the Dandy® Snack League Sweepstakes