Add Sleepytime Golden Milk To Your Bedtime Routine For Deeper Slumber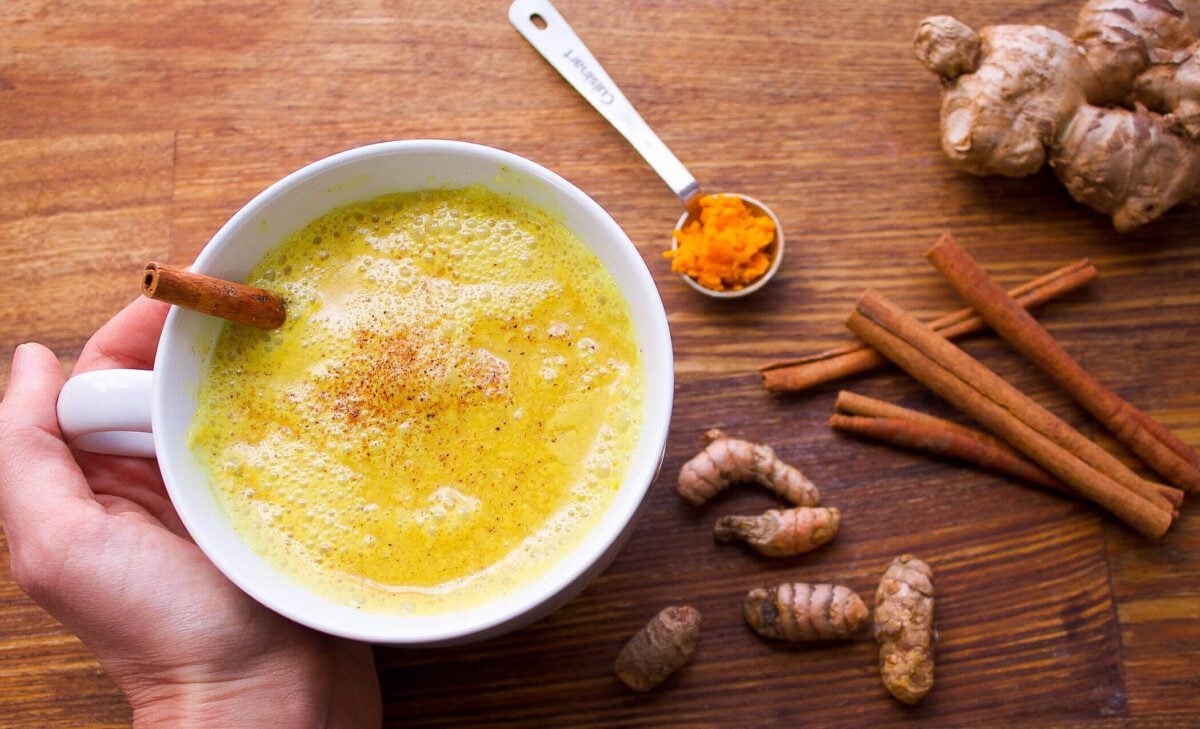 Do you have trouble falling or staying asleep? Try adding a comforting glass of Sleepytime Golden Milk to your bedtime routine.
This cozy elixir has soothing effects that just might help you reach a deeper slumber. After you put the kids to bed, shut off your electronics and unwind with a warm mug of this turmeric-based milk drink.
What Is Golden Milk?
Golden Milk, sometimes called Moon Milk, is a creamy, frothy milk drink with a beautiful golden color. It's made with a non-dairy milk (typically coconut milk) and the golden color is courtesy of turmeric.
It can be enjoyed morning or evening, but we personally prefer a relaxing cup before bed to promote better sleep.
Ingredients
coconut milk
honey
cinnamon
nutmeg
turmeric
honey
dash of black pepper
Health Benefits of Turmeric
Turmeric has been used in holistic medicine for centuries in many cultures, primarily in Asia. Nicknamed "the spice of life" for its plentiful health benefits, modern day research indicates that turmeric/curcumin (the active ingredient in turmeric) does indeed have various health benefits.
Curcumin is a potent anti-inflammatory that has been shown to promote joint and brain health. Studies indicate that curcumin can control knee pain from osteoarthritis as well as NSAIDs.
It is also thought that curcumin may aid in digestion and alleviate gastric issues and also reduce blood sugar. Continued research is needed to fully understand the many powerful benefits of turmeric/curcumin.
Piperine, a compound found in black pepper, helps the body absorb turmeric/curcumin so it's important to pair these two ingredients together to get the full health benefits.
How Can Golden Milk Promote Better Sleep?
We've all heard the old wive's tale that a warm glass of milk can help a person fall asleep. While there is no research to back this up, sticking to a bedtime routine with healthy nighttime rituals is a part of good sleep hygiene. And there may be components of Sleepytime Golden Milk that really can relax the body and prepare it for a good night's sleep.
Turmeric – As discussed above, turmeric has anti-inflammatory properties, may aid with digestion, and can lower blood sugar levels. Lessening aches and pains and soothing your stomach before bed could make it easier to fall asleep. Healthy blood sugar levels promote longer sleep.
Ginger – Ginger also has anti-inflammatory properties and can help calm the stomach. It is known to soothe sore muscles, relieve indigestion and nausea, and provide relief from menstrual cramps making sleep more attainable.
Nutmeg – Nutmeg contains anti-inflammatory properties as well. Consumed in small doses, it is thought to be a natural sleep aid.
Honey – Honey is soothing and is well-believed to promote relaxation. It's also been shown to let tryptophan enter the brain more easily.
Cinnamon – Cinnamon contains anti-inflammatory properties too. However, some people find the scent to be alerting or activating rather than calming and soothing. If you are one of these people, skip the cinnamon if you're having your Golden Milk before bed.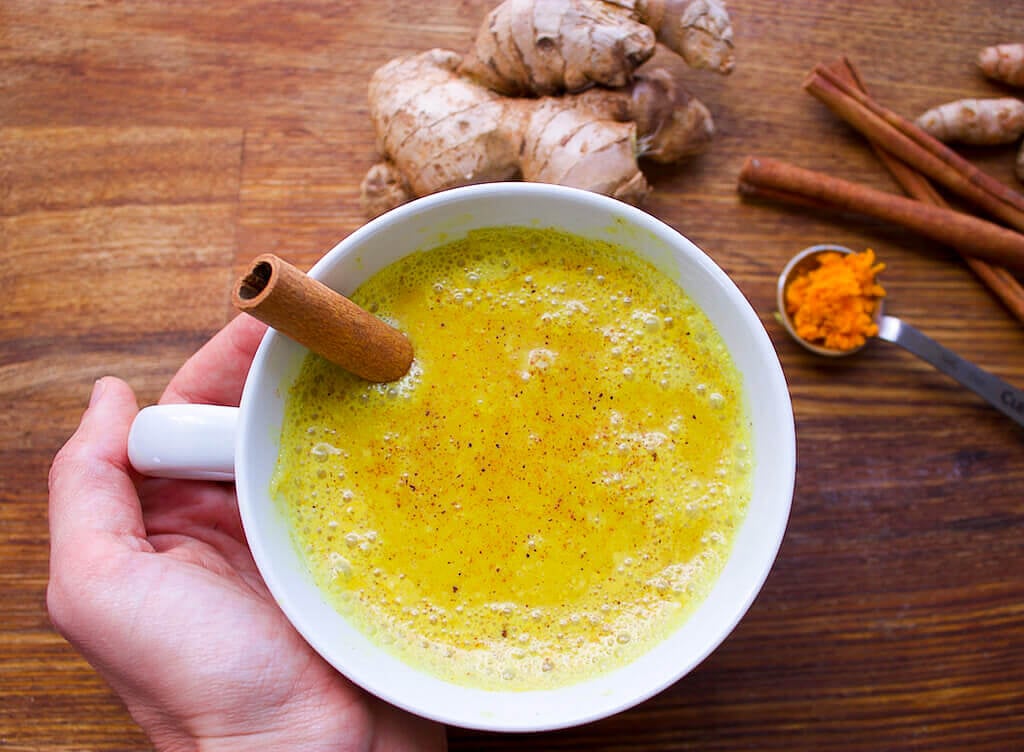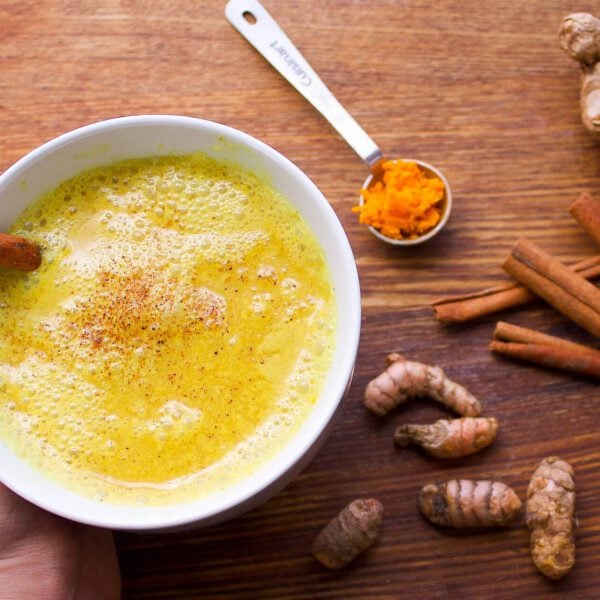 Ingredients
2

cups

vanilla-flavored coconut milk

no sugar added

1

tbsp

turmeric

freshly grated

1/2

tbsp

ginger

freshly grated

1/2

tsp

cinnamon

1/8

tsp

nutmeg

1

tbsp

honey

1

pinch

black pepper
Instructions
Heat all ingredients in a saucepan over medium-low heat, whisking periodically. Heat until warmed through. Remove from heat.

Pour mixture through a strainer to remove grated pieces of ginger and turmeric.

Pour into mugs. Garnish with a cinnamon stick and sprinkle of nutmeg if desired. Enjoy warm.
Notes
*Fresh turmeric can stain hands so you may want to wear gloves when you grate it.
Be sure to add fresh turmeric and the other listed ingredients to this week's grocery list (fresh turmeric can be found in the produce department, usually near the fresh ginger). Give Sleepytime Golden Milk a try before bed and let us know if it helps you get a better night's rest.