September 2021: Podcast Month In Review
Love the Podcast? Please rate and review!
Let's take a look back at our September 2021 Podcast Episodes.
September on The Produce Moms had a big focus on the accessibility of healthy meals and produce to families that may not otherwise have access. Some parents may feel embarrassed to ask for help when they really need it. Fridge networks across the country give power back to the families to have easy and anonymous access to food, if they need it. Not only is it important to help provide food to those in need, but to teach them how to use them. This month also had a focus on simple ingredient snack options to help get the daily nutrients everyone needs to stay energetic. Speaking of energy, September featured a new way to calm your stresses of the day-to-day but trying a new form of stress relief one doctor is trying to bring to the west.
Access to food was a struggle enough for some families but when COVID-19 hit, teacher Dan Zauder realized the parents of most of his students were struggling to provide for their families. After hearing of community refrigerators in other major cities, Dan gathered friends and community members to provide one for his students. From then, it expanded to other communities around the Bronx as well.
Fruit is delicious enough on its own which makes it a surprising statistic that ⅓ of Americans get their daily serving of fruit. In an effort to make fruit more appealing and easier to consumers in the snack bar category, Dr. Lior Lewensztain founded That's It. Simply going off of the nap of the company, That's It fruit bars contain just one to six ingredients helping people get fruit in a more accessible and enjoyable way.
It's simple enough to find a new recipe on your favorite grocers' website, but then gathering and preparing ingredients for it might not always be. You could forget to write them down, or when you get them simply forget what the recipe was. Grocery Shopii is providing a more streamlined experience for shoppers with an easy recipe-to-cart integration into your favorite grocery stores.
Providing food to families in need is merely tackling one problem. Showing them how to prepare and cook them properly can have long-lasting effects. Brighter Bites is aiming specifically at schools to distribute produce, educate families about nutrition and overall provide a fun food experience for everyone. 
No matter what your role in life is, there's a good chance you have stress from time to time. Simple exercises can relieve these from your mind, while also relaxing your body. The practice of Qi Gong is being more and more popular in the western hemisphere. Lee Holden is teaching people the practice that releases tension, stress and opening up healing powers our body has.
September 2021 Podcast Episode 178
Providing accessible food while allowing families to remain anonymous.
The number of families in need of food daily continues to grow and the COVID-19 pandemic has only made matters worse. When teacher Dan Zauderer had to move his class online he realized most of his students were not getting enough food during the day. Although food banks and pantries are always options, the pandemic made access limited and with mostly undocumented immigrants as students, parents were not interested in waiting in pantry lines.
Community refrigerators are not a new concept. Many major cities across the country provide them for people in need. To help his students, while allowing the families to remain anonymous, Dan started the Mott Haven Fridge Network to serve the Bronx. Thanks to friends and community members they've been able to place multiple fridges throughout the area and keep them stocked with donations.
September 2021 Podcast Episode 179
A healthy fruit snack with simple ingredients you can taste and see.
A lot of snacks advertise as being "all-natural" but when you look at the ingredients, it isn't always the case. When Dr. Lior Lewensztain founded "That's It" there weren't many variations in the snack bar category, especially ones that contained actual fruit. Realizing that only ⅓ of Americans got their daily serving of fruit, he looked to change that.
That's It stays true to its name. If you take a look at the ingredients listed, most of their bars contain only one to six. That's it! Thanks to the limited amount, the company also caters to Americans with food allergies with all of their products being free of the top 12 allergens and manufactured in a plant free of them as well.
September 2021 Podcast Episode 180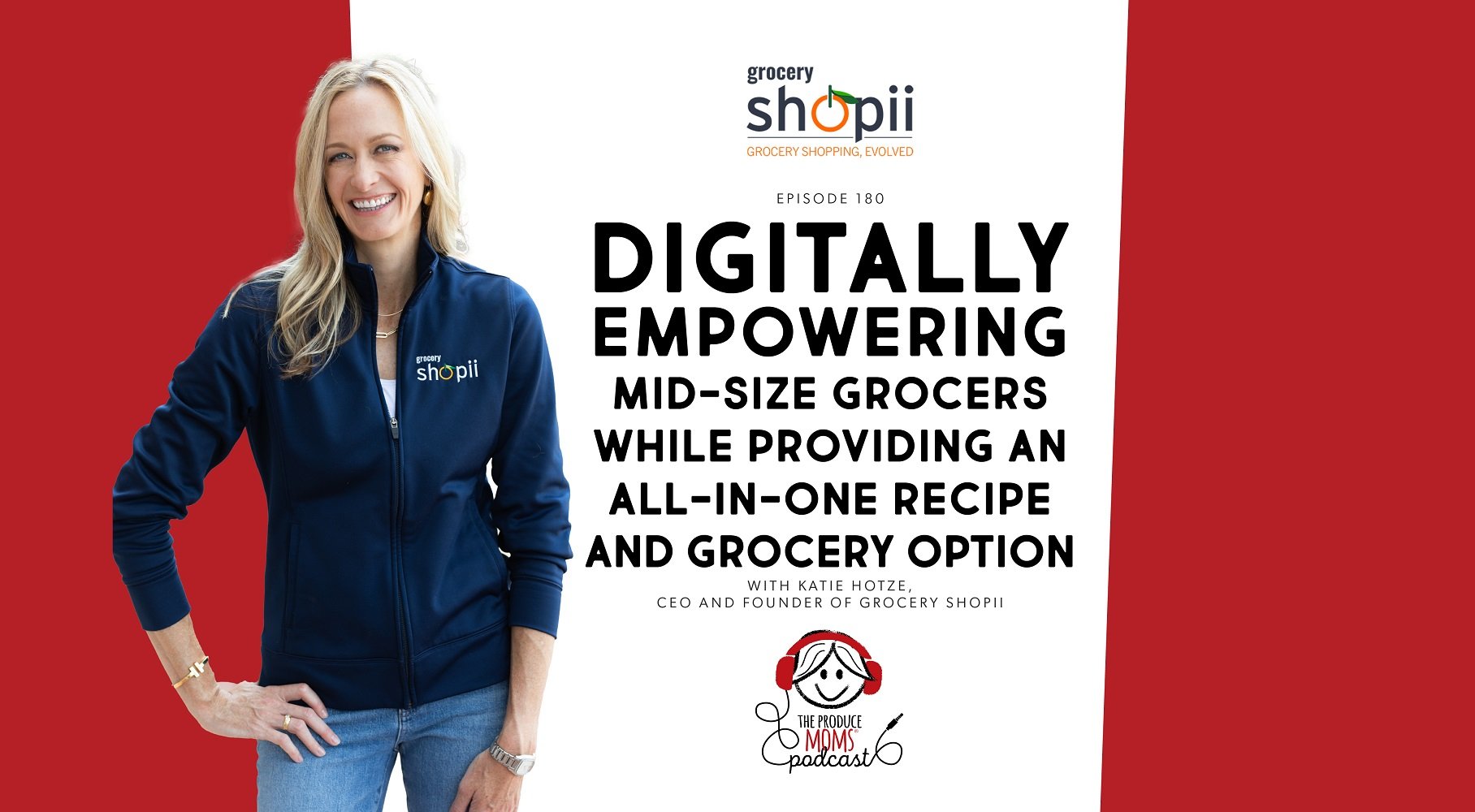 Streamlining the recipe to cart grocer experience.
In this digital age, too many times do consumers find a new recipe they're excited to try, only to forget it or not remember the ingredients the next time they go shopping. Many grocers offer recipes on their website, but few allow for instant online shopping based on these recipes. 

As a working mom, Katie Hotze was always struggling to decide what would be for dinner at the end of a busy day. Without any experience in grocery or agriculture, Katie began developing a platform to fix a problem she and her fellow parents were having. The Grocery Shopii technology integrates directly with your favorite grocers eCommerce platform for a seamless, and evolving, recipe to cart experience.

September 2021 Podcast Episode 181
Distributing, educating, and providing a fun food experience for struggling families.
At baseline, low-income families are eating so little produce to the point that they ignore it at the grocery store. When trying to get the least expensive meals, parents often avoid produce out of fear of it spoiling, most likely because they're not aware of how to properly prepare it. Providing healthy food options to families in need is only part of what can help solve the hunger issue in America; the other is showing families how to properly use them.
With a background in working with non-profit organizations, Lisa Helfman noticed that hospital campaigns were built around treating illnesses instead of preventing them. To get healthier food directly into the hands of families in need, Lisa founded Brighter Bites to distribute produce, educate families about nutrition, and overall provide a fun food experience.
September 2021 Podcast Episode 182
A stress reliever that takes just a few minutes a day.
In the world we live in, there's a good chance we all experience stress from time to time. But what if you could release that in just a few minutes? By trying the practice of Qi Gong, you can. With a simple breathing and stretching exercise, you can recharge your whole system and even make your body more efficient.
Lee Holden is a world-renowned teacher of Qi Gong working to bring the practice to more people in the Western hemisphere. Lee recommends practicing Qi Gong twice a day for around seven minutes to release tension and stress. He also advises that our bodies have tremendous healing powers with the ability to keep ourselves healthy along with gaining energy from organic and locally produced fruits and vegetables.